San Diego Chargers: How Has A.J. Smith Drafted in the Last Five Years?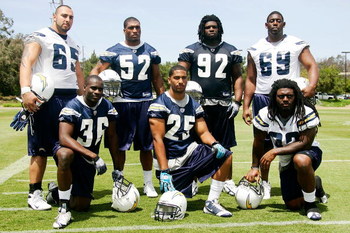 Chargers GM A.J. Smith has long been viewed as a shrewd talent evaluator when it comes to the NFL Draft, but how much of that stems from a single strong haul? After flipping an unhappy Eli Manning for Philip Rivers and several draft picks, Smith earned a reputation for being one of the best GMs in the game. But since then, he has done little to live up to that image.
In the past few seasons, Smith's drafts have been dotted with reaches and lackluster production from Chargers draft picks, and his mystique may be slowly fading away. Exactly how well has he drafted in the last five years?
We'll keep score in terms of whether each pick was a win or a loss for the Chargers.
Let's explore.
2005: 1st Round (12th Overall) - Shawne Merriman, Maryland OLB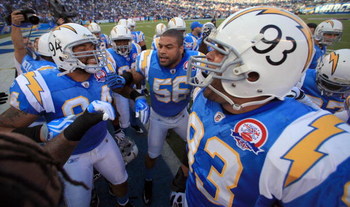 Merriman was a star in his first three seasons for the Chargers, leading the NFL in sacks during that period. But injuries have prevented him from regaining his dominant form, and his off-the-field issues have likely spelled the end of his time in San Diego.
Tequila-Gate aside, we're calling this one a win.
Wins: 1
Losses: 0
2005: 1st Round (28th Overall) - Luis Castillo, Northwestern DE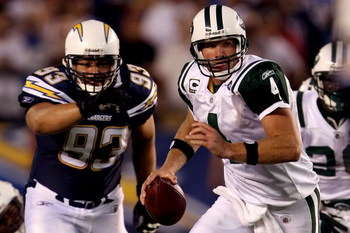 Castillo has been a solid contributor for most of his career, and was recently awarded with a huge contract extension. When healthy, he is a strong run defender with the ability to also rush the passer, but injuries have prevented him from reaching his full potential.
Another win for A.J. and the Chargers.
Wins: 2
Losses: 0
2005: 2nd Round (61st Overall) - Vincent Jackson, Northern Colorado WR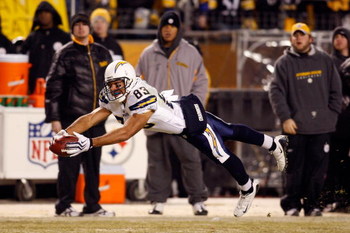 While somewhat of a head-scratcher at the time, the raw, physically imposing WR from Northern Colorado has improved every season he has been in the league. Now one of the best deep threats in the NFL, Vincent Jackson is one of the best wide receivers in the NFL.
We're off to a great start with another fantastic pick by Smith.
Wins: 3
Losses: 0
2005: 3rd Round (130th Overall) - Darren Sproles, Kansas St. RB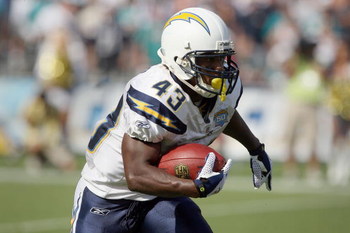 The smallest player in the NFL was dominant in college at Kansas State, but few people believed he would be effective at the next level. But all Sproles has done in his career is become the most dangerous return man and change-of-pace back that the NFL has seen in years, and has even proved capable of carrying the entire team on his miniature back at times.
This is what I call a true winning streak.
Wins: 4
Losses: 0
2005: 5th Round (164th Overall) - Wesley Britt, Alabama OT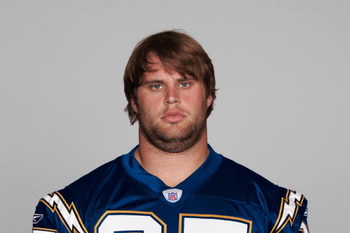 Britt was both drafted and released by the Chargers in 2005 without playing a single snap, and spent several seasons with the New England Patriots, mostly on their practice squad. He started two games from the Pats between 2005 and 2009, and was recently released by New England in their last round of cuts.
No question that this one goes down in the loss column.
Wins: 4
Losses: 1
2005: 6th Round (177th Overall) Wes Sims, Oklahoma OG
Sims was a guard out of Oklahoma who only lasted two seasons in the NFL (one each with the Chargers and Carolina Panthers). He has been out of the league since 2006.
Wins: 4
Losses: 2
2005: 7th Round (242nd Overall) - Scott Mruczkowski, Bowling Green C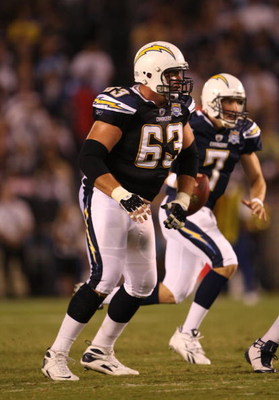 A steal in the final round of the 2005 draft, "Mooch" has been a versatile back-up with the ability to play any position on the interior of the offensive line if needed. He is currently starting at center while Nick Hardwick is injured, and the Chargers should be happy to have such a reliable back-up with starting ability at times.
It's often quite difficult to find yourself a win in the 7th round, but that is exactly what Smith did to close out the 2005 draft.
Wins: 5
Losses: 2
2006: 1st Round (19th Overall) - Antonio Cromartie, Florida St. CB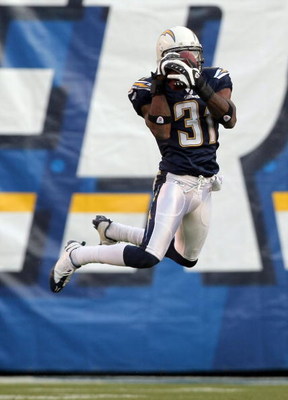 After a fantastic sophomore season in the blue and gold in which Cromartie led the NFL with ten interceptions, it seems that the success may have gone to his head (and loins).
Since then, he has struggled to juggle inconsistency, injuries, and paternity suits that have prevented him from tapping back into his near-limitless athletic potential.
But he is still a starter in this league, and this one can definitely be considered a win.
Wins: 6
Losses: 2
2006: 2nd Round (50th Overall) - Marcus McNeill, Auburn OT
A first-round talent who slipped to the second frame due to trepidation about a genetic spinal defect, McNeill stepped into the starting lineup as a rookie and was named a Pro Bowl alternate that same season. Aside from a few issues with neck stingers, he has been a solid starter as he protects Philip Rivers' blind side.
Wins: 7
Losses: 2
2006: 3rd Round (81st Overall) - Charlie Whitehurst, Clemson QB
A curious pick this early in the draft with Philip Rivers just beginning his career as the Chargers' starting QB, Whitehurst has seemed to regress with each passing season in the league. The Bolts signed Billy Volek to be Rivers' primary back-up, and Whitehurst will likely be gone at the end of this season when his contract expires.
Wins: 7
Losses: 3
2006: 5th Round (151st Overall) - Tim Dobbins, Iowa St. LB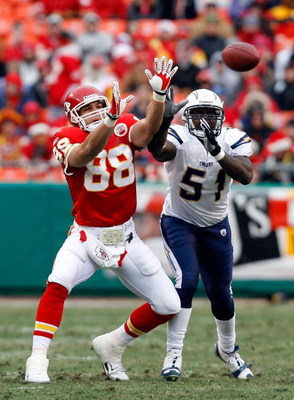 Known as the "Tasmanian Devil" for his vicious hitting, Dobbins made his name early on as a special teams standout, and has since worked his way into the regular rotation at LB with his solid play. He still has some difficulties in coverage, necessitating his time-share with free agent pick-up Kevin Burnett, but he is a quality role player on this team with the potential to be much more.
Wins: 8
Losses: 3
2006: 6th Round (187th Overall) - Jeromey Clary, Kansas St. OT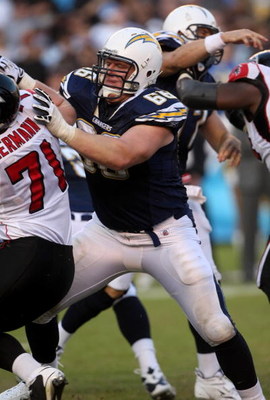 Since stepping into the starting lineup last season, Clary has drawn the ire of countless Chargers fans with his disappointing play at RT. Every opposing defense knows to attack this weak point on the offensive line, which often forces Rivers to run for his life.
Even though he is a starter, he is a liability to the offense, so this one should be counted as a loss.
Wins: 8
Losses: 4
2006: 6th Round (188th Overall) - Kurt Smith, Virginia PK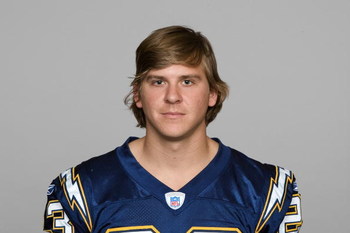 With Nate Kaeding having a great start to his career, this was another curious move, especially seeing as Smith was drafted with the express purpose of being used to kick off. But he didn't even make it out of the preseason with the Chargers, and was a waste of a draft pick on a guy who could've just as easily been had as an undrafted free agent.
Wins: 8
Losses: 5
2006: 7th Round (225th Overall) - Chase Page, North Carolina DT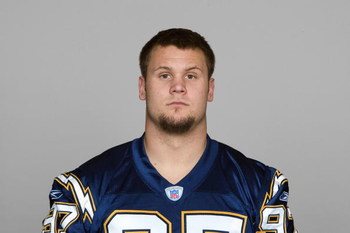 A knee injury sidelined Page in the preseason, and he was cut before his rookie season even started. He spent the season with the Miami Dolphins, but has been out of the league since 2006.
Wins: 8
Losses: 6
2006: 7th Round (227th Overall) - Jimmy Martin, Virginia Tech OT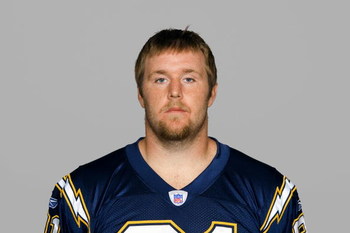 Martin was also cut in the preseason of his rookie year, and spent time with the Minnesota Vikings and New England Patriots before being bounced out of the league in 2008.
Wins: 8
Losses: 7
2007: 1st Round (30th Overall) - Craig Davis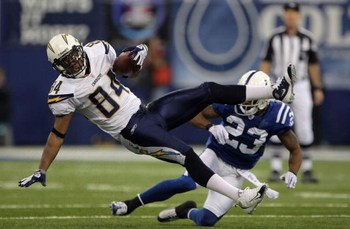 Another surprise pick by Smith, Buster Davis has lived up to the first part of his name in barely even seeing the field in his first three seasons in the NFL. He has struggled with injuries and has been overtaken in the rotation by Legedu Naanee and Malcolm Floyd.
A five-pick losing streak has dropped Smith's record down to .500.
Wins: 8
Losses: 8
2007: 2nd Round (37th Overall) - Eric Weddle, Utah S
This is a tough one, because Weddle quickly became a starter in the Chargers' secondary but has struggled with his production this past season. He always seems to be around the ball, just a step or two late. Even in training camp, Weddle has never looked like he belonged athletically with his fellow DBs, and it is starting to show on the field.
Add that to the fact that Smith reached in trading up to the early second round to pick him, and this one has to be chalked up as a reluctant loss.
Wins: 8
Losses: 9
2007: 3rd Round (96th Overall) - Anthony Waters, Clemson LB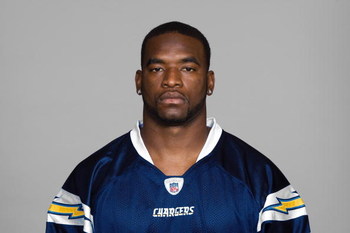 A college All-American who missed most of his senior year with a knee injury, Waters was viewed as a fantastic value pick who had starting potential if he could get healthy. However, he never seemed to get comfortable in his recovery, and was cut by the Chargers before this season. He was recently signed by the Buffalo Bills after being cut by the Saints.
Wins: 8
Losses: 10
2007: 4th Round (129th Overall) - Scott Chandler, Iowa TE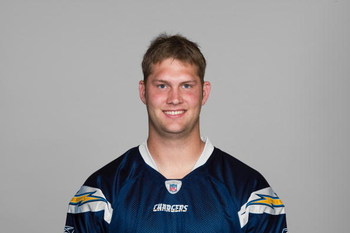 Chandler seemed dominant at times in training camp, but never got an opportunity to prove himself on the field due to the Chargers' depth at TE. He is currently on the practice squad for the Dallas Cowboys.
Wins: 8
Losses: 11
2007: 5th Round (172nd Overall) - Legedu Naanee, Boise St. WR
Naanee has gotten increased playing time with every season in the league, and he is one of the most exciting players on the Chargers' roster. He has worked his way into the rotation in a deep receiving corps, and is slowly becoming a dangerous weapon for Philip Rivers and the Chargers' offense.
Smith finally gets the monkey off his back and gets his first win in eight picks.
Wins: 9
Losses: 11
2007: 7th Round (240th Overall) - Brandon Siler, Florida LB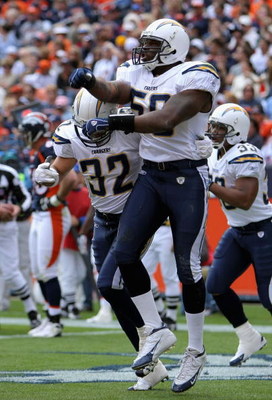 After a standout career at the University of Florida, experts were stunned when the potential early-round pick fell to the seventh and final frame. While he hasn't done much yet as a rotational player, he has been a stud on special teams, which is more than you would want to ask for from most seventh-rounders.
Wins: 10
Losses: 11
2008: 1st Round (27th Overall) - Antoine Cason, Arizona CB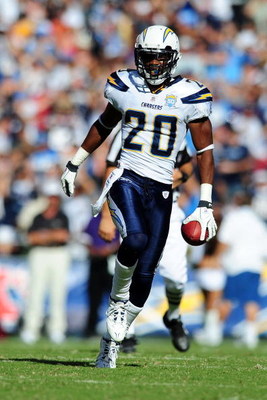 Cason has quickly become a standout nickelback for the Chargers and has recently been pushing Antonio Cromartie for playing time in the starting rotation, but recent reports from Bill Williamson at ESPN.com have claimed that he is losing playing time with the first-team at nickelback to Steve Gregory.
Regardless, he has lived up to expectations thus far and still has plenty of potential as a future starter once Cromartie leaves town.
Wins: 11
Losses: 11
2008: 3rd Round (69th Overall) - Jacob Hester, LSU FB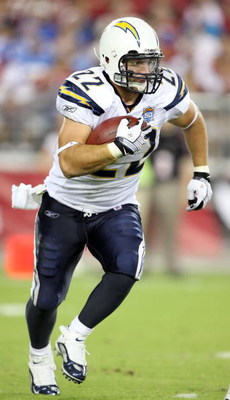 Another reach by Smith, the decline of the Chargers' running game can be traced in its origins to the insertion of Hester into the starting lineup. A classic tweener at the position, he lacks the speed to be a running back but doesn't have the size or strength to be an effective lead blocker for LaDainian Tomlinson and Co.
Wins: 11
Losses: 12
2008: 5th Round (166th Overall) - Marcus Thomas, UTEP RB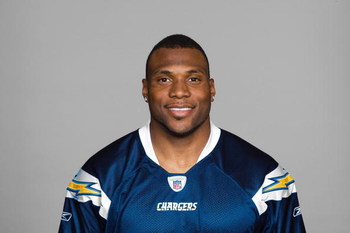 Another quick cut by the Chargers, Thomas never got a chance to contribute before bouncing around with the Lions, Cowboys, Browns, and Broncos in the last year. He is currently out of the league.
Wins: 11
Losses: 13
2008: 6th Round (192nd Overall) - DeJuan Tribble, Boston College CB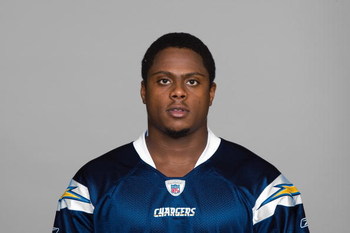 An undersized ballhawk in college, Tribble spent a season on the Chargers practice squad before being cut in favor of 2009 draft pick Brandon Hughes. he is currently playing with the Florida Tuskers of the United Football League.
Wins: 11
Losses: 14
2008: 7th Round (234th Overall) - Corey Clark, Texas A&M OT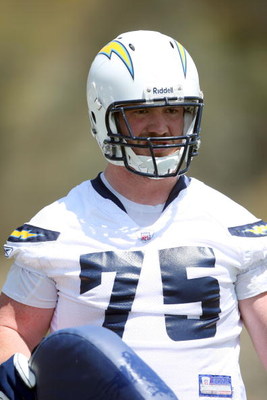 People within the Chargers organization seem to be excited about the second-year OT, but the fact that he has been unable to surpass the underwhelming Jeromey Clary probably tells you about the current status of his development. This pick has the potential to change, but for now, it's a fourth consecutive loss for A.J. Smith.
Wins: 11
Losses: 15
2009: 1st Round (16th Overall) - Larry English, Northern Illinois OLB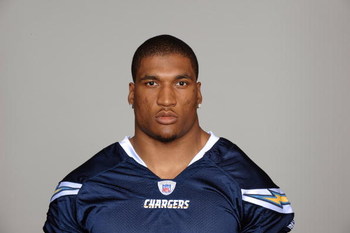 This is where the grades get difficult. These players are only six games into their careers, so these picks are based almost entirely on potential.
English has come on of late with sacks in each of his last two games, and he is starting to look like a more-than-adequate replacement for when Shawne Merriman likely leaves in free agency. He has done everything so far that you would want out of your first-rounder, and this one currently goes down as a win.
Wins: 12
Losses: 15
2009: 3rd Round (78th Overall) - Louis Vasquez, Texas Tech OG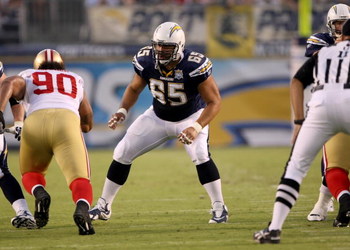 Chargers coaches have raved about this guy since the preseason, and he quickly made the veteran Kynan Forney expendable in seizing the starting role. He has struggled with a knee injury, but he has been a very solid contributor as a rookie on the Chargers' offensive line.
Wins: 13
Losses: 15
2009: 4th Round (113th Overall) - Vaughn Martin, Western Ontario DT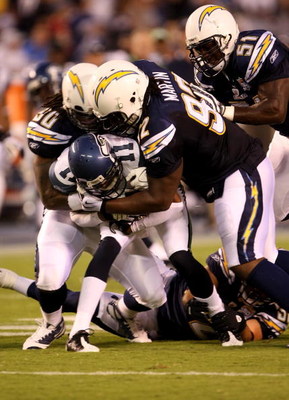 A raw athlete with very little in the way of actual football experience, Martin has the potential to be a solid player, but is definitely nowhere close just yet. He was deactivated last week against the Broncos, and has a long way to go before becoming a significant contributor to this team.
Wins: 13
Losses: 16
2009: 4th Round (133rd Overall) - Tyronne Green, Auburn OG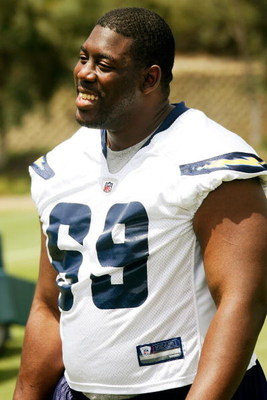 Green has been a key contributor to the Chargers' sideline, providing lots of cheering and emotional support to the players on the field. He has yet to contribute so far, and may not see the field any time soon unless he learns how to play tackle.
Wins: 13
Losses: 17
2009: 4th Round (134th Overall) - Gartrell Johnson, Colorado State RB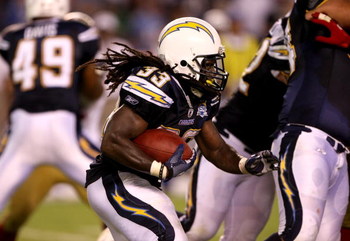 Another preseason rookie casualty, Johnson was cut by the Chargers and was quickly picked up by the New York Giants. Another instance of Smith failing to establish any significant depth at a key position.
Wins: 13
Losses: 18
2009: 5th Round (148th Overall) - Brandon Hughes, Oregon St. CB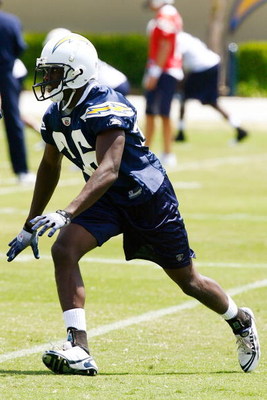 The jury is still out on Hughes as he has yet to make any sort of impact, but the potential is there for him to help out in the future.
But at this point in time, this has to be viewed as a loss as he was merely a replacement for DeJuan Tribble on the roster.
Wins: 13
Losses: 19
2009: 6th Round (189th Overall) - Kevin Ellison, USC S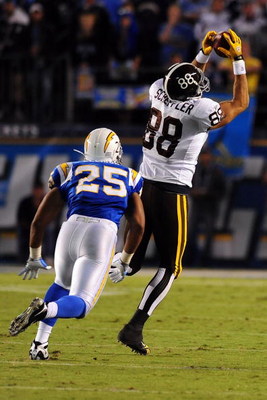 A potential steal this late in the draft, Chargers coaches have gushed about Ellison's potential. With Clinton Hart recently cut, the Chargers are giving him a chance to prove them right with his play on the field.
As a rookie sixth-round starter, this has to be a win at this point in time.
Wins: 14
Losses: 19
2009: 7th Round (224th Overall) - Demetrius Byrd, LSU WR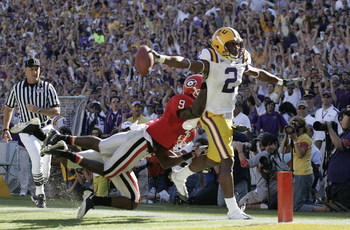 Byrd was a pick with an eye to the future, as he was in the hospital after a serious car accident when the Chargers chose him with their final pick.
While he has the potential to be one of the steals of the entire draft, right now he has to be considered a loss until he proves himself healthy enough to contribute.
Wins: 14
Losses: 20
After Further Review...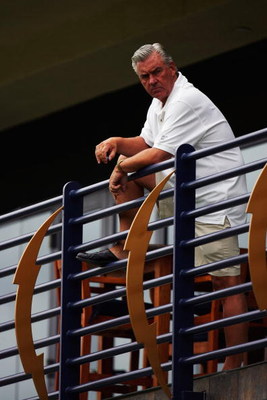 Smith's picks over the last five drafts have been a mixed bag, but there have definitely been some major clunkers in there as cracks have begun to show up in his once-impenetrable drafting armor.
Most alarming has been his inability to build depth along the offensive and defensive lines, along with the running back position, which has effectively crippled the Chargers this season as they have been bitten by the injury bug.
The Final Score:
14 Wins
20 Losses
Not what you would expect from a GM believed to be one of the best in the league when it comes to talent evaluation.
Keep Reading

San Diego Chargers: Like this team?