The free-agent frenzy has left the 2016 NFL draft outlook something akin to as if Chip Kelly stormed through, shook things up and left for somewhere else.
Maybe that hit too close to home for some, but the fact is simple—free agency alters much of what most thought they knew about the upcoming draft and how teams might act.
Instead of grabbing a prospect to plant as a starter, teams have gone out and found proven veterans at a much higher cost in the hopes of competing sooner, if not using the draft to plug a different hole.
It's one of the wildest time of year when it comes to draft buildup. Below, let's take a look at a revised mock draft and outline some of the biggest changes thanks to free agency.
2016 NFL Mock Draft
| | | | | |
| --- | --- | --- | --- | --- |
| Pick | Team | Player | Position | School |
| 1 | Tennessee Titans | Laremy Tunsil | OT | Ole Miss |
| 2 | Cleveland Browns | Jared Goff | QB | California |
| 3 | San Diego Chargers | Ronnie Stanley | OT | Notre Dame |
| 4 | Dallas Cowboys | Joey Bosa | DL | Ohio State |
| 5 | Jacksonville Jaguars | Jalen Ramsey | CB/S | Florida State |
| 6 | Baltimore Ravens | Mackensie Alexander | CB | Clemson |
| 7 | San Francisco 49ers | Myles Jack | LB | UCLA |
| 8 | Philadelphia Eagles | Taylor Decker | OT | Ohio State |
| 9 | Tampa Bay Buccaneers | Jaylon Smith | LB | Notre Dame |
| 10 | New York Giants | DeForest Buckner | DE | Oregon |
| 11 | Chicago Bears | Noah Spence | DE/LB | Eastern Kentucky |
| 12 | New Orleans Saints | Darron Lee | LB | Ohio State |
| 13 | Miami Dolphins | Reggie Ragland | LB | Alabama |
| 14 | Oakland Raiders | Vernon Hargreaves III | CB | Florida |
| 15 | Los Angeles Rams | Carson Wentz | QB | North Dakota State |
| 16 | Detroit Lions | Jack Conklin | OT | Michigan State |
| 17 | Atlanta Falcons | Leonard Floyd | LB | Georgia |
| 18 | Indianapolis Colts | A'Shawn Robinson | DT | Alabama |
| 19 | Buffalo Bills | Jarran Reed | DL | Alabama |
| 20 | New York Jets | Jonathan Bullard | DE | Florida |
| 21 | Washington | Michael Thomas | WR | Ohio State |
| 22 | Houston Texans | Robert Nkemdiche | DL | Ole Miss |
| 23 | Minnesota Vikings | Josh Doctson | WR | TCU |
| 24 | Cincinnati Bengals | Laquon Treadwell | WR | Ole Miss |
| 25 | Pittsburgh Steelers | Eli Apple | CB | Ohio State |
| 26 | Seattle Seahawks | Ezekiel Elliott | RB | Ohio State |
| 27 | Green Bay Packers | Sheldon Rankins | DT | Louisville |
| 28 | Kansas City Chiefs | Corey Coleman | WR | Baylor |
| 29 | Arizona Cardinals | Emmanuel Ogbah | DE | Oklahoma St. |
| 30 | Carolina Panthers | Shaq Lawson | LB | Clemson |
| 31 | Denver Broncos | Jason Spriggs | OT | Indiana |
Author's projections
Prospects Impacted by Free Agency
9. Tampa Bay Buccaneers: Jaylon Smith, LB, Notre Dame
Were it not for a few signings, Jaylon Smith might not make the cut in the first round at all.
Folks likely know the deal with Smith now. The Notre Dame product suffered a serious injury in the team's bowl game, and the chatter around it has been all over the place since, from his falling out of the first round completely to still coming off the board in the top 10.
In this scenario, it's all about the latter, with the Tampa Bay Buccaneers having hit on a major need in free agency and making room for a future-minded pick.
According to Ian Rapoport of NFL Network, the Buccaneers went out and signed defensive end Robert Ayers, taking care of one of the roster's biggest issues. No longer does the team have to go out and grab help at the area such as Oregon's DeForest Buckner.
Smith wouldn't be a terrible pick by the Buccaneers, who should have the future in mind. He'd be an incredible fit in the same unit as Lavonte David once healthy, and the team could afford to wait. A conclusion by NFL.com's Lance Zierlein puts the rarity of Smith's skills into context:
In this day and age of "tweeners" being labeled "hybrid" players, Smith is the rare commodity who is truly hybrid in the sense that he has the athleticism, speed and physical makeup to play any linebacker spot in either the 3­-4 or the 4-­3. Smith was productive but slightly miscast in the middle of the Notre Dame defense and is better suited to play in space as a 4­-3 outside linebacker. However, his length and upfield burst could draw the attention of a 3-­4 team looking to transition him into a rush linebacker while utilizing his rare cover skills.
Tampa Bay has more immediate needs the front office could hit, sure, but free agency has helped check most major points off the list.
As the Buccaneers continue to develop with Jameis Winston leading the way, waiting about a year for a guy who could have been the top pick makes sense. Free agency helped put both parties in this situation.
16. Detroit Lions: Jack Conklin, OT, Michigan State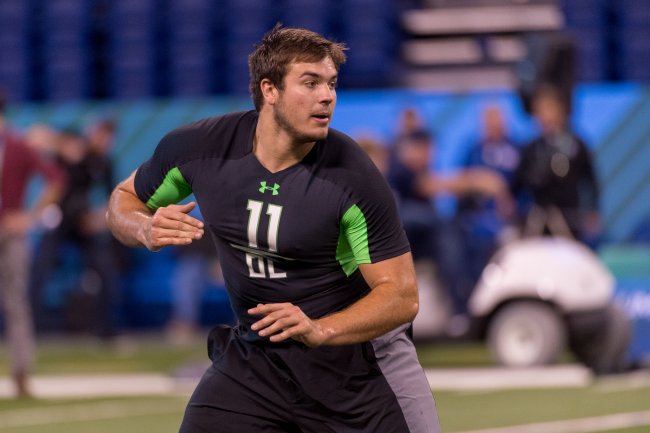 L.G. Patterson/Associated Press
So much for the Detroit Lions needing to go out and get a wide receiver with Calvin Johnson gone.
Instead of grabbing one of the draft's top players at the position, the Lions decided to get Matthew Stafford a proven target in the form of Marvin Jones, according to ESPN's Dianna Marie Russini.
While a bit more expensive, the Lions will want the offense to keep moving instead of waiting on a weapon to develop, and freeing up the first-round selection doesn't hurt.
All that remains is helping the proven offense move up and down the field. In that regard, the Lions need help in the trenches after Stafford took 44 sacks last season, so adding a top prospect such as Michigan State's Jack Conklin makes sense.
Coming in at 6'6" and 308 pounds, Conklin is a bruiser who can play either side of the line based on the situation. The Spartans captured the thoughts of Fox Sports' Charles Davis, who points out how well Conklin can move as a pass-blocker despite his reputation:
.@CFD22 on Jack Conklin: Jack has a reputation of being a mauler. … A big, strong, physical kid. But he's got good foot work, moves well.

— Spartan Football (@MSU_Football) March 1, 2016
Great news for the Lions, who could use some flexibility on the line, even if it means trotting out Conklin as a guard during his rookie campaign to stabilize the line.
No matter where Conklin plays, his addition is what happens when a franchise has a goal in mind and completes it with aggression on the open market.
24. Cincinnati Bengals: Laquon Treadwell, WR, Ole Miss
Sometimes leaking talent in the worst way, as opposed to adding it and increasing options as the teams above did, alters a team's draft plans.
Such is the case here with the Cincinnati Bengals, who not only lost Jones to Detroit but Mohamed Sanu to the Atlanta Falcons, according to the team itself.
Translation—Cincinnati just watched 1,210 receiving yards and four touchdowns from last season walk out the door. Jones was a capable starter when healthy, and Sanu stepped in nicely in 2014 as a starter with Jones out for the year, but Cincinnati wasn't willing to pay top dollar to keep around third and fourth options on the offense.
Drafting one, though, makes too much sense. Laquon Treadwell is also a product of all the above, with most teams in need going out and getting free agents so they don't have to spend an early pick on what many agree is a weak wideout class.
Treadwell is the headline act, though, and quite a good one. He's 6'2" and 221 pounds with elite ball skills reminiscent of, say, Dez Bryant. He had a scary injury a few years ago and gets emotional, but on the field, his impact isn't hard to see.
Cincinnati doesn't have a ton of needs and has a habit of grabbing the best player available. Getting the draft's top wideout at No. 24 is too good to pass up. Treadwell would start right away across from A.J. Green and in the same base sets as Tyler Eifert, quite the scary concoction for opposing defenses.
The Bengals have put themselves in a position to draft Treadwell through smart drafting and smooth free-agent adds here and there. Such a marriage might wind up as the perfect fit for both sides.
Stats courtesy of NFL.com and are accurate as of Saturday. All advanced metrics courtesy of Pro Football Focus.