Football fans, savor this weekend. After Sunday's two conference championship showdowns, everyone will no longer have NFL action to occupy the afternoon.
Sunday's two survivors will wait two weeks before colliding for the Lombardi Trophy. Sorry for the spoiler, but those 14 days will be spent almost exclusively discussing the AFC champion's quarterback.
After all, one of the greatest players of all time should surely have his entire legacy framed by one outcome of a team competition.
Both favorites, per Odds Shark, currently hold a three-point edge. However, those spreads signify a grand distinction in the matchups' competition levels.
The Carolina Panthers receiving three points at home roughly amounts to Vegas tossing up their hands and admitting they have no idea if they will best the Arizona Cardinals. Meanwhile, the New England Patriots getting points on the road indicates they're a comfortable favorite over the No. 1-seeded Denver Broncos.
NFL Conference Championship Odds and Predictions

| | | | |
| --- | --- | --- | --- |
| Away | Home | Odds | Prediction |
| New England Patriots | Denver Broncos | NE -3 | 27-17 NE |
| Arizona Cardinals | Carolina Panthers | CAR -3 | 28-27 ARI |
Odds courtesy of Odds Shark
Conference Championship Preview
New England Patriots vs. Denver Broncos
If this was the one-on-one showdown as advertised, the Broncos wouldn't stand a chance.
Including a bland divisional-round performance plagued by drops, Peyton Manning has recorded 6.71 yards per pass attempt with a 59.5 completion percentage this season. The Broncos have averaged 22.8 points during 10 Manning starts, during which the 39-year-old surrendered 17 interceptions.
Meanwhile, Tom Brady has amassed at least 275 passing yards and two touchdowns in all 10 games played by Julian Edelman. Denver's offense must instead distinguish itself through the ground. While injures to Dion Lewis and LeGarrette Blount have left New England's rushing game reeling, C.J. Anderson is returning to full strength with touchdowns in three consecutive weeks.
Who will win the AFC Championship Game?
Too late for jilted fantasy drafters, but just in time for the Broncos. He'll look to replicate his earlier meeting against New England, when he compiled 113 yards and two touchdowns, including a walk-off 48-yard exclamation point. A repeat, however, won't come easily.
Edelman isn't the only important Patriots player returning to the fold. Linebacker Dont'a Hightower suffered a knee injury during the first half of their regular-season loss to Denver. According to ESPN.com's Mike Reiss, the Broncos—stuffed for 43 yards on 15 carries with him on the field—ran roughshod for 136 yards and three scores on 17 handoffs with Hightower sidelined.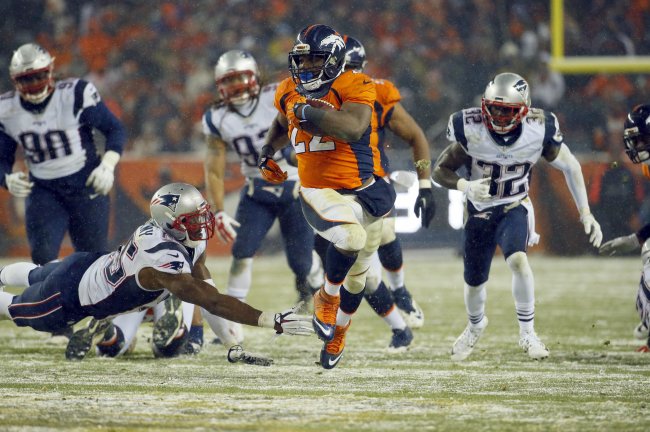 Jack Dempsey/Associated Press
Hightower conveyed the significance of stifling the opposition's rushing attack to NESN.com's Doug Kyed.
"That's the No. 1 thing I take pride in is being an aggressive, downhill run-stopper," Hightower said. "That's what I do, that's what I take pride in. It means a lot to me, but as far as the stats and stuff, I'm not big on that. As long as we win, we do what we do, we get the W, that's all that matters to me."
By welcoming back Edelman and Hightower, New England is a different squad from the one that fell short in overtime on Nov. 29. As long as the offensive line can preserve a tidy pocket for Brady, the Patriots will have little trouble advancing to their second straight Super Bowl.
Arizona Cardinals vs. Carolina Panthers
A lot can change in a year. The previous postseason pitted the 7-8-1 Panthers against the Cardinals, who entered with a plus-11-point differential and Ryan Lindley under center. Now it's a battle of the two best teams in terms of record, points scored and point differential:
Tale of the Tape: Carolina Panthers vs. Arizona Cardinals

| | | | | |
| --- | --- | --- | --- | --- |
| Season Stat | Panthers | NFL Rank | Cardinals | NFL Rank |
| Record | 15-1 | 1 | 13-3 | 2 |
| Points Scored | 500 | 1 | 489 | 2 |
| Point Differential | +192 | 1 | +176 | 2 |
ESPN.com
As noted by NFL.com's Chris Wesseling, it's the strongest playoff matchup in over a decade based on regular-season success:
The combined 28 regular-season wins of the Cardinals and Panthers are the most by opposing playoff teams since 2004.

— Chris Wesseling (@ChrisWesseling) January 20, 2016
Along with possessing the most prolific scoring offenses, they also both boast top-10 defenses. Even so, the winner might need to hit 30 on the scoreboard.
For the Cardinals, they'll need to either re-solidify the ground game or ditch it altogether. Rookie rusher David Johnson followed Week 15's 187-yard effort with 99 combined rushing yards over the past three games. If the neophyte doesn't get back on track, don't expect head coach Bruce Arians to keep feeding him the ball.
Last weekend, Arians dialed up 27 second-half passes for quarterback Carson Palmer.
Old-school pundits will never stop blabbering about establishing the run, but is it really a requirement? The Patriots didn't need a running game to upend the Kansas City Chiefs, and the Seattle Seahawks' incomplete comeback started once it was forced to jettison the run.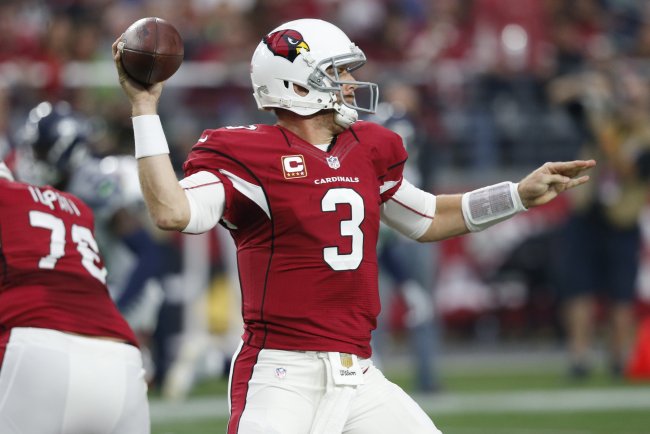 Ross D. Franklin/Associated Press
Given Palmer's league-high 8.5 yards per pass attempt, passing is more efficient anyway. With star wideout Larry Fitzgerald spending most of his time in the slot, he should avoid Pro Bowl cornerback Josh Norman.
Cornerback Cortland Finnegan, who came out of retirement in late November, will likely draw most of the assignments covering Fitzgerald. He discussed his upcoming adversary to the Charlotte Observer's Jonathan Jones.
"I think he can make you miss, but I think where he thrives at is route running and separation," Finnegan said. "He's a big man and you've got to know how to get him on the ground for sure. He's a future Hall of Famer so there's not a lot he can't do."
Strong performances from Jonathan Stewart and their pass rush could tilt the tide in the Panthers' favor, but an aggressive Cardinals offense receives the narrowest of edges in a prominent game of the year candidate.