Fantasy football owners might have a huge break on their hands going into Week 17, sort of like the one person in each league who managed to scoop up Devonta Freeman early this year.
Freeman wound up fantasy's leading-scoring back through 16 weeks. Comparable here is the fact Week 17 doesn't look like the normally impossible week it can be when teams decide to sit starters.
Instead, there's a wealth of playoff implications on the line Sunday, meaning most everyone should play usual minutes. Motivation might be another conversation entirely based on the team's situation, but playing time is playing time.
Here's a look at value comparisons for each spot and common start-sit scenarios.
QB
| | |
| --- | --- |
| Matchup | Verdict |
| Cam Newton (vs. TB) vs. Russell Wilson (at ARI) | Cam Newton |
| Tom Brady (at MIA) vs. Drew Brees (at ATL) | Tom Brady |
| Carson Palmer (vs. SEA) vs. Blake Bortles (at HOU) | Blake Bortles |
| Aaron Rodgers (vs. MIN) vs. Kirk Cousins (at DAL) | Aaron Rodgers |
| Ben Roethlisberger (at CLE) vs. Ryan Fitzpatrick (at BUF) | Ben Roethlisberger |
Author's opinion.
Start: Blake Bortles, Jacksonville Jaguars (at HOU)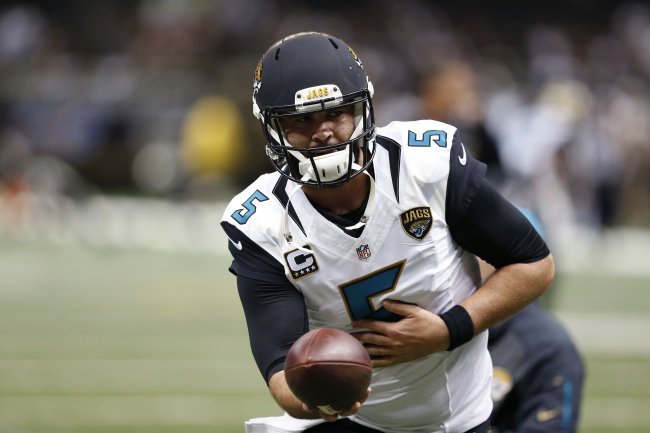 Rogelio Solis/Associated Press
Certain owners also got quite lucky with Jacksonville Jaguars quarterback Blake Bortles, who sits fourth in scoring at the position.
Bortles has a wealth of talent around him, including back T.J. Yeldon, wideouts Allen Robinson and Allen Hurns and tight end Julius Thomas. It in part explains why he's been to double digits in all but two games this year and has 22 or more points in five games running.
An encounter with the Houston Texans should provide a sixth. Bortles posted 22 points on the unit back in Week 6 with a trio of touchdowns and interceptions. If he can clean up the latter, he might post a career day.
Sit: Kirk Cousins, Washington (at DAL)
Washington would be one of the exceptions to the rule from the intro.
Kirk Cousins and Co. have the No. 4 seed in the NFC locked and nothing much in the way to play for Sunday, meaning starters could get a half at best.
Cousins has been on fire with 21 or more points in four of his last five, quietly putting him right behind Aaron Rodgers on the scoring list in the top 10. But even if he played a full four frames Sunday, the Dallas Cowboys surrender the seventh-fewest points to the position this year and held Cousins to just 12 in Week 13.
RB
| | |
| --- | --- |
| Matchup | Verdict |
| Devonta Freeman (vs. NO) vs. Lamar Miller (vs. NE) | Devonta Freeman |
| Adrian Peterson (at GB) vs. Chris Ivory (at BUF) | Adrian Peterson |
| Doug Martin (at CAR) vs. DeAngelo Williams (at CLE) | DeAngelo Williams |
| Todd Gurley (at SF) vs. David Johnson (vs. SEA) | Todd Gurley |
| Matt Forte (vs. DET) vs. Latavius Murray (at KC) | Matt Forte |
Author's opinion.
Start: James White, New England Patriots (at MIA)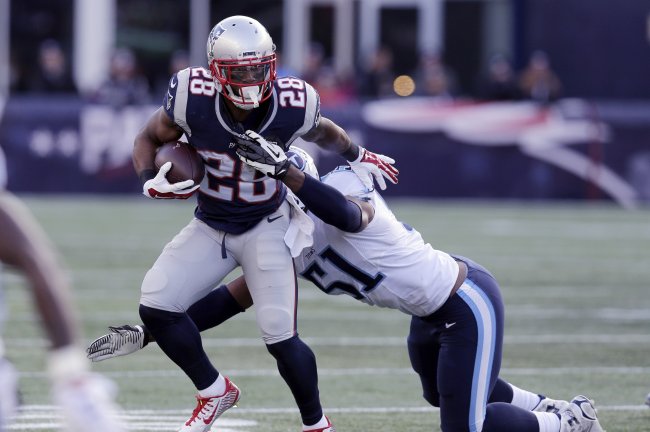 Charles Krupa/Associated Press
Somebody from the New England Patriots will post a major game against the Miami Dolphins this week.
Why? The Dolphins allow the most points to running backs this year and have let up three touchdowns over their past two outings. In Week 8, New England backs managed 23 points without even reaching paydirt.
It might be fun to trumpet the veteran Steven Jackson, but odds are production goes to James White, who hurts defenses on the ground and through the air. White has 13 or more points in three of his last six, and his ability to take short passes for huge gains to make up for a lack of a running game will allow him a huge output again this weekend.
Sit: Karlos Williams, Buffalo Bills (vs. NYJ)
With LeSean McCoy out for Week 17, owners might think it smooth to trot out Buffalo Bills running back Karlos Williams.
Don't.
Williams has hit double digits once over his past six outings. It came last week by way of 13 points, but last time he encountered the New York Jets (Week 10), he managed just seven carries for 24 yards.
The Jets allow the third-fewest points to backs this year and haven't let up a score since Week 3. Unlike Shady, Williams can't post big numbers without reaching paydirt.
WR
| | |
| --- | --- |
| Matchup | Verdict |
| Antonio Brown (at CLE) vs. Brandon Marshall (at BUF) | Antonio Brown |
| Odell Beckham Jr. (vs. PHI) vs. Allen Robinson (at HOU) | Odell Beckham Jr. |
| Julio Jones (vs. NO) vs. Doug Baldwin (at ARI) | Julio Jones |
| DeAndre Hopkins (vs. JAC) vs. Jarvis Landry (vs. NE) | DeAndre Hopkins |
| A.J. Green (vs. BAL) vs. Larry Fitzgerald (vs. SEA) | A.J. Green |
Author's opinion.
Start: Martavis Bryant, Pittsburgh Steelers (at CLE)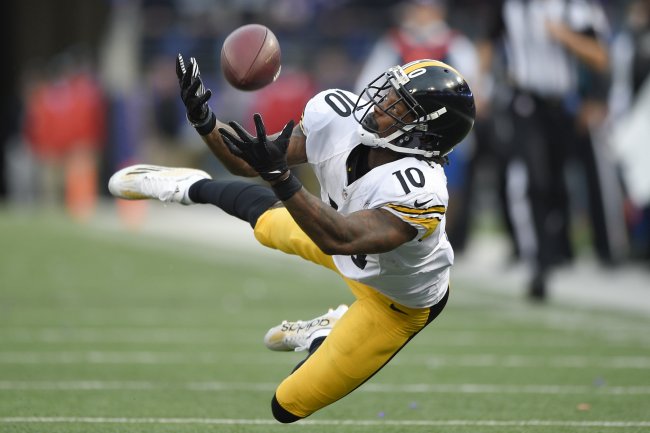 Nick Wass/Associated Press
Pittsburgh Steelers wideout Martavis Bryant is one of those players owners needed to stash and deploy at smart times to great benefit.
Bryant's a big-play threat in each game, but he has hit double digits just five times so far, hinting that his production depends on matchups.
Remember Week 10? Bryant had the right matchup all right, posting six catches for 178 yards and a touchdown for 21 points on the Cleveland Browns.
It's rematch time, and those Browns still allow the fifth-most points to wideouts, so get Bryant in those lineups.
Sit: Randall Cobb, Green Bay Packers (vs. MIN)
Despite the putrid numbers, Green Bay Packers wideout Randall Cobb still boasts a 97.4 ownership percentage.
Cobb hasn't been to double digits since Week 9 and has done so just three times this year. Though the matchup wasn't great, he just put on his worst performance of the year against the Arizona Cardinals by posting just one point.
So no, Cobb isn't the greatest start in the important showdown with the Minnesota Vikings. He managed eight points against the unit in Week 11 but only because one of his two catches went for a score.
TE
| | |
| --- | --- |
| Matchup | Verdict |
| Rob Gronkowski (at MIA) vs. Delanie Walker (at IND) | Rob Gronkowski |
| Greg Olsen (vs. TB) vs. Antonio Gates (at DEN) | Greg Olsen |
| Gary Barnidge (vs. PIT) vs. Benjamin Watson (at ATL) | Benjamin Watson |
| Jordan Reed (at DAL) vs. Richard Rodgers (vs. MIN) | Jordan Reed |
| Travis Kelce (vs. OAK) vs. Julius Thomas (at HOU) | Travis Kelce |
Author's opinion.
Start: Kyle Rudolph, Minnesota Vikings (at GB)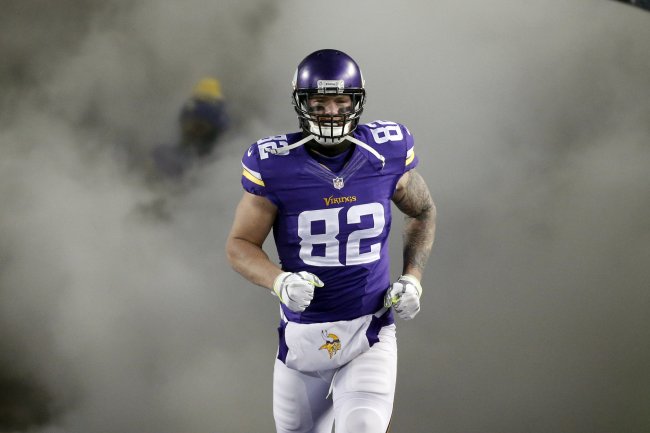 Ann Heisenfelt/Associated Press
Kyle Rudolph decided to save his best for last after a disappointing year.
Minnesota's top tight end posted 11 points last week. Coincidentally enough, before that his top performance had come back in Week 11 against these same Packers, where he caught six passes for 106 yards and a score for 16 points.
That was the middle of a streak for the Packers in which opposing tight ends caught a score in five straight games before cupcake matchups (from a tight end standpoint) against Dallas, Oakland and Arizona.
Rudolph's the best tight end on the board since said streak ended, and he's going to have another big day.
Sit: Austin Seferian-Jenkins, Tampa Bay Buccaneers (at CAR)
The knee-jerk reaction an owner might have would be to look at Austin Seferian-Jenkins' production over the past two weeks and slap him in lineups.
Bad move. ASJ scored a touchdown in garbage time in Week 15. In Week 16, he caught a fluky Hail Mary touchdown.
So yes, ASJ has scored in two consecutive games, but since returning from injury, he hasn't caught more than three passes in four consecutive games.
The Carolina Panthers surrender the ninth-fewest points to the position this year, so ASJ's lucky production and bad matchup make this a situation to avoid, no matter what the basic scoring sheet says.
All scoring info courtesy of ESPN standard leagues, as are points-against info and ownership stats as of January 2. Statistics courtesy of ESPN.com.