Either PBS is doing its part to foster future generations of hot-takers, or an eerie bit of crossover serendipity occurred this morning.
One thing we do know is the network reran an old episode of Sesame Street on Friday morning in which the "Word on the Street" was "inflate."
Twitter users with youngsters—or awesome adults with immaculate morning routines—began tweeting their disbelief over the word of the day and its timely correlation to the New England Patriots' Deflategate scandal.
Ok so my son is watching Sesame Street & of all things, the "word on the street" today is INFLATE lol. pic.twitter.com/U9IixBItPh

— JL Bigby (@ProsFB) January 23, 2015
@drewmagary Today's Word of the Day on Sesame Street is "inflate." HOT TAKE!

— Nickie Fruin (@NYFruin) January 23, 2015
#DeflateGate Sesame Street's Word of the Day is inflate. SMH

— ManBearPig (@borforall) January 23, 2015
I find it hilariously ironic that the word of the day on Sesame Street is "inflate" #DeflateGate #pantsonfire #hopebradyistakingnotes

— Kim Hughes (@kimhughes1279) January 23, 2015
Even @sesamestreet getting in on #Deflategate action. The Word on the Street today was "inflate." SHAAADE pic.twitter.com/vNDI1Cs91L

— Garrett Walvoord (@Mr_Playbyplay) January 23, 2015
Here's the segment of the episode, which appears to have originally aired in April 2013.
By all appearances, PBS is looking to educate the youth on how to properly maintain their sporting equipment. Even Don Cheadle got in on the action.
Don't be jealous of all this inflation Cheadle and Elmo have going on, New England.
This is high shade or a complete coincidence—or not a coincidence at all.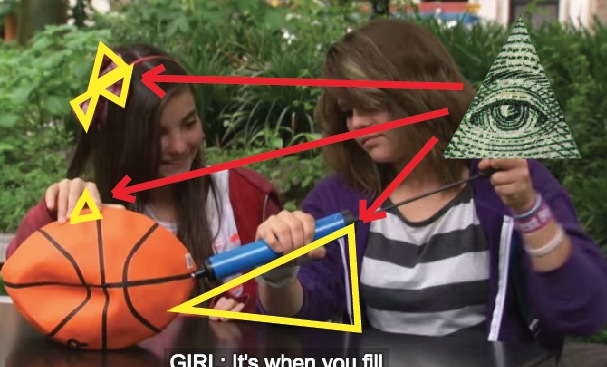 @DrCarson73
Strap in, guys. You know you've nuked the fridge when the golden standard in children's programming wades into a sports controversy with guns blazing.
Follow Dan on Twitter for more sports and pop culture filigree.