Updates from Wednesday, Sept. 10
Rob Maaddi of the Associated Press dropped a huge update on if the NFL had seen the TMZ video of Ray Rice and his wife Janay in the elevator before Monday:
A law enforcement official says he sent a video of Ray Rice punching his then-fiancee to an NFL executive three months ago, while league officers have insisted they didn't see the violent images until this week.

The person played The Associated Press a 12-second voicemail from an NFL office number on April 9 confirming the video arrived. A female voice expresses thanks and says: "You're right. It's terrible."

The law enforcement official, speaking to the AP on condition of anonymity because of the ongoing investigation, says he had no further communication with any NFL employee and can't confirm anyone watched the video. The person said they were unauthorized to release the video but shared it unsolicited, because they wanted the NFL to have it before deciding on Rice's punishment.
Maaddi went on to describe a new video that the AP obtained:
The video, shown to the AP on Monday, is slightly longer than the TMZ version, and includes some audio.

Rice and Janay Palmer — now Janay Rice — can be heard shouting obscenities at each other, and she appears to spit at Rice right before he throws a brutal punch. After she collapses, he drags her out of the elevator and is met by some hotel staff. One of them can be heard saying, "She's drunk, right?" And then, "No cops."
Josh Margolin, Darren Rovell and Aaron Katersky of ABC News report that the Ravens were aware of the tape as well: "But two sources briefed on the incident and behind-the-scenes discussions regarding the tape told ABC News that the Ravens knew that the tape existed and knew what was on the tape almost immediately after the incident."
The NFL offered a brief statement via Mike Garafolo of FOX Sports:
NFL spokesman says "we have no knowledge of this." Restates no one to their knowledge possessed or saw the vid. "We will look into it."

— Mike Garafolo (@MikeGarafolo) September 10, 2014
Charles Robinson of Yahoo Sports reports on what this could mean for multiple people involved:
Source w/ intimate ties to NFL execs, says of report the NFL got Rice tape in April: "If that's true, it's over for a few different people."

— Charles Robinson (@CharlesRobinson) September 10, 2014
Craig Carton of WFAN talked to Ray Rice and passed along details of the conversation (via CBS New York):
"He is very much in love with his wife," Carton said of Rice. "They are very much together. They have gone to counseling. He is in this pretrial intervention program. … He's most likely moving out of Maryland, selling his house.

"And I asked him about playing football, and he goes, 'It's not on my mind right now.' What's on his mind is trying to repair the damage and making sure that people (know) that he is better, his relationship is better — they have a beautiful daughter together — and that's what his focus is on right now."
Updates from Tuesday, Sept. 9
Roger Goodell sat down for an interview with CBS regarding his status as NFL commissioner in the wake of the Ray Rice incident. He also discussed whether the former Baltimore Ravens running back could ever play again in the league, via Albert Breer of the NFL Network:
Goodell to CBS on the idea he should step down: "No, I'm used to the criticism, I'm used to that. Every day I have to earn my stripes."

— Albert Breer (@AlbertBreer) September 9, 2014
Goodell on Ray Rice ever playing again: "I don't rule that out, but we would have to be fully confident he is addressing this issue."

— Albert Breer (@AlbertBreer) September 9, 2014
Rice spoke to CNN's Rachel Nichols following his release:
Texted with Ray Rice. He told me: "I'm just holding strong for my wife and kid, that's all I can do right now."

— Rachel Nichols (@Rachel__Nichols) September 9, 2014
Rice's wife, Janay, released a statement on her private Instagram account, which Chick Hernandez of CSNWashington.com shared:
Ray Rice's wife Janay posts statement on her Instagram account defending her husband. http://t.co/78y9heSTkA pic.twitter.com/dUe4HdAS2o"

— Chick Hernandez (@CHICKatCSN) September 9, 2014
The Ravens announced Tuesday that fans could exchange their Rice jerseys:
The Baltimore Ravens will offer an exchange for Ray Rice jerseys at stadium stores. Details to come.

— Baltimore Ravens (@Ravens) September 9, 2014
Jeff Zrebiec of The Baltimore Sun has more from the Ravens organization:
The Ravens will send out letter from owner Steve Bisciotti to PSL, suite holders and sponsors. Bisciotti will explain actions on Ray Rice

— Jeff Zrebiec (@jeffzrebiecsun) September 9, 2014
In the letter, Bisciotti admits "that we did not do all we should have done and no amount of explanation can remedy that."

— Jeff Zrebiec (@jeffzrebiecsun) September 9, 2014
Bisciotti called the Rice video "violent and horrifying." Said the decision to release Rice was a unanimous one.

— Jeff Zrebiec (@jeffzrebiecsun) September 9, 2014
Bisciotti: "Seeing video changed everything. We should have seen it earlier. We should have pursued our own investigation more vigorously."

— Jeff Zrebiec (@jeffzrebiecsun) September 9, 2014
Bisciotti: "We didn't and we were wrong."

— Jeff Zrebiec (@jeffzrebiecsun) September 9, 2014
Bisciotti details organization's response to incident step-by-step. Ends letter by saying: "I am sorry we let you down."

— Jeff Zrebiec (@jeffzrebiecsun) September 9, 2014
Original Text
Ten hours after TMZ released disturbing video of Ray Rice punching his wife (then-fiancee) Janay Palmer in the face, the Baltimore Ravens announced the release of the former Pro Bowl running back Monday as they look to move on from one of the darkest incidents in recent NFL history:
The #Ravens have terminated RB Ray Rice's contract this afternoon.

— Baltimore Ravens (@Ravens) September 8, 2014
Following the release, league commissioner Roger Goodell suspended the running back indefinitely, via Greg Aiello of the NFL:
Roger Goodell has announced that based on new video evidence that became available today he has indefinitely suspended Ray Rice.

— Greg Aiello (@gregaiello) September 8, 2014
Ian Rapoport of NFL.com reported on Rice's future with any potential team and how his suspension will impact it:
Teams were informed that any contact between them & Ray Rice won't be approved or take effect until further direction from Goodell's office

— Ian Rapoport (@RapSheet) September 8, 2014
The CFL also confirmed that it will honor the NFL's suspension:
STATEMENT: @canadiancommish informed CFL teams that the league will honour the @NFL's suspension of Ray Rice. He cannot play in the #CFL.

— CFL Official Feed (@CFL) September 8, 2014
AJ Perez of NJ.com reports on what the prosecutor's office that worked Rice's case had to say about his punishment:
Prosecutor's office says 'decision was correct' not seek jail time in Ray Rice case. http://t.co/SrHbTNNK7O via @njdotcom

— A.J. Perez (@ajperezsports) September 8, 2014
Rice, 27, was initially suspended for the first two games of the 2014 season after pleading guilty to assaulting Palmer in the elevator of an Atlantic City casino. Initial footage of the incident showed Rice carrying Palmer, whom he would later marry, out of the elevator as she lay unconscious from a blow to the head.
While Goodell initially stood by his decision to suspend Rice two games—which is equivalent to half the amount of time for a first-time violator of the league's drug policy—a wave of public criticism later caused him to relent. In a letter sent to owners outlining new, harsher penalties for NFL employees who commit acts of domestic violence and sexual assault, Goodell wrote he "didn't get it right."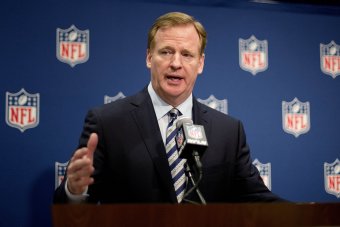 David Goldman/Associated Press
"My disciplinary decision led the public to question our sincerity, our commitment, and whether we understood the toll that domestic violence inflicts on so many families," Goodell wrote, per NFL.com's Kevin Patra. "I take responsibility both for the decision and for ensuring that our actions in the future properly reflect our values. I didn't get it right. Simply put, we have to do better. And we will."
Most thought the matter was all but resolved at that point. Goodell made a mistake (and takes the brunt of the blame), Rice returns to the field (reviled but still with a job) and eventually the issue begins to fade into the background.
Then, hours after the first Sunday of the NFL season, TMZ released the harrowing footage of the events that unfolded in the elevator. Rice was seen swinging in the general direction of Palmer before knocking her out cold with a punch when she lunged in his direction. He then had a conversation—which was muted on closed-circuit camera—once hotel patrons noticed Palmer lying on the ground and gathered around.
Warning: Video contains graphic footage
The footage created another vast wave of criticism—aimed at Rice, Goodell and the Ravens for keeping him on the payroll. Despite initial reports to the contrary, the NFL claimed to have not seen the hotel footage until TMZ released it.
The Ravens confirmed in a release on the team's website that it made the decision after seeing the video.
Judy Battista of NFL.com is reporting that the Ravens understood the story to be different than what the video showed:
I've been told that the Ravens were told a "softer" version of the events that were shown on the videotape.

— Judy Battista (@judybattista) September 8, 2014
However, Jason La Canfora of CBS Sports is hearing that Baltimore was told exactly what the cameras recorded:
So while the actual footage today was new to the Ravens visually, the description Rice gave them was in line with what the video displayed

— Jason La Canfora (@JasonLaCanfora) September 8, 2014
"We requested from law enforcement any and all information about the incident, including the video from inside the elevator," league spokesperson Brian McCarthy said in a statement, via ESPN.com news services. "That video was not made available to us and no one in our office has seen it until today."
Harvey Levin of TMZ told Tony Perkins of Fox 5 that he will release news that the NFL knew of the Rice video before today's release (via Brody Logan of Fox 5):
Harvey Levin from @TMZ told @TonyPerkinsFOX5 they will release news tomorrow that the NFL knew about the Ray Rice video & turned a blind eye

— Brody Logan (@BrodyLogan) September 8, 2014
Mike Florio of ProfootballTalk clarifies what exactly Levin and TMZ are claiming:
TMZ isn't saying NFL had tape. TMZ is saying NFL could have gotten tape. Which we have been saying for more than a month.

— ProFootballTalk (@ProFootballTalk) September 9, 2014
Dan Wetzel of Yahoo Sports spoke to team officials who indicated the Ravens "have to" release Rice. Baltimore coach John Harbaugh, who had been publicly supportive of Rice since the incident first occurred, is expected to address the media at 8 p.m. ET on Monday, per Mike Wilkening of Pro Football Talk.
Following the release, ESPN's Adam Schefter weighed in on Rice's future in the league:
Ravens had no choice but to terminate Ray Rice's contract. Will be a long time, if ever, before another team signs him.

— Adam Schefter (@AdamSchefter) September 8, 2014
Bleacher Report's Mike Freeman also weighed in on Rice's future:
Ray Lewis, Rice's former teammate, also spoke about the situation (via Justin Fenton and Aaron Wilson of The Baltimore Sun):
Ray Lewis: "I'm disappointed. This is personal for me. I'm torn. This is a young man I took under my wing" #ESPN

— Justin Fenton (@justin_fenton) September 8, 2014
Ray Lewis says his situation and Ray Rice are 'night and day'

— Aaron Wilson (@RavensInsider) September 8, 2014
Ray Lewis on Ray Rice: 'I told him, 'I will be there to talk to him.' I want to know what's going on in his heart, what's next for Ray Rice'

— Aaron Wilson (@RavensInsider) September 8, 2014
Coach John Harbaugh commented on Rice during a press conference Monday evening. Ian Rapoport of NFL.com, Don Banks of Sports Illustrated and Jayme Snowden of Cheesehead TV had some of his answers:
#Ravens coach John Harbaugh: "(The video) is something we saw for the 1st time today. It changed things." Won't say whether Rice misled them

— Ian Rapoport (@RapSheet) September 8, 2014
Harbaugh on why the Ravens didn't see the video until today: "I have no answer for that.''

— Don Banks (@DonBanks) September 8, 2014
"What did you think happened in that elevator before you saw the video?" "I don't want to get into all that".

— Jayme (@jaymelee1) September 8, 2014
On the field, losing Rice will undoubtedly be a blow. The former Rutgers star is the team's second all-time leading rusher behind Jamal Lewis and led the team with 660 yards last season. He added 58 receptions for 321 yards as the Ravens offense fell toward the bottom of the league a year after winning the Super Bowl. Football Outsiders' DVOA (Defense-adjusted Value Over Average) measured Rice as the second-worst running back in football in 2013, though at age 27 he seemed a strong candidate for a bounce-back season.
The duo of Justin Forsett and Bernard Pierce will see the bulk of the action with Rice gone. Forsett rushed for 70 yards and a touchdown in Sunday's loss to the Cincinnati Bengals. Pierce, who has shared time with Rice each of the last two seasons, had six carries for 14 yards.
Baltimore will also have to deal with the financial ramifications of releasing Rice. He is only in the third year of a five-year, $35 million extension signed in 2012. The Ravens are on the hook for $14.25 million in dead money tied to bonuses paid, which will be spread out over the next two seasons. Michael Ginnitti of Spotrac noted that $9.5 million of the dead money will be charged to their 2015 cap—a difficult hit that will no doubt constrict their flexibility in free agency.
From an off-field and public-relations perspective, though, this is a no-brainer. The acts of Rice in that hotel elevator have no place in the NFL—or anywhere, for that matter. That the Ravens continued to publicly back him seemed tone-deaf at the time, and that especially became the case as more evidence piled up.
I wonder how those Ravens fans who cheered Ray Rice at practice feel after seeing the video.

— J.A. Adande (@jadande) September 8, 2014
This is a move that probably should have been made months ago. But better late than never.
Follow Tyler Conway (@tylerconway22) on Twitter