It was no secret that the Atlanta Falcons were struggling in the wake of a 32-7 loss to the Houston Texans in their second preseason game. HBO's Hard Knocks didn't sugarcoat those difficulties to kick off the fourth episode of the annual series.
After a brief reel of the coaches' meeting following the game, this tweet from the team's vice president of football communications, Reggie Roberts, forecast the storm that was to come:
Episode 4 of Hard Knocks is must see TV. Falcons special teams coach Keith Armstrong shows why "teams" are so critical to NFL rosters.

— Reggie Roberts (@FalconsPR) August 27, 2014
Special teams coordinator Keith Armstrong went on a profanity-laden tirade, hot over several of the team's breakdowns in punt and kick coverage in the Houston game.
Here comes the intensity of special teams coordinator Keith Armstrong... #HardKnocks

— Atlanta_Falcons (@Atlanta_Falcons) August 27, 2014
ESPN's Ed Werder reacted to one segment of Armstrong's vitriol, directed at rookie linebacker Jacques Smith, who was ironically ejected in the Falcons' most recent game against the Tennessee Titans:
ST coach Keith Armstrong lighting it up in meetings to open #HardKnocks. "Smith! You're not good enough to be an A#@!#@!"

— Ed Werder (@Edwerderespn) August 27, 2014
The voiceover that followed? "Grow up, or get out. It's that simple, because time is that short."
Then came the indication that after the third preseason game, the Falcons would cut their roster from 90 to 75 players. Many of the make-or-break roster spots are determined by special teams, so it was discouraging to see so many problem spots in Atlanta's units.
It's deeper into the preseason now, and the big cuts are about to be made. Read on to find out how the latest Hard Knocks ratcheted up the intensity factor.
Jeff Mathews Goes Through Rookie Growing Pains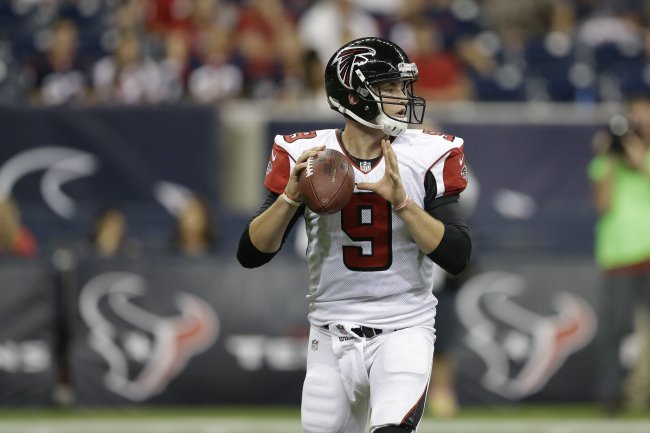 Patric Schneider/Associated Press
The Cornell product is the Ivy League's all-time leading passer (11,284 yards), but a tough-love meeting with offensive coordinator Dirk Koetter indicated Mathews was struggling with the complex verbiage of an NFL system.
Chris Dimino of 680/The Fan in Atlanta weighed in on the encounter:
Backup QB Jeff Mathews..Big arm..looks like he just walked off the set of Friday Night Lights. Honest assessment from Dirk Koetter.

— Chris Dimino (@chrisdimino) August 27, 2014
Mathews also struggled on the practice field to imitate the authoritative cadence of starting signal-caller Matt Ryan, making it all the more difficult to establish himself as a keeper in the quarterback room.
With projected backup T.J. Yates having thrown two interceptions versus the Texans and 2013 seventh-round pick Sean Renfree no sure commodity, Mathews had a real shot to stick. Unfortunately, he wasn't able to command the offense and execute well enough in the limited practice reps he had.
Even with cameras on him, Ryan was unafraid to give a cold, honest assessment of Mathews' lack of conviction. That was at least part of what cost Mathews to be released in the latest round of cuts. He didn't play one snap in the preseason game, and he was the last player shown in the episode to be released.
More on that later.
Mathews has a strong arm, as even Ryan will attest to, but he must be more of a leader and display better confidence if he's meant to have a shot in the NFL again.
Explosive Offense, Hard Hitting Highlights 3rd Preseason Game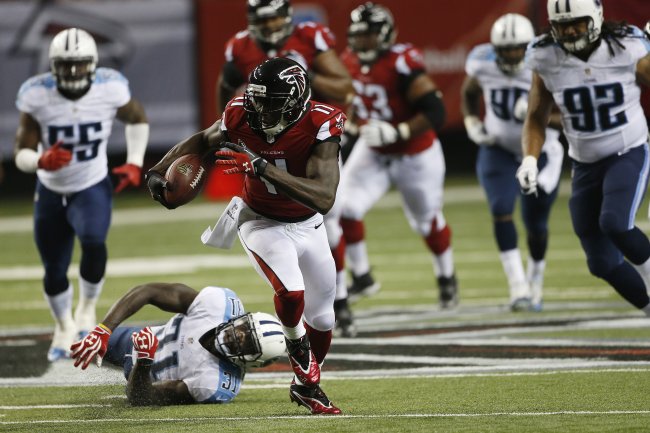 John Bazemore/Associated Press
Although the Falcons didn't come out on top against the Tennessee Titans in losing 24-17, that was mostly due to the backups allowing 11 unanswered points in the final quarter. Atlanta's first-team offense was firing on all cylinders.
Electric catch-and-runs from both Devin Hester and Julio Jones resulted in touchdowns, helping Ryan bolster his preseason numbers, per the NFL on ESPN:
Falcons QB Matt Ryan is READY for the regular season. In 3 preseason games, 28-of-37 for 314 yards, 2 TD, 0 INT. pic.twitter.com/DCXwlJyEWy

— NFL on ESPN (@ESPNNFL) August 25, 2014
Rookie linebacker Prince Shembo lined up with the first-team defense and set a physical tone, contributing six total tackles to the cause. Titans running backs Bishop Sankey and Shonn Greene combined for just 59 yards on 22 carries.
Armstrong was pleased with how his special teams fared. No big blown assignments were evident. For a team that is reputed to lack overall toughness, the furious coaches made a lasting impression on everyone at the beginning of the episode, to say the least.
In light of how bad the team looked against the Texans, this was a marked improvement in all phases of the game, more closely resembling what the Falcons hope to be come Week 1 of the regular season.
Cut Day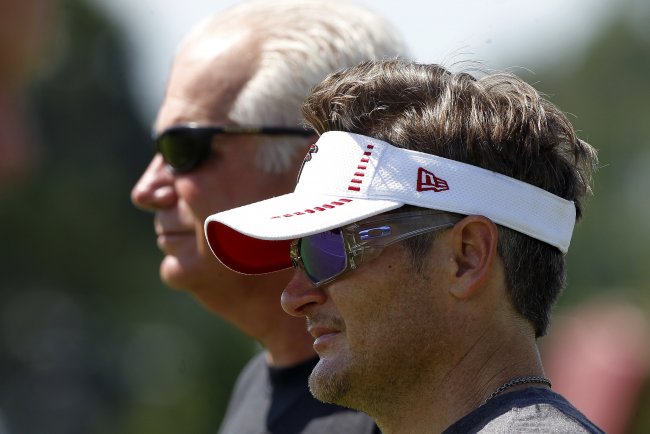 John Bazemore/Associated Press
It was a simple enough headline for the final part of the episode, as the two boldfaced words occupied the bottom of the TV screen.
Shots of an empty practice field, a vacant meeting room and a deserted set of lockers symbolized the numerous impending absences. What was coolest about this portion of Hard Knocks was seeing general manager Thomas Dimitroff and head coach Mike Smith go through each position group to determine many players' fates.
D. Orlando Ledbetter of the Atlanta Journal-Constitution praised how the Falcons brass handled the difficult circumstances:
#Falcons coach Mike Smith and GM Thomas Dimitroff handle the cuts personally. #class

— D. Orlando Ledbetter (@DOrlandoAJC) August 27, 2014
Smith and Dimitroff sat down with each individual player, and the edits between every talk were seamless. An impeccable job by the film's cutting-room gurus made the segment about Falcons cuts flow seamlessly.
The footage of players cleaning out their lockers offered the glaring reality that these players have to fight for another opportunity to stick in this league elsewhere.
Lighter Moments and Overall Outlook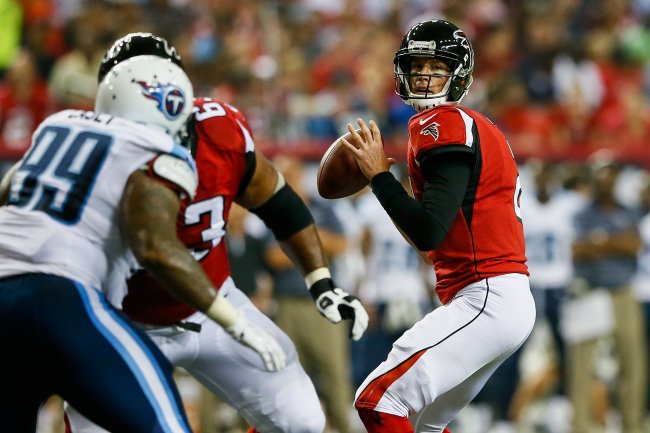 Kevin C. Cox/Getty Images
An inside look at defensive end/linebacker Kroy Biermann's family life at home was a nice change of pace in what was by far the most serious-toned start to Hard Knocks this season.
Wells Guthrie of ESPN 105.1 The Zone relayed one of Biermann's memorable quotes:
Kroy Biermann calling Michael Oher "blind side" was downright hilarious. Oher must hear that at least once a game. #HardKnocks

— Wells Guthrie (@WellsESPN1051) August 27, 2014
Ryan also posed in shoulder pads for a Sports Illustrated cover shoot, and it was humorous to watch him go through the process. He even made a quip about leaving his black shirt on in light of how ripped San Francisco 49ers QB Colin Kaepernick was.
Before then, a massive storm caused the Falcons to retreat indoors during one training camp practice. NBA.com's Lang Whitaker sent a jab at outspoken defensive line coach Bryan Cox at that time:
If Bryan Cox yelled at that rain I bet it would stop #HardKnocks

— Lang Whitaker (@langwhitaker) August 27, 2014
While it was entertaining to watch various personnel chase down the pads flapping around in the strong, rain-driven breeze, it also served as a moment of pathetic fallacy. That applies to both how Atlanta had performed in the preseason and its outlook for 2014.
Week 3 of the preseason was quite a nice change. Coach Smith has repeatedly told his team to be more physical, but the players struggled to translate that message to steady results on the field until the Titans game. Now things seem to be clicking at the proper times—at least for Atlanta's starting unit.
Which 'Hard Knocks' episode has been the best so far?
Other than the loaded receiving corps featuring Jones, Roddy White, Hester and Harry Douglas, depth is still a concern for this roster, particularly on the defensive side of the ball. Injuries ravaged the Falcons in 2013 and led to a 4-12 record. Hopefully their fortunes turn this season, and with the way the NFL tends to promote parity, it ought to.
Ryan has taken charge, evident in his proficient preseason performance. With the offense playing at this high of a level and the emphasis on illegal contact penalties, Atlanta will be lighting up the scoreboard with the NFL's best this season, which should keep the Falcons competitive in most games.
This next Tuesday already marks the 2014 finale of Hard Knocks, and with the regular season imminent, it will be worth tuning in for.