The Dallas Cowboys' habitually weak defense overshadowed Tony Romo's strong outing Saturday night as the Baltimore Ravens won a 37-30 affair in Week 2 of the NFL preseason.
Joe Flacco and the Ravens offense didn't touch the ball until the 3:25 mark of the first quarter. When they did, Baltimore already had two touchdowns and a 14-7 lead after Courtney Upshaw returned a botched handoff for a touchdown and Deonte Thompson took a kickoff 108 yards to the house.
Flacco went on to finish the half and give the Ravens a 27-10 halftime lead. He finished 9-of-17 passing for 113 yards, hitting Torrey Smith for his lone touchdown pass.
As for the Cowboys, their offense responded well after the opening gaffe between Romo and DeMarco Murray. The running back redeemed himself with five strong rushes on the next drive, capped off by Romo's 31-yard strike to Dez Bryant.
Romo was taken out for Brandon Weeden after those two drives, leaving him with an impressive stat line after the early fumble, per NFL:
4/5. 80 yards. 1 TD. And Tony Romo is done for the night. #BALvsDAL pic.twitter.com/OHaDPgUXnD

— NFL (@nfl) August 16, 2014
The switch couldn't have come soon enough, with NFL Network's Daniel Jeremiah putting Dallas' defensive woes into perspective:
Considering the Cowboys defensive personnel, I think I'd tell #88 and #9 to take the rest of the night off. Need them healthy

— Daniel Jeremiah (@MoveTheSticks) August 16, 2014
Weeden took on a much larger role in Saturday's game by playing the team's next seven drives, but his performance was much more balanced than that of the Cowboys' starter. He finished 10-of-19 with 129 yards and an interception, producing only one field goal on his seven series.
With the Cowboys offense grinding to a halt after the first team departed, Baltimore had no trouble moving the ball consistently. Boasting an early lead and riding with Flacco for the entire first half, the Ravens distanced themselves before halftime came.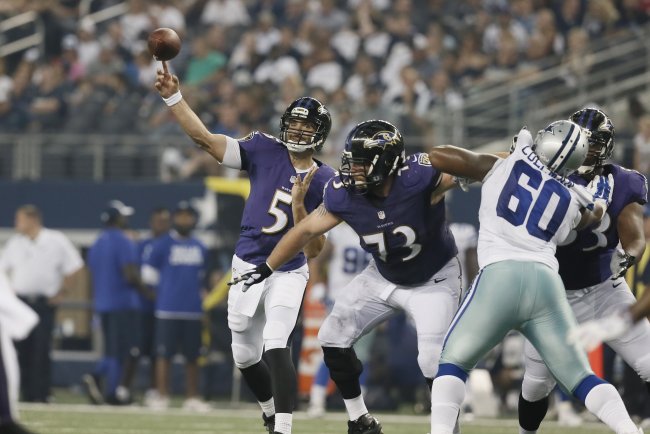 Brandon Wade/Associated Press
Coming out of the gates in the second half, it was more of the same. Despite switching to Tyrod Taylor under center, the Ravens marched down the field to take a 34-10 lead on a Lorenzo Taliaferro touchdown run.
Dallas' offense got rolling again in the second half with Caleb Hanie running the show. He connected with James Hanna for a 24-yard score to cut the deficit to 34-17 as the third quarter concluded. Running back Ryan Williams made it 34-24 with his three-yard rush coming off a recovered fumble, and Jamar Newsome caught a five-yard touchdown to make it a four-point game after a failed two-point conversion.
But the Cowboys' comeback was too little, too late.
Early on, the Cowboys' typical issues had ESPN's Bomani Jones recalling previous seasons:
cowboys look mad familiar.

— Bomani Jones (@bomani_jones) August 16, 2014
Those two early mishaps on special teams and offense put the Ravens up 14-7 before Flacco had even touched the ball, spurring Peyton's Head to tweet the following:
Flacco is ELITE! 14 points, hasn't even taken the field.

— Peyton's Head (@PeytonsHead) August 16, 2014
Flacco ended up posting a solid outing despite missing most of the first quarter, and that was largely due to the Ravens' stout running game. Bernard Pierce carried seven times for 55 yards, and Taliaferro added 10 carries for 38 yards.
Ray Rice carried for 18 yards on his first touch, but he was injured on his second and final carry. He left the game, but the team's official Twitter feed reported good news for Ravens fans:
RB Ray Rice had X-rays on his shoulder, which came back negative.

— Baltimore Ravens (@Ravens) August 17, 2014
In the wake of Rice's injury, Pierce shined bright with a couple of long runs. Luke Jones of WNST.net came away impressed:
Impressive and physical run from Bernard Pierce to pick up that first down. Running game has been good tonight. #Ravens

— Luke Jones (@BaltimoreLuke) August 17, 2014
Head coach John Harbaugh and his staff will smile on the Ravens' offensive success in the first half, but the impact on special teams with Thompson's big TD return can't be understated as the big boost that it was.
ESPN's Jamison Hensley noted that Thompson earned himself some looks, despite his standing with the team still in question:
If Deonte Thompson doesn't make #Ravens, he will get a look from teams on his return skills based on the tape tonight.

— Jamison Hensley (@jamisonhensley) August 17, 2014
The Cowboys' problems were noticeable from the get-go and didn't go away, spurring this tweet from Sports Illustrated's Peter King:
It's going to be a long year for the Cowboys.

— Peter King (@SI_PeterKing) August 17, 2014
Dallas' defensive woes had local news personalities like CBS' Jane Slater reverting to sarcasm:
3 & Out? Easy Cowboys defense don't overachieve here...you will change the narrative

— Jane Slater (@SLATERCBS11) August 17, 2014
All jokes aside, the Cowboys cannot feel good about their defense at this point. After boasting one of the league's worst defenses a year ago, the first team has struggled mightily in two straight preseason outings.
However, hope can be found on the other side of the ball. After scoring only once all game in the preseason opener against San Diego, the Cowboys scored with their first team and followed up with a strong second half offensively.
The Ravens are now 2-0 in the preseason after the win, and can hang their hats on a dominating first half despite letting the lead evaporate late.
What's Next?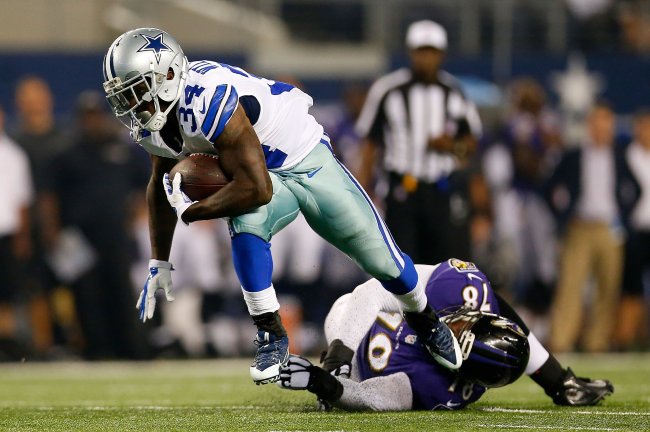 Tom Pennington/Getty Images
Baltimore returns home for Week 3 of the preseason to face the Washington Redskins. The Ravens will look to improve to a perfect 3-0.
As for the Cowboys, they will travel to Miami to face the Dolphins in a Saturday night affair.
Look for both teams to give their starters plenty of run in the first half. The third preseason game typically allows for teams to play their starters much of the opening half before resting them for the final preseason game.
At this point, it looks like the Cowboys' offensive players will need the rest considering what they will be up against in the regular season.