Updates from Wednesday, Sept. 10
Sam Bradford underwent an important step on his road to recovery on Tuesday according to Nick Wagoner of ESPN.com:
Rams QB Sam Bradford also had surgery on his torn left ACL on Tuesday.

— Nick Wagoner (@nwagoner) September 10, 2014
Updates from Thursday, Sept. 4
Nick Wagoner of ESPN.com provides an update on Sam Bradford's knee surgery:
Rams QB Sam Bradford just spoke to media for first time since injury. Surgery not scheduled yet but he says Dr. James Andrews will handle it

— Nick Wagoner (@nwagoner) September 4, 2014
Updates from Tuesday, Aug. 26
Jim Thomas of the St. Louis Post-Dispatch reported the latest on Sam Bradford's injured knee:
Rams place QB Sam Bradford on injured reserve.

— Jim Thomas (@jthom1) August 26, 2014
Updates from Sunday, Aug. 24
ESPN's Chris Mortensen reports the Rams' biggest fear with Sam Bradford has come true:
Rams QB Sam Bradford is out for season after MRI shows he did tear left knee ACL, per sources. Rams will announce later today. @ESPNNFL

— Chris Mortensen (@mortreport) August 24, 2014
NFL Nation's Nick Wagoner reports Jeff Fisher will meet with the media:
Reminder that Rams HC Jeff Fisher scheduled to address media at 5:30 p.m. CT today.

— Nick Wagoner (@nwagoner) August 24, 2014
Original Text
Sam Bradford's make-or-break season might be on the precipice of breaking. The St. Louis Rams quarterback exited the team's preseason game Saturday against the Cleveland Browns after suffering an apparent knee injury in the first quarter.
Fox Sports' Mike Garafolo had details:
Bradford headed to locker room. They started to look at his left knee on the sideline. That's the ACL knee.

— Mike Garafolo (@MikeGarafolo) August 24, 2014
NFL Nation's Nick Wagoner has an update on Bradford:
Bradford has a knee injury. He will not return tonight. That's update from Rams at this time.

— Nick Wagoner (@nwagoner) August 24, 2014
ESPN's Adam Schefter reports positive news:
Initial tests on Rams QB Sam Bradford's knee did not show damage to ACL. Team "dodged a bullet." Still, more tests on knee scheduled Sunday.

— Adam Schefter (@AdamSchefter) August 24, 2014
The Rams report head coach Jeff Fisher is optimistic about the injury:
Jeff Fisher: "I really don't have any information for you as far as Sam [Bradford] is concerned ... We're very optimistic." #STLvsCLE

— St. Louis Rams (@STLouisRams) August 24, 2014
Wagoner and NFL Network's Andrew Siciliano have more from Fisher:
Fisher on Bradford: "I can't speculate but it appeared just to be a hyperextension of the same knee. He's walking around fine."

— Nick Wagoner (@nwagoner) August 24, 2014
Fisher says Bradford is in good spirits.

— Andrew Siciliano (@AndrewSiciliano) August 24, 2014
Shaun Hill, in his first season as Bradford's primary backup, will take over first-team duties. Hill spent the last four seasons with the Detroit Lions. The Rams are Hill's fourth organization in his nine NFL seasons as a steady backup option.
Steadiness is exactly what St. Louis needs given Bradford's laundry list of injuries throughout his career. The 2010 No. 1 pick has played 16 games twice in his four seasons but has missed 15 combined games in his two others. Last season, he was limited to just seven games after suffering a torn ACL. The Rams finished 7-9 in 2013, missing out on the postseason for the ninth straight year.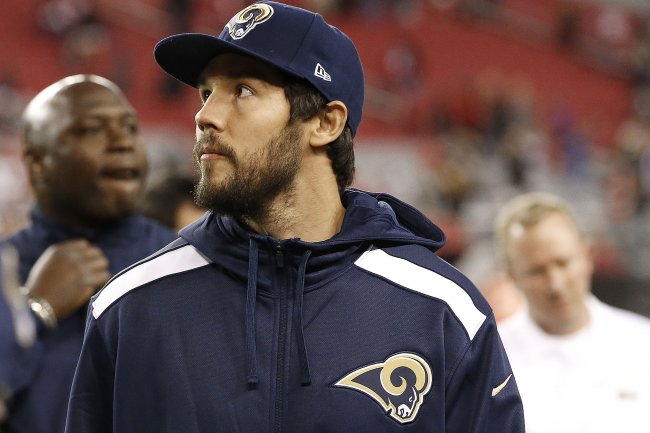 Ross D. Franklin/Associated Press
The shame for Bradford was he was in the midst of his finest professional season before the injury. He threw for 1,687 yards and 14 touchdowns against only four interceptions, compiling a career-high quarterback rating of 90.9. Football Outsiders' DVOA metric ranked him the 14th-best quarterback in football, while Pro Football Focus (subscription required) had him 17th.
That short sample wound up doing Bradford more good than most imagined. Holding a $17.61 million cap charge, many expected St. Louis to release Bradford or force him to take an outright pay cut without additional guarantees. Cutting the 26-year-old would have given the Rams more than $10 million in extra cap room.
Instead, they surprisingly decided to stay the course. Bradford will make more than $14 million in base salary for 2014, a season that will probably shape his NFL future. Perform well enough to be a league-average or better quarterback, and the Rams may be forced to award him a long-term extension. Flip the script, and he'll likely be competing for a backup job in a city outside the great state of Missouri.
"It's funny. I've been asked that question every year," Bradford told Jarrett Bell of USA Today. "You could probably ask that of a lot of other quarterbacks. To someone out there, every year is a make-it-or-break-it year. To me, I'm just trying to approach it the same. I'm trying to improve every day."
If this injury is serious, improvement will be difficult from the sidelines. As the Rams await word on Bradford's long-term prognosis, their decision to continue with him in 2014 is going to come into question.
With one of the best defensive lines in football, a strong secondary and an improving lot of skill position players, they're one franchise quarterback away from playoff contention.
Follow Tyler Conway (@tylerconway22) on Twitter.