Updates from Wednesday, Sept. 3
Steve Corkran of the Contra Costa Times has the latest on Boone's status for Sunday:
Coach Jim Harbaugh said it's uncertain whether guard Alex Boone will play Sunday.

— Steve Corkran (@CorkOnTheNFL) September 3, 2014
Updates from Monday, Sept. 1
The 49ers have confirmed Alex Boone is back with the team:
#49ers guard Alex Boone has officially passed his physical and is back with the team. READ: http://t.co/kPilXQMQ5S pic.twitter.com/deMZIOODLS

— San Francisco 49ers (@49ers) September 1, 2014
Updates from Sunday, Aug. 31
Adam Schefter of ESPN reported on a breakthrough in Alex Boone's holdout in San Francisco:
49ers holdout G Alex Boone is expected to report to San Francisco in next 24 hours with a reworked 2-year contract, per league sources.

— Adam Schefter (@AdamSchefter) August 31, 2014
One add on to Alex Boone's deal: 49ers can't tag him after when his contract is up in two years.

— Adam Schefter (@AdamSchefter) August 31, 2014
Pro Football Talk also provided terms of Boone's deal:
Per league source, Alex Boone's salary increases from $3.7 million over two years to $6 million over two. He'll be free agent in 2016.

— ProFootballTalk (@ProFootballTalk) August 31, 2014
Also, 49ers waived all fines and bonus forfeitures for Alex Boone resulting from his holdout.

— ProFootballTalk (@ProFootballTalk) August 31, 2014
Updates from Friday, Aug. 22
ESPN's Ed Werder provided insight on Boone's holdout:
Unless #Chargers get inside pressure on @Kaepernick7 to give Alex Boone some leverage, his holdout could last into regular season

— Ed Werder (@Edwerderespn) August 22, 2014
Updates from Thursday, Aug. 21
Jason LaCanfora of CBS Sports has the latest update on Alex Boone:
Teams interested in Boone perplexed-would take lot to land him they surmise; 49ers yet to sign him to deal commensurate w/that compensation

— Jason La Canfora (@JasonLaCanfora) August 21, 2014
Updates from Wednesday, Aug. 20
Matt Maiocco of CSN Bay Area provides an update on the latest Alex Boone rumors:
Source: Teams have inquired about trading for #49ers holdout guard Alex Boone, but SF is not interested in trading him.

— Matt Maiocco (@MaioccoCSN) August 20, 2014
Bleacher Report's Jason Cole has more details on what the 49ers would be willing to accept in exchange for Boone:
#49ers want 1st or 2nd rdr for OL Alex Boone, which means they don't want to trade. They also don't want to renegotiate. Standoff continues

— Jason Cole (@JasonPhilCole) August 20, 2014
Updates from Tuesday, Aug. 19
Jason Cole of Bleacher Report has the latest on Boone's negotiations:
if #49ers had offered Alex Boone a 3-year deal worth $15M or deal with $15M in real money over the first 3 years of a longer deal, he'd sign

— Jason Cole (@JasonPhilCole) August 18, 2014
As OL injuries pile up around the NFL, the trade market for #49ers OL Alex Boone continues to increase.

— Jason Cole (@JasonPhilCole) August 18, 2014
Mike Garofolo of Fox Sports adds more insight into the situation:
Numbers are subjective. RT @mattbarrows: If Boone had offer as 12th highest-paid G, would've been in camp pronto. Diff ways to define offers

— Mike Garafolo (@MikeGarafolo) August 18, 2014
Ian Rapoport of NFL.com notes more details on the 49ers' reported offer:
Making more calls Alex Boone's offer: Numbers always subjective, but "top 12" in real $$ would mean > $5.3M per year. Offer isn't there yet.

— Ian Rapoport (@RapSheet) August 18, 2014
Updates from Monday, Aug. 18
Gil Brandt of NFL.com reported on contract negotiations between Alex Boone and the 49ers:
Alex Boone has been offered a contract by @49ers that would make him a top 12-paid OG. He turned it down.

— Gil Brandt (@Gil_Brandt) August 18, 2014
Updates from Monday, Aug. 11
One NFC South team is interested in bolstering their offensive line with Alex Boone according to Chris Wesseling of NFL.com:
Having already yanked starting right guard Jamon Meredith from the first-team offense, the Bucs have emerged as one of the team's hoping to pry holdout offensive lineman Alex Boone away from the 49ers.

NFL Media Insider Ian Rapoport reports, via a person informed of the Bucs thinking, there is real interest in a Boone trade at the right price.

Another Buccaneers source tells Rapoport there have been no "real" conversations with the 49ersyet, but the front office touches base with all teams to discuss who might be available.
Original Text
San Francisco 49ers guard Alex Boone's protracted contract holdout doesn't look like it will end anytime soon, and rumors of potential trade interest in the standout guard have surfaced.
According to ESPN's Bill Williamson, several teams are interested in dealing for Boone:
Multiple teams are preparing to approach the San Francisco 49ers about their interest in trading for holdout guard Alex Boone, according to a league source. Boone has held out since early in the offseason. The two sides are not close to a contract extension and Boone is believed to be prepared to stay away from the team until he gets a new deal.
Boone's long holdout is a dispute over his paltry contract. After establishing himself as an excellent run-blocking guard over the past two seasons, the 27-year-old is still getting paid backup tackle money. He is set to make $2 million in base salary this season and $1.2 million in 2015, per Spotrac. After that, he can become a free agent.
However, two years is a long time to wait for a big payday in the NFL. There is always the risk of injuries or roster overhauls, so it makes sense that Boone is eager to get a better contract as soon as possible.
Fox Sports' Mike Garafalo pointed out that guards are in high demand as of right now:
Agree w/ @BWilliamsonESPN on Alex Boone. Could see teams aggressively pursuing trade. Guards in demand (e.g. Incognito even getting sniffs)

— Mike Garafolo (@MikeGarafolo) August 9, 2014
CBS Sports' Pete Prisco gave his take on Boone's status around the league, while also noting his origin story:
Alex Boone, the answer to all guard troubles for every team, was not drafted. He was also a college tackle. Make a guard

— Pete Prisco (@PriscoCBS) August 9, 2014
Boone's experiences as a tackle could perhaps increase his value to other teams looking to add versatility to the offensive line while still getting a starting-caliber player. Boone has also proven to be a very durable player. He's started every game at right guard over the past two seasons and hasn't missed a game since the beginning of the 2011 season.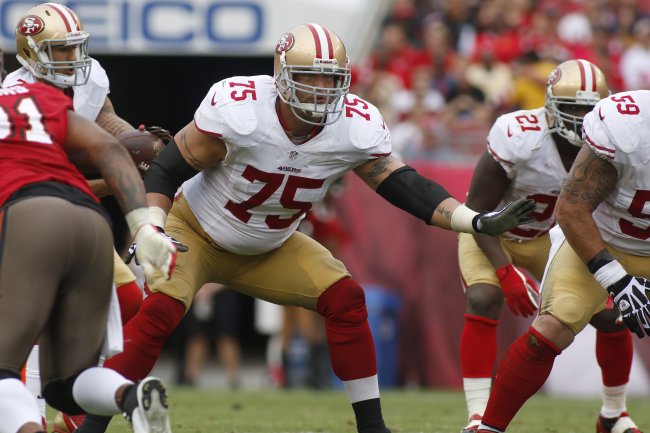 Reinhold Matay/Associated Press
Head coach Jim Harbaugh has praised Joe Looney, Boone's potential replacement, at times this summer.
"He (Looney) also had some 'wow' moments during the practice," Harbaugh said after a training camp practice in late July, via CSNBayArea.com's Matt Maiocco. "One in particular, I was like, 'Wow.' He pulled, he was on a track, he was square, he delivered a blow. Good things."
However, ESPN's Louis Riddick pointed out that Looney struggled during the 49ers' preseason opener against the Baltimore Ravens:
The more Joe Looney plays, the better it is for Alex Boone. #notagoodfirstseries #49ers

— Louis Riddick (@LRiddickESPN) August 7, 2014
A player of Boone's stature doesn't reach the open market very often. The 49ers would likely be reluctant to trade away one of their best offensive players. His age and tenacity would make him an ideal fit for several teams. The 49ers are a perennial contender under coach Harbaugh; working out a deal would be in the best interest of both parties.