Preseason games are often devoid of true drama considering the final score isn't of great concern for most teams, but the Chicago Bears' 34-28 comeback victory over the Philadelphia Eagles on Friday night provided a welcome dose of excitement for football fans.
The Eagles managed to take a 21-14 lead into halftime, courtesy of two Matthew Tucker touchdown runs and a 102-yard kickoff return from Josh Huff. However, Chicago stormed back in the second half thanks to a pair of touchdown tosses from Jimmy Clausen and two field goals from kicker Robbie Gould.
Nearly half of Clausen's 150 passing yards came on one play, a 73-yard scoring bomb to second-year wideout Chris Williams. Unfortunately, Williams may have injured his hamstring on the player, per ESPN's Jeff Dickerson:
Chris Williams apparently suffered a hamstring injury. Out for the game.

— Jeff Dickerson (@ESPNChiBears) August 9, 2014
Clausen, formerly of the Carolina Panthers, is in town to provide depth behind Jay Cutler—who threw for 85 yards and a TD of his own—after the offseason departure of Josh McCown. The Bears staff should be encouraged by his Week 1 performance.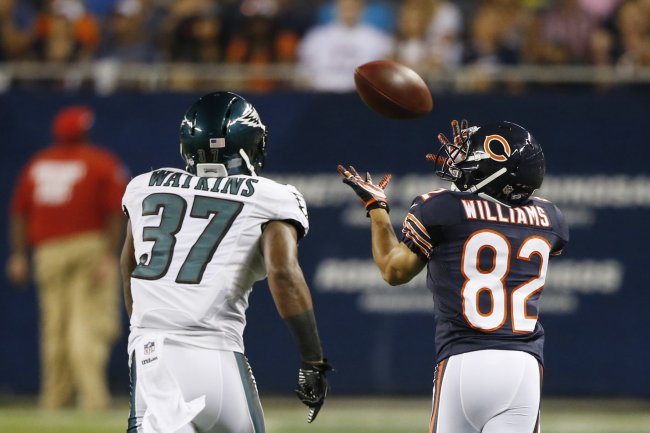 Charles Rex Arbogast/Associated Press
Bleacher Report's own Matt Bowen believes he deserves some time working with the second unit after that performance:
Jimmy Clausen should see some reps with the 2s next week after his production tonight. #Bears

— Matt Bowen (@MattBowen41) August 9, 2014
Eagles star running back LeSean McCoy made essentially a cameo appearance in this game, rushing one time for no gain and catching one pass for eight yards. His lack of playing time ruined the game somewhat for this Eagles fan:
It's hard to take this game seriously without @CutonDime25 playing #EaglesNation 🏈🏈🏈

— GStar (@EL_GeneraLL) August 9, 2014
Of course, McCoy could just be saving the good stuff for the regular season, as he laid out his plans for the upcoming year Thursday night on Twitter:
This is THE YEAR!!!! My potential is #2000yards. Will I reach it? Stepping up my training and signs point to yes.

— Lesean McCoy (@CutonDime25) August 7, 2014
Bears fans should also be encouraged by the strong play of tight end Zach Miller, who tallied two touchdowns on the night. The Bears' official Twitter account relayed one of his scores:
Touchdown #Bears! On 3rd & 7, Cutler fires a laser to TE Zach miller in the end zone for the 1st score of the game. PAT from the 15 coming.

— Chicago Bears (@ChicagoBears) August 9, 2014
Tucker is in a heated training camp battle for the third or fourth running back spot behind LeSean McCoy and Darren Sproles. Head coach Chip Kelly likes to use a variety of backs in his offense, and Tucker's performance will not go overlooked.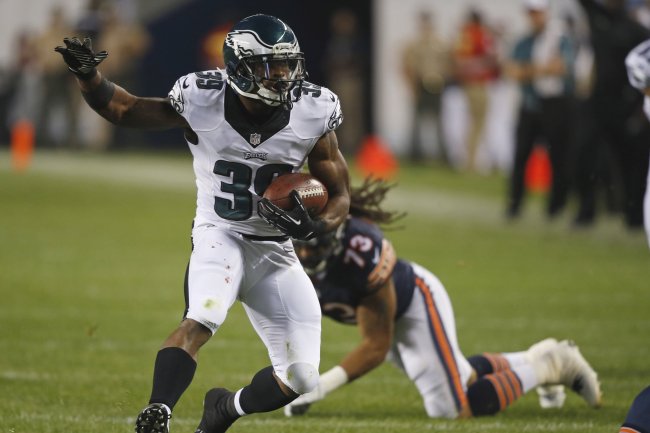 Charles Rex Arbogast/Associated Press
There is cause for concern though, as Tucker had to leave the game after reportedly injuring his hamstring, per the Eagles' official Twitter account:
RB Matthew Tucker has a hamstring injury, will not return.

— Eagles Insider (@EaglesInsider) August 9, 2014
The injury could hamper his chances of making the final 53-man roster, but CSNPhilly.com's Reuben Frank noted during the game that he does have the backing of McCoy:
Shady is a big fan of Matthew Tucker. Every time you mention him, Sproles and Polk, he reminds you to mention Tucker. Good tough run there.

— Reuben Frank (@RoobCSN) August 9, 2014
One player who certainly did not acquit himself well was Philly wideout Jordan Matthews, who finished with four catches for 14 yards. However, the lack of yardage wasn't the only issue with his performance. Frank has the key insight regarding his play against the Bears:
That's three drops for Jordan Matthews. The first one was a tough catch, the last two, he has to catch those.

— Reuben Frank (@RoobCSN) August 9, 2014
Matthews is one of the players tasked with replacing the explosive DeSean Jackson in Kelly's high-powered offense; look for him to bounce back in Week 2 of the preseason and quell any fan fears of his inability to perform in his increased role.