Updates from Friday, Aug. 15
Zach Jackson of Fox Sports Ohio has the latest on Cameron:
Pettine: Cameron should be able to play Monday.

— Zac Jackson (@FSOhioZJackson) August 15, 2014
Updates from Monday, Aug. 11
Jordan Cameron spoke about his injured shoulder with Nate Ulrich of the Akron Beacon Journal:
#Browns TE Jordan Cameron said he has sprained AC joint in shoulder. Suffered it when he fell on shoulder Aug. 2 during scrimmage.

— Nate Ulrich (@NateUlrichABJ) August 11, 2014
Daryl Ruiter of 92.3 The Fan reported Cameron's expected status for Week 2 of the preseason:
TE Jordan Cameron expected to play @ Wash. Working him back into practice this week; was in non contact drills today

— Daryl Ruiter (@RuiterWrongFAN) August 11, 2014
Kevin Jones of ClevelandBrowns.com previously reported Cameron's status for today's practice:
Jordan Cameron (shoulder) has his helmet on working with other tight ends at the moment

— Kevin Jones (@Mr_KevinJones) August 11, 2014
Ruiter previously provided an image of Cameron at practice:
Updates from Wednesday, Aug. 6
Head coach Mike Pettine updated Jordan Cameron's status for the Browns' first preseason game (via Daryl Ruiter of 92.3 The Fan):
TE Jordan Cameron will not play this weekend; should be good to go at Washington

— Daryl Ruiter (@RuiterWrongFAN) August 6, 2014
Earlier, Scott Petrak of the Elyria Chronicle-Telegram and the Medina Gazette provides Cameron's status before Wednesday's practice:
#Browns WR Travis Benjamin on bike, could be maintenance day. TE Jordan Cameron (shoulder),LB Darius Eubanks also on bike

— Scott Petrak ct (@ScottPetrak) August 6, 2014
Original Text
Cleveland Browns tight end Jordan Cameron did not participate in the team's training camp practice Monday and is unlikely to play in Week 1 of the preseason after suffering an injury to the AC joint in his shoulder.
Browns head coach Mike Pettine told reporters that Cameron would have been healthy enough to play had this been a week leading up to a regular-season game, per Nate Ulrich of the Akron Beacon Journal:
#Browns HC Mike Pettine said Jordan Cameron has an AC issue with shoulder. Likely could play with it in reg season. Likely wont play Sat.

— Nate Ulrich (@NateUlrichABJ) August 4, 2014
Cameron, 25, exited after playing only a few series in Cleveland's intrasquad scrimmage on Saturday. Tom Reed of Cleveland.com reported that it was initially unclear how Cameron was injured, as he caught only one pass from Brian Hoyer before exiting.
"(Cameron) banged his shoulder," Pettine said Saturday. "He should be fine. It was more precautionary than anything else."
The Browns open their preseason Saturday against the Detroit Lions. Cameron's absence could leave Hoyer and rookie Johnny Manziel without their two top pass-catching options, as wide receiver Josh Gordon continues his appeal of a season-long suspension due to drug use. While it's unclear whether Gordon has a chance of overturning the suspension, it's understandable that Pettine wants to ensure Cameron is 100 percent before putting him back on the field.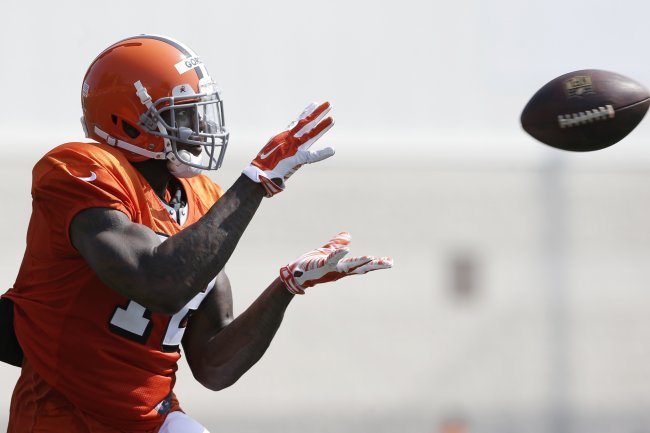 Tony Dejak/Associated Press
A 2011 fourth-round pick, Cameron enjoyed a breakout season in 2013. He made 80 receptions for 917 yards and seven touchdowns, earning his first Pro Bowl berth. A versatile talent who excels in the intermediate areas, Cameron worked both in the traditional tight end position and occasionally out of the slot. Pro Football Focus (subscription required) measured that he had the sixth-lowest drop rate among tight ends.
Depending on the result of the Gordon case, the Browns may be even more reliant on Cameron in 2014. Likely No. 2 receiver Miles Austin has a laundry list of past injuries and Andrew Hawkins missed half of last season in Cincinnati. Without Cameron, Cleveland's quarterback—whether it is Manziel or Hoyer—would have a difficult time succeeding.
Hoyer is synched up with Jordan Cameron and Andrew Hawkins. Expect lots of those combos this year.#BrownsCamp14

— john telich (@JohnTelich8) July 26, 2014
It's good news that the team considers the injury minor for now. Look for Pettine and Co. to hold Cameron out as long as necessary to avoid the possibility of a recurrence.
Follow Tyler Conway (@tylerconway22) on Twitter.