One day after Baltimore Ravens running back Ray Rice addressed the media regarding his controversial suspension, NFL commissioner Roger Goodell did the same.
Media members surrounded Goodell in Canton, Ohio, where the NFL Hall of Fame induction and Hall of Fame Game will take place in the coming days. Reporters asked Goodell an array of questions, but most of them related to Rice.
The league levied a two-game suspension against Rice for assaulting his wife in an Atlantic City casino back in February. Many considered the punishment to be too lenient, but Goodell disagreed with that assessment Friday.
According to Aaron Wilson of The Baltimore Sun, the commissioner used past precedent as reasoning behind his opinion:
Roger Goodell: 'We have to remain consistent. We can't just make up the discipline. It has to be consistent with other cases and it was.'

— Aaron Wilson (@RavensInsider) August 1, 2014
He also noted that Rice has no history of off-field issues, which played into the decision:
Roger Goodell: 'Ray Rice did not have another incident. There were other cases, and we take them into account.'

— Aaron Wilson (@RavensInsider) August 1, 2014
Among those who have challenged Goodell's assertion is Pro Football Talk's Michael David Smith:
Roger Goodell says "We have to remain consistent" on player discipline. I don't believe he has been consistent.

— Michael David Smith (@MichaelDavSmith) August 1, 2014
Goodell also seemed quite pleased with the manner in which Rice handled himself Thursday. The maligned running back was apologetic and regretful.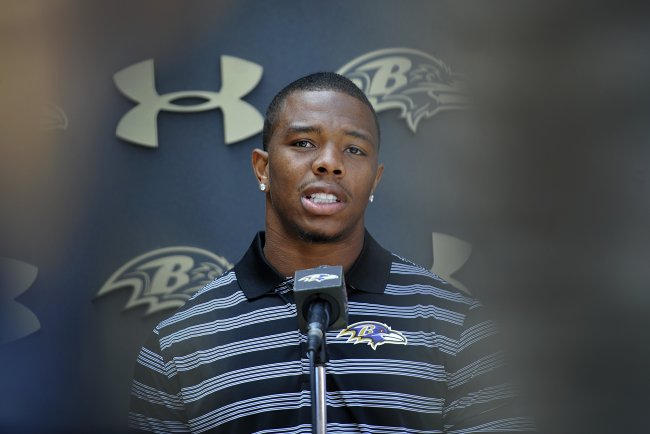 Gail Burton/Associated Press
Per Wilson, Goodell is satisfied with the way in which Rice took full responsibility during the press conference and believes he is fully aware that what he did won't be tolerated:
Roger Goodell: 'I think what's important here is Ray is taking responsibility. He's been accountable for his actions.'

— Aaron Wilson (@RavensInsider) August 1, 2014
Roger Goodell: 'He recognizes he made a horrible mistake and it's unacceptable, by his standards and our standards.'

— Aaron Wilson (@RavensInsider) August 1, 2014
Goodell even went so far as to say he was "impressed" with Rice:
Roger Goodell: 'I was also very impressed with Ray in the sense that Ray is not only accepting this issue but he's saying, 'I was wrong.'

— Aaron Wilson (@RavensInsider) August 1, 2014
Although it is likely that many weren't thrilled with what they heard from Goodell, it was largely expected. Even with so much backlash surrounding the suspension, there was no chance of Goodell admitting that he or the NFL made a mistake.
Are you satisfied with Goodell's comments regarding Rice?
He has to portray himself as a strong and decisive leader even if he feels differently in reality. With that said, it is entirely possible that Goodell is truly comfortable with his decision despite the strong opposition to it.
Now that both Goodell and Rice have spoken on the matter, one can only assume that all parties involved will try to move past it. The media may attempt to keep it at the forefront, but Rice and Goodell are clearly focused on moving forward.
That is probably the best thing they can do. However, both will be under the microscope as observers try to see just how sincere they really are.
Follow @MikeChiari on Twitter