Updates from Wednesday, Sept. 3
Philip Matier and Andrew Ross of the San Francisco Chronicle report that the city of Oakland have made an offer to the Raiders on potential stadium upgrades:
A new Raiders stadium offer worked out by Oakland Mayor Jean Quan's development people calls for giving free land to the team and for city and Alameda County taxpayers to pay off $120 million they still owe for the 1990s overhaul of the Coliseum - which would be demolished.

[...]

Now, Zach Wasserman, an attorney representing backers of a hoped-for sports, housing and retail complex called Coliseum City, says the "basic terms" of a financial deal have been worked out among his group, the city's negotiators and the Raiders.

"I expect it to be executed soon," he said.

In other words, everyone's waiting for the thumbs-up or thumbs-down from Raiders owner Mark Davis - who has been very publicly looking at other cities.
Updates from Thursday, Aug. 14
Raiders owner Mark Davis spoke about his team's fanbase in Los Angeles, via Vincent Bonsignore of the Los Angeles Daily News:
@JohnIrelandLA #Raiders owner Mark Davis: "We'd be well received if we ever moved back to (Los Angeles) Raiders Nation is strong in SoCal"

— Vincent Bonsignore (@DailyNewsVinny) August 13, 2014
Earlier, Josh Baugh and Tom Orsborne of MySA.com reported on the Raiders' talks with San Antonio, which would appear more serious than we thought:
In the several weeks preceding the July 18 weekend — when Davis, Raiders Chief Operating Officer Marc Badain and Larry Delsen, a business manager and CPA, visited with the city's highest-ranking officials and business leaders — city staff conducted significant analysis of a potential deal and others worked to ensure that the weekend would be a "once in a lifetime" tour.

The documents obtained by the newspaper under the state's open-records law reveal just how much detail went into preparing for Davis' visit.

The city has asked the Texas attorney general whether San Antonio may withhold several pages of documents because releasing them now "could have a negative competitive impact on the city," according to Di Galvan, the city's communications director. ...

... The consultant recommends "formalizing discussions with the ownership group of the Oakland Raiders," and offers a series of recommended next steps, including:

Continuing to explore financial structures with ownership.

Meeting with NFL executives.

Finalizing renovation expenses for the Alamodome.
Updates from Wednesday, Aug. 13
Vic Tafur of the San Francisco Chronicle reported on the Raiders and their deal with Oakland Coliseum:
Mark Davis has not asked, and doesn't plan to ask for a one-year extension on Oakland Coliseum deal. #Raiders

— Vic Tafur (@VicTafur) August 13, 2014
Earlier, Josh Baugh and Tom Orsborn of the San Antonio Express-News noted the Spurs' potential opposition to a move:
Meanwhile, a source with knowledge of Davis' meetings in San Antonio discounted comments made by Spurs shareholder Charlie Amato, who said the five-time NBA champion team harbors concerns about a Raiders relocation and suggested that the Spurs purchase the team. The source was not authorized to speak about the matter and asked to remain unnamed.

The Express-News previously reported that Spurs owner Peter Holt had fruitful conversations with Davis when he was in San Antonio. The two met at Holt's home July 19.

'Peter assured Mark that (the Spurs) would not be a roadblock to the Raiders relocating to San Antonio and would find ways to work with them,' the source said.
Updates from Tuesday, Aug. 12
According to Orsborn and Baugh, there's some opposition to the Raiders moving to San Antonio, courtesy of the city's only professional team:
In the wake of Oakland Raiders owner Mark Davis' whirlwind tour of San Antonio, sources with knowledge of the visit said Spurs Sports & Entertainment would be against the Raiders, as they are currently structured, relocating to South Texas.
However, Orsborn and Baugh also noted a potential solution:
The solution, [Spurs shareholder Charlie] Amato said, would be for SS&E to have controlling interest in the Raiders or perhaps any other major league franchise that wanted to move to San Antonio.

'I would be more excited about the Oakland Raiders moving to San Antonio if the Spurs ownership group had the possibility of purchasing the team,' said Amato, chairman and co-founder of Southwest Business Corp.

Amato said that if SS&E controlled the Raiders, it would ensure that the football club would be well run by a management team that has proven marketing success in a challenging environment. A template would be available in the form of Tom Benson's ownership in New Orleans of the NFL's Saints and the NBA's Pelicans.
Updates from Thursday, Aug. 7
ESPN.com has the latest on a potential move to San Antonio:
Billionaire Red McCombs told the San Antonio Express-News on Wednesday that he and his family would be interested in buying a piece of the Oakland Raiders "if that's what it would take to get them" to San Antonio.

McCombs, however, said he's not sure if Davis would seek out local investors if he were to relocate the team.

"But I told him if he wanted some, they wouldn't be hard to get," he told the newspaper.

Raiders owner Mark Davis "and two top lieutenants" met with several city officials in July about the "potential" of moving his team from Oakland to San Antonio, the Express-News reported last month. McCombs and Spurs owner Peter Holt also were at the meeting.
Updates from Friday, Aug. 1
Mike Wilkening of Pro Football Talk has this on the Raiders' interest in moving to San Antonio:
After meeting with Raiders owner Mark Davis last month, the president and CEO of the San Antonio Chamber of Commerce believes Davis will give the city some real consideration if the team decides to move.

In an interview Friday with SiriusXM NFL Radio, Chamber executive Richard Perez told hosts Alex Marvez and Ross Tucker that Davis "has indeed given us a serious look, and we're going to see where this takes us."

Perez also shed some light on Davis' message to city officials.

"I will you tell that I felt very, very comfortable and confident that his word was true," Perez said. "And he said, 'Look, you know, I'm not telling you that I'm coming today, but I will tell you that I'm looking, and you all are definitely someone that we're looking very closely at.'"
Updates from Wednesday, July 30
Marc Sessler of NFL.com has Jerry Jones' take on the reports:
"I thought it was somebody joking with me when they came out here about (the Raiders) going to San Antonio," the Cowboys owner told reporters on Tuesday. "So I don't have any comment, other than how valued I feel, and the Cowboys feel about our fans in San Antonio."

The Cowboys owner called San Antonio "a great city and a great sports town," saying that he's never given a thought to Texas housing three NFL teams. Neither has the NFL, with spokesman Greg Aiello telling the San Antonio Express-News on Tuesday that the league has "received no applications from any of our teams to relocate at this point, so there is nothing for us to respond to."

"I am very pleased that we have the fan base that we have down there and the percentage of fans we have (in San Antonio)," Jones said. "I think it is 97, 98, 99 percent Cowboys fans in the area. But it doesn't surprise me at all. I know that there were those kind of rumors regarding the Saints."
John McClain of the Houston Chronicle provides Texans owner Bob McNair's thoughts on the Raiders' potential move to San Antonio:
McNair on Raiders interest in SA "it's not surprising they would look there cause they're looking around. We have a growing fan base there."

— John McClain (@McClain_on_NFL) July 30, 2014
McNair "I'm not concerned bout it. We'll see what the options are. If that's the best option we'll see how it plays out."

— John McClain (@McClain_on_NFL) July 30, 2014
McNair "The finance committee would have to approve it and I'm chairman of finance committee. You'd have to do market research."

— John McClain (@McClain_on_NFL) July 30, 2014
Dave Zangaro of CSN Houston has more from McNair:
McNair spoke to growing Texans fan base in SA. Said if they played a game there, half fans would be Houston fans.

— Dave Zangaro (@DZangaro) July 30, 2014
Original Text
Oakland Raiders owner Mark Davis has reportedly been in talks with San Antonio representatives about potentially moving the team to the Alamo City.
While it might come across as a baseless threat, that isn't the case according to the San Antonio Express-News' Josh Baugh and Tom Orsborn:
On July 18, Davis met with the officials, including Henry Cisneros, then-Mayor Julián Castro, City Manager Sheryl Sculley, Mario Hernandez of the San Antonio Economic Development Foundation, and both Richard Perez and David McGee, the president and chairman of the San Antonio Chamber of Commerce, respectively.

San Antonio has often been used as a bargaining chip for pro sports franchises trying to negotiate better deals in their own respective cities, but sources have characterized Davis' interest in San Antonio to be at least somewhat more serious. He is clearly perturbed with his current situation in Oakland, where the team's lease expires after the 2014-15 season.
Davis provided a brief statement on what happened Tuesday, according to Marc Sessler of NFL.com: "I was in San Antonio to honor Cliff Branch on his induction into the PVILCA. Former San Antonio mayor Henry Cisneros is a friend, and Henry suggested I take the opportunity to meet with some of the city officials while we were in town. I have nothing further to discuss on the topic."
Albert Breer of NFL.com offered this on the current situation:
Couple things I know about the Raiders situation: 1) First option is to build on current site; 2) They don't want to go to Santa Clara.

— Albert Breer (@AlbertBreer) July 29, 2014
It's no secret: Davis and the Raiders aren't thrilled about playing their home games in the O.co Coliseum. While Major League Baseball's Athletics have made clear their desire to continue playing in the stadium, the Raiders are ready to move on.
NFL.com's Ian Rapoport reported in May:
Mark Davis says #Raiders can come up with $400M to build a stadium. "But we need help." Says if project doesn't happen, will look at options

— Ian Rapoport (@RapSheet) May 20, 2014
There has also been talk of the Raiders sharing the San Francisco 49ers' new Levi's Stadium temporarily, but as the San Francisco Chronicle's Vic Tafur recently noted, Davis isn't on board with that plan either:
There's going to be more & more pressure from #NFL for #Raiders to rent from #49ers in Santa Clara. Mark Davis been clearly opposed so far

— Vic Tafur (@VicTafur) July 17, 2014
Commissioner Roger Goodell, via Bay Area Sports Guy, also commented on the matter:
Goodell on Raiders (1/2): "They have to make that determination, whether they're in a new stadium in Oakland or whether they feel that ...

— Bay Area Sports Guy (@BASportsGuy) July 17, 2014
Goodell on Raiders (2/2): ".., it's best to join this stadium. We're working on that, and that's one of the decisions they'll have to make."

— Bay Area Sports Guy (@BASportsGuy) July 17, 2014
Davis clearly wants a new stadium for the Raiders, and his threats have escalated to flirtation with other cities. According to Baugh and Orsborn, the Alamodome could be ready for football by the 2015 season, but it would serve as a temporary home.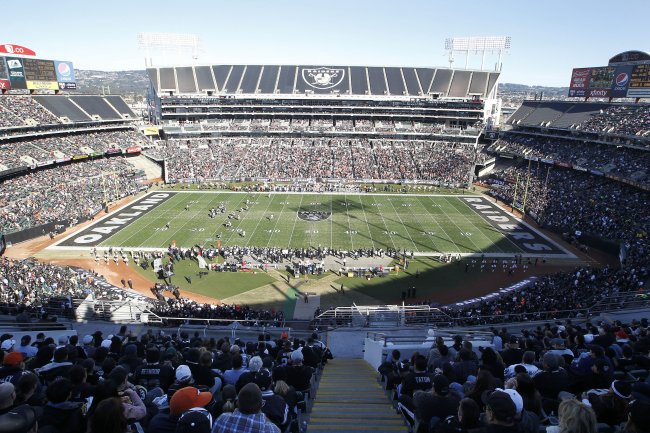 Tony Avelar/Associated Press
It's perhaps best to categorize this as a power play for now.
Where will the Raiders be playing their home games in 3 years?
And even if it is more than that, a relocation to San Antonio wouldn't be easy. A vote from 24 of the NFL's 32 owners—two of which are in the state of Texas—would be needed.
Regardless, the Coliseum, which opened in 1966, is in need of renovations, and the situation with the A's makes matters more complicated.