Updates from Monday, August 4
The Giants provided a statement from Dr. Russell Warren discussing David Wilson's injury status:
Dr. Frank Cammisa Jr., our spine specialist at HSS examined David this morning and following that exam, we both sat down and shared our perspective with David. David has diffuse cervical stenosis. He had a disc removed and a fusion in January. In light of last week's episode of symptoms, sensory and motor, Frank and I both told David he should not play football any more. We let David know that by playing, he would be putting himself at risk for more episodes like last week or perhaps something more serious.
The Giants also provided a statement from Wilson:
I don't want anybody to feel sorry for me, or pity me. I lived my dream. A lot of people only get to dream their dream. I lived that dream. Now I have a chance to dream another dream and live that, too.

[...]

Growing up, ever since I was eight years old, I wanted to play in the NFL. It was my dream. And I can't say that I didn't live my dream, because I did. I played for the New York Giants. I was a first round draft choice of the New York Giants. I scored touchdowns. I caught touchdowns. I returned kicks for touchdowns and I set records. So I got to do some of the things I dreamed of doing all my life.
Josina Anderson of ESPN.com was first to report on the status of Wilson's injured neck:
Breaking: Source. Giants doctors are shutting down RB David Wilson due to the neck injury that he sustained last year and most recently in camp. There is a belief that the injury could be career ending.
Anderson later clarified her report:
To be even clearer, RB David Wilson's season is done w/ the #Giants this season. There is a fear his neck injuries cd be career threatening.

— Josina Anderson (@JosinaAnderson) August 4, 2014
Art Stapleton of The Record broke down what the future may hold for Wilson and the Giants:
If placed on IR + Wilson eventually gets clearance to play again, Giants would have decision + could end up w/ injury settlement. #NYG

— Art Stapleton (@art_stapleton) August 4, 2014
Updates from Thursday, July 31
New York Giants coach Tom Coughlin spoke about David Wilson's health on Thursday (via Jordan Raanan of NJ.com and Paul Schwartz of the New York Post):
Coughlin: "We're obviously concerned" about David Wilson." #giants

— Jordan Raanan (@JordanRaanan) July 31, 2014
"I'm just praying that the kid's okay,'' Tom Coughlin said of David Wilson. #nyg

— Paul Schwartz (@NYPost_Schwartz) July 31, 2014
Giants GM Jerry Reese also commented on Wilson, via The Record's Art Stapleton:
Jerry Reese on Wilson (to @ESPNNY98_7FM): "We're not going to put him out there until we know 1,000 percent that he should be out there"

— Art Stapleton (@art_stapleton) July 31, 2014
Earlier, Raanan and Conor Orr of NJ.com noted that the timeline is bleak on Wilson:
David Wilson might need more than a favorable doctor's visit Monday to continue his NFL career.

According to multiple sources, the running back, who suffered a "burner" during Tuesday's practice, months after undergoing spinal fusion surgery, is a long shot to return to the field. One person with knowledge of the running back's medical condition told NJ.com that Wilson "needs a miracle."

The source spoke on the condition of anonymity because he was not authorized to speak publicly on the matter.
Mike Garafolo of Fox Sports shared how the Giants' handling of previous neck injuries could come into play:
Keep in mind with this David Wilson thing: Giants have long been known as being among the more cautious teams w/ neck issues.

— Mike Garafolo (@MikeGarafolo) July 31, 2014
Dan Graziano of ESPN.com provides more details on Wilson:
According to another source close to the situation, Wilson has been very upbeat and has told people he'll be fine again after a couple of days off. His teammates backed that up in conversations Thursday.

"It was good to see him back in the meeting room, bright-eyed and ready to go," fellow running back Rashad Jennings said.

Wilson is upbeat and optimistic by nature, and there's a chance his assessment of the situation won't ultimately jive with the team's.
Updates from Wednesday, July 30
Tom Rock of Newsday has the latest on Wilson:
From Giants: David Wilson will not practice the remainder of the week, nor will he play in the game on Sunday ...

— Tom Rock (@TomRock_Newsday) July 30, 2014
... . He will be examined and evaluated by Dr. Frank Cammisa at HSS on Monday.

— Tom Rock (@TomRock_Newsday) July 30, 2014
Dr. Cammisa, chief of spine services at HSS, is the specialist who performed the fusion on Wilson on January 16.

— Tom Rock (@TomRock_Newsday) July 30, 2014
Original Text
New York Giants running back David Wilson underwent offseason neck surgery, which put his NFL career in jeopardy. After a rapid recovery and a return to the gridiron for 2014 training camp, Wilson has unfortunately sustained an injury to the same area.
Newsday's Tom Rock reports Tuesday that Wilson suffered a burner and was sent to New York's Hospital for Special Surgery to undergo evaluation. Rock shared further news regarding the young ball-carrier's status:
"Not good." - Text from Dr. Craig Levitz, co-author of study on burners in pro football players in the American Journal of Sports Medicine.

— Tom Rock (@TomRock_Newsday) July 29, 2014
Wilson sent over to HSS for a battery of tests and a complete workup to determine the effects of the burner he suffered today.

— Tom Rock (@TomRock_Newsday) July 29, 2014
The Giants don't expect to have any further updates on Wilson's status tonight.

— Tom Rock (@TomRock_Newsday) July 29, 2014
Paul Schwartz of the New York Post provided further details as to how Wilson's unfortunate situation unfolded:
How did David Wilson suffer a neck burner? He caught a shovel pass, turned upfield and, head down, ran into the back of Eric Herman. #nyg

— Paul Schwartz (@NYPost_Schwartz) July 29, 2014
Wilson was out for the 2013 campaign from Week 5 and beyond after initially hurting his neck. Jordan Raanan of NJ.com expressed concern for Wilson in that context:
David Wilson has a 'burner,' according to Coughlin. Scary coming off neck surgery #giants

— Jordan Raanan (@JordanRaanan) July 29, 2014
ESPN insider Adam Schefter weighed in:
Highly troubling. RT @ESPNNFL: Giants RB David Wilson suffered a injury to the neck area during practice. Tom Coughlin called it a "burner".

— Adam Schefter (@AdamSchefter) July 29, 2014
Giants head coach Tom Coughlin shared his thoughts on the matter, noting how Wilson had been medically cleared to practice.
"We'll hear what they say first," said Coughlin, per a Newsday report by Rock. "We were all praying that it would be not an issue and he would be able to come back and just go to work. He was cleared. We'll see. I'm not going to speculate on what it is. We'll see what the doctors say."
Casting further doubt on Wilson's future in football is the fact that his injury occurred in a practice that didn't feature full-on contact in pads.
Part of the reason the Giants struggled to a 7-9 record last season was a lackluster rushing attack that ranked 29th in the NFL. Wilson's absence took away an explosive element, and now New York has to be lamenting that its electric, 23-year-old first-round pick from 2012 is ailing once again.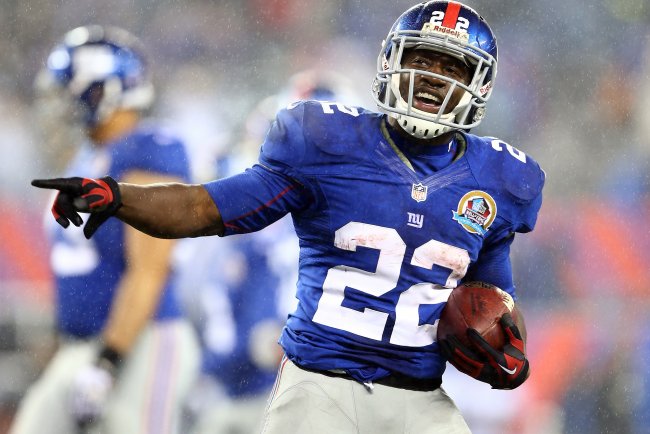 Elsa/Getty Images
Should this situation be serious and Wilson be out for an extended period, that puts the onus on free-agent arrival Rashad Jennings to be the feature back. Jennings proved capable of being an all-purpose back with the Oakland Raiders in 2013, running for 733 yards and six touchdowns to go with 36 receptions.
The more quarterback Eli Manning can check it down and make easier reads, the easier the transition ought to be as Manning adjusts to a new offensive system, coming off a 27-interception season.
Wilson isn't known for picking up blitzes or for his hands out of the backfield, but when it was revealed he was healthy, the thought was that he and Jennings could complement each other well. Now it will be up to Jennings, rookie Andre Williams and perhaps Peyton Hillis to carry the load in the Giants backfield. The team also has Michael Cox and Kendall Gaskins fighting for snaps.
But above all else, the chief concern has to be that Wilson's trip to the hospital turns out to be precautionary and that his neck problems don't have a prolonged impact on his career.