Updates from Wednesday, July 23
SportsCenter provided an exciting update from Headley's Yankees debut:
Welcome to the Yankees, Chase Headley! He hits walk-off single in his 1st game in pinstripes. New York beats Texas in 14 innings, 2-1.

— SportsCenter (@SportsCenter) July 23, 2014
Original Text
The New York Yankees bolstered their chances of reaching the 2014 MLB playoffs by acquiring third baseman Chase Headley from the San Diego Padres.
The Padres confirmed the swap.
Jack Curry of the YES Network first broke word of the deal Tuesday:
Chase Headley is about to join the Yankees. Yankees are finalizing a deal to acquire him from the Padres.

— Jack Curry (@JackCurryYES) July 22, 2014
Jon Heyman of CBS Sports provided further details of the agreement:
so that was headley plus $1M to ny for depaula & solarte, done deal

— Jon Heyman (@JonHeymanCBS) July 22, 2014
Mark Feinsand of the New York Daily News indicated Headley is on the roster but is not starting:
Today's Yankees lineup: pic.twitter.com/oSDfCXlr7c

— Mark Feinsand (@FeinsandNYDN) July 22, 2014
Headley shared his appreciation of San Diego and commented on the move:
I would just like to thank the @Padres and the city of San Diego for the best years of my life. I'm excited to join the Yankee organization!

— Chase Headley (@ChaseHeadley7) July 22, 2014
Corey Brock of MLB.com provides more comments from Headley:
Just talked to new #Yankees 3B Chase Headley: "I loved every second in San Diego. I have nothing negative to say. All positive memories."

— Corey Brock (@FollowThePadres) July 22, 2014
More Headley: "It's bittersweet. But I'm excited to move on to a team in the race right now." #Padres #Yankees

— Corey Brock (@FollowThePadres) July 22, 2014
Headley on call w/Bud Black: "It was really tough. Wish we could have won more for him. One regret was wish we could have made playoffs."

— Corey Brock (@FollowThePadres) July 22, 2014
ESPN's Wallace Matthews, Daniel Barbarisi of the Wall Street Journal and Bryan Hoch of MLB.com provide comments from Yankees GM Brian Cashman:
Cashman: "I feel like I still have more work to do"

— wallace matthews (@ESPNNYYankees) July 22, 2014
Cashman on headley's power: "I dont think we're getting a big thumper... I do think we're getting an upgrade and a professional at-bat."

— Daniel Barbarisi (@DanBarbarisi) July 22, 2014
Brian Cashman said the Yankees and Padres were talking about Chase Headley for about 3 weeks. Yanks look at him as "a rental for 2 months."

— Bryan Hoch (@BryanHoch) July 22, 2014
For a while early in the season it looked like Yangervis Solarte might be the answer at third base for the Yankees, at least in the short term. He was hitting near .300 with six home runs through the first two months before his play dropped off considerably.
Which team wins the trade?
Now he's heading to San Diego along with pitching prospect Rafael De Paula in exchange for Headley and some cash to offset his contract.
The Yankees are hoping Headley, who's scheduled to become a free agent at season's end, can enjoy a second-half surge. He was one of the top infielders in baseball two years ago when he posted an .875 OPS and tallied 31 home runs.
His production before and after that point hasn't been anywhere close to those levels, however. He hasn't hit more than 13 homers in any other season and is on pace for 12 this year. That said, at least he's shown signs of life in July with a .323 average.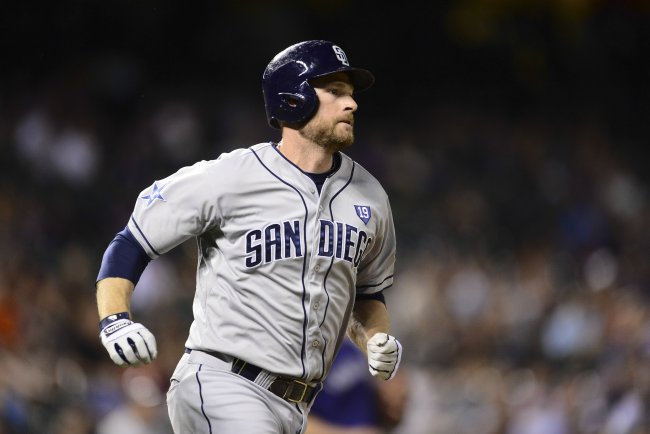 USA TODAY Sports
New York is currently four games behind the Baltimore Orioles in the AL East. Even if Headley doesn't put up monster numbers the rest of the way, he provides the team with a better chance of eliminating the deficit than any of its options before the trade.
Joe Sheehan of Sports Illustrated likes the deal for the Yankees:
Getting a million bucks for Solarte and DePaula is a pretty good deal all by itself. 60 games of Headley is a bonus.

— Joe Sheehan (@joe_sheehan) July 22, 2014
As for the Padres, they have fallen out of the National League race and apparently decided to get something for Headley while they still could. Assistant general manager A.J. Hinch previously noted to Jeff Sanders of U-T San Diego that they were getting a lot of calls:
We have a lot of good players that a lot of teams have asked about, but that doesn't mean we're open to trading everyone. For me and the guys upstairs, we're not getting too far ahead of ourselves as far as other moves that may happen.
While the deal is better than watching Headley walk away for nothing, it's nowhere near what San Diego could have received for him a few years ago. The Padres didn't sell high, and it hurt them this time around.
The Yankees are buying low with hope of a production boom. If they get it, the trade will be a massive victory because they didn't have to give up any major assets and it would likely result in them finishing atop the AL East.
That's no guarantee given Headley's performance this season, though.