Houston Texans quarterback T.J. Yates, initially thought to be released by the team, was traded Wednesday to the Atlanta Falcons in exchange for linebacker Akeem Dent.
News of the transaction came through the Falcons' official Twitter account:
The Falcons have traded LB Akeem Dent to Houston for QB TJ Yates. #RiseUp

— Atlanta_Falcons (@Atlanta_Falcons) June 19, 2014
NFL Network's Ian Rapoport clarified the situation in his analysis:
Tues #Texans decided to cut QB TJ Yates. Move never became official, thus they could trade him for #Falcons LB Akeem Dent. PFT 1st reported

— Ian Rapoport (@RapSheet) June 19, 2014
TJ Yates was informed of his release yesterday. But on today's transaction wire, his name wasn't submitted. This trade explains why. #solved

— Ian Rapoport (@RapSheet) June 19, 2014
D. Orlando Ledbetter of The Atlanta Journal-Constitution highlighted how Atlanta would deal with Dent's departure:
Also, to replace Dent, the #Falcons have agreed to terms with linebacker Tim Dobbins today.

— D. Orlando Ledbetter (@AJCFalcons) June 19, 2014
Yates knew he was on the way out, but he thought he was getting the outright boot. Now he at least gets to leave town through a trade instead of a release.
On Tuesday, the career backup QB tweeted his gratitude for his time with the Texans, then added the Falcons' catchphrase following the trade:
Can't thank the Texans organization and the city of Houston enough! We've had some great memories and I will always call Houston home.

— T.J. Yates (@TJ_Yates) June 17, 2014
June 19, 2014
This may not be the splashiest trade of the 2014 NFL offseason, but the bizarre circumstances surrounding the swap are a source of intrigue.
Considering he won a playoff game in the Wild Card Round as a rookie pressed into duty, Houston got just about all it could have hoped for out of Yates, a fifth-round pick in 2011. Now he has a chance to learn behind one of the game's best signal-callers in Matt Ryan.
Atlanta general manager Thomas Dimitroff had to be concerned in surveying the QB depth chart for his team, so he had to do what was best in shipping Dent out of town.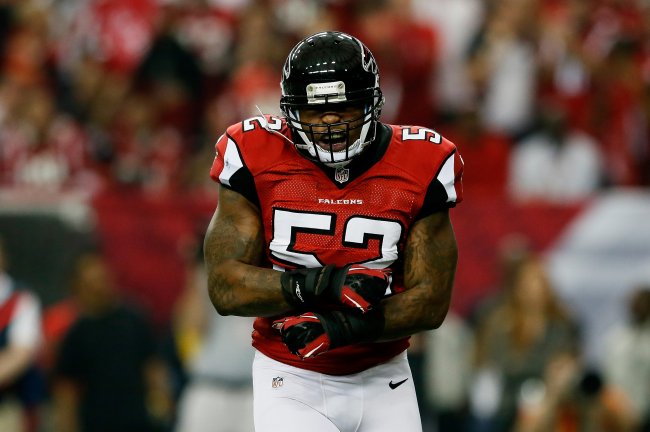 Kevin C. Cox/Getty Images
Dent also emerged from the 2011 draft—as the next Atlanta pick after Dimitroff made a bold trade, moving up in the first round to acquire standout wide receiver Julio Jones. At age 26, the best may still be yet to come for Dent. Texans defensive coordinator Romeo Crennel may be the coach to elevate his game.
The move makes a lot of sense for both teams, as each player still has room to develop. For the Falcons, they have to be thankful Houston has a crowded quarterback room. Yates can make all the required throws and has flashed the ability to be a serviceable second-stringer.
But the Texans also came away winners here. They created less convolution in their QB situation, which is admittedly far less promising than Atlanta's. At the same time, they added insurance to the front seven, which is smart since Pro Bowl inside linebacker Brian Cushing is coming off a torn LCL and broken fibula.