Updates from Monday, June 2
Boston Globe reporter Pete Abraham has the latest on Napoli:
Farrell said Napoli will not be going on a rehab and is set to be activated on Sunday. #redsox

— Pete Abraham (@PeteAbe) June 2, 2014
Updates from Sunday, June 1
Scott Lauber of the Boston Herald reports when fans could expect to see Mike Napoli return to the Red Sox:
Mike Napoli should be ready to come off disabled list next Sunday, first day he's eligible #RedSox

— Scott Lauber (@ScottLauber) June 1, 2014
MLB.com's Ian Browne provides comments from Mike Napoli, who speaks about his injuries:
"It wasn't just the finger," said Napoli. "I was dealing with a lot of stuff. It was probably the best thing for me. I was going to keep on trying to grind it out, grind it out, but this is probably the best time for me just to get everything fixed, get better so I'm playing somewhat healthy. I think it was just time to do it."

[...]

What was bothering Napoli aside from his finger?

"Toe issue, calf, hammies," Napoli said. "My whole body was beat up. I'm feeling great now. I'm just getting treatment."

And the finger, which he mangled backwards on a head-first slide in Chicago?

"It's getting better. The swelling is starting to go down," Napoli said. "I can actually fit my finger in my batting glove now. I don't have to cut it off."
Original Text
The Boston Red Sox placed first baseman Mike Napoli on the 15-day disabled list prior to Sunday afternoon's game against the Tampa Bay Rays, citing a sprain to the fourth finger on his left hand.
In conjunction with Napoli moving to the disabled list, the team announced it has recalled pitcher Brandon Workman from Triple-A:
#RedSox recalled RHP Brandon Workman from Pawtucket. 1B Mike Napoli placed on 15-day DL w/ left fourth finger sprain, retro to yesterday.

— Boston Red Sox (@RedSox) May 25, 2014
By making the move retroactive to Saturday, Napoli will be able to return in the second week of June. The 32-year-old is batting .260/.390/.416 with five home runs and 22 RBI despite dealing with myriad injury and illness issues.
The 2012 All-Star dealt with flu-like symptoms this week and has been banged up for most of the year. Steve Lyons noted all the ailments bothering Napoli:
Napoli to DL for the Sox with various leg issues, bad finger, flu... You name it.

— Steve Lyons (@SteveLyons12) May 25, 2014
"I'm trying to figure it out," Napoli told reporters of adjusting to his finger injury. "It's tough. It hurts. But it's not an excuse or anything. It's something I can deal with, I guess."
He's nonetheless been able to stay in the Red Sox lineup for 43 of their first 48 games, which is going to leave a pretty significant hole in the middle of the order.
While not hitting for his typical power, Napoli's ability to get on base has helped buoy a Boston lineup that's struggled with run production. The Red Sox rank 19th in runs scored and 24th in slugging percentage and batting average. In their World Series campaign a year ago, they scored 57 runs more than any other team and were near the top of baseball in nearly every hitting category.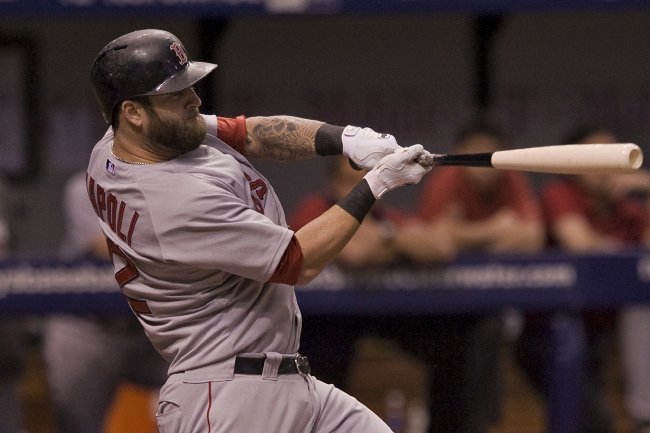 STEVE NESIUS/Associated Press
Boston's offensive struggles are indicative of a team-wide failure. The defending champs are 20-28 coming into Sunday afternoon's game at Tropicana Field and have lost nine straight games. The Toronto Blue Jays currently hold a seven-game lead on the Red Sox, who will now have to find themselves temporarily without Napoli.
Michael Silverman of the Boston Herald broke down how the Red Sox will fill the hole at first in Napoli's absence:
Expect Carp to get majority of playing time at 1B in Napoli's absence after 2 in Atlanta. Ortiz will play at 1B in at least 1 G vs #Braves

— Michael Silverman (@MikeSilvermanBB) May 25, 2014
Despite Ortiz's ability to play the position, Carp is the only real reliable first-base option on the roster, and his move to the infield will allow manager John Farrell to thin the crowd on his outfield depth chart.
That said, it's a hollow positive considering the production Napoli leaves on the table.
Follow Tyler Conway (@tylerconway22) on Twitter.