Updates from Wednesday, July 2
Alex Pavlovic of the Mercury News has the latest on Brandon Belt:
Bochy said Belt's thumb a little sore, but he'll play tonight. "He's not quite ready yet." Plan is to have him back Friday.

— Alex Pavlovic (@AlexPavlovic) July 1, 2014
Updates from Tuesday, May 13
Andrew Baggarly of Comcast SportsNet provides an update on Brandon Belt's recovery from surgery:
Brandon Belt's surgery went as planned. Pins out in 4 weeks. Still a six-week recovery time, but that's best-case scenario.

— Andrew Baggarly (@CSNBaggs) May 13, 2014
Updates from Monday, May 12
Alex Pavlovic of the Mercury News has the latest timetable for Brandon Belt's return:
Not really a surprise, but I've heard Giants are viewing Belt injury as more of an eight-week thing, not six.

— Alex Pavlovic (@AlexPavlovic) May 13, 2014
Updates from Sunday, May 11
Brandon Belt will have surgery to repair the damage on his injured thumb (via Alex Pavlovic of the Mercury News):
Belt will have surgery on broken finger Tuesday, pins inserted. Timetable is still six weeks. #SFGiants

— Alex Pavlovic (@AlexPavlovic) May 11, 2014
Andrew Baggarly of CSN Bay Area broke down Belt's recovery time:
Pins will be removed after 4 weeks. Belt will need minor league games. So 6 weeks, though still the official tine frame, sounds optimistic.

— Andrew Baggarly (@CSNBaggs) May 11, 2014
Updates from Saturday, May 10
John Dickinson of 950 AM radio reports the latest on Belt:
#SFGiants have placed Brandon Belt on DL w/a broken thumb & activated Matt Cain from DL to make start today.

— John Dickinson (@JDJohnDickinson) May 10, 2014
Original Text
San Francisco Giants first baseman Brandon Belt has been diagnosed with a broken thumb after being hit by a pitch and exiting Friday night's game against the Los Angeles Dodgers, the team announced.
#SFGiants @bbelt9 left tonight's game with a broken left thumb.

— San Francisco Giants (@SFGiants) May 10, 2014
Dodgers starter Paul Maholm hit Belt on the first pitch of his second-inning at-bat. In obvious pain, Belt was seen grimacing as he walked to first base and was attended to by the Giants' training staff on the field.
After a brief talk, Belt initially stayed in the game before going back for X-rays in the bottom half of the inning. Joaquin Arias replaced Belt at first base.
Andy Baggarly of Comcast SportsNet provides postgame comments from Bruce Bochy:
Belt going to see specialist in SF tomorrow. Bochy: "He could be looking at around six weeks."

— Andrew Baggarly (@CSNBaggs) May 10, 2014
Henry Schulman of the San Francisco Chronicle names candidates most likely to replace Belt:
Bochy said Posey, Sanchez, Morse all options for 1B. Also mentioned Duvall. Confab now. #sfgiants

— Henry Schulman (@hankschulman) May 10, 2014
An injured thumb is among the worst injuries an everyday player can suffer, as it affects everything from your grip on the bat to your ability to bring it quickly through the zone. Recently, Washington Nationals third baseman Ryan Zimmerman was ruled out four to six weeks with a broken thumb, so one would assume a similar timetable here.
The timing of the injury is decidedly cruel, as he was seemingly starting to bust out of a recent slump. Belt was 6-for-13 with one home run and three RBI over his last four games, a hot streak that came after a 2-for-30 slump.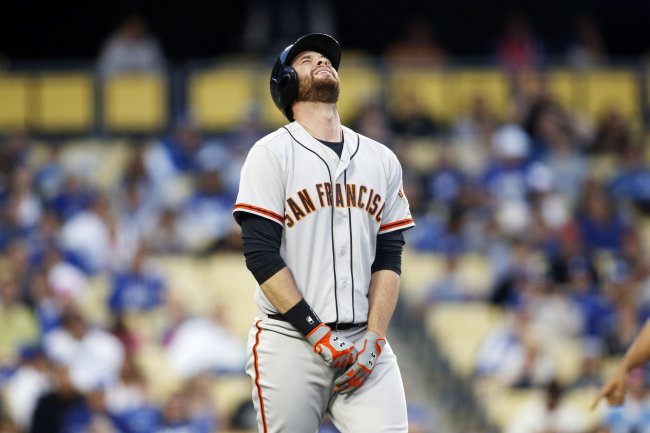 Danny Moloshok/Associated Press
"I've been just looking at the video, seeing what I was doing when I was hitting well," Belt told reporters Wednesday. "Obviously, the adjustment was a timing issue. I've been working on that the last few days and I'm starting to come around."
For the season, Belt is hitting .264/.317/.504 with nine home runs and 18 RBI. The former top prospect was on pace for the finest year of his young career, putting together a solid defensive season to go along with his offensive production.
The Giants have no immediate replacement options. Buster Posey and Mike Morse can occasionally play first base, but both already occupy other spots in the field. Arias, a light-hitting second baseman by trade, is decidedly not an option. The only feasible option at the moment is bringing up Travis Ishikawa, who signed with the club last month after being let go by the Pittsburgh Pirates.
Either way, it's a giant hole for Bruce Bochy to fill in his lineup. Ishikawa hit .206/.263/.382 in 15 games as a Pirate and has largely been a below-replacement-level player since leaving San Francisco for the first time in 2010.
Brandon Belt broken left thumb tonight. Terrible blow for #Sfgiants but they are good enough to maintain.

— Scott Miller (@ScottMillerBbl) May 10, 2014
With the Giants already struggling to find consistent scoring, this was the fundamental opposite of what the NL West leaders needed right now.
Follow Tyler Conway on Twitter: