It shouldn't surprise us anymore when a top draft prospect comes out of nowhere, but it does.
Buffalo pass-rusher Khalil Mack has a legitimate shot to go in the first three picks of the draft, with some even thinking he may be in play for No. 1 overall to the Houston Texans. He's a small-school guy who was a 2-star prospect out of high school and received only one scholarship offer.
From Michigan Live's Justin Rogers:
The NCAA football video game produced by EA Sports thought so little of Mack, they gave the unknown, redshirt freshman linebacker a rating of 46 in 2010, among the lowest assigned.

Mack coincidentally donned the No. 46 jersey for the Bulls when he exploded on to the scene that year. In his first season, he racked up 68 tackles (14.5 for a loss), 4.5 sacks and 10 pass defenses.
Mack's zero-to-hero story could've ended there along with a number of other solid players for teams like Buffalo in the Mid-American Conference who end up going pro in something other than sports. Yet, this wasn't just cream rising to the top. Mack shot into our collective consciousness like no other player in this draft class.
Lots of buzz abt Khalil Mack going #1 overall. Crazy to think we'd have back-to-back yrs w a former "2-star" recruit going #1 (Eric Fisher)

— Bruce Feldman (@BruceFeldmanCFB) April 24, 2014
Just where did he come from, and where is he going?
Tracing One of the Fastest-Rising Stocks in the 2014 NFL Draft
Following last year's draft, in May 2013, Eric Galko of Optimum Scouting (and Bleacher Report) wrote a blog post for Sporting News outlining potential impact pass-rushers in the 2014 NFL draft. The three names he wisely listed were: UCLA's Anthony Barr, Georgia Tech's Jeremiah Attaochu and Mack.
Interestingly enough, Galko made a comparison to Denver Broncos linebacker Von Miller in that write-up, but he then said that Mack was "in the discussion" as a second-round pick.
A few months later, Kevin Allen of USA Today called Mack, "one of the most dominant defensive players" and "one of the top linebacker prospects in the 2014 NFL draft class"—both in a college football preview column titled: "Is Buffalo's Khalil Mack the best player you haven't seen?"
Looking back, we can say the answer to that question was almost certainly "yes."
By August, NFL.com was in on the story, as Gil Brandt tweeted out an anonymous blurb from an NFL personnel director, calling Mack "the real deal" and a "first-round pick." Mark Huguenin wrote up the story for the website and pointed out that Mack's 247Sports' composite rankings were right along Jacksonville Jaguars safety Jonathan Cyprien.
Cyprien came out of nowhere into last year's draft class thanks to a stellar career at Florida International. Now, Mack is going to go above and beyond on that road less traveled.
Just a few days after that tweet from Brandt, Huguenin was tasked with writing another column about Mack following the Bulls' opening game against the Ohio State Buckeyes. The basis of this column was a tweet by NFL Network's Daniel Jeremiah:
My phone is blowing up with texts from personnel guys that are impressed with Khalil Mack. He's a stud!

— Daniel Jeremiah (@MoveTheSticks) August 31, 2013
Against the Buckeyes, Mack had 9.5 tackles, 2.5 sacks and an interception. Although the Bulls lost 40-20 against a vastly superior Ohio State team, he was the best player on the field for most of the game. He set up shop in the Buckeyes' backfield and made life extremely difficult for their offense.
At this year's NFL combine, Mack talked about that Buckeyes game, saying, via Anthony Gulizia of The Boston Globe:
I feel like there were a lot of people watching that game. It helped me tremendously. I got a lot of single blocks and it just so happened I played off of a cut block and got an interception. I feel it was, sort of, a little disrespect from a schematic approach. But, at the same time, I wanted to make them pay for it.
Bleacher Report's Matt Miller released his first mock draft less than a week after the Buffalo-Ohio State game and projected Mack to go 16th overall, again making a Von Miller comparison. Although Miller correctly saw Mack's rising stock, that's not even the best part of the article.
This was in the comments section:

Screenshot via BleacherReport.com
Yeah...
It's humorous now, but that commenter is no more out of the loop than most of us. For months, many held to Barr as the top pass-rusher in the class not named Jadeveon Clowney. In October, Sports Illustrated's Chris Burke had moved Mack up to No. 9 on his big board (Barr was No. 6).
In late December, Bob McGinn of the Milwaukee Journal Sentinel quoted an NFL scout as saying Mack was the better prospect. But that was just one scout. In McGinn's rankings, Barr was still higher.
Two days after McGinn's column, Bucky Brooks of NFL.com wrote that Mack fit as a "late first-round" prospect, saying that he isn't a top-10 talent or a franchise player. This was following his bowl game, but Brooks also noted the "countless hours of tape" he had already watched.
Funny, because after Mack was done playing football, he moved from "not a franchise player" to Brooks calling him an "elite prospect" who should, "earn Pro Bowl recognition early and rank among the top five at their respective positions in two to three years."
This isn't to bash Brooks, as I'll admit I was late on the Mack bandwagon as well. Yet, the difference between a player not being in contention for a top pick and simply being a role player and that same player being a cornerstone prospect is huge.
It's a microcosm of his meteoric rise.
Fast forward to late February, and former NFL defensive end Stephen White of SB Nation was calling Mack "smooth and polished" and saying that he has Pro Bowl potential (but less than, say, Clowney). Don Banks of Sports Illustrated said that Mack might actually be drafted before Clowney.
It sounded crazy.
Then the combine happened.
Mack—small-school prospect though he may be—went toe-to-toe with Barr at the combine. Though Clowney outshone both, Mack's athletic performance measured alongside those from bigger schools put a stamp of approval on his already exemplary tape.
Since then, it's been no surprise that he could go anywhere in the top five.
What Does Mack Offer That Teams Are So Enamored With?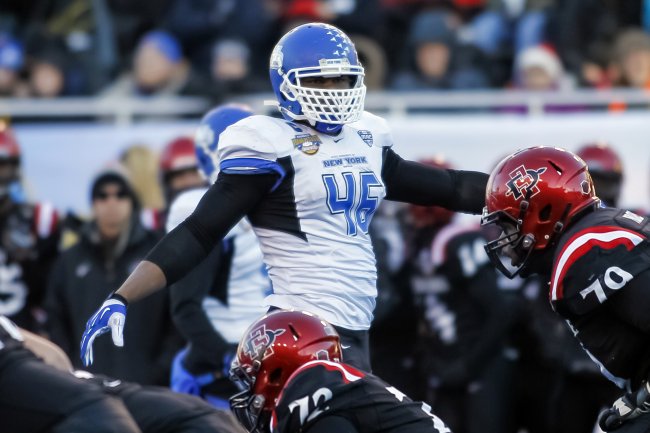 Otto Kitsinger/Associated Press
Featured Columnist Darren Page wrote the scouting report on Mack for Bleacher Report. He came away with a first-round grade, saying the following:
Khalil Mack emerged as a legitimately elite talent in this draft in the first game of his senior season, and he never looked back. He was utterly dominant throughout the season, putting up gaudy statistics despite having the full attention of every opposing offensive coordinator.

The natural athleticism and raw power of Mack makes him a handful for any blocker. Top that with uncommon instincts as an edge defender, and you have yourself a difference-maker at the next level.
In my own personal scouting, I'll admit that the Ohio State game sent me scurrying and even then I was consistently a bigger fan of Barr until I had the opportunity to put the two sets of tape side by side. Even then, as many have elevated Mack and dropped Barr, my own grades are much closer and I would be comfortable taking both in the top 10, though Mack is the clearly superior prospect.
What he brings to the table—more than anything else—is a comfort level in his own skin. Apologies if that doesn't sound like "scout speak," but it's an important topic as we talk about pass-rushers and especially those who may be asked to drop into coverage at the NFL level.
For guys who were once called "tweeners," athleticism was never a defining trait—plenty of freak athletes busted as well as hit. Intensity and instinct aren't really good benchmarks either, as the position change can take some of that off the board.
Instead, it's things like lateral athleticism, balance, agility and natural movements that tend to separate the greats from the linear athletes who never end up panning out.
In a way, we can say that Mack's movement and comfort level are the package that make sure he's more than just the sum of his parts. We can find guys who run faster, tackle better, hit even harder and drop into coverage with more poise. Yet, his total package is always going to add up to more than those other prospects, and the natural athleticism wraps it all up.
As of right now, coverage is the rawest part of Mack's game. He has loose hips for a linebacker and stays on his toes about as much as other prospects at this stage of the game, but it will be a long time before anyone is expecting him to turn and run with tight ends. Failing that, however, he is as complete a prospect as anyone could ask for.
He meets, engages and sheds blockers with top-tier skill. He misses more tackles than a typical chase-and-tackle stand-up linebacker, but he's right on par with most defensive linemen or conversion prospects. He showcases fantastic instincts and reaction with enough athleticism to chase down plays from behind before they reach the level behind him.
For teams that are looking at Mack as a cornerstone to a rebuilding defense, the biggest draw is his production within the context of where he played. He was the best player for Buffalo and was often the best player on the field overall.
If #Texans draft Clowney, he'll be what Willie McGinest was in that #Patriots 3-4. Who would Khalil Mack be? Bruschi. Inside/outside + rush

— Ian Rapoport (@RapSheet) May 5, 2014
Because of that, Mack was not part of a heavy rotation. No, he was on the field consistently for the Bulls and always in clutch situations, and he still produced.
Should Mack Go No. 1...Even Above Jadeveon Clowney?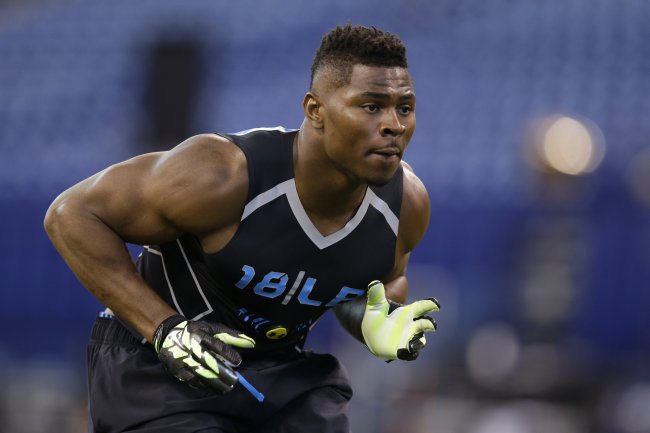 Michael Conroy/Associated Press
For some, that last point will put Mack above Clowney on their boards.
Like Mack, Clowney was the focus of every offensive coordinator's game plan and blocking scheme he faced in the past year, but Mack continued to produce at a high level—even, as mentioned against a team like Ohio State.
Now, the easy argument here is that Clowney's time in the SEC supersedes Mack's in the MAC. And while that's true, we can't debate that Mack had a better final season. Frankly, if Clowney had the kind of season that Mack did in 2013, he'd be under contract with the Houston Texans already, because there would be zero question that he was the top prospect.
I recently revealed my full scouting report for Clowney and that the South Carolina defensive end is my top prospect at an 8.5 on my scale (which translates to one of the top prospects I've ever scouted).
Mack is actually a notch below that at an 8.0. That means I expect him to start right away and consistently win matchups across the league. He has top-tier potential, but there's still some work to be done.
With Clowney, I have minor concerns about motor—far less than his harshest critics who bloviate about the topic. With Mack, I have no concerns for any reason. He is both an elite prospect and a relatively safe one. There are no worries with injury, character, motor or anything else.
Yet, it's not enough to say Mack is simply the safer prospect between the two—heck, let's call a spade a spade, it's insulting.
Mack and Clowney are different prospects almost entirely. While both play primarily with their hands down at the college level, Clowney (6'5", 266 lbs) is a prototypical NFL defensive end. Mack (6'3", 251 lbs), on the other hand, could potentially play both but is far more of a linebacker prospect.
If Khalil Mack is the No. 1 overall pick, you won't hear me complain. There are 5-6 guys worthy of the spot this year.

— Matt Miller (@nfldraftscout) May 5, 2014
Because of that, it's logical to believe that some 3-4 teams out there may have Mack ranked ahead of Clowney.
Even that, though, is a projection and—as with many things draft-related—just a guess. For Houston (a 3-4 team), it's possible it goes with Mack, but the sheer idea of pairing Clowney with J.J. Watt (in whatever configuration it chooses) is enough to make quarterbacks quiver in their boots.
Point being: Mack may be the more ready right now for what the Texans are already doing, but Clowney is the better overall player and provides the Texans with some options that could be even better than what Mack offers.
I like Khalil Mack a ton but I can't see HOU passing on Clowney. What if he ends up in JAX? Playing him twice a yr for a decade..no thanks.

— Daniel Jeremiah (@MoveTheSticks) May 5, 2014
That said, that's my opinion. Texans general manager Rick Smith could easily think differently.
That's where the draft is a complete crapshoot. Though everyone may have the consensus that Clowney is the better player, none of us coach or actually run the teams. For clubs like the Texans, St. Louis Rams (where Mack would likely play 4-3 linebacker rather than end—like Von Miller) or Jacksonville Jaguars, where he would be a perfect fit at "Leo," Mack may be a more coveted piece.
At this point last year, Mack was maybe a second-day pick. A few years before that, he wasn't on anyone's radar. This week, he will be drafted in the first couple of minutes and will make a team very happy for years to come.
Michael Schottey is an NFL National Lead Writer for Bleacher Report and a member of the Pro Football Writers of America. Find more of his stuff on his archive page and follow him on Twitter.