The first round of the NFL draft is supposed to bring teams new hope for the future. Unfortunately, a large majority of prospects turn out to be busts.
While it usually takes a few years to truly evaluate a draft class, we can already look back on the 2012 draft to see some big mistakes in the first round. Trent Richardson has struggled to live up to his potential as the No. 3 pick, while others like Brandon Weeden, A.J. Jenkins and others can already be considered busts.
Although everyone loves to think that they will avoid similar mistakes in the first round, there are certain to be players out of the league within a few years.
On the other hand, there will certainly be top prospects available at the end of Day 1 that will turn out to be among the best in the class. While we do not know where anyone will be taken until May 8, here is a look at a mock draft with highlights of the biggest sleepers and busts in the class shown in italics.
1. Houston Texans: Jadeveon Clowney, DE, South Carolina
The Texans still have an option of trading out of this spot. However, it seems clear that they should take Jadeveon Clowney if they do hold onto the draft pick.
Clowney can be a dominant force at defensive end and he can combine with J.J. Watt to create the most intimidating defensive line in the league.
2. St. Louis Rams (from Washington Redskins): Greg Robinson, OT, Auburn
After moving Rodger Saffold inside to guard, the Rams need to find someone who can hold his own at tackle. Greg Robinson can do more than that as someone who will be an immediate star in the run game.
While the big man might need some time to perfect his pass-blocking, he has all the tools necessary to succeed in this area.
Which quarterback is most likely to be a bust?
3. Jacksonville Jaguars: Johnny Manziel, QB, Texas A&M
While there are a lot of talented players available at this stage for the Jaguars to fill out the roster, it is imperative that they add a quarterback. Until they find a true NFL starter at the position, they will keep losing games.
Johnny Manziel might not be a prototypical quarterback, but he is a unique talent that will certainly help his team win games at the next level.
4. Cleveland Browns: Sammy Watkins, WR, Clemson
Like the Jaguars, the Browns need a quarterback at some point in the draft. The good news is Cleveland has a second first-round pick to fill the position.
As a result, the squad should grab one of the best players in the entire class in Sammy Watkins. The receiver could pair with Josh Gordon to create a matchup nightmare for all opposing defenses.
5. Oakland Raiders: Khalil Mack, OLB, Buffalo
The Raiders need help at many positions across the board, so they might as well select the most versatile player in the class. Khalil Mack can rush the passer, drop into coverage or defend against the run as well as anyone.
While there might be other spots of need, Oakland cannot afford to pass on this talented player.
6. Atlanta Falcons: Jake Matthews, OT, Texas A&M
Once the draft begins, you can expect the Falcons to do anything in their power to trade up to take either Clowney or Mack. However, they should be perfectly content if Jake Matthews falls to them.
The offensive tackle is one of the safest picks in the class as someone who can excel on either side of the line. He will be a big improvement to a line that ranked among the worst in the league at protecting the quarterback.
7. Tampa Bay Buccaneers: Mike Evans, WR, Texas A&M
The first thing you notice when you see Mike Evans is his size. At 6'5", the receiver can go up and catch almost any pass over a defender, something that is incredibly useful in the red zone.
If he is put on the field opposite Vincent Jackson, defenders would have no way to slow down this duo.
8. Minnesota Vikings: Blake Bortles, QB, UCF—BUST
After a terrible season, it is clear the Vikings need a long-term replacement at quarterback. One option is Blake Bortles, who is considered by many to be the top player in the draft at his position.
Peter King of Monday Morning Quarterback sees this as the perfect fit, saying, "his accuracy and escapability and his occasionally questionable decision-making, and I can't help but think of him as a Viking."
Of course, not everyone believes in Bortles' ability, according to Pat Kirwan of CBS Sports:
II just had an NFL QB coach tell me Bortles reminds him of Blaine Gabbert...wow!

— Pat Kirwan (@PatKirwanCBS) March 31, 2014
Bortles struggled last season when he faced better defenses and he has not shown the ability to successfully go through his progressions to make the right pass. He has size and arm strength to be a good NFL quarterback, but those assuming he will take the next step are going to be sorry.
9. Buffalo Bills: Taylor Lewan, OT, Michigan
While most scouts rank Taylor Lewan as the No. 3 tackle behind Robinson and Matthews, this says more about how good those players are rather than anything negative about Lewan. The Michigan product is extremely explosive and could be a mauling blocker at the next level.
This could help the Bills provide some protection for last year's first-round pick EJ Manuel.
10. Detroit Lions: Darqueze Dennard, CB, Michigan State
The Lions lost a number of games due to the poor performance against the pass. They need to draft the best defensive back in the class, and that is Darqueze Dennard.
Dennard might not have the speed of some others at his position, but he is the best in man coverage with great physicality and the instincts to stick with anyone. This is what the Lions need, making him a quality selection.
11. Tennessee Titans: Anthony Barr, OLB, UCLA
Tennessee had an up-and-down year last season, but the squad is still young and improving. This allows the team to draft a bit of a risky prospect who will not be a star right away but could end up making a big impact down the line.
Anthony Barr has shown the ability to be an elite pass-rusher and this could translate immediately to the NFL. If he can develop the rest of his game, the UCLA product could be a Pro Bowler.
12. New York Giants: Aaron Donald, DT, Pittsburgh—SLEEPER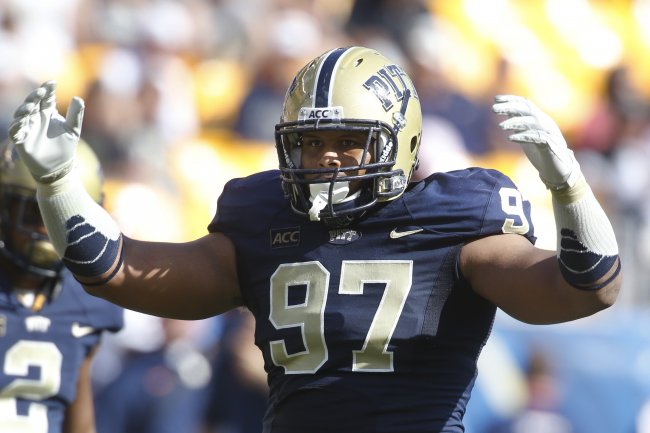 Keith Srakocic/Associated Press
If Aaron Donald is still on the board, this seems like it would be a no-brainer pick for the New York Giants. They need to find a way to replace Linval Joseph to help solidify a defensive line that was once a strength for this organization.
A number of scouts have doubted Donald in the past due to his lack of size at 6'1", 285 pounds. However, his ability to cause mayhem in the backfield is still worth a high pick.
Ian Rapoport of NFL.com has heard some serious buzz surrounding the Pittsburgh star:
Had an AFC executive call Aaron Donald the "best D-lineman coming out in the last 10 years." Buzz is real. Comparative player?John Randle.

— Ian Rapoport (@RapSheet) April 25, 2014
If Donald was a few inches taller, he would likely be a top-five pick. Instead, he will end up being one of the biggest steals of the draft.
13. St. Louis Rams: Ha Ha Clinton-Dix, S, Alabama
With Watkins and Evans off the board, the Rams do not need to reach on a receiver who would not provide much more help than those already on the roster.
Instead, they can improve an already strong defense by bringing in Ha Ha Clinton-Dix. The safety is excellent in coverage and could help a pass defense that gave up a lot of big plays last season.
14. Chicago Bears: Timmy Jernigan, DT, Florida State
The Bears would love to see Donald still on the board, but they must draft a defensive tackle no matter what. Even with defensive back being a big need, they cannot afford to leave a giant hole in the middle of the defense.
Timmy Jernigan can provide an upgrade to the worst run defense in the NFL last season with his ability to clog the middle and penetrate into the backfield. After a big year at Florida State, he should be able to continue his high level of play in Chicago.
15. Pittsburgh Steelers: Justin Gilbert, CB, Oklahoma State—BUST
The Steelers have to get younger on defense, especially in the secondary. This will likely lead to drafting the lightning-fast Justin Gilbert out of Oklahoma State.
Based on pure athleticism, Gilbert has the potential to be a star at the next level. He ran the fourth-fastest 40-yard dash time at the scouting combine and has great leaping ability to go up and get passes.
Unfortunately, he lacks the physicality necessary to prevent opposing receivers from getting free releases and he struggles with change of direction, according to Louis Riddick of ESPN:
Run 8's (post) & 9's (go) vs Justin Gilbert, he'll cover u all day. Run hard COD routes with good movement at the break, different story...

— Louis Riddick (@LRiddickESPN) April 28, 2014
While he could end up being an above-average cornerback down the line, teams hoping for an instant star will be upset.
16. Dallas Cowboys: Louis Nix III, DT, Notre Dame
Although this would be a bit of a reach, this is a big need for the Cowboys. Louis Nix III would immediately help Dallas improve against both the pass and the run with his ability to take on blockers and free up space for teammates.
After the Cowboys gave up the most yards in football last year, any help on that side of the ball will be appreciated.
17. Baltimore Ravens: Kony Ealy, DE/OLB, Missouri
The Ravens filled its biggest holes in the offseason, so now it must simply look to add the best available player. Kony Ealy is someone who can step in immediately as a pass-rusher and eventually learn to be a great all-around starter.
Although he is a bit raw, he can learn from the best to be one of the best in the league.
18. New York Jets: Eric Ebron, TE, North Carolina—BUST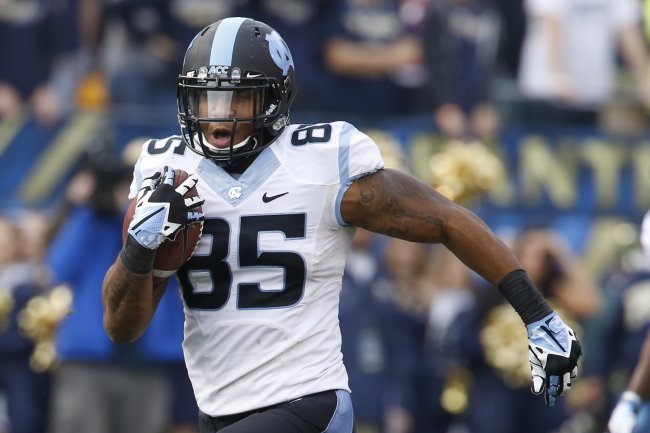 Keith Srakocic/Associated Press
In all likelihood, Eric Ebron is off the board by this point. However, anyone who reaches for the tight end could be making a big mistake.
When asked whether Ebron was better than last year's first-round pick Tyler Eifert, an AFC scout explained to Mark Eckel of NJ.com:
Hell no. He's OK. He's completely overrated, and he's a pain in the (butt). And don't ask him to block anybody, because he's not going to do it. He can run, and he has good hands. He could be (as good as Eifert). He can go deep for you. He probably needs to improve his blocking.
Everyone expects to find the next Jimmy Graham in an athletic tight end like Ebron, but he has a long way to go to reach that level.
19. Miami Dolphins: Zack Martin, OT, Notre Dame
The Dolphins added Branden Albert in free agency, but they still need help in a few other areas on the offensive line after allowing the most sacks in football.
While Zack Martin was a left tackle at Notre Dame, he has the versatility to play almost any position on the offensive line and he should succeed no matter where he plays in Miami.
20. Arizona Cardinals: Teddy Bridgewater, QB, Louisville—SLEEPER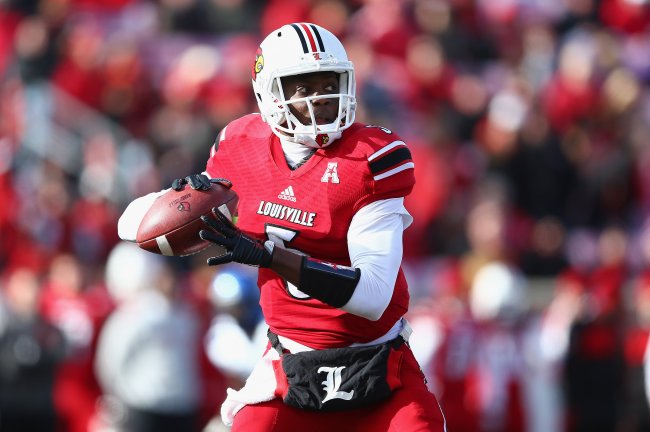 Andy Lyons/Getty Images
Teddy Bridgewater has seen his stock slip dramatically since the end of the college football season. He had a poor showing at his pro day and now could find himself falling all the way to the second round.
However, the quarterback is still remaining upbeat heading into the draft. In an interview with Trey Wingo of ESPN, Bridgewater explained, via Michael David Smith of Pro Football Talk:
Put on the game tape. The game tape speaks volumes because I'm in live action, I'm out there making reads, going through progressions, redirection protection, signaling hot routes, getting the offense in and out of the right play. Looking at those things, I think those things outweigh the Pro Day.
The Cardinals need help at other positions while trying to improve for next season, but it would be a mistake to pass on a potential franchise quarterback that would be available with such good value. He can learn behind Carson Palmer before taking over down the line.
21. Green Bay Packers: Calvin Pryor, FS, Louisville
The Packers will be just fine offensively as long as Aaron Rodgers is healthy. Instead, they must continue to improve on the defensive side of the ball, especially in the secondary.
Calvin Pryor has the physical nature to handle the bigger receivers around the division and prevent them from making any catches in the middle of the field. His presence will help the entire defense immediately.
22. Philadelphia Eagles: Odell Beckham Jr., WR, LSU
Although the Eagles could use some help in the secondary, they will not be able to pass up the opportunity to draft a DeSean Jackson replacement like Odell Beckham Jr.
The LSU star is one of the more dynamic players in the draft with the athleticism to burn opponents before and after he catches the ball. Putting him in Chip Kelly's offense can lead to a lot of success at the next level.
23. Kansas City Chiefs: Brandin Cooks, WR, Oregon State
Brandin Cooks is one of the fastest players in the draft, giving whoever drafts him the ability to stretch the defense and clear things up in the middle of the field.
In this scenario, he would give the Chiefs another offensive weapon while finally clearing space for Jamaal Charles in the run game.
24. Cincinnati Bengals: Ryan Shazier, OLB, Ohio State
The Bengals had one of the best defenses in football last season, but they will only continue this trend if they keep adding talented players on that side of the ball.
Ryan Shazier has as much upside as anyone in the class with his pure athleticism and instincts at linebacker. After a strong career with Ohio State, he could become a leader in the NFL.
25. San Diego Chargers: Kyle Fuller, CB, Virginia Tech
The Chargers desperately need to upgrade the defensive secondary after having one of the worst pass defenses in football last year. Kyle Fuller would certainly help as one of the best pure cover cornerbacks in the class.
Fuller has decent size for the position (6'0", 190 lbs.) and quick hips to handle the top receivers in the game. Based on the current situation in San Diego, the Virginia Tech star would play early.
26. Cleveland Browns (from Indianapolis Colts): Derek Carr, QB, Fresno State
After drafting Watkins with the first pick, the Browns have made things much easier for any quarterback who plays next season. Fortunately, Derek Carr is better than your average passer with a strong arm and great vision to see the field.
Although he might need some time to develop, it certainly will be much easier with Watkins, Josh Gordon and Jordan Cameron catching balls.
27. New Orleans Saints: Dee Ford, DE, Auburn
For the first time in a while, the Saints have more needs on the offensive side of the ball. That being said, they could be one more pass-rusher away from having one of the best defenses in the NFL.
Dee Ford can step in immediately after an impressive year in the SEC, and he could the missing piece in Rob Ryan's defense.
28. Carolina Panthers: Marqise Lee, WR, USC—SLEEPER
When Marqise Lee has the ball in his hands, he can be as productive as anyone in the class. He is a dynamic talent who can turn a short pass into a long touchdown.
The only question is whether his hands will be a problem after a bad year at USC. However, Bleacher Report's Michael Schottey notes that an improved passer will make a big difference:
To state the obvious: Just about any quarterback in the NFL will be better than some of the people Lee has had throwing to him the past couple of seasons. Moreover, if Lee is paired with one of the truly great quarterbacks in the league, it could showcase an almost entirely different player—at least, in terms of the ball being more consistent and therefore more catchable.
With Cam Newton, he will get that great quarterback who can get the ball in position for Lee to make plays. This will in turn help the Panthers improve the receiving corps and give them another dimension to an improving offense.
29. New England Patriots: Jace Amaro, TE, Texas Tech
While the Patriots are likely just looking to add depth at a number of positions, Jace Amaro is one of the players on the board who can make a big impact right away.
The 6'5" tight end represents the size that Tom Brady was missing for most of last season as the quarterback struggled to finish off drives in the red zone. Even if Rob Gronkowski returns to full strength next year, Amaro would still be a huge part of the offense in New England.
30. San Francisco 49ers: Jason Verrett, CB, TCU
Fans in San Francisco are clamoring for a receiver, but the secondary represents a much bigger immediate need. The squad lost key contributors in free agency and is now left with few established starters at cornerback.
Despite his small stature (5'9"), Jason Verrett is one of the most complete cornerbacks in the class and should be an early contributor to a team looking to contend right away.
31. Denver Broncos: C.J. Mosley, ILB, Alabama
Without many immediate needs, the Broncos might be willing to trade up to get the player they want. The window to win a Super Bowl is closing, and someone like C.J. Mosley could solidify a defense that was a major weakness last season.
The good news is that not many teams are in the market for a middle linebacker and the position itself has been devalued in recent years. This leaves Mosley available even without a trade, making this an obvious pick.
32. Seattle Seahawks: Xavier Su'a-Filo, OG, UCLA
The Seahawks won the Super Bowl, but only after overcoming a major hole in the middle of the offensive line. The unit allowed Russell Wilson to be sacked 44 times last season, which is shocking considering the quarterback's mobility.
Seattle needs to fix this by bringing in Xavier Su'a-Filo as the best interior blocker in the class.
Follow Rob Goldberg on Twitter for the latest breaking news and analysis.