New York Jets 2014 Draft: Making the Case for Martavis Bryant in Round 2
May 2, 2014

USA TODAY Sports
It is without a doubt that the New York Jets will come away from this draft with a least one new wide receiver within the first three rounds (at least).
Most of the media attention will be given to the first-round options, but given their massive need at other positions, the Jets may be forced to utilize the depth of this receiver class and wait until the second day to add a pass-catcher.
There, the Jets will have even more options to choose from, and Clemson's Martavis Bryant should be near the top of their list in the second round.
Somewhat overshadowed by his teammate, Sammy Watkins, Bryant is an even more intriguing prospect because of what he brings to the table with his outstanding and somewhat-underrated physical tools.
Strengths

Brett Carlsen/Getty Images
Height: 6'4"
Weight: 211
Arm Length: 32.625"
Hands: 9.5"
As the numbers indicate, Bryant looks the part of a No. 1 wide receiver just walking off the bus. Not only does Bryant have the desired length in terms of his height and arm length, but he can time his jumps well to compete for 50/50 balls.
The fact that he can post 4.42 40-yard dash at 211 pounds puts speed concerns to bed. 
Bryant is at his best in the red zone, where every extra inch and pound count twice as much compared to any other spot on the field.
On this play, notice how he gets a step of separation with a sharp cut to the outside, then uses his ability to high-point the ball to come down with the catch over the receiver: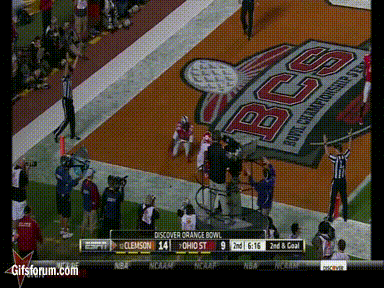 DraftBreakdown.com
Having good size is one thing—knowing how to use it with good timing without overlooking the concepts of route-running is another art it itself that players like Stephen Hill have yet to master. 
However, Bryant is more than just a big body that can be used in the red zone to reel in jump balls—his smooth acceleration makes him a versatile receiver that can be used in any part of the field.
The fact that Bryant has 4.42 speed is impressive, but what is even more impressive is how quickly he can reach such speeds, especially given his larger frame.
Bryant's acceleration can be shown on this relatively simple play. After securing the short reception, Bryant shakes his defenders (showing some good lateral movement), turns upfield and outruns every nearby member of the Ohio State defense (even those with a several-yard head start) before a safety is finally able to come over and bring him down.
DraftBreakdown.com
If Bryant had longer dreadlocks, only his jersey number would separate him from Sammy Watkins on this play.
This type of ability is reminiscent of Santonio Holmes, who specialized in turning short stick routes into long gains with his explosive ability. 
However, what may be the most impressive and underrated aspect of Bryant's game is his quickness off the line of scrimmage, particularly when beating the press. 
This play may not make the highlight reels, but it shows a lot about Bryant's lateral movement and explosion off the line of scrimmage.
DraftBreakdown.com
Because he is so quick off the line of scrimmage, he makes the cornerback lose his balance, evidenced by how he has to turn sideways. A cornerback turning sideways so soon off the snap is an indication that the receiver won the battle.
Bryant then explodes down the field to get a step of separation. A poor throw from Tajh Boyd ruins the play, but Bryant is able to draw a pass interference penalty anyway. This type of production does not show up on the stat sheet, but this subtle, explosive movement is what translates to the next level. 
The Weaknesses

Tyler Smith/Getty Images
What is there not to like about an explosive, 6'4" receiver who can win in the red zone and beat press coverage? In a nutshell, there is some concern that Bryant is leaving a lot of his ability on the table.
As big as his frame is, he could afford to put on some bulk. He has a very thin, wiry frame that may not hold up in the NFL. An NFL weight-training program should give him some size in no time, but will he maintain his explosiveness after putting on extra weight?
As good as he is making catches in traffic, Bryant has his share of maddening drops on easier catches because of a lack of concentration. He also has limited experience as a route-runner, as Clemson utilized him mostly on short passes and screens, bloating his stats somewhat. When he was asked to run "regular" routes, he rarely went over the middle.
Plus, the fact that he had only had one productive year in 2013 (he sat behind DeAndre Hopkins and Sammy Watkins for the vast majority of his college career) always makes NFL evaluators uncomfortable. 
The good news is, all of these concerns can be addressed at the next level. A player can always be taught how to run routes and coached to put on size. The fact that he sat behind two eventual first-round-caliber players in Watkins and Hopkins is hardly an indictment on Bryant's ability.
What Is His Value?

Mike Ehrmann/Getty Images
The only people who don't like the fact that this draft class is loaded with wide receivers are the wide receivers themselves. If this were a "normal" year, Bryant would make a push for the first round based on his measurables alone.
However, because of his relatively small amount of starting experience at Clemson and his lack of polish, combined with so many other options at the receiver position that are much "cleaner" prospects, Bryant will not be taken any later than the third round. 
The Jets, however, should not hesitate to pull the trigger on Bryant with their second-round pick (49th overall).
Bryant may have holes in his game, but the fact that they are all in teachable, fixable aspects of the game may actually increase his value in an ironic fashion. If Bryant is a third-round prospect based on his current skills, what type of player can he be if he can round out the finer aspects of his game?
What makes Bryant even more valuable to a team like the Jets is that he would fit like a missing jigsaw puzzle piece in the Jets' receiving corps. Between Eric Decker and Jeremy Kerley, the Jets already have a "Y" and "Z" receiver who can be a security blanket for whoever is playing quarterback for the Jets next year. 
Bryant would give the Jets a much-needed injection of speed to take pressure off Kerley and Decker. Even if Bryant takes some time to adjust to the NFL game, his sheer speed and explosion will threaten a defense as soon as he steps onto the field. If opposing defenses don't give him enough respect in coverage, his raw ability will make them pay.
Drafting Bryant does certainly carry some risk, as there is always the chance that Bryant never does refine his game, a la Stephen Hill. Still, the opportunity to draft a potential No. 1 receiver as late as the mid-second round is something the Jets will have a hard time passing up. 
All combine results courtesy of of NFL.com's results tracker.