The Pittsburgh Pirates have acquired first baseman Ike Davis in a trade with the New York Mets on Friday, according to CBSSports.com baseball writer Jon Heyman on Twitter:
Ike Davis trade agreed to with pirates

— Jon Heyman (@JonHeymanCBS) April 18, 2014
The Pirates' official Twitter account confirmed the deal:
The #Pirates have acquired 1B Ike Davis from the #Mets in exchange for Zack Thornton and a PTBN.

— Pittsburgh Pirates (@Pirates) April 18, 2014
Heyman adds an interesting note regarding one of the trade pieces:
zack thornton, a pitcher going to mets in ike deal, was passed over in rule 5 draft after pitts left him unprotected.

— Jon Heyman (@JonHeymanCBS) April 18, 2014
He also added that the unnamed player could be one of significance:
hearing the PTBNL in ike deal is fairly significant. so there's that. #mets #bucs

— Jon Heyman (@JonHeymanCBS) April 18, 2014
The 27-year-old left-hander has spent the past four-plus seasons in the Big Apple since making his major league debut in April 2010.
Pittsburgh Post-Gazette reporter Bill Brink has general manager Neal Huntington's thoughts on the Pirates' newest player:
Huntington on Davis: "I think he's a better fit in this ballpark than he was in what used to be spacious Citi Field."

— Bill Brink (@BrinkPG) April 18, 2014
More Huntington on Davis: "Very nice complement for Gaby and a guy that we think good days are ahead of him again."

— Bill Brink (@BrinkPG) April 18, 2014
Davis' father Ron also had his thoughts, per ESPN's Adam Rubin:
Ex-Yank Ron Davis, Ike's dad, tells Matt Ehalt: "Why would you want to play for someone that didn't want you? They tried to get rid of him."

— Adam Rubin (@AdamRubinESPN) April 18, 2014
Rubin added this note from Mets GM Sandy Alderson:
Sandy Alderson says it was a "close call" and not a slam dunk about whether Ike Davis is the rght guy to trade over Lucas Duda.

— Adam Rubin (@AdamRubinESPN) April 19, 2014
Prior to being sent to Pittsburgh, Davis appeared in a dozen games for the Mets in 2014, batting .208 with one home run and five RBI. The veteran infielder has made just five starts at first base this season, turning in four double plays and sporting a perfect fielding percentage.
Lucas Duda, who had stepped in as the Mets' starting first baseman, also weighed in on the deal, per Rubin:
Lucas Duda on Ike Davis trade: "I really didn't have anything to do with it." #mets

— Adam Rubin (@AdamRubinESPN) April 19, 2014
Although Davis is heading to a team that reached the postseason a year ago, both the Pirates and Mets are flirting with .500 through the early part of the season, each sitting on eight wins heading into Friday night's action.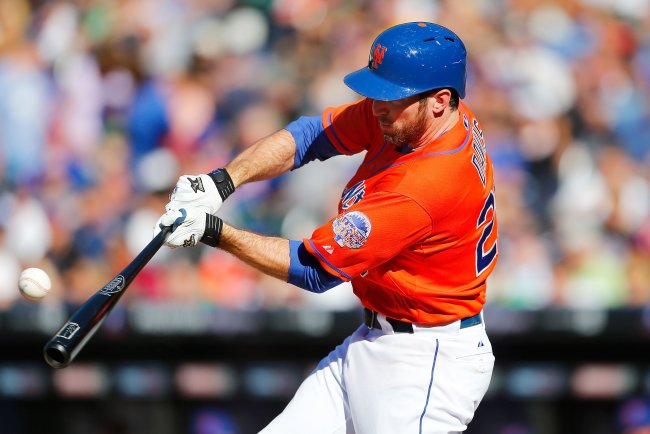 Jim McIsaac/Getty Images
It remains to be seen whether Davis will blossom into a key player in Pittsburgh this season. However, there's no doubt he'll have a shot to compete at first base. Through Pittsburgh's first 16 games, Travis Ishikawa has made 10 starts at first base, while Gaby Sanchez has made six.
Davis was starting to get comfortable in his new role as a pinch hitter in New York prior to Friday's trade and should be an offensive option out of the dugout for Pirates manager Clint Hurdle. Pittsburgh ranks ninth in the majors in runs scored this season, but could certainly use a boost at the plate in order to make up some ground on the Milwaukee Brewers and St. Louis Cardinals in the National League Central Division.