Updates from Thursday, July 10
MLB Fan Cave reveals gifts the Cleveland Indians gave to Derek Jeter on Thursday night:
The @Indians present Derek Jeter with some awesome gifts. #FarewellCaptain pic.twitter.com/GiSy9cHmJd

— MLB Fan Cave (@MLBFanCave) July 10, 2014
Updates from Sunday, June 15
The Oakland Athletics honored Derek Jeter during Sunday's game (via Susan Slusser of the San Francisco Chronicle):
#Athletics gave Jeter customized 3L 2009 Abreu Madrona Ranch cabernet. He also gets a stay at Meadwoods Resort, dinner at Mustards Grill.

— Susan Slusser (@susanslusser) June 15, 2014
Updates from Wednesday, June 11
ESPN's Darren Rovell shows a gift that Jeter got from former teammate Robinson Cano:
Robinson Cano gave Derek Jeter a $34K Jay-Z Hublot pic.twitter.com/WXK0LabZzZ Jay-Z is of course his agent (H/T @ronberk1)

— darren rovell (@darrenrovell) June 11, 2014
Updates from Monday, May 26
On Monday, the Cardinals honored Derek Jeter as the Yankees shortstop played his final game in St. Louis (via the Yankees):
Derek Jeter honored with custom Stan Musial cuff links and $10,000 to @JeterTurn2 foundation. (image via @Cardinals) pic.twitter.com/U4ohlI3D03

— New York Yankees (@Yankees) May 26, 2014
Updates from Tuesday, May 20
Derek Jeter may not have played many of his games at Wrigely Field, but that didn't stop the Cubs from giving him a farewell gift as his final season in the majors rolls on.
The organization gave him the No. 2 from the infamous Wrigley scoreboard, and Erik Boland of Newsday took a picture of Jeter holding it up at home plate:
Jeter gets a 2 from the famed Wrigley scoreboard pic.twitter.com/xjPhCjFmxE

— Erik Boland (@eboland11) May 20, 2014
It was declared Derek Jeter night according to Patrick Mooney of CSNChicago:
Derek Jeter Night at Wrigley Field: pic.twitter.com/vsxT6QthIB

— Patrick Mooney (@CSNMooney) May 20, 2014
Updates from Thursday, May 15
The New York Mets honored Derek Jeter prior to tonight's game (via Mark Feinsand of the New York Daily News and the Mets on Twitter):
Jeff Wilpon presents a piece of art made of Subway tiles to Jeter. Also a check for $22,222.22 for his foundation. pic.twitter.com/KhsT49IVVk

— Mark Feinsand (@FeinsandNYDN) May 15, 2014
Thank you to @carlosbakery and cake designers @Joefromcakeboss and @CakeBossCastano for this Jeter Farewell cake. pic.twitter.com/bogu2NVkNv

— New York Mets (@Mets) May 15, 2014
Updates from Sunday, May 11
The Milwaukee Brewers honored Derek Jeter before Sunday's game (via Daniel Barbarisi of the Wall Street Journal):
The Brewers give Jeter what looks like a bronze bat, and a 10K check for his foundation. Presented by Dick Groch, scout who signed him.

— Daniel Barbarisi (@DanBarbarisi) May 11, 2014
Updates from Thursday, May 8
The Angels gifted Jeter something very appropriate for California:
#Angels honor Derek Jeter with a true Californian farewell gift #AtTheBigA! #BonVoyageCaptain #FarewellCaptain #Halos pic.twitter.com/A4FmESmiyZ

— Los Angeles Angels (@Angels) May 8, 2014
Original Text
Derek Jeter is really popular.
How popular is he?
Derek Jeter is so popular that, as he works through his farewell tour, teams around the league give him gifts during his final stops in each subsequent city.
The Houston Astros were first up on Wednesday afternoon, offering Jeets a set of golf clubs, a cowboy hat and a pair of boots. CSN Houston's Julia Morales provides a look at the clubs:
Jeter will be getting some new clubs & boots from the @astros. Ceremony will begin shortly. pic.twitter.com/tmix8h6ZFM

— Julia Morales (@JuliaMoralesCSN) April 2, 2014
Newsday's David Lennon, meanwhile, offers a snapshot of the boots and hat:
A closer look at Jeter's gifts. #Yankees pic.twitter.com/R5EDIW0l5w

— David Lennon (@DPLennon) April 3, 2014
Odds of Jeter ever wearing those boots? 1-in-10,000. Odds of me checking eBay furiously every day in an attempt to purchase those boots? Even money.
The charade that comes with Jeter's final season in the big leagues is starting to be taken to a silly level. ESPN recently fired up the "The Jeet Index" blog and it appears that teams are set on giving him ridiculous team-themed gifts that he really doesn't need.
In all seriousness, though, Jeter has done enough in his career to warrant the popularity and attention he's receiving.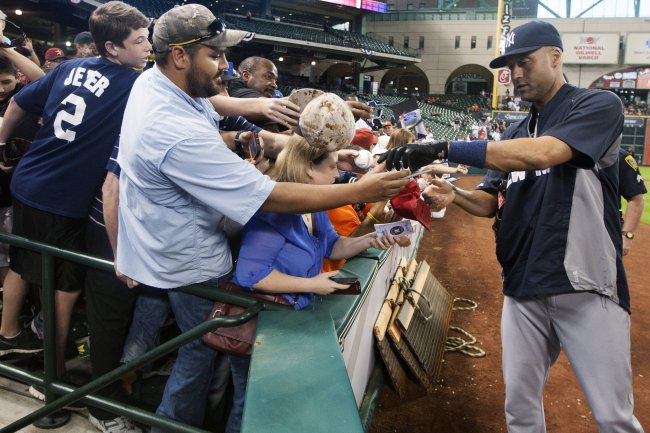 Patric Schneider
Heading into his 20th season, the 39-year-old shortstop had tallied 256 home runs, 1,261 RBI, 1,876 runs scored, 525 doubles and 348 stolen bases while hitting .312/.381/.446.
Jeter has won five Silver Slugger Awards, five Gold Glove Awards, been named to 13 All-Star games and won five World Series titles with the Yankees. He was MVP of the 2000 Fall Classic.
Oh, and you can't forget being named the 11th greatest world leader.
During Spring Training, Jeter talked about his reluctance of ending his storied career, via MLB.com's Doug Miller:
I've just tried to not look forward to everything being over. If you call that soaking it in in Spring Training, I guess so. But I'm just trying to enjoy my time and not looking forward to it being over. That's the best way to put it.
Maybe receiving pinstriped boots from the Astros, some type of seafood from the Miami Marlins, or a beer from the Milwaukee Brewers will help ease the pain of his farewell tour.
Or maybe all these ceremonies will provide just enough distraction for him to end his legendary Yankees career with a bang.
Either way, we can't wait to see what he gets next.