After performing admirably for the Chicago Bears when Jay Cutler went down to injury in 2013, Josh McCown emerged as one of the top free-agent quarterbacks of the 2014 offseason. On Wednesday, the 34-year-old cashed in on that success and signed with the Tampa Bay Buccaneers on a two-year deal.
Jason La Canfora of CBS Sports first reported the deal:
Josh McCown agrees to a 2 yr deal with Tampa per his agent, Mike McCartney. Will have real chance to compete for that job

— Jason La Canfora (@JasonLaCanfora) March 12, 2014
The Buccaneeers later confirmed the deal via their Twitter account:
via @ScottSBucs, former Chicago QB Josh McCown has indeed agreed to terms with the Buccaneers, pending a physical. #itsabucslife

— Tampa Bay Buccaneers (@TBBuccaneers) March 12, 2014
La Canfora also broke down the terms of the agreement:
QB Josh McCown's 2yr deal in TB worth $10M with another $1M available in playtime incentives and a $3M bonus for making the playoffs. Strong

— Jason La Canfora (@JasonLaCanfora) March 12, 2014
The $1M in incentives for McCown are per year, so chance to make $15M over 2 yrs maximum

— Jason La Canfora (@JasonLaCanfora) March 12, 2014
Greg Auman of the Tampa Bay Times reports that Lovie Smith has dubbed McCown his quarterback:
Bucs' Lovie Smith, asked if Josh McCown is his quarterback: "Yes, he is."

— Greg Auman (@gregauman) March 12, 2014
McCown made five starts for the Bears in Cutler's absence, going 3-2 in those contests. In total, he finished the season with 1,829 passing yards, 13 touchdowns, just one interception, a 66.5 completion percentage and a 109.0 passer rating. He also rushed for one score.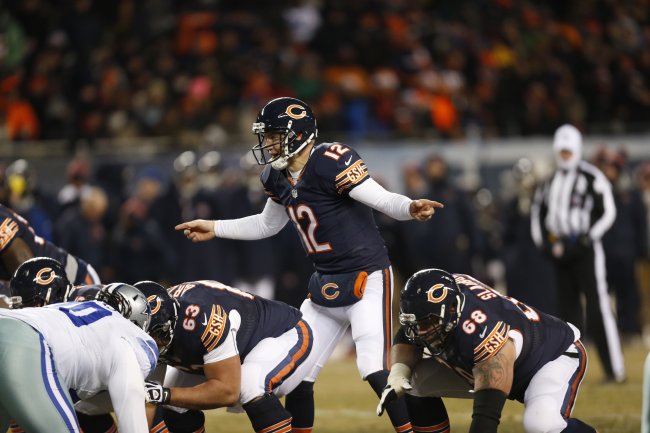 Charles Rex Arbogast/Associated Press
It was easily the 11-year veteran's best stretch of sustained play in his NFL career. And his touchdown-to-interception ratio was historically good, according to the NFL on ESPN Twitter account:
Best TD-Int ratio in season, NFL HISTORY: 2013 Nick Foles 27-2 2013 Josh McCown 13-1 2006 Damon Huard 11-1 2010 Tom Brady 36-4

— NFL on ESPN (@ESPNNFL) December 31, 2013
Of course, there will be questions as to why McCown had his best season at the age of 34. Pro Football Focus suspects it had something to do with his head coach:
What kind of effect did Trestman have? Josh McCown was the most accurate QB in the NFL in 2013 under pressure (77.0 acc%). #QBWhisperer

— Pro Football Focus (@PFF) February 7, 2014
There was no doubt that McCown made himself one of the most attractive backup-quarterback options in the NFL coming into this offseason. That leverage was not lost on him. Before free agency began, McCown told Dan Wiederer of the Chicago Tribune that he wished to remain with the Bears as a backup, but he would consider other possibilities depending on what was offered to him:
It's hard to want to be anywhere else. But the balance of that, too, is our reality. This is probably going to be the last time I stand in free agency with this kind of leverage. So there's an understanding of an opportunity here to gain some more resources both to take care of our family and to do more good with.
You can't blame him for using any leverage he had coming into the last contract he'll likely sign in the NFL.
McCown's experience, willingness to be a backup quarterback and the ability he showed to play well when called upon last season made his signing a strong one for Tampa Bay. His signing may not be a sexy one, but depth is incredibly important in the NFL, especially at quarterback.
However, as La Canfora notes, McCown will have every chance to earn the starting job, and it sets up a quarterback battle between the former Bears backup and Mike Glennon.
It's hard to imagine him replicating his numbers from 2013 if he's called into starting duty this season. But the Buccaneers will certainly feel confident having him on board in the event he is ultimately needed to pick up a few starts this season.