On Monday, the Tampa Bay Buccaneers unveiled their new NFL Nike Elite 51 Uniforms for the 2014 season. And one thing is for certain—they will catch your eye.
From the team's official Twitter account:
We were so excited about our new look, we couldn't wait any longer to share it with you! READ: http://t.co/QfP0PkdXCM pic.twitter.com/DIVdoqtzcl

— Tampa Bay Buccaneers (@TBBuccaneers) March 3, 2014
Samuel Lam of NFL Network shared a preview of a red version of the new-look uniforms:
Here's the look at the back of the red jersey pic.twitter.com/eY4jzEHjEO

— Samuel Lam (@SamuelYLam) March 3, 2014
Heidi Burgett of Nike shared a view from the front of the uniform:
The Tampa Bay Bucs new red jerseys: pic.twitter.com/csaQ5l8xNm

— Heidi Burgett (@heidiburgett) March 3, 2014
Buccaneers co-chairman Edward Glazer talked more about the uniforms, via the team's official website:
Today marks the culmination of more than two years of research and planning to bring the Tampa Bay Buccaneers into a new and exciting era of our history. We worked closely with our partners at Nike to design a uniform that would set the standard for both design and functionality. The result is a sleek, modern design that honors our championship past while also establishing a new, bolder identity moving forward.
While some of the styles implemented on the new Bucs uniform have been seen before, the franchise seems particularly proud of the unique numbers on display. From the team's website:
Tampa Bay also becomes the first NFL franchise to incorporate a revolutionary reflective chrome border around the numbers on the front, back and shoulders. The chrome border incorporates a technologically advanced reflective coating that adds a new dimension, increased readability and a unique glow to the numbers.
There are concerns, however, that the new style of numbers might be difficult for statisticians and play-by-play commentators to keep track of during a game.
And it's safe to say there have been mixed reactions around the web and on Twitter in regard to the new uniforms. From Chris Chase of For The Win:
The Tampa Bay Buccaneers unveiled their new uniforms on Monday morning and let's just say Bucco Bruce may be crying a solitary tear out of his good eye.

Tampa's new Nike uniforms feature an oversized logo on the helmet, a bizarre black-based color scheme that ignores the franchise's retro creamsicle uniforms and numbers that look like the red LED digits on an alarm clock, only far less easy to read.
It's not a good thing when your new uniforms are being compared to an alarm clock.
Darin Gantt of Pro Football Talk jokingly wondered if the new design would keep prospective free agents from signing elsewhere:
Right now there's a free agent thinking: Man, I dig Lovie, and no state income tax is a good thing, but, ... pic.twitter.com/IZ3bgBEjA2

— Darin Gantt (@daringantt) March 3, 2014
For a team that has always been identifiable to an orange uniform, these new jerseys are surprisingly stingy with the orange. That might rub some fans the wrong way. Of course, nobody was asking the Bucs to return to these days: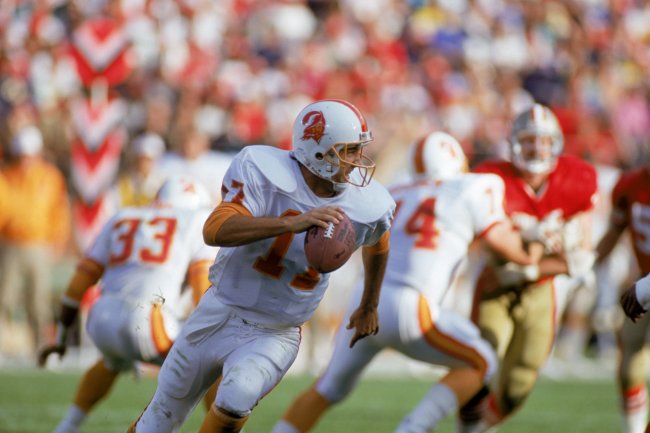 George Rose/Getty Images
But perhaps emphasizing the team's long history with the color orange a bit more would have been nice.
Nonetheless, you couldn't blame the Bucs for wanting to usher in a new era. Tampa has finished 4-12 in two of the last three seasons and haven't made a playoff run since 2007. They haven't won a playoff game since their 2002 Super Bowl win.
However, they have a new coach in Lovie Smith. They have stars (Doug Martin and Vincent Jackson on offense, Darrelle Revis on defense) to build around. Mike Glennon showed potential last season as a rookie quarterback, though if the new brass isn't sold on him, the team has the No. 7 pick in this year's NFL draft.
Perhaps Tampa Bay is hoping that a new look in uniform design will also translate into a new look on the field. The Bucs will certainly hope that they'll be a bit more successful in the wins column than they've been thus far in the reactions they've gotten to these new uniforms, however.