Updates from Thursday, March 13
Jonathan Martin has passed his physical with the 49ers and is officially on the team according to their Twitter account:
Jonathan Martin (@J_Martin71) has passed his physical & is officially a member of the #49ers. http://t.co/uJHfBtAraH pic.twitter.com/SPBlIByjEb

— San Francisco 49ers (@49ers) March 13, 2014
49ers general manager Trent Baalke commented on the news that he is officially signed via 49ers.com:
"Any time we acquire a player we give him a clean slate, along with every opportunity to demonstrate his value to our organization, both on the field and in the community. It will be no different in Jonathan's case. As a former Stanford student-athlete, we are very familiar with Jonathan and look forward to working with him."
Eric Branch of the San Francisco Chronicle and Matt Barrows of The Sacramento Bee provided Martin's reaction:
Jonathan Martin said he's texted with LT Joe Staley. Believes he'll fit in well with offensive line group. #49ers

— Eric Branch (@Eric_Branch) March 14, 2014
#49ers Jonathan Martin: "I have to earn my spot on this team … I'm open to anything."

— Eric Branch (@Eric_Branch) March 14, 2014
Did Jonathan Martin ever contemplate retirement? "That didn't ever cross my mind at any point," he said. Wants to have a 10-yr career.

— Matt Barrows (@mattbarrows) March 14, 2014
Original Text
The Miami Dolphins have traded offensive tackle Jonathan Martin to the San Francisco 49ers as the franchise attempts to move past the bullying scandal that dominated the headlines last season.
ESPN's Adam Schefter passed along word of the big move:
Filed to ESPN: San Francisco is trading a conditional draft pick to Miami for OT Jonathan Martin, per league sources.

— Adam Schefter (@AdamSchefter) March 12, 2014
For former Dolphins OT Jonathan Martin, SF traded a conditional 7th-rd pick in 2015 if he's on 49ers' opening 53-man roster.

— Adam Schefter (@AdamSchefter) March 12, 2014
Martin made a few comments on Twitter:
Big news.... Beyond Blessed

— Jonathan A. Martin (@J_Martin71) March 12, 2014
Opportunities are few in the NFL... Can't wait to get to work #9erEmpire

— Jonathan A. Martin (@J_Martin71) March 12, 2014
Dolphins general manager Dennis Hickey briefly spoke about the transaction:
GM Dennis Hickey on Jonathan Martin trade: "We feel that this move is in the best interests of all parties involved. We wish Jonathan well."

— Miami Dolphins (@MiamiDolphins) March 12, 2014
Adam Beasley of the Miami Herald provided insight on how the Dolphins approached the trade:
I'm told that Dolphins ownership was definitely involved in the execution of the trade. The team (Ross) wanted to do right by Martin.

— Adam Beasley (@AdamHBeasley) March 12, 2014
Sports Illustrated's Doug Farrar supplied his thoughts on the move:
Martin was about as good as he was ever going to be under Harbaugh at Stanford. Never an elite guy, all the other stuff aside.

— SI_DougFarrar (@SI_DougFarrar) March 12, 2014
Although Miami moved forward with the trade, it appears that was not the franchise's first choice.
Team executives and head coach Joe Philbin met with Martin's agents during the NFL Scouting Combine to discuss what the next step should be, according to Jason La Canfora of CBSSports.com. The lineman's agents informed the Dolphins that he didn't feel comfortable returning.
The Miami Dolphins expressed interest in Jonathan Martin returning to the team during their combine meeting with his agents, according to league sources.

The agents for Dolphins tackle Jonathan Martin met with Dolphins VP of football operations Dawn Aponte, new GM Dennis Hickey and coach Joe Philbin at the combine to discuss Martin's future with the club, sources said, at which time it was conveyed to the team that Martin was not comfortable returning.
Martin's agents denied the accuracy of the report and La Canfora provided comments from agent Rick Smith, who said, "We'd appreciate it if everyone backed off and allowed the process to happen organically."
Despite the denial, Andrew Abramson of The Palm Beach Post talked with someone close to Martin and the source said a reunion didn't seem like a realistic option:
The NFL investigation found that Martin was bullied and harassed by teammates Richie Incognito, John Jerry and Mike Pouncey. Incognito and Jerry are free agents but Pouncey is a Pro Bowl center who is still under contract with the Dolphins but could face a suspension.

"How do you take (Martin) back?" the source said. "Do you get rid of Pouncey? All these guys talked (stuff) about him. I don't even know how it's possible."
Omar Kelly of the South Florida Sun Sentinel reached out to Martin for comment about his future plans and the lineman responded by saying, "I really can't comment. I'm just going to let the process take care of itself."
Martin was a starting tackle for the Dolphins before the bullying issues became a major story. It's no surprise that Miami hoped to bring him back into the mix heading into next season if the right situation for all parties presented itself.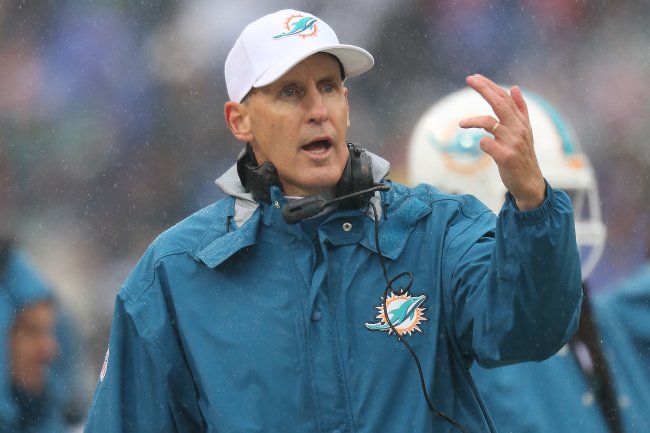 Tom Szczerbowski/Getty Images
Ultimately, whatever happened behind the scenes resulted in both sides deciding to go their separate ways. It's the best move for everybody involved.
One player to voice his support for Martin was Indianapolis Colts quarterback and former Stanford teammate Andrew Luck. Mike Florio of Pro Football Talk passed along comments from Luck, who said he still talks with Martin and would be in favor of him joining the Colts.
"I'd say I love Jon, we had a great time at Stanford together, still stay in touch with him regularly and I think he's a great man," Luck said regarding the input he'd provide, if/when (when) he's asked about Martin.

Luck said he still regularly talks to Martin, and that they spoke "[p]robably a couple days ago."

Luck seemed to be choosing his words carefully, but he ultimately provided one key word in response to the question of whether he'd be 100 percent in favor of acquiring Martin: "Yes."
Fox Sports 1's Mike Garafolo reports that the Colts actually were interested in acquiring Martin:
Source says the Colts did in fact have conversations with Miami about Jonathan Martin. And even the Vikings showed some interest.

— Mike Garafolo (@MikeGarafolo) March 12, 2014
Moving forward, it's unclear what the future might hold for Martin in San Francisco. The 49ers are a veteran unit that should have no problems welcoming Martin. 49ers offensive tackle Anthony Davis welcomed Martin via Twitter.
@AnthonyDavis76 preciate ya big homie. Lookin forward to getting to work

— Jonathan A. Martin (@J_Martin71) March 12, 2014
For the cost of just a conditional draft pick in a draft where they own 11, it was a low-risk move.
Of course, there will be questions about how he'll adapt to the locker room after the bullying scandal. The same goes for the Dolphins as they attempt to recreate a healthy working environment.
It will take some time for both Martin and the Dolphins to move beyond the situation for good, but today will go a long way in helping both do so.