Following attorney Ted Wells' months-long investigation, the report detailing the bullying scandal involving Miami Dolphins offensive linemen Jonathan Martin and Richie Incognito was officially released on Friday.
The situation first came to light in November when Martin decided to leave the Dolphins, and Incognito was subsequently suspended for conduct detrimental to the team.
Wells, who is the co-chair of the litigation department at the Paul, Weiss, Rifkind, Wharton & Garrison law firm, conducted interviews with Dolphins players, coaches and front office personnel. The report concluded that Incognito and other offensive linemen harassed Martin and other members of the Dolphins team and staff.
According to the official press release for Wells' report, Dolphins offensive linemen John Jerry and Mike Pouncey were also culprits along with Incognito, and an unnamed second Dolphins offensive lineman was harassed in addition to Martin:
The Report concludes that three starters on the Dolphins offensive line, Richie Incognito, John Jerry and Mike Pouncey, engaged in a pattern of harassment directed at not only Jonathan Martin, but also another young Dolphins offensive lineman and an assistant trainer. The Report finds that the assistant trainer repeatedly was the object of racial slurs and other racially derogatory language; that the other offensive lineman was subjected to homophobic name-calling and improper physical touching; and that Martin was taunted on a persistent basis with sexually explicit remarks about his sister and his mother and at times ridiculed with racial insults and other offensive comments.
According to Steve Reed of the Associated Press, former Dolphin Andrew McDonald is the other player who was bullied:
"While Andrew can't speak for other players involved in the report, he personally has had no problem with the Miami Dolphins organization and has the highest opinion of Coach Turner both personally and professionally and feels terrible about the way their relationship has been portrayed in the report."

Several people interviewed told investigators that Turner gave Player A, a male sex doll as a gag gift around Christmas 2012. Turner told investigators he did not remember the incident, but investigators said they did not believe him.

When asked if McDonald felt he was bullied or harassed, Tessler said the statement speaks for itself.
Incognito has been defiant in the past few days regarding his role in Martin's decision to leave the team. In a tweet on Wednesday, he accused Martin of fabrication:
Dear Jon Martin..... The truth is going to bury you and your entire "camp". You could have told the truth the entire time.

— Richie Incognito (@68INCOGNITO) February 12, 2014
Despite that, Wells believes that Martin's emotional distress was legitimate, and that Incognito was among the primary driving forces behind it:
The Report rejects any suggestion that Martin manufactured claims of abuse after the fact to cover up an impetuous decision to leave the team. Contemporaneous text messages that Martin sent to his parents and others months before he left the Dolphins—which have never before been made public—corroborate his account that the persistent harassment by his teammates caused him significant emotional distress. The Report concludes that the harassment by Martin's teammates was a contributing factor in his decision to leave the team, but also finds that Martin's teammates did not intend to drive Martin from the team or cause him lasting emotional injury.
Armando Salguero of the Miami Herald provides Dolphins owner Stephen Ross' statement following the release of the report:
"I now have had a chance to read the report and obviously, the language that was used and the behavior as described is deeply disturbing. Although the report commended Joe Philbin's commitment to promoting integrity and accountability throughout the Dolphins organization, I told Ted Wells personally during my visit with him that we are committed to addressing the issues outlined in this report. We must work together towards a culture of civility and mutual respect for one another. It is important to me, important to Coach Philbin and important to the entire Dolphins organization."
Ross also addresses what is next for the organization:
"After the situation came to light, I approached the New York University School of Law and the New York University Center for Sports and Society led by Arthur Miller, as well as the Jackie Robinson Foundation on ideas to address my concerns about conduct in sports. I wanted to tackle these challenging issues head on and be a driving force for change not only with the Dolphins, but in all levels of athletics. In working with their research team and lawyers, and with the cooperation of New York University Dean of Law and former White House associate counsel Trevor Morrison in particular, we have researched, debated and consulted dozens of experts and have created a series of initiatives that we will release next week, along with a policy paper examining this issue.

"We seek to create a curriculum which emphasizes accountability and which educates athletes on a standard code of conduct, appropriate use of language, and the elimination of disrespectful and unacceptable behavior in sports, including discrimination or harassment because of race, gender or sexual orientation. We are also exploring possible legislation and a conduct pledge that would be instituted in all organized sports throughout the country to elevate the core value of respect.
Martin's status as a victim came into question after the release of text messages he exchanged with Incognito. Martin engaged in banter with Incognito, but Martin admitted to Wells that he did so as a defense mechanism.
Although Martin claimed that he occasionally asked Incognito, Jerry and Pouncey to stop making crude remarks about his mother and sister, Martin acknowledged that he typically did not challenge language he found hurtful; instead, he often turned or walked away or attempted to use body language to convey his disapproval, or just tried to laugh it off. Martin also asserted that he befriended Incognito, Jerry and Pouncey in an effort to reduce their abuse and that he sometimes participated in their vulgar banter in an effort to fit in.
Wells concluded his report by suggesting that the Dolphins and the NFL institute new mandates to ensure that such a situation doesn't arise again:
As all must surely recognize, the NFL is not an ordinary workplace. Professional football is a rough, contact sport played by men of exceptional size, speed, strength and athleticism. But even the largest, strongest and fleetest person may be driven to despair by bullying, taunting and constant insults. We encourage the creation of new workplace conduct rules and guidelines that will help ensure that players respect each other as professionals and people.
As expected, neither the Dolphins nor the NFL are ready to make any decisions until the entire report is reviewed. Dolphins owner Stephen Ross was adamant about that in his official statement, courtesy of the Dolphins' Twitter account:
We have just received the report from Ted Wells and will review it in detail before responding relative to the findings. When we asked the NFL to conduct this independent review, we felt it was important to take a step back and thoroughly research these serious allegations. As an organization, we are committed to a culture of team-first accountability and respect for one another.
Like Ross, the NFL declined to go into specifics regarding the report, according to the league's statement on NFLCommunications.com:
Our office has received the report of independent counsel Ted Wells, which sets forth the findings of his investigation into the workplace environment at the Miami Dolphins. Consistent with our commitment at the outset of this matter, the full report has been transmitted to our clubs and has been made public. We appreciate the work of Ted Wells and his colleagues and the cooperation of the Miami Dolphins organization in the investigation. After we have had an opportunity to review the report, we will have further comment as appropriate.
Martin's agent, Kenny Zuckerman, said the lineman would play next season, according to ESPN's Adam Schefter:
Jonathan Martin's agent, Kenny Zuckerman, said his client "will be on the field 100% this season."

— Adam Schefter (@AdamSchefter) February 14, 2014
The NFL Players Association is in a difficult position since it represents all players involved in this scandal, but it took the same stance as the league as a whole, according to the NFLPA statement courtesy of NFL.com's Albert Breer:
"We have received the report on workplace conditions in Miami. We will review the findings closely, confer with our players and all relevant parties involved," the statement said.
Packers offensive lineman TJ Lang spoke about the idea that Miami's culture was spread throughout the NFL:
NFL commissioner Roger Goodell is among those who intend to take an in-depth look at the report, though he's not yet ready to hand down any potential fines or suspensions, per Jason La Canfora of CBSSports.com:
Commish Goodell says he will review Wells' report thoroughly before making any comment on the matter or any subsequent disciplinary actions

— Jason La Canfora (@JasonLaCanfora) February 14, 2014
Incognito's lawyer responded to the report, according to Tom Pelissero of USA Today:
Incognito's lawyer: "Mr. Wells' NFL report is replete with errors. ... It is disappointing that Mr. Wells would have gotten it so wrong."

— Tom Pelissero (@TomPelissero) February 14, 2014
"The truth ... is that Jonathan Martin was never bullied by Richie Incognito or any member of the Dolphins Offensive line."

— Tom Pelissero (@TomPelissero) February 14, 2014
Incognito has since removed his Twitter account, but not before posting one last tweet.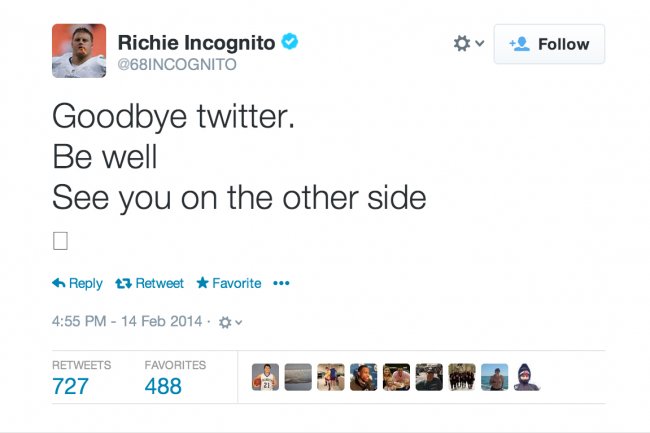 Incognito's Twitter account
Based upon the content of the report, Jason McIntyre of The Big Lead believes Martin may have a case against the Dolphins:
Still going through the Ted Wells report, but it smells like Martin has a lawsuit against the Dolphins. Workplace harassment.

— Jason McIntyre (@jasonrmcintyre) February 14, 2014
It remains to be seen how Incognito will respond to Wells' findings. The report was initially slated to be released more than a week earlier, and Incognito showed a great deal of impatience when it wasn't:
Paul, Weiss, Rifkind -- Really taking your time on this one. Not like my career and life have been in the balance for 3 months.

— Richie Incognito (@68INCOGNITO) February 6, 2014
Of course, the report doesn't paint a great picture of Incognito, but it is impossible to predict how Goodell and the league will discipline him along with Jerry and Pouncey.
Incognito's situation is interesting since he is an unrestricted free agent. Although Incognito is a Pro Bowl-caliber guard, any discipline against him would make him even less desirable to potential suitors than he already is.
All of Incognito's recent comments make it clear that he expected to be exonerated, but Wells' report certainly didn't paint a picture of innocence.
Follow @MikeChiari on Twitter