Super Bowl week is full of commercials being leaked early, nonstop analysis and a host of events leading up to the big game. But no tradition is quite as memorable or wacky as the annual Media Day.
With a collection of intriguing storylines and some big personalities on both teams (cough, cough, Richard Sherman, cough), this year's Media Day was especially one to look forward to.
Let's take a look at some of the noteworthy moments from the spectacle.
Denver Broncos Highlights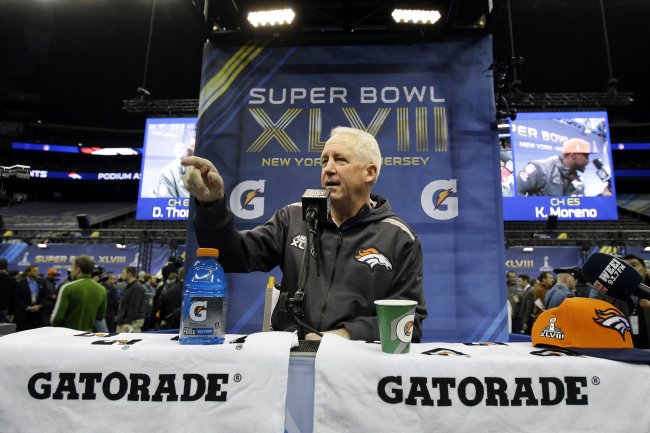 Matt Slocum/Associated Press
Just how crazy is Media Day? Well, the Denver Broncos entered the building through a throng of excited cheerleaders.
Seriously. Check out the team's official Twitter account:
#Broncos' Media Day arrival. #SB48 https://t.co/nvGTohzgPG

— Denver Broncos (@Broncos) January 28, 2014
And just take a look at Peyton Manning's interview set well before he even took the grounds, via Mike Petraglia of WEEI:
That was the calm before the storm. Here is Manning entering the madhouse, via the Sunday Night Football Twitter account:
Peyton Manning takes the podium in a sea of cameras and reporters #mediaday https://t.co/2Gp3w0BVCW

— SNF on NBC (@SNFonNBC) January 28, 2014
One of the biggest storylines coming into this game is Manning's legacy and how either a win or a loss would affect it. Witty as always, Manning had a unique take on all of the legacy talk, as Fox Sports: NFL passed along:
"I've been asked about my legacy since I was 25. I didn't think you could have a legacy until like 70." #SBMediaDay pic.twitter.com/4OOACxgLRh

— FOX Sports: NFL (@NFLonFOX) January 28, 2014
Manning also noted that his focus remains solely on this game, per ESPN's Jay Harris:
"This is a now situation. We're going to do whatever we can to win right now. That's all I'm thinking about – right now." – Peyton Manning

— Jay Harris (@JayHarrisESPN) January 28, 2014
He even addressed the now-famous "Omaha" call at the line of scrimmage, which has taken on a life of its own. Rich Cimini of ESPN has more:
Peyton Manning says he didn't create "Omaha." Part of Broncos offense before he arrived. Says Giants, Patriots use "Omaha" audible.

— Rich Cimini (@RichCimini) January 28, 2014
Manning later fielded a few questions from his peers. Jim Wyatt of The Tennessean captured both Randy Moss and Brett Keisel speaking to the legendary quarterback:
Randy Moss didn't like dealing with media as a player. Here he is asking Peyton Manning Qs at Media Day pic.twitter.com/yOOXm82Uf0

— Jim Wyatt (@jwyattsports) January 28, 2014
A hairy subject? Brett Keisel slides in and asks Peyton Manning a question about his hair #SuperBowl pic.twitter.com/TniHXzkkaR

— Jim Wyatt (@jwyattsports) January 28, 2014
Keisel is a hero to hipsters, lumberjacks and hipster lumberjacks everywhere.
While Manning was the centerpiece of the Broncos media day, his teammates also weighed in on the big game. Wes Welker was another popular interview. He broke down what it meant to reach the Super Bowl, via Ian Rapoport of NFL.com:
Wes Welker, breaks it all down: "It's just so hard to get here." pic.twitter.com/5QzO8WJnqG

— Ian Rapoport (@RapSheet) January 28, 2014
He also talked about nerves leading up to the game and how important they are. Bob Glauber of Newsday quoted him:
Wes Welker on being nervous in advance of Super Bowl. "If you're not nervous, you're not focused. If you're not focused, you're screwed."

— Bob Glauber (@BobGlauber) January 28, 2014
Another huge storyline in this game is Denver's league-leading passing attack against Seattle's top-ranked secondary. Receiver Eric Decker is certainly excited for the matchup:
"I'm just excited to play against the Seahawks. For a championship." - @EricDecker87 #SBMediaDay pic.twitter.com/HV8iZRfIw3

— FOX Sports: NFL (@NFLonFOX) January 28, 2014
One player reversed course a bit during Media Day. On Monday, Jan. 27, Broncos cornerback Dominique Rodgers-Cromartie discussed the possibility of retiring despite being just 27 years old. Josh Katzowitz of CBS shared a few of his comments:
After the first contract [a five-year, $15.1 million deal with the Cardinals in 2008], I got a one-year deal, and it's hard to get another [big-money] deal. Just from being around, I've seen a lot of guys get to the point I am right now, and it's hard. You have to start thinking about life after football.
On Tuesday, he apparently distanced himself from those remarks, according to Kent Somers of AZCentral.com:
Broncos CB Rodgers-Cromartie backed off retirement talk. Says future uncertain because his contract expires

— Kent Somers (@kentsomers) January 28, 2014
Finally, we round out the Broncos section with one of Rodgers-Cromartie's running mates in the secondary, Champ Bailey. From Nancy Gay of CSN Bay Area:
Champ Bailey worked 15 yrs to get to this podium. "Complacency. That's really what ends careers," he said. pic.twitter.com/pUuZNVx8IN

— Nancy Gay (@nancygay) January 28, 2014
Here's more from Bailey, via the NFL's official Twitter account:
15 seasons. 1st Super Bowl. And... sock ideas from @DeionSanders?! Champ Bailey at #SBMediaDay. WATCH: http://t.co/x7mLyaDCe0

— NFL (@nfl) January 28, 2014
Not surprisingly, the Broncos were professional and toed the company line. They weren't boring, but they didn't provide any bulletin-board material for the Seahawks either. You'd expect nothing less from a John Fox- and Manning-led team.
Seattle Seahawks Highlights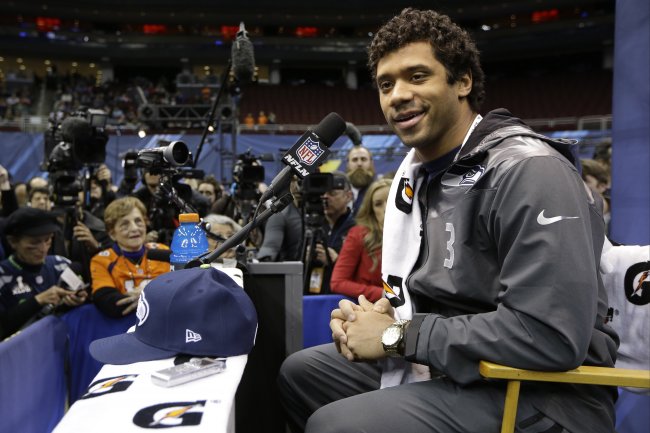 Mark Humphrey/Associated Press
Sherman may have been the focal point, but the entire team was ready for the madhouse. Here's Doug Baldwin before he appeared at the event:
Headed to this Zoo they call media day. #AlwaysCompete

— Doug Baldwin Jr (@DougBaldwinJr) January 28, 2014
But yes, the real story was Sherman, and the anticipation for his arrival was palpable. Richard Deitsch of Sports Illustrated hoped Sherman would ham it up a bit for the cameras:
My dream is for Richard Sherman to come to Media Day today with Scott Hall and Kevin Nash.

— Richard Deitsch (@richarddeitsch) January 28, 2014
Not surprisingly, throngs awaited the dynamic corner, via Tyler Duffy of The Big Lead:
35 minutes before Richard Sherman shows up pic.twitter.com/6kFJos0mJp

— Tyler Duffy (@tyduffy) January 28, 2014
If you thought that was crazy, just take a look at the Vine the NFL Network posted of Sherman heading to the podium:
Richard Sherman arrives at #SBMediaDay: https://t.co/QpMKD9gM0c

— NFL Network (@nflnetwork) January 28, 2014
Here's another perspective of Sherman's interview, via Tom Mantzouranis of MMQB.com on Instagram:
Chris Burke of Sports Illustrated perhaps summed up the madness best:
Absolute insanity at Richard Sherman's podium. Brick killed a guy with a trident.

— Chris Burke (@ChrisBurke_SI) January 28, 2014
But amidst the madness, Sherman also, you know, spoke. As usual, he provided fun and intelligent responses to an array of questions.
Here's one Sherman snippet, via Kimberly Jones of NFL Network:
Richard Sherman early to podium, earns points with fans by lauding Jersey. Said perception of him would b different "if ppl got to know me."

— Kimberly Jones (@KimJonesSports) January 28, 2014
He also expressed his desire to become a football analyst after he retires, a career for which Ralph Vacchiano of the New York Daily News feels he's suited:
What does Richard Sherman want to do when he retires? "I want to sit in front of a camera and talk football." ... He absolutely will.

— Ralph Vacchiano (@RVacchianoNYDN) January 28, 2014
Sherman even handled some truly odd questions with aplomb. One reporter told Sherman she felt professional athletes going to strip clubs set a poor example and asked him his opinion on the matter. Michael David Smith of Pro Football Talk shares his response:
Richard Sherman, asked at Media Day what he'd say to strippers: "There are other avenues to make money. Women can do anything they want."

— Michael David Smith (@MichaelDavSmith) January 28, 2014
Sherman prefaced that by noting he doesn't attend strip clubs, so he probably wasn't the man to ask. But not surprisingly, he gave the right answer.
While Sherman was the main event, fellow wide receiver Golden Tate was styling with some tech on the podium. From Will Brinson of CBS Sports:
Golden Tate just rolled in wearing Google Glass and a Go Pro. pic.twitter.com/m4DbK4wjPL

— Will Brinson (@WillBrinson) January 28, 2014
Meanwhile, Marshawn Lynch became a story after answering questions for a very short period—just over six minutes—before disappearing to the back of the room. He remained in the background on the floor and even did a brief interview with Deion Sanders on the NFL Network.
Bart Hubbuch of the New York Post summed up his afternoon:
Marshawn Lynch talked for six minutes (out of 60) and has been doing this ever since. pic.twitter.com/sGoviXfnZF

— Bart Hubbuch (@HubbuchNYP) January 28, 2014
This led to speculation about a potential fine for "Beast Mode." Eric Edholm of Yahoo! Sports addressed that and passed along this information regarding Lynch's media session, per NFL Network:
Per @nflnetwork, NFL (via @NFLprguy) saying players can be fined for not participating in Media Day and that Marshawn Lynch participated.

— Eric Edholm (@Eric_Edholm) January 28, 2014
Pete Carroll certainly wasn't worried about Lynch's short appearance, responding to it with a pretty good line, which Jim Corbett of USA Today shared:
Pete Carroll asked about Marshawn's 6:30 media session "I heard he did a great six minutes. Some comedians make a career off of that" #SBSMG

— Jim Corbett (@ByJimCorbett) January 28, 2014
On Jan. 29, Ben Volin of The Boston Globe provided a statement from the Pro Football Writers of America discussing Lynch's appearance at Media Day:
"The Pro Football Writers of America is extremely disappointed in the lack of meaningful access to Marshawn Lynch at the Super Bowl ..."

— Ben Volin (@BenVolin) January 29, 2014
"We find the statement that by the league that "Players are required to participate and he participated" to be an affront to our membership"

— Ben Volin (@BenVolin) January 29, 2014
Meanwhile, Kam Chancellor talked about one of his motivations on the road to the Super Bowl, according to Doug Farrar of Sports Illustrated:
Kam Chancellor: "I keep thinking about the people who told me I wouldn't be here... that I couldn't do this." pic.twitter.com/O4w1H2jMQx

— SI_DougFarrar (@SI_DougFarrar) January 28, 2014
Folks hoping the Seahawks would be brash, colorful and full of sound bites were probably disappointed. Much like the Broncos, the team was more about business than being loud. It may not have made for the most memorable Media Day showing, but like the Broncos, the Seahawks will let their voices be heard on the field.
The Spectacle Never Disappoints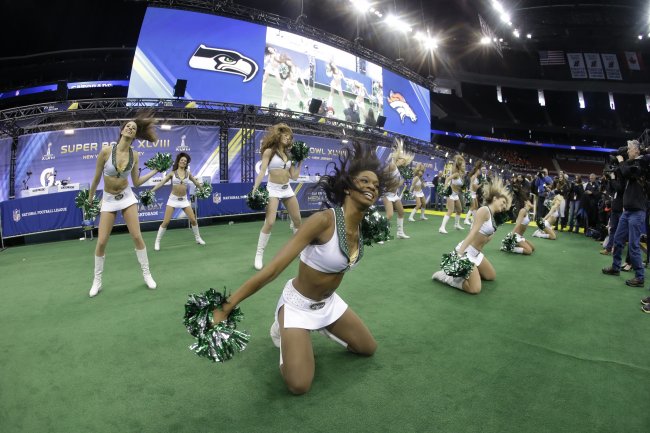 Mark Humphrey/Associated Press
More than anything else, Media Day has become famous for terrible questions, people in costumes and a general sense of wackiness that permeates the event. While this year's version was a bit more toned down than in years past, it was still a spectacle.
There was Ralph Vacchiano of the New York Daily News finding Waldo:
Answering the most important question of Super Bowl week: Where's Waldo? ... pic.twitter.com/v6emdqTEon

— Ralph Vacchiano (@RVacchianoNYDN) January 28, 2014
There was Ryan Wilson of CBS Sports coming face to face with Media Bane:
So not only is Bane still alive, he found work as a walking camera at Media Day. pic.twitter.com/Kyo4PWDvaw

— ryan wilson (@ryanwilson_07) January 28, 2014
There was a marching band:
It wouldn't be media day without a band! #SB48 https://t.co/7bXtLoKP3l

— Denver Broncos (@Broncos) January 28, 2014
There was, um, whatever the heck this was, passed along by Michael Tanier of Sports on Earth:
I have no idea. pic.twitter.com/qdMaqW2w5o

— Michael Tanier (@MikeTanier) January 28, 2014
Someone asked Seattle Seahawks tight end Zach Miller about his favorite boy band:
And there were superheroes, because apparently Media Day is the sporting world's version of Comic Con. From Joe Posnanski:
People are lining up to interview a guy in a superhero costume. Also people are lining up to line up in a superhero costume. Media day.

— Joe Posnanski (@JPosnanski) January 28, 2014
Finally, there were awful, awful questions, highlighted by two absolute doozies passed along by Chris Burke of Sports Illustrated:
Early nominee for worst question: "Is this a must-win game?"

— Chris Burke (@ChrisBurke_SI) January 28, 2014
New worst question leader: "Who has the smelliest farts in the locker room?" What are we doing here ...

— Chris Burke (@ChrisBurke_SI) January 28, 2014
I mean, really? REALLY? C'mon.
All in all, Media Day once again lived up to its reputation. The truth is, this year's matchup is so compelling and presents enough juicy storylines on its own that the more, shall we say, enterprising folks in the media really didn't need to drum up too many shenanigans to pass along.
We're already too excited for the game itself to care about much else. And that's the way it should be.