The Cleveland Browns announced they have finally found their new head coach:
BREAKING NEWS: #Browns name Mike Pettine head coach. #WelcomePettine Press conference scheduled TODAY at 4:45PM EST #StayTuned

— Cleveland Browns (@Browns) January 23, 2014
The team has hired Mike Pettine, who arrives after spending one season as the defensive coordinator of the Buffalo Bills, to replace Rob Chudzinski.
Mary Kay Cabot of The Plain Dealer initially reported the news.
Browns CEO Joe Banner says the deal is for five years, according to Nate Ulrich of the Akron Beacon Journal:
#Browns CEO Joe Banner said HC Mike Pettine has a 5-year contract.

— Nate Ulrich (@NateUlrichABJ) January 23, 2014
However, Cabot reported on Saturday that the contract length might not be five years after all:
#browns coach mike Pettine told @923TheFan it's not a five-year deal, which is what joe banner said thurs it is.

— Mary Kay Cabot (@MaryKayCabot) January 24, 2014
Cabot provides Banner's thoughts on the hiring process:
#Browns Banner: "Mike (Lombardi) and I are Mo and Larry, we set out to find Curly.'' (brought down the house. )

— Mary Kay Cabot (@MaryKayCabot) January 23, 2014
Cabot also passes along Pettine's impression of quarterback Brian Hoyer:
Pettine prepared for Hoyer this season: "I think he's a winner. The intangibles are off the charts."

— Mary Kay Cabot (@MaryKayCabot) January 23, 2014
NFL Around The League provides this quote from Pettine, who speaks about playing in the AFC North:
"To play in the AFC North, you have to be willing to bloody your nose." -- new Browns coach Mike Pettine.

— NFL: AroundTheLeague (@NFL_ATL) January 23, 2014
Pettine talks a bit about Cleveland's fans, who haven't exactly had it easy rooting for a team that has underperformed in recent years:
Pettine: I want Cleveland fans to know we'll put a team on the field they can be proud of. #WelcomePettine pic.twitter.com/quOU1PdThI

— Cleveland Browns (@Browns) January 23, 2014
Jason La Canfora of CBS Sports reports Pettine is already targeting candidates for his coordinator positions:
Expect Bills LB coach Jim O'Neil to be a top candidate as Pettine's DC. Have heard Packers RB coach Alex Van Pelt a top choice for OC

— Jason La Canfora (@JasonLaCanfora) January 23, 2014
The hiring doesn't come as a major surprise. Cabot reported the Browns were bringing the 47-year-old coach in for a second interview, and if everything went well he could be offered the job.
Apparently, Pettine said all the right things because the Browns decided he was the answer.
NFL Network's Albert Breer alluded to that notion:
My understanding is Mike Pettine did a nice job selling himself to Cleveland. Rarely hear about guys interviewing well. Apparently, he did.

— Albert Breer (@AlbertBreer) January 23, 2014
Before joining the Bills, the defensive-minded coach also spent time with the New York Jets and Baltimore Ravens at the NFL level.
What's your opinion of the Pettine hire?
As defensive coordinator with New York, he helped lead a unit that ranked in the top 10 of total defense four years in a row from 2009 to 2012, including the No. 1 ranking in his first year. In his first year with the Bills, Buffalo ranked as a top-10 defense.
Browns owner Jimmy Haslam talked about Pettine, per NFL: AroundTheLeague on Twitter:
"Mike is the epitome of what we want the Browns to be -- tough, aggressive and innovative" -- Jimmy Haslam.

— NFL: AroundTheLeague (@NFL_ATL) January 23, 2014
This will mark his first opportunity to serve as a head coach in the pros. He did serve as a head coach at the high school level in Pennsylvania during the early portion in his coaching career, but that's obviously a long way from the NFL.
While questions are going to get raised about Pettine's fit in Cleveland, it's clear the Bills are going to miss him. Mike Rodak of ESPN notes the defense made key strides in his first season in Buffalo:
Under Mike Pettine, the Bills defense improved in 11 of 12 major categories this season: http://t.co/Gsjhgs3PHK

— Mike Rodak (@mikerodak) January 17, 2014
Pettine was one of the few candidates left for the Cleveland head-coaching position after several decided to opt out.
New England Patriots offensive coordinator Josh McDaniels removed his name from consideration in early January (via Schefter) and Adam Gase of the Denver Broncos did the same after his current team clinched a Super Bowl berth (via NFL.com).
The quick hook given to Chudzinski was probably a primary reason for the timid interest. He was let go after one season in which the Browns went 4-12. Despite the lackluster record, most coaches expect more than a single season to generate a turnaround.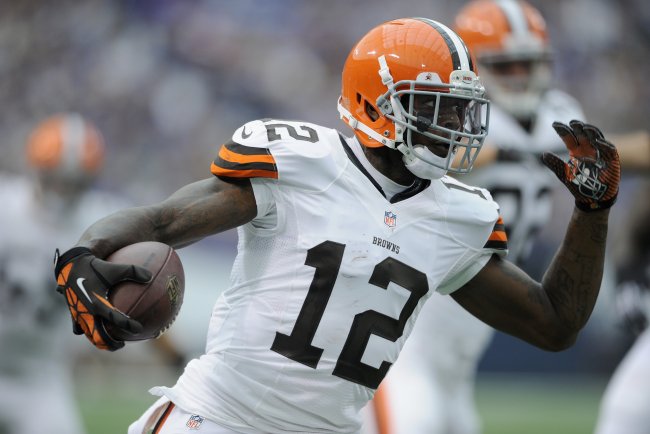 Hannah Foslien/Getty Images
Pettine addressed Chudzinski's prompt firing in his press conference, via Vic Carucci of the Cleveland Browns:
Pettine: (on Chud's short time) Not unnerving. That did not factor in at all. Never back away from job bc of a lack of perceived security.

— Vic Carucci (@viccarucci) January 23, 2014
Pettine knows what it takes to rebuild a defense. The Bills ranked 22nd in yards allowed in 2012 but jumped all the way up into the top 10 under Pettine. With the Browns, he can enjoy similar success while working to fix an entire team.
Bleacher Report's Aaron Nagler shared his thoughts on the hire:
I want to say the Browns have made a good hire in Pettine. But the truth is no one has a clue how he or any head coaching hire will turn out

— Aaron Nagler (@Aaron_Nagler) January 23, 2014
Ultimately, the coaching search took several twists and turns, but Cleveland hopes it settled on somebody who can get the team back into the playoffs in the near future. As a graphic from the NFL on ESPN shows, it's been quite some time since it qualified for the postseason:
Awesome graphic looking at the last playoff appearance for each NFL team. Turn away Buffalo. >> pic.twitter.com/UFwNMUmsGr (via @in_orbit)

— NFL on ESPN (@ESPNNFL) January 22, 2014
The Browns do have two first-round picks in this year's draft (Nos. 4 and 26), which should help expedite the process under their new head coach. The front office still can't expect immediate results, though.
It's going to take some time to see if Pettine is up to the task.