The 89th East-West Shrine Game is in the books after a 23-13 victory for the East, and the impact on the 2014 NFL draft is clear.
While a blip on the radar to NFL teams compared to things such as the Senior Bowl and Scouting Combine, the all-star game for senior prospects helps differentiate players worthy of moving up draft boards in the middle rounds.
The biggest name at the game was Northern Illinois quarterback Jordan Lynch, who was a Heisman finalist in 2013 as he threw for more than 6,000 yards and 49 touchdowns in his last two seasons. The senior fell flat in St. Petersburg, Fla., with a 2-of-7 line for three yards.
Unlike Lynch, lesser-known names boosted their stock with big days. The positive momentum for the following prospects can now snowball as the path to the draft continues.
Pierre Desir, CB, Lindenwood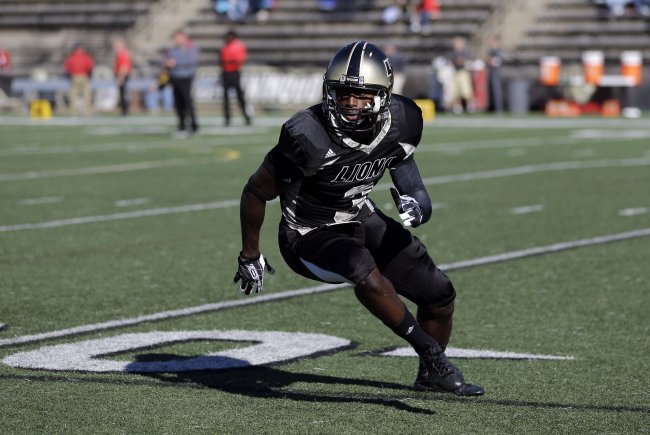 Jeff Roberson/Associated Press
Tall corners with long arms are the name of the game in today's NFL to counter the freakish evolution of the wide receiver position, so Lindenwood's Pierre Desir was naturally going to stick out at the Shrine Game.
Rotoworld's Josh Norris echoed this sentiment before the game:
Pierre Desir has the longest arms of any Shrine Game CB. NFL teams will be focusing on long corners that can match length at the catch point

— Josh Norris (@JoshNorris) January 14, 2014
Standing 6'2" and weighing in at 206 pounds, Desir combines ideal physical traits with a strong resume that includes the Cliff Harris Award, which goes to the Small College Defensive Player of the Year.
Desir can add a strong showing in the Shrine game to his wall of accolades. CBS Sports' Dane Brugler ranked him as the No. 3 prospect on a list of best showings at the game, saying:
It was an up-and-down week for Desir, who impressed in a few drills, but also struggled in others. He looks the part with a tall, long frame for a cornerback, but also showed the flexibility and balance you want for the position. Desir struggled at times to flip his hips or recover after false steps, but if he runs well at the Combine, look for Desir to be a hot commodity on day two of the NFL Draft.
The report meshes well with Brugler's earlier prediction of Desir being one of the top prospects from the game picked first in the draft:
Who will be the highest drafted @Shrine_Game prospect this year? It's between CB Pierre Desir and QB Jimmy Garoppolo IMO. I'm leaning Desir

— Dane Brugler (@dpbrugler) January 16, 2014
While difficult for corners to stand out thanks to a lack of statistics, Desir by all accounts did much to help himself in the Shrine Game, which is exactly what a player from a small school needs to stand out.
Will Clarke, DL, West Virginia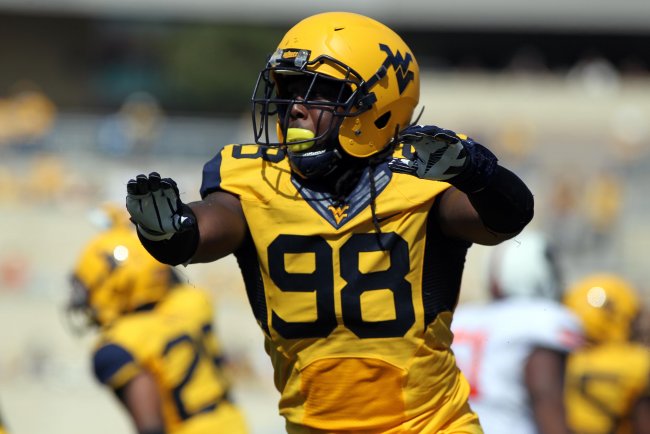 Peter Casey-USA TODAY Sports
At 6'7" and 273 pounds, West Virginia's Will Clarke simply needed a strong showing in the Shrine Game to firmly plant himself on the NFL's radar.
Physical specimens such as Clarke are difficult to come by at the NFL level, especially along the defensive line, where an ability to apply pressure and bat down passes at the line of scrimmage is integral.
Clarke does just that with relative ease (think of Cincinnati's Michael Johnson). He put together a quality outing at the Shrine Game and subsequently received an invite to the Senior Bowl:
W. Virginia DL Will Clarke another @ShrineGame prospect who received the call up to the @seniorbowl. VG movement skills, long arms. Big fan

— Dane Brugler (@dpbrugler) January 18, 2014
Clarke said after the game that his goal was to make the most of the rare opportunity, per the Associated Press, via ESPN:
I'm going to try to take the momentum from this game to continue on with my training and get ready for the combine. There were a lot of questions surrounding my level of play, so I hope I was able to answer a lot of questions about that today.
Good outings at workouts are rather easy for an athlete such as Clarke, so the fact he is showing up well against other top prospects is a critical piece in his draft stock.
Jimmy Garoppolo, QB, Eastern Illinois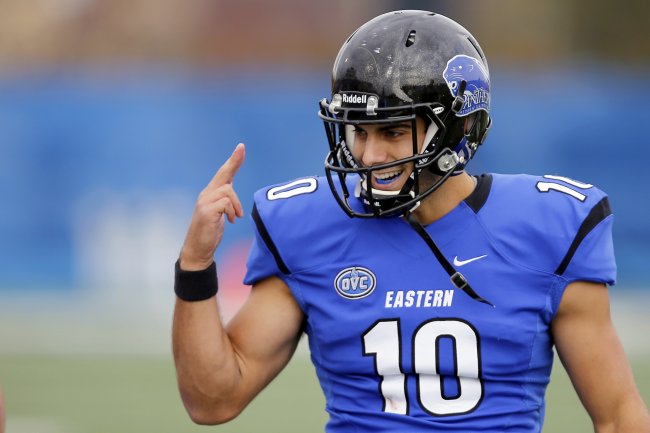 STEPHEN HAAS/Associated Press
After Lynch, Jimmy Garoppolo was far and away the biggest name to partake in the Shrine Game.
Rightfully so—Garoppolo shattered all of Tony Romo's records at Eastern Illinois and threw for 5,050 yards and 53 touchdowns as a senior.
Standing at 6'3" and 222 pounds, sexy statistics are simply not enough for Garoppolo, who must compete with names like Teddy Bridgewater, Johnny Manziel and others in a loaded quarterback class.
Garoppolo stepped to the plate in a big way with his opportunity after Lynch took a seat on the bench. He posted a 9-of-14 line for 100 yards and a touchdown and was subsequently named the MVP. After the game, he detailed the challenges of the contest and his views on the upcoming draft, per the Associated Press once more:
I wasn't used to coming off the bench, so I had to get warmed up. But the coaches called some good plays to get me in a rhythm, and the offensive line did a great job as well. Out here it's just about the competition, whether you're at a small school or a big school you still have to show you can get the job done. I believe I'm one of the best players in the nation, and that's the mindset I play with.
Brugler concurred with those sentiments and named Garoppolo his No. 1 prospect from the game:
Although he's not the tallest (6-foot-2) and lacks elite arm strength, Garoppolo is extremely quick and efficient through his delivery and process. He entered the Shrine Game week as a projected 2nd-3rd round pick and only helped himself in the eyes of NFL scouts. It wouldn't be a surprise to see Garoppolo sneak into the top-50 picks on draft weekend.
To stand out in a quarterback class as loaded as the 2014 edition is no easy task, especially when some may view Garoppolo's production at the collegiate level as a fluke against lesser competition.
Garoppolo is well on his way to putting those questions about his game away for good.