The National team defeated the American squad 31-17 in the 2014 NFLPA Collegiate Bowl, but the score was secondary to the individual performances of the prospects.
Only a small number of players involved are likely to have futures on NFL rosters. The following three players had the best performances on Saturday night at the StubHub Center in Carson, Calif.
Sean Schroeder, QB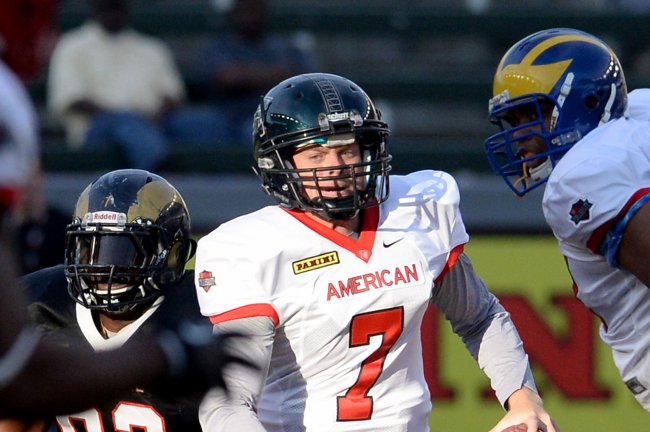 Jayne Kamin-Oncea-USA TODAY Spor
The 6'3" quarterback from Hawaii looked just as efficient on Saturday as he did during his college career. After completing 62 percent of his passes in 2013, Schroeder found the mark on 13 of his 17 attempts in the NFLPA Collegiate Bowl.
The left-hander isn't an exceptional athlete and he has just moderate arm strength, but he's smart, accurate and resourceful.
He'll hear his name called late in the draft, or if not, he'll make a team as an undrafted free agent.
J.C. Copeland, FB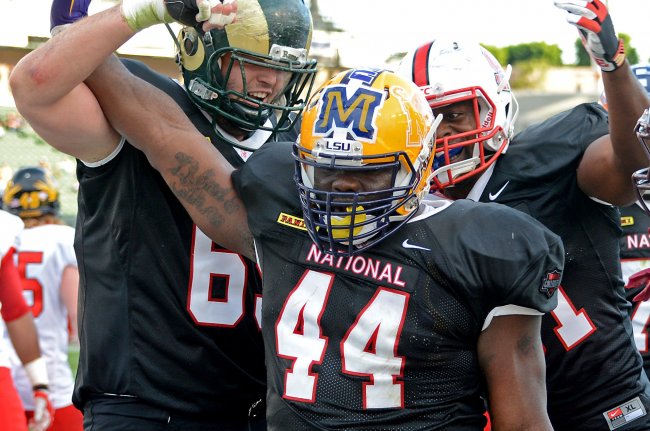 Jayne Kamin-Oncea-USA TODAY Spor
Usually fullbacks don't get a lot of attention in these types of games, but Copeland proved to be such a force as a lead blocker that he conjured up images of former battering rams Sam Gash or Lorenzo Neal.
The LSU product is listed at 6'1" and 270 pounds. He is a load for anyone to shake off if he's plowing ahead to make room for a halfback.
His physicality could be a huge asset for an NFL team in a power run game. If the blocking isn't enough, Copeland looked like a future fantasy football monster with two short-yardage touchdown runs as well.
Check out what Tiger Hype said about him via Twitter:
Former #LSU FB JC Copeland doing Yeoman's Work in NFLPA Bowl tonight with 2 TDs & solid run blocking.

— Tiger Hype (@TigerHype) January 19, 2014
The big man earned game MVP for his impact on the game.
The #NFLPABowlMVP is National Team FB JC Copeland (@jc_punisher_ga) w/ two 1-yd touchdowns. #LSU @LSUfball #NFLPABowl

— NFLPA Bowl Game (@NFLPABowl) January 19, 2014
Copeland discusses his MVP performance:
.@JC_punisher_ga talks about his 2 TD #NFLPABowlMVP game https://t.co/uszC5yLcA7

— NFLPA Bowl Game (@NFLPABowl) January 19, 2014
Who will be drafted the highest?
Anthony Wilkerson, RB
One of the halfbacks who benefited from Copeland's blocks was Wilkerson. The former Stanford Cardinal had a 27-yard touchdown run that put the game out of reach.
Once Copeland sprang him with a pancake block, Wilkerson did the rest, showing off impressive speed.
At 6'1" and 215 pounds, Wilkerson has the requisite size NFL teams look for at his position. The speed he showed will entice a team to call his name late in the draft.
Follow me. Sports are what I do.