LeGarrette Blount Scores 4 TDs as Patriots Advance to AFC Championship
January 12, 2014

Elsa/Getty Images
New England Patriots running back LeGarrette Blount made history during the team's dominant 43-22 victory over the Indianapolis Colts on Saturday, Jan. 11, in scoring four rushing touchdowns.
In driving the Pats to the AFC Championship Game, Blount was just the second player ever to find pay dirt four times on the ground in the NFL postseason, per the NFC Football Communications Director Randall Liu:
The Colts were demoralized by a relentless, ground-and-pound attack from New England, with Blount leading the charge in carrying the ball 24 times for 166 yards.
Bleacher Report's Mike Freeman came up with a fun headline idea to describe what Blount did to the opposition at Gillette Stadium in Foxboro:
Although Indianapolis' rush defense was ranked 26th in the regular season, it was nevertheless an impressive display from a club traditionally known for relying on legendary quarterback Tom Brady and the passing game.
Blount had three touchdown runs in the first half, all from two yards out. Eventually, his physicality wore down the Colts, but the 250-pounder still had the stamina to rip off this 73-yard TD in the fourth quarter: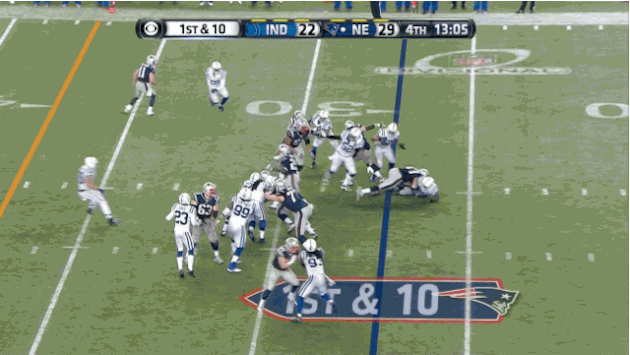 GIF courtesy of Bleacher Report
ESPN's Trey Wingo brought up a good point about how resilient Indianapolis has been all year but how it suffered a letdown in every game following an epic comeback:
One of the biggest trades of the NFL season was when the Colts sent a first-round pick in the upcoming draft to Cleveland for running back Trent Richardson.
While that trade will be judged far later down the road, the Patriots got Blount for substantially less from Tampa Bay, per Bleacher Report's Erik Frenz:
This is the second consecutive monster game for Blount, who ran for 189 yards and two scores in the regular-season finale against a rather stout Buffalo Bills defense.
Even with Brady's supporting cast in the receiving corps being what it is, this type of production from Blount will offset any lack of production from the passing offense.
Whether the Patriots host the San Diego Chargers or travel to Denver for next week's AFC title game, the elements should be a factor, and hitting in the cold always hurts more.
With Blount's big frame serving as a battering ram to opposing defenses, the chances of New England reaching and even winning Super Bowl XLVIII seem better than they already were with playoff staples like Brady and head coach Bill Belichick in the fold.