Offseason Grades for All 30 MLB Teams After 2 Months of Moves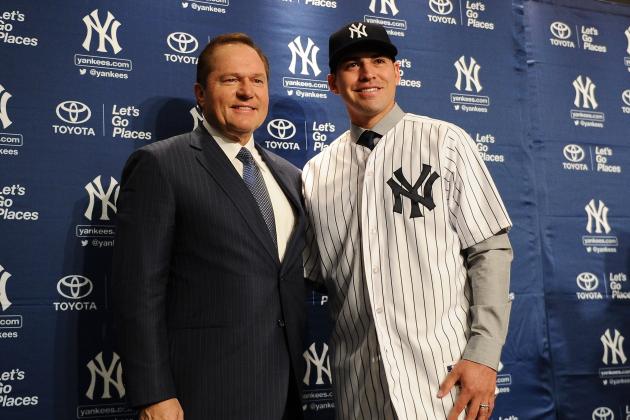 Maddie Meyer/Getty Images

Even though there are still a few big prizes left on the free-agent market, most Major League Baseball teams have done the bulk of their winter shopping already and are making final preparations for the 2014 season.
What better time to take a look back at what has happened on the hot stove?
It's time to hand out grades for all 30 teams based on what they have or haven't done this winter. Keep in mind that some of these marks can still move up, depending on what happens with key players like Masahiro Tanaka, Ubaldo Jimenez and Ervin Santana.
Grades are based on a variety of factors, including quality of player signed, how well the player is likely to hold value over the duration of the contract signed, how well teams have filled needs and trade/financial value.
Just because a team has signed/traded for two or three marquee players does not automatically generate an "A" grade.
Now that you know the formula, it's time to dive into the offseason grades for all 30 teams.
Note: All stats courtesy of FanGraphs and Baseball Reference unless otherwise noted.
Begin Slideshow

»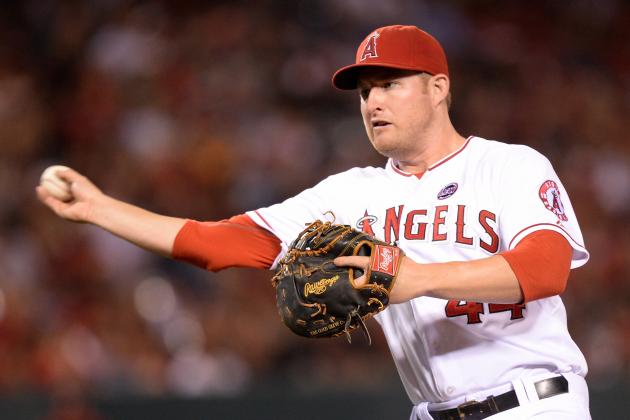 Harry How/Getty Images

Notable Acquisitions: 1B/OF Mark Trumbo, RP Addison Reed
Notable Departures: OF Adam Eaton, SP Tyler Skaggs, 3B Matt Davidson
The Arizona Diamondbacks fascinate me. I struggle to think of one move they've made in the last two years that I liked, yet nothing that they've done has made them appreciably worse.
They're a middle-of-the-road team that doesn't get any better or worse with the deals it makes. That said, I still don't like anything they've done this winter.
They sold low on Tyler Skaggs, who did have some mechanical flaws creep up last year but is just one year removed from being the top left-handed pitching prospect in baseball. Meanwhile, Adam Eaton was the favorite for NL Rookie of the Year in 2013 before an injury cost him most of the year.
They also traded Matt Davidson, who has solid potential and six years of control, for an overrated reliever one year away from getting a sizable raise in arbitration.
Mark Trumbo does give the Diamondbacks, who tied for 25th in homers last year, a power bat to plug in their lineup, but he's not a No. 4 or 5 type of hitter because he doesn't get on base (.294 OBP in 2013).
Addison Reed is a fly-ball pitcher (44.2 percent career rate) with a fastball that dropped nearly two full miles per hour last season (92.8 mph).
Just a strange, unusual offseason for a team that will probably end up in the 82- to 84-win range despite making so many head-scratching moves.
Grade: D+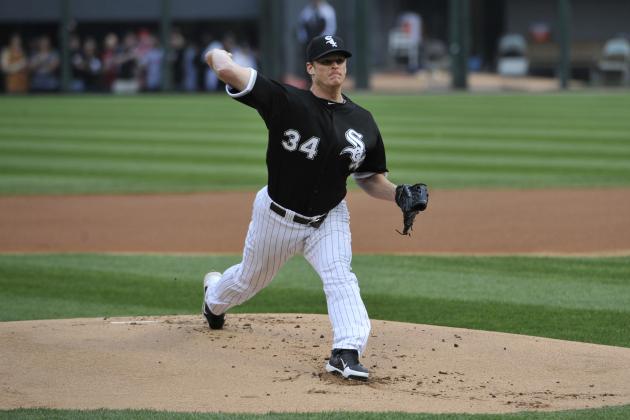 David Banks/Getty Images

Notable Acquisitions: SP Gavin Floyd, C Ryan Doumit
Notable Departures: C Brian McCann, SP Tim Hudson
Despite some trade rumblings here and there, it's been a quiet offseason for the Atlanta Braves. They lost two key pieces from their most recent run of success when Brian McCann signed with the New York Yankees and Tim Hudson went back to the West Coast.
The only notable acquisition is starting pitcher Gavin Floyd, who will likely start 2014 on the DL after having Tommy John surgery in May. At peak, the 30-year-old is a back-end starter who can eat innings.
Despite their losses, the Braves shouldn't be appreciably worse in 2014. Julio Teheran made a number of improvements as 2013 went on and could take another step forward next season. Brandon Beachy should be back to full strength after having Tommy John surgery in June of 2012.
As long as Jason Heyward can stay healthy and B.J. Upton can be anything close to the player he was for the Tampa Bay Rays, the Braves should be able to replace the offensive production lost with McCann's departure.
Those are two big question marks, but Heyward and Upton have so much raw talent that you don't want to bet against them.
Grade: C-
Leon Halip/Getty Images
Grant Balfour's failed physical has made this a disastrous offseason for Baltimore thus far.
Notable Acquisition: RP Ryan Webb
Notable Departures: SP Scott Feldman, OF Nate McLouth
This offseason has seemingly been a nightmare for the Baltimore Orioles, though it's not as dire as it seems. They weren't going to retain closer Jim Johnson, who was likely going to command $10 million in arbitration, so they basically handed him to the Oakland A's in exchange for Jemile Weeks.
They lost Scott Feldman from a pitching staff that lacks depth, but consistency has never been his strong suit. They also voided their signing of Grant Balfour in the mess involving his physical.
Oh yeah, Manny Machado faces some questions about how he will return from that gruesome knee injury.
But hope is not lost!
According to Brittany Ghiroli of MLB.com, Machado is anticipating being ready for the start of 2014. Chris Davis emerged as a monster in the middle of the order, and the Orioles led all of baseball in homers last season.
The starting rotation is problematic, but Dylan Bundy will return to the mound, likely in the minors, at some point this year after having Tommy John surgery in 2013. Kevin Gausman had flashes of brilliance in a brief MLB run last year and should get a rotation spot full-time in 2014.
It may not happen in 2014, but the Orioles are building a great young nucleus that could make them consistent contenders in the not-too-distant future.
Grade: C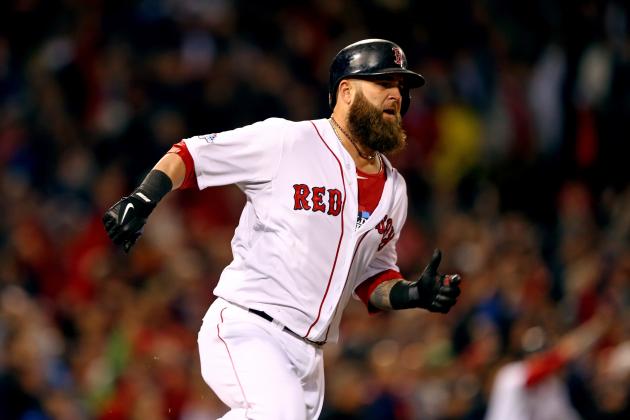 Elsa/Getty Images

Notable Acquisitions: C A.J. Pierzynski, RP Edward Mujica
Notable Departures: OF Jacoby Ellsbury, C Jarrod Saltalamacchia
When you have a farm system as deep as that of the Boston Red Sox, not to mention tremendous depth on the MLB roster, sometimes doing nothing is the best strategy.
General manager Ben Cherington has changed the Red Sox's philosophy. Gone are the days of handing out massive long-term contracts to free agents. Dustin Pedroia's seven-year extension looks like a bargain when compared to Robinson Cano's deal, and he was a homegrown talent.
Most teams would lose a player like Jacoby Ellsbury from the top of their lineup and be in full-blown panic mode. The Red Sox can insert another stellar defensive center fielder with tremendous baseball aptitude and on-base skills in Jackie Bradley Jr.
The A.J. Pierzynski signing might raise eyebrows, specifically the $8.25 million portion, but it's just a one-year deal, and the Red Sox can afford to overpay on that kind of deal. They also have tremendous catching depth in the minors, led by Blake Swihart. He should be ready for the start of 2015.
Edward Mujica isn't a reliever who gets you excited because he relies on control and generating ground balls, but he's been as consistent as any bullpen arm in the last three years. The right-hander has pitched at least 64.2 innings with an ERA no higher than 3.03 since 2011.
The Red Sox also did a good job by retaining Mike Napoli at a very reasonable price (two years, $32 million) and have a chance to keep Stephen Drew. It doesn't hurt to have Xander Bogaerts as a fallback plan for shortstop or third base, depending on what happens with Drew.
Grade: B-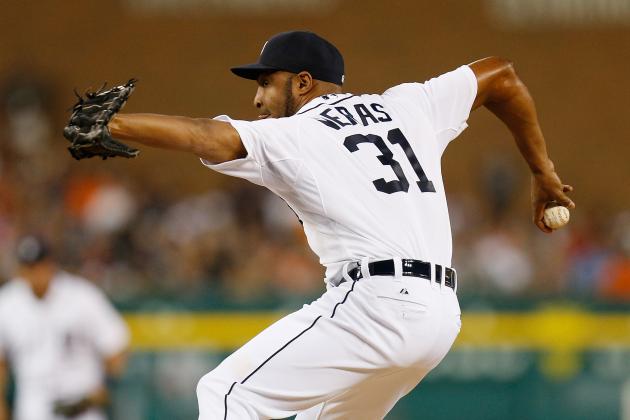 Gregory Shamus/Getty Images

Notable Acquisition: RP Jose Veras
Notable Departures: C Dioner Navarro
The rebuilding plan is going to take a little more time to yield results, but the Chicago Cubs have done a great job of not making any panic moves to appease a restless fanbase.
Signing Jose Veras, a solid bullpen arm, to a reasonable $4 million contract is exactly what a team with no playoff aspirations that needs a closer should be doing. He will also be an upgrade over Kevin Gregg, who worked some kind of magic to survive in 2013.
Losing Dioner Navarro does put a dent in the catching spot, but he's best used in a platoon role and didn't have a long-term future in Chicago.
There's also the possibility the Cubs make a strong push for Masahiro Tanaka. They don't have any starting pitching depth in the minors and will need to address that at some point when their outstanding core of position player prospects starts arriving in late 2014 or early 2015.
If Tanaka goes to Chicago, it would obviously increase this grade exponentially. For now, the Cubs get an average mark.
Grade: C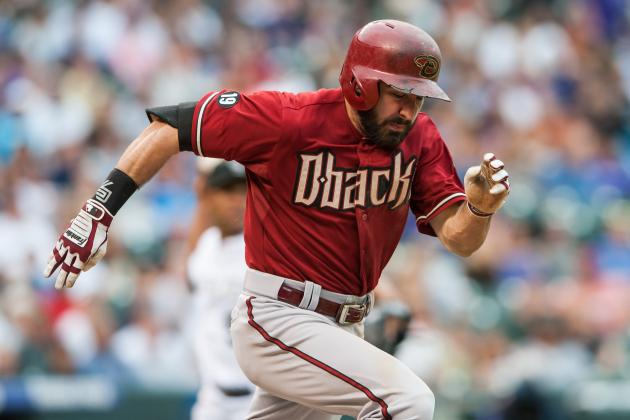 Dustin Bradford/Getty Images

Notable Acquisitions: OF Adam Eaton, 3B Matt Davidson, 1B Jose Abreu
Notable Departures: SP Hector Santiago, RP Addison Reed
The Chicago White Sox have had one of the best offseasons in baseball. They flipped an asset they didn't need (Addison Reed) to a desperate team for a third baseman with above-average power and some hitting skills.
Before that, general manager Rick Hahn flipped back-end starter Hector Santiago for a starting center fielder in Adam Eaton.
Eaton isn't an impressive physical talent and doesn't have one tool that screams at you, but he has a great approach at the plate, bat-to-ball skills, plus speed and instincts that play brilliantly at a premium position.
It's debatable whether Jose Abreu can handle MLB-quality off-speed stuff, but a little over $11 million per year for a player with plus-plus raw power could turn into a steal.
White Sox executive vice president Ken Williams gushed about Abreu in the press conference officially announcing his signing (via MLB.com):
It was the most professional exhibition of hitting and really defensive work the way he went about things. It was professional. It was focused. It was geared to not just impress, but impress the right way. One of the things that we did not want to entertain was a guy who was just one dimensional. This guy is a hitter.
The White Sox are still in the process of rebuilding a bare farm system, so don't expect great results in 2014, but they are a lot more watchable now than they were at any point last season.
Grade: A-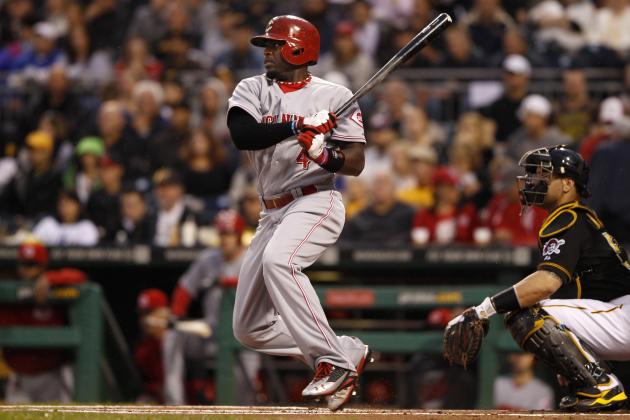 David Maxwell/Getty Images

Notable Acquisition: OF Skip Schumaker
Notable Departures: OF Shin-Soo Choo, SP Bronson Arroyo
When Skip Schumaker is the best thing to say about your offseason, it's probably been a rather uneventful winter.
It also doesn't help that the Reds watched Shin-Soo Choo, who finished fourth in baseball with a .423 on-base percentage, take his talents to the Texas Rangers.
There was no chance Cincinnati could afford to keep Choo, so his departure wasn't unexpected. Bronson Arroyo would seem to fit in the team's price range, and few starters have been as durable since 2005, but he's still weighing options.
I'm sure the Reds would have liked to find a trade offer for Brandon Phillips, but teams aren't itching to grab a player whose on-base percentage has dropped 43 points and whose slugging percentage has dipped 61 points since 2011.
The key to everything the Reds have done this offseason will be Billy Hamilton. Schumaker is an insurance policy, but Hamilton will get every opportunity to prove he can handle center field for 162 games.
If the bat plays even a little, with his speed, Hamilton will be an incredibly valuable asset who costs next to nothing.
Grade: D+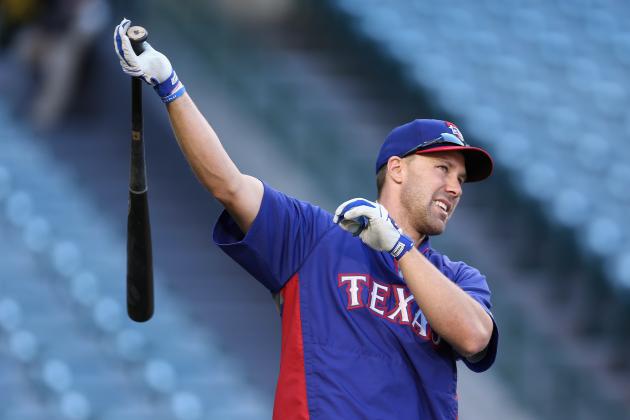 Jeff Gross/Getty Images

Notable Acquisitions: OF David Murphy, RP John Axford, RP Josh Outman
Notable Departures: SP Scott Kazmir, RP Joe Smith, RP Chris Perez, OF Drew Stubbs
A surprise playoff team last year, the Cleveland Indians aren't having a great offseason. They've lost—or will lose—two-fifths of their starting rotation. Joe Smith took a big deal to sign with the Los Angeles Angels. Chris Perez is...well, that's actually a good loss.
Signing John Axford to be the closer has disaster written all over it. He still throws a 95 mph fastball, but he doesn't control it and gets hit way too hard for someone with that kind of velocity.
David Murphy flamed out as a starter in Texas, but he'll serve a useful role as a platoon outfielder with Ryan Raburn handling duties against left-handed pitchers.
It's possible that Ubaldo Jimenez's market doesn't develop, even after Tanaka signs, giving Cleveland a chance to re-sign him. Teams could be skittish about betting on one good half-season after 2.5 years of struggling.
The Indians also have a solid, young rotation built around Justin Masterson, Corey Kluber and Danny Salazar.
Grade: C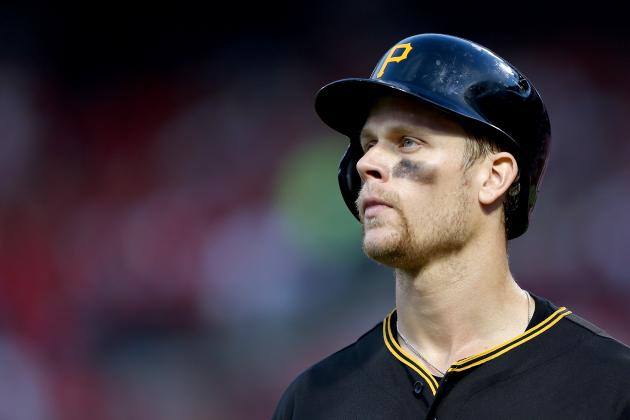 Elsa/Getty Images

Notable Acquisitions: 1B Justin Morneau, RP LaTroy Hawkins, RP Boone Logan, SP Brett Anderson, OF Drew Stubbs
Notable Departures: RP Rafael Betancourt, RP Mitchell Boggs, 1B Todd Helton, OF Dexter Fowler, RP Drew Pomeranz
The Rockies haven't done anything sexy this offseason, which is probably for the best. They have two potential studs coming up through the minors who could slot into the rotation before the end of 2014 in Jonathan Gray and Eddie Butler.
Accordingly, the Rockies merely replaced a few bullpen pieces and gave Justin Morneau a two-year contract to take over for the retired Todd Helton. They did overpay for Boone Logan, who is a lefty specialist and hasn't thrown more than 41.2 innings three of the last four years.
If Brett Anderson can stay healthy, he can join Gray and Butler to give the Rockies a very interesting rotation at the end of 2014.
Hawkins is a low-cost investment for the back of the bullpen—exactly the kind of deal the team should be making.
Grade: C-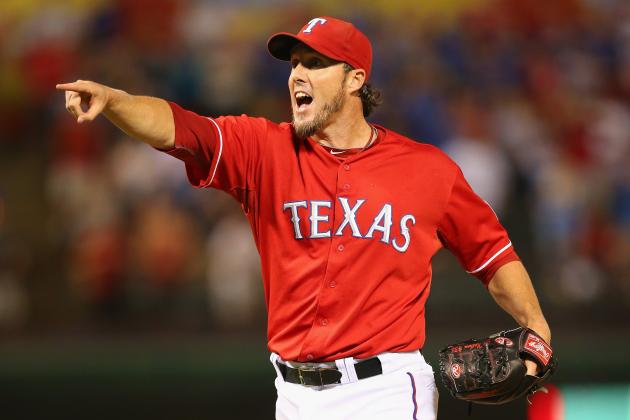 Ronald Martinez/Getty Images

Notable Acquisitions: RP Joe Nathan, 2B Ian Kinsler, OF Rajai Davis
Notable Departures: RP Joaquin Benoit, SS Jhonny Peralta, SP Doug Fister, 1B Prince Fielder, 2B Omar Infante, RP Jose Veras
It's a testament to how well constructed their roster is, and how soft the AL Central is right now, that the Detroit Tigers have had a bad offseason and are still overwhelming favorites to win the division in 2014.
Joe Nathan is a more expensive version of Joaquin Benoit and coming off the lowest home-run rate of his career despite having his worst ground-ball rate since 2003.
Ian Kinsler saves the Tigers some of the money they had locked into Prince Fielder, but he hasn't played at a star level since 2011. He went from having a 7.0 WAR two years ago to 2.1 in 2012, and his power numbers continued to decrease despite playing in Texas.
The Tigers defense will be better in 2014 by virtue of having Jose Iglesias at shortstop and Miguel Cabrera off third base, though the offense will be appreciably worse with Jhonny Peralta gone and Nick Castellanos getting his feet wet.
Then there was the Doug Fister trade, which still boggles the mind because the Tigers didn't get a single player who projects as an average MLB starter from the Washington Nationals.
Grade: D+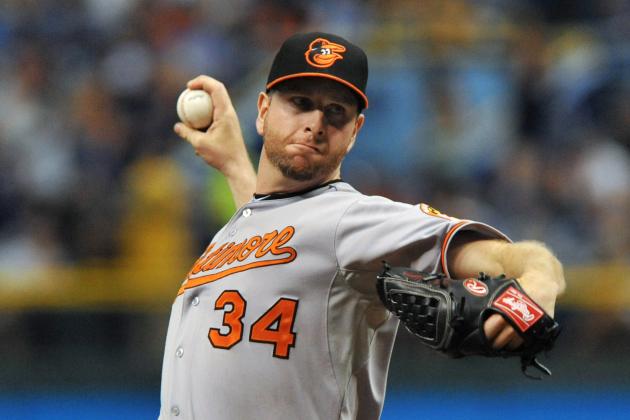 Al Messerschmidt/Getty Images

Notable Acquisitions: SP Scott Feldman, RP Matt Albers, RP Chad Qualls, OF Dexter Fowler
Notable Departures: SP Erik Bedard, SP Jordan Lyles, OF Brandon Barnes
Big breaking news this offseason came when the Houston Astros started to spend a little money on their roster. Don't get me wrong—I loved their strategy of trading every MLB asset possible to replenish what had been the worst farm system in baseball.
There is still a lot of work to be done, and prospects will start to arrive in 2014, starting with George Springer and Jonathan Singleton. Eventually things will turn around, though the Astros shouldn't be as bad next season as they have been the previous three years.
Scott Feldman gives the Astros a starter they can depend on to take the ball every five days and at least give the bullpen a rest. He's not going to be a difference-maker, but this team shouldn't be spending for that kind of pitcher yet.
The other big addition was Dexter Fowler in a trade with Colorado. He's been a product of Coors Field throughout his career, boasting an .880 OPS in that park and .694 everywhere else. But he's also a 27-year-old athlete whose defense might improve in the smaller Minute Maid Park outfield.
Grade: B-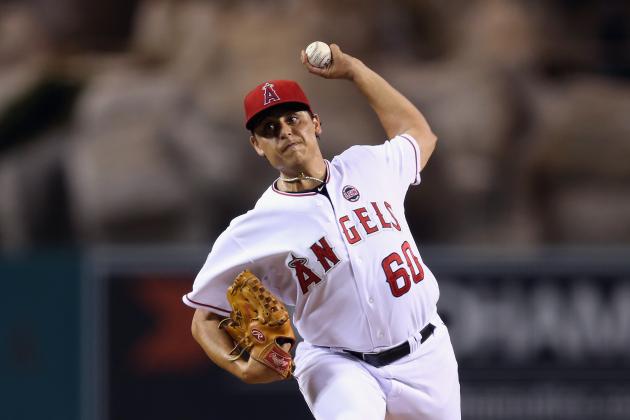 Jeff Gross/Getty Images

Notable Acquisitions: 2B Omar Infante, SP Jason Vargas, OF Norichika Aoki
Notable Departures: SP Ervin Santana, RP Will Smith
For a long time, it seemed Omar Infante was a lock to sign with the New York Yankees. They had a need after Robinson Cano left and could afford to give him whatever he wanted. Apparently he wanted too much, though, which left an opening for Kansas City.
Score one for the little guy!
Infante did get paid following a career year, so don't expect the Royals to get another .795 OPS from the 32-year-old in 2014. He's a solid defensive player and should be worth a couple wins, though, which is more than Chris Getz can say.
Jason Vargas also got overpaid, though he didn't have a career year. The Royals just felt a need to offer four years to a pitcher whose only semblance of success comes when he plays in a big park and in front of a great defense.
An optimist would point out the Royals have both those things, but it's hard to see why a four-year deal for that kind of pitcher was necessary.
Grade: B-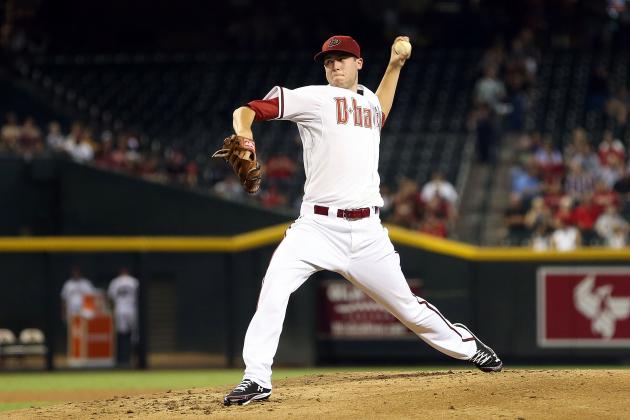 Christian Petersen/Getty Images

Notable Acquisitions: SP Tyler Skaggs, SP Hector Santiago, RP Joe Smith, 3B David Freese
Notable Departures: 1B Mark Trumbo, SP Jason Vargas, OF Peter Bourjos
No team has improved itself more this winter at less of a cost than the Angels. They were able to flip Mark Trumbo for two young, cost-controlled left-handed starting pitchers who should both be no worse than Jason Vargas was in 2013.
Tyler Skaggs returns to the organization that drafted him and could help curtail some flaws in his mechanics that led to decreased velocity. Hector Santiago strikes me as a better reliever than starter, but the Angels should give him a chance to pitch every fifth day.
Joe Smith's three-year, $15.75 million contract is a bit rich, but he's been a stable presence in Cleveland's bullpen the past three years and has transformed himself into a submarine pitcher capable of getting out hitters on both sides of the plate.
David Freese's acquisition made it easier for the Angels to dump Trumbo. The 2011 World Series hero won't hit for the kind of power Trumbo did, but he should get on base at a significantly higher clip.
Peter Bourjos' defense in center field will be missed, but Mike Trout is the best player in baseball and can handle himself at the position for a long time.
All told, a very good offseason for a team that had to get creative to add pitching after tying up so much money in Albert Pujols and Josh Hamilton the previous two years.
Grade: B+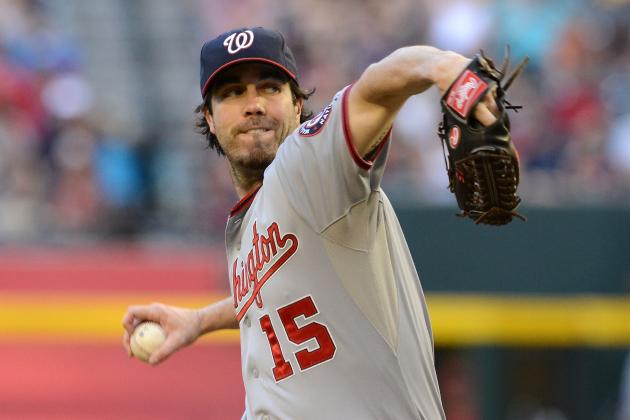 Norm Hall/Getty Images

Notable Acquisitions: SP Dan Haren, RP Brian Wilson, RP Chris Perez
Notable Departures: SP Ricky Nolasco, 2B Mark Ellis, OF Skip Schumaker
Despite being as busy as any team this offseason, the Los Angeles Dodgers haven't done anything to move the needle one way or the other. But they are still the best team in the National League West, so it's not like they had to do much.
Dan Haren is a good risk to take, though his 3.52 ERA and 70-14 strikeout-to-walk ratio in the second half don't necessarily signal improvement. He did the same thing two years ago and was dreadful in the first half of 2013 for Washington.
Brian Wilson got $10 million for throwing a grand total of 13.2 innings last season, but the Dodgers don't care about money, so who's to say it's a bad deal? Chris Perez as a setup guy is...well, that's about as dumb as giving Wilson $10 million.
But the Dodgers still have Clayton Kershaw, Zack Greinke, Yasiel Puig, Hanley Ramirez and, hopefully, a healthy Matt Kemp.
Don't sleep on them in the Masahiro Tanaka sweepstakes. We know they want all the pretty toys regardless of price, so why wouldn't they kick the tires on the top free-agent starter available?
Grade: C+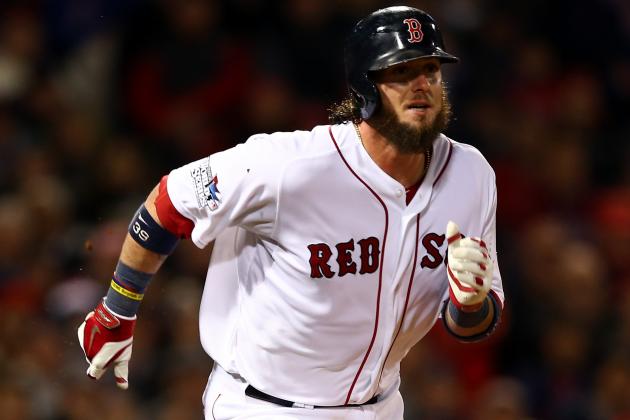 Elsa/Getty Images

Notable Acquisitions: C Jarrod Saltalamacchia, SS Rafael Furcal, 1B Garrett Jones
Notable Departures: RP Chad Qualls, RP Ryan Webb, 1B Logan Morrison
I won't defend the Miami Marlins for the blatant salary dump that happened last offseason, but I still maintain that they didn't make a bad deal to shed money based on the fact that they finally invested in the roster only to lose 93 games.
I say that to point out that the Marlins have spent some money this offseason. Jarrod Saltalamacchia is actually a good value at $7 million per season for the next three years, though his offensive production will drop in the canyon that is Marlins Park.
Garrett Jones is just one year removed from posting a .516 slugging percentage. And who knows, maybe Rafael Furcal can stay healthy enough to become trade bait in July.
None of these moves will bring Miami closer to contention in the NL, but at least the front office has done something positive.
Grade: B-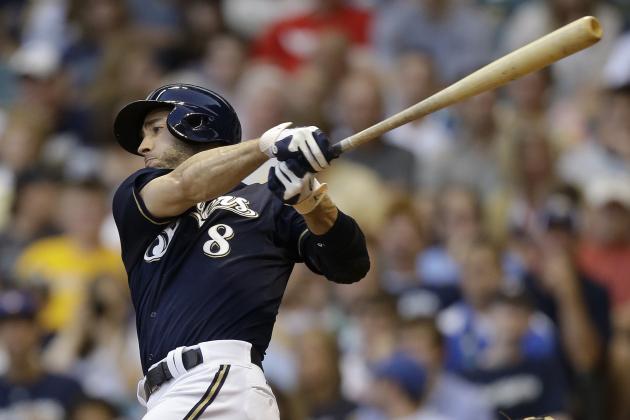 Mike McGinnis/Getty Images

Notable Acquisition: RP Will Smith
Notable Departures: 1B/OF Corey Hart, RP Mike Gonzalez, OF Norichika Aoki
The Milwaukee Brewers are at a crossroads in which the future will depend on the direction they choose to go. They have the worst farm system in baseball, with no high-impact talent in the upper levels of the minors. They also have a lot of money invested in the MLB club with nothing to show for it.
That's why the biggest movement for the team this offseason won't come via free agency, but rather with the return of Ryan Braun. He's easily Milwaukee's best player and face of the franchise, regardless of what happened with Biogenesis and the suspension.
Braun has to return to his MVP-caliber level in 2014 for the Brewers to have any shot at competing for .500. The playoffs are probably a stretch, because they don't have the depth and the NL Central is loaded at the top with the St. Louis Cardinals, Pittsburgh Pirates and Cincinnati Reds.
It's been quiet this winter in Milwaukee, and I imagine things will stay that way.
Grade: D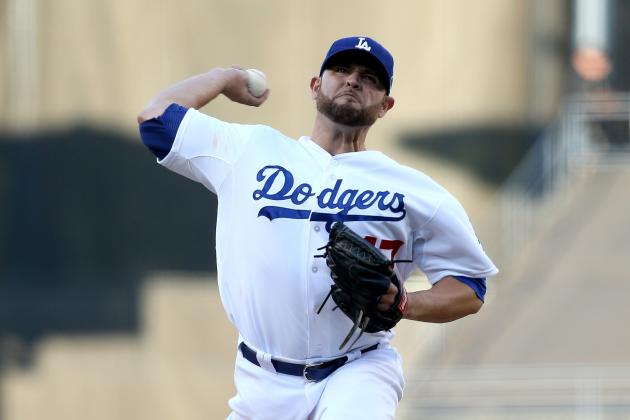 Jeff Gross/Getty Images

Notable Acquisitions: SP Ricky Nolasco, SP Phil Hughes, SP Sean Gilmartin, C Kurt Suzuki
Notable Departure: C Ryan Doumit
Rather than just wait for the loaded farm system, which is the best in baseball, to start churning out prospects, the Minnesota Twins opted to add some notable free agents this winter to improve a pitching staff that ranked last in innings pitched and ERA last season.
Ricky Nolasco isn't a front-line starter on a good team, but the Twins can slot him into the No. 1 spot and feel confident he will give them 200 innings. Phil Hughes might do well away from New York's small stadium.
Sean Gilmartin, who was acquired in a trade with Atlanta, is the kind of pitcher Minnesota used to draft all the time: low ceiling, pitch-to-contact. He's probably not going to be more than a No. 5 starter, but at least the Twins have more rotation options to choose from.
With Byron Buxton, Miguel Sano, Alex Meyer and many other high-ceiling talents coming, the Twins are going to be very interesting to watch in 2015.
Grade: B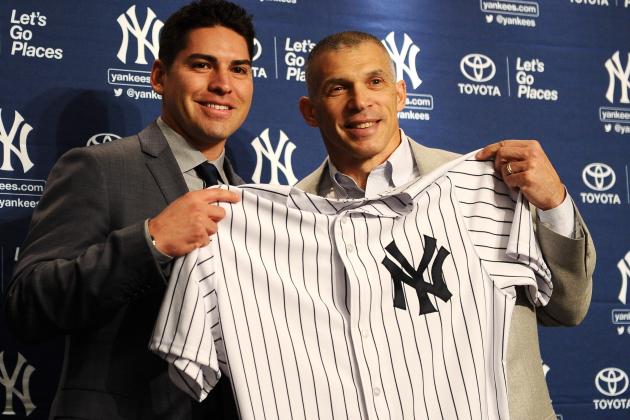 Maddie Meyer/Getty Images

Notable Acquisitions: OF Jacoby Ellsbury, OF Carlos Beltran, C Brian McCann
Notable Departures: 2B Robinson Cano, OF Curtis Granderson, RP Boone Logan
It's rare to see the Yankees with so many holes to fill, but one advantage this franchise has is being able to spend money to fix any problems. Jacoby Ellsbury, Carlos Beltran and Brian McCann give this lineup instant credibility.
I am skeptical about giving Carlos Beltran, who has shown notable declines in the second half of the last two years, a three-year contract. He's still playing at a solid level, but at 36 years old, time is going to catch up with him eventually.
Jacoby Ellsbury should hold most of his value for the next seven years as a plus-plus defensive center fielder with the ability to create runs on the bases with his speed. Brian McCann may not be a catcher for the next five years, but he's so consistent offensively that it's not a bad deal.
Even though everyone talks about Ellsbury's injury history, Yankees managing general partner Hal Steinbrenner pointed out during Ellsbury's introductory press conference that some of those concerns may be overblown based on how the injuries happened (via MLB.com).
First of all, he's mentally tough. We know that. Second of all, a lot of the injuries, if you look at them, are freakish: running into walls, running into people, people falling on top of you. It's those kind of things. I'd be more concerned if it was a serious shoulder issue that is chronic or serious or something else that was chronic. I think he'll be fine.
I tend to agree with that, though it's not a good sign that Ellsbury's all-out style does leave him open to many of those injuries.
I do give Brian Cashman and the front office credit for not playing Robinson Cano's game and getting sucked into another 10-year contract, though his production in the middle of the order will be sorely missed.
The one glaring weakness in New York's free-agent spending spree is starting pitching. Masahiro Tanaka could be the final piece of this puzzle, which would bump the grade up to a solid A. Until then, I'm not quite sold on all the activity being good enough.
Grade: A-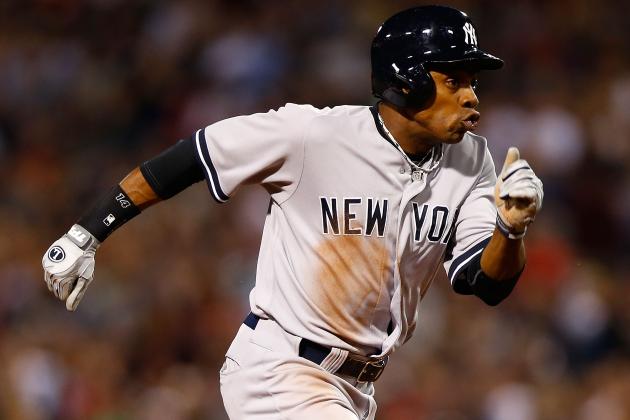 Jared Wickerham/Getty Images

Notable Acquisitions: OF Curtis Granderson, SP Bartolo Colon, OF Chris Young
Notable Departures: SP Johan Santana, RP LaTroy Hawkins
Upgrading an outfield that featured such rare talents as Eric Young, Andrew Brown and Mike Baxter was top priority for the New York Mets this winter.
I liked the gamble of Chris Young on a one-year deal. He struggled to hit for the Oakland A's last season, but he's always been a great defensive player and isn't far removed from being a 20-home run threat.
Curtis Granderson's deal was a little more puzzling. He is going to hit a ton of home runs, but his game is only geared toward the long ball now that he sells out everything else in his swing. He's going to strike out 200 times and has a .295 career OBP against lefties.
He's also a poor defensive outfielder, though putting him in left field at least takes a little pressure off. Granderson might hold his value in 2014 and 2015, but those last two years are what concern me.
Bartolo Colon has one pitch and needs to play with a great defense behind him to succeed. Given the injury to Matt Harvey, the Mets needed someone else to fill out the rotation and didn't spend an exorbitant amount to make it happen.
There really weren't any significant losses that will cripple the Mets. A full season of Zack Wheeler in the rotation will be fun to watch.
Grade: B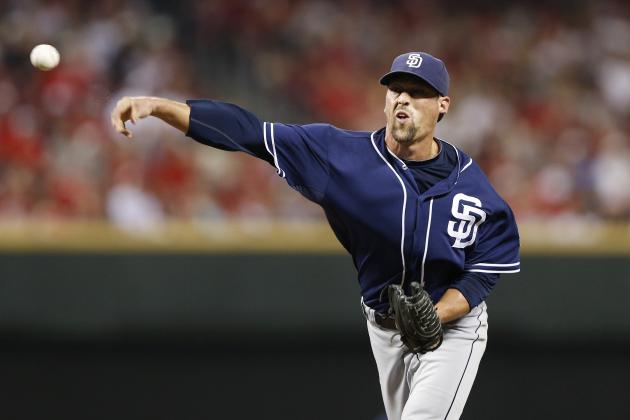 Joe Robbins/Getty Images

Notable Acquisitions: RP Luke Gregerson, SP Scott Kazmir, RP Jim Johnson, RP Drew Pomeranz, OF Craig Gentry
Notable Departures: OF Michael Choice, OF Seth Smith, RP Grant Balfour, OF Chris Young, SP Brett Anderson, SP Bartolo Colon
Billy Beane has been busy once again, spending money that we usually don't see from Oakland and making underrated deals to create depth. The A's enter 2014 with as much bullpen depth as anyone.
Luke Gregerson doesn't give up hits, doesn't walk anyone and strikes out around a hitter per inning. Scott Kazmir has more upside than Bartolo Colon and is making just $2 million more over the next two years.
Jim Johnson will be an expensive closer, but pitching in the spacious O.co Coliseum will help him out. Drew Pomeranz should thrive in that park without having to worry about finding a third pitch or turning a lineup over three times.
None of the moves Beane made have been earth shattering, but given what the A's already had in place, he didn't have to make any drastic moves to compete in 2014.
Grade: B+
Drew Hallowell/Getty Images

Notable Acquisitions: OF Marlon Byrd, SP Roberto Hernandez
Notable Departures: SP John Lannan, SP Roy Halladay
The magical sportswriting gift that is Ruben Amaro Jr. struck again this winter.
The Philadelphia Phillies general manager started things off by overpaying Carlos Ruiz to stay.
Ruiz is a 34-year-old catcher who posted the worst OPS of his career and hit just .257/.301/.335 against right-handed pitching in 2013. Naturally, that player deserves a three-year contract.
Marlon Byrd, whose only offer to play baseball last year was a minor league deal from the Mets, put together a career year in 2013 and got a two-year contract to be the everyday right fielder in Philly.
The final piece of the sure-to-be championship puzzle came in the form of Roberto Hernandez, who gave up just under 10 hits and 1.4 homers per nine innings pitched in 2013.
Apparently, Amaro believes that these players will get the Phillies back to the postseason; otherwise, why guarantee them so many years and dollars?
Grade: D-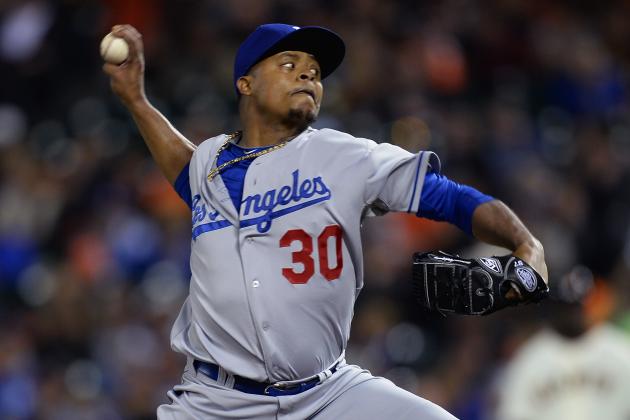 Thearon W. Henderson/Getty Images

Notable Acquisition: SP Edinson Volquez
Notable Departures: OF Marlon Byrd, 1B Justin Morneau, 1B Garrett Jones
I give the Pittsburgh Pirates a lot of credit. They made the postseason for the first time in 21 years last season, but they didn't feel the pressure to overspend on players who weren't likely to retain their value moving forward.
It's easier to do that when you have a good young nucleus and more help coming soon from a very good farm system.
Edinson Volquez will be getting too much money considering that he can't find a strike zone if he walked the ball up to the plate, so anyone thinking he can be the 2014 version of Francisco Liriano is delusional.
But the players they lost aren't going to be missed. Marlon Byrd will eventually be replaced by star prospect Gregory Polanco. Gaby Sanchez, who's always been a good OBP guy, will provide more value than Justin Morneau.
The future is still bright in Pittsburgh, even if the wallets haven't been flying open.
Grade: C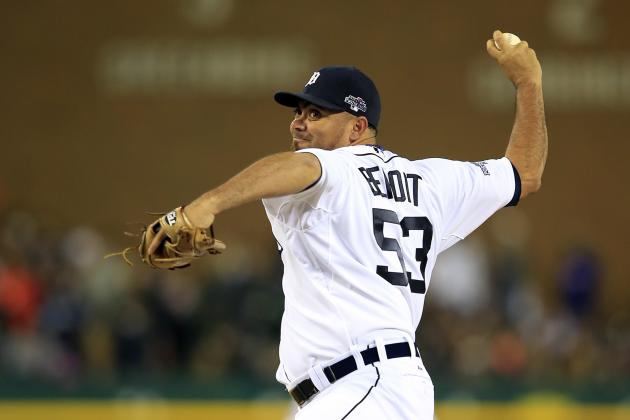 Jamie Squire/Getty Images

Notable Acquisitions: SP Josh Johnson, RP Joaquin Benoit, OF Seth Smith
Notable Departures: RP Luke Gregerson, SP Clayton Richard
I started out loving what the San Diego Padres did this winter, then became very discouraged by their most recent move.
Josh Johnson is a perfect fit for the Padres in 2014. He's trying to reestablish all the value he lost last season in Toronto, and he'll pitch in a pressure-free environment and in one of the best pitcher's parks in baseball.
Health will always be the big question mark, but I wouldn't be surprised if Johnson emerged as a dark-horse Cy Young contender in San Diego.
Unfortunately, my enthusiasm doesn't continue for the Joaquin Benoit deal. It's not that I don't like him as a pitcher, nor do I think he will implode in the next two years. But San Diego is notorious for making relief pitchers.
Why would you pay a closer $15.5 million to finish games for a team that isn't going to compete during that time? Why would you pay a closer that much money when Petco Park could help me put up an ERA of 3.50 in one-inning stints?
Grade: C+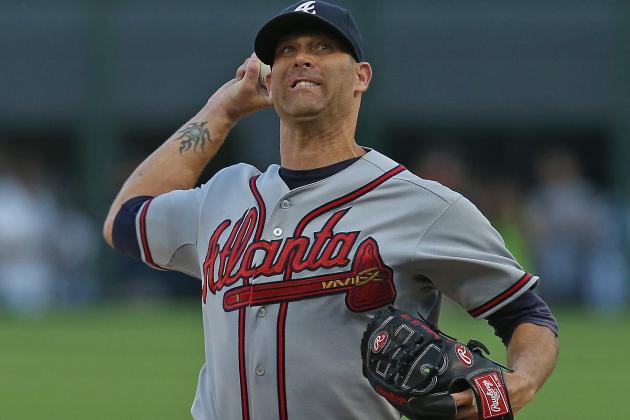 Jonathan Daniel/Getty Images

Notable Acquisitions: SP Tim Hudson, 1B Mike Morse
Notable Departures: RP Chad Gaudin, SP Barry Zito
The San Francisco Giants are a strange team to figure out. They overpaid Tim Lincecum out of some loyalty, despite overwhelming evidence his value is dropping exponentially. Hunter Pence signed a superstar contract after having a career year.
For reasons no one can explain, lefty specialist Javier Lopez was given a guaranteed three-year contract worth $13 million. Mike Morse will likely shift to left field with Brandon Belt at first base, which has the potential to provide many hilarious defensive highlights.
The Tim Hudson signing looks like a steal, assuming he comes back fully healthy. He's put up league-average ERA totals the last two years and generates a ton of ground balls (55.8 percent in 2013).
Hudson's deal is a clear outlier in an otherwise puzzling offseason for the Giants. At least Barry Zito is off the books!
Grade: C-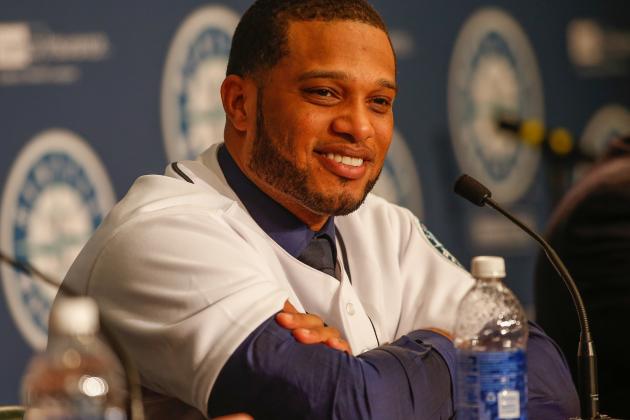 Otto Greule Jr/Getty Images

Notable Acquisitions: 2B Robinson Cano, 1B Corey Hart, 1B Logan Morrison
Notable Departures: 1B Kendrys Morales, OF Raul Ibanez
While most people have had their say about Robinson Cano's 10-year deal, I am not going to bash it. I wouldn't have offered him a deal that long, but sometimes a team has to overpay in order to land a big-time free agent.
The Seattle Mariners have been dreadful offensively for so long that drastic measure needed to be taken. Cano's deal can show other free agents that Seattle is a viable place to play and help rebuild this once-proud franchise.
That said, adding Corey Hart and Logan Morrison on the same day within minutes of each other was a head-scratcher. Both players have serious leg problems and no track record of recent performance, not to mention they are limited to first base/DH duties.
The Mariners need to upgrade areas of their defense that have gone untouched for the last two years. They are still the fourth-best team in the AL West, but at least they will be more entertaining to watch in 2014.
Grade: B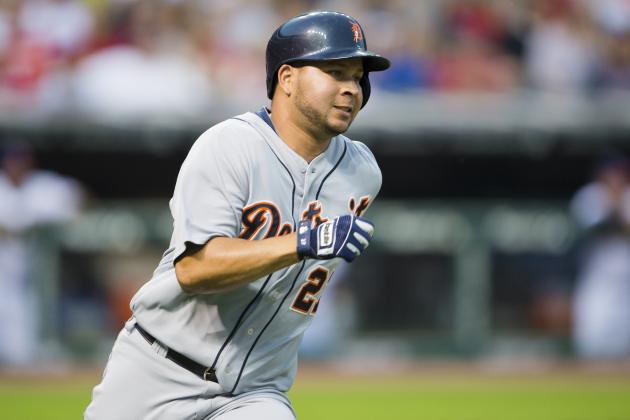 Jason Miller/Getty Images

Notable Acquisitions: SS Jhonny Peralta, IF Mark Ellis, OF Peter Bourjos
Notable Departures: OF Carlos Beltran, RP Edward Mujica, RP John Axford, 3B David Freese
How many teams can lose a player like Carlos Beltran from their outfield and actually come out the other side looking better?
If you are the St. Louis Cardinals, with uber-prospect Oscar Taveras waiting in the wings, it's not hard to imagine. They didn't overpay anyone and can replace some lost bullpen depth with a returning Jason Motte.
It also doesn't hurt to have a rotation that will feature Adam Wainwright, Michael Wacha, Carlos Martinez and Shelby Miller.
The Cardinals have the deepest roster of talent in baseball. They are clearly the best team in the National League and had only one glaring weakness last season: shortstop. That was addressed with the signing of Jhonny Peralta.
Even if Peralta, who has never been consistent from season to season, hits like he did in 2010 (.703) or 2012 (.689), his OPS would still be more than 140 points higher than Pete Kozma's in 2013 (.548).
Peter Bourjos doesn't have to hit in this lineup because it's so deep. He can slot into the No. 8 spot, which might artificially inflate his OBP as opposing teams get to the pitcher spot, and play plus-plus defense in center field.
I'm not sold that Peralta will stay at shortstop for four years, but he's been able to handle the position much longer than I ever thought possible given his body type.
Grade: A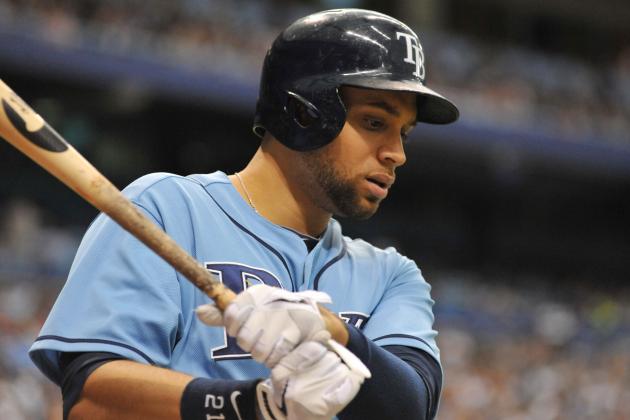 Al Messerschmidt/Getty Images

Notable Acquisitions: 1B James Loney, RP Heath Bell
Notable Departures: SP Roberto Hernandez, 2B Kelly Johnson, RP Fernando Rodney
Re-signing James Loney is one of the few notable moves the Tampa Bay Rays have made, which isn't surprising. This franchise is never going to play big in free agency. It will make smaller moves, likely for bullpen pieces, but everything else will happen through trades.
The most notable thing the Rays have done this winter is not trading David Price. I know we convinced ourselves the 2012 AL Cy Young winner would get dealt because that's what happened with James Shields last year, but that was a special circumstance.
The Royals offered the Rays one of the five best prospects in baseball. As good as Shields is, the Rays won that trade because of long-term control over Wil Myers. Teams aren't going to part with that kind of player, let alone add more key pieces to a deal, for Price.
Heath Bell has gotten exposed since leaving Petco Park, allowing 144 hits and 17 homers in 129.1 innings the last two years.
As such, the Rays are smart to keep Price and take their chances in the AL East again. They will do battle with Boston and New York for a playoff spot, but it's always fun to watch those three teams duke it out.
Grade: C
Ronald Martinez/Getty Images

Notable Acquisitions: 1B Prince Fielder, OF Shin-Soo Choo, C J.P. Arencibia, OF Michael Choice
Notable Departures: 2B Ian Kinsler, OF Nelson Cruz, SP Matt Garza, RP Joe Nathan, OF David Murphy, OF Craig Gentry
The Texas Rangers officially kicked off the hot-stove season by acquiring Prince Fielder from Detroit in exchange for Ian Kinsler. That move was met with some reservations from Texas' perspective, because Fielder has lost 53 points of OBP and 109 points of slugging percentage since 2011.
I initially fell into that group, but the more I thought about it, the better Fielder's presence in this lineup and ballpark looked. Keep in mind that Texas first baseman hit .223/.295/.405 in 2013. Fielder, in a down season, hit .279/.362/.457 with 25 homers.
Add to that the fact Texas also gets to slot Jurickson Profar into the lineup every day, and the Fielder trade looks impressive today.
Also added to the mix is Shin-Soo Choo. Some aren't sold on him for seven years, myself included, but he's got a .389 career OBP and was a monster against right-handed pitching in 2013 (1.011 OPS).
Michael Choice was a good buy-low candidate for the Rangers. He has big raw power, but some mechanical flaws in his swing don't let him show it in games enough. Putting him in Arlington could be just what he needs to succeed.
They had to upgrade their offense somehow and wound up finding one of the best on-base guys in baseball and a legitimate power bat for the middle of the lineup.
Grade: A-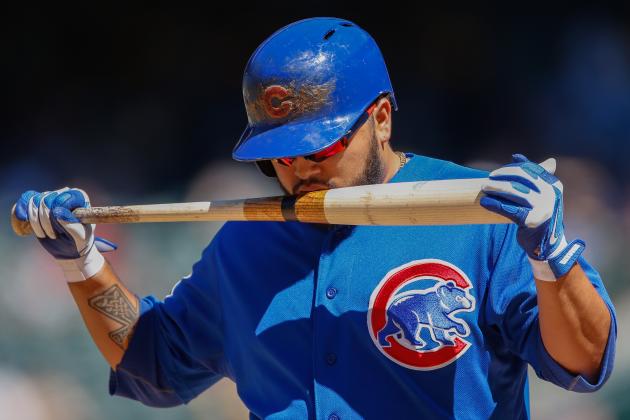 Otto Greule Jr/Getty Images

Notable Acquisition: C Dioner Navarro
Notable Departures: SP Josh Johnson, C J.P. Arencibia, OF Rajai Davis
After last winter's trade splurge, it's been quiet in Toronto this year. There have been some rumors floating around, most notably involving Chicago Cubs pitcher Jeff Samardzija, but nothing has come of it.
The one move the Blue Jays have made, signing Dioner Navarro to replace J.P. Arencibia, is a solid investment. Navarro will turn 30 in February and can be an effective platoon catcher who plays exclusively against left-handed pitching.
Other than that, the Blue Jays are clearly betting on a lot of players staying healthy (Jose Bautista, Jose Reyes, Brett Lawrie, Colby Rasmus) or coming back from disappointing seasons (R.A. Dickey).
I don't blame the Blue Jays for staying quiet this offseason after betting big in 2013, but at least one more starting pitcher would go a long way in helping this team out.
Grade: D+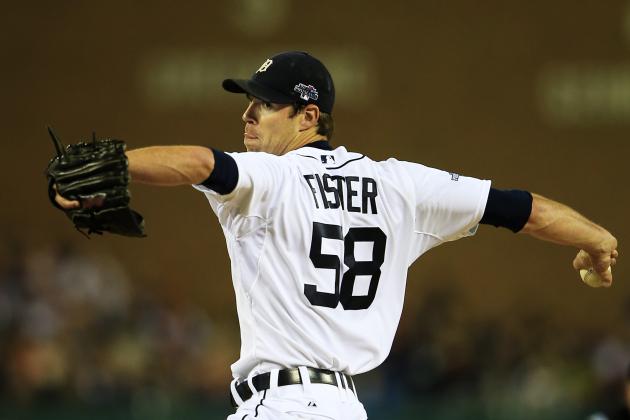 Jamie Squire/Getty Images

Notable Acquisitions: SP Doug Fister, OF Nate McLouth
Notable Departure: SP Dan Haren
The Washington Nationals are still wanted by authorities for stealing Doug Fister from Detroit. They acquired the No. 9 pitcher in baseball since 2011, by FanGraphs' Wins Above Replacement, without having to give up anything of relevance in their farm system.
If Fister was two months away from free agency, I might understand the move a little more. But he's got two full seasons of team control remaining, which only makes Detroit's take in the deal worse.
Now, with Fister joining a rotation that includes Stephen Strasburg, Jordan Zimmermann and Gio Gonzalez, the Nationals should be the team we all expected them to be in 2013.
I do have some concerns about the offense after Bryce Harper and Ryan Zimmerman, but Jayson Werth's strong and healthy 2013 season is encouraging.
Anthony Rendon has to hit for the Nationals to be at least an average offense. But that pitching staff is scary good.
Grade: A-
If you want to talk baseball, hit me up on Twitter.