Only eight teams are secure in their playoff destiny as we enter the final week of the NFL season. There are four spots remaining and 10 teams in the mix.
So Week 17, usually a boring week filled with backups and players playing for their contracts, will end up being the most exciting week of the season.
There are a myriad of potential scenarios, some of them a bit complicated. Have no fear, though. Below we'll look at every potential playoff scenario, before breaking down the final spots up for grabs.
AFC Playoff Scenarios

| | | | | | |
| --- | --- | --- | --- | --- | --- |
| Team | Clinch Playoffs If... | Or | Or | Or | Or |
| Miami Dolphins | MIA win and BAL loss or tie | MIA win and SD win | MIA win and SD loss or tie and BAL loss | MIA tie and BAL tie and SD tie | - |
| Baltimore Ravens | BAL win and SD loss or tie | BAL win and MIA loss or tie | BAL tie and MIA loss and SD loss or tie | BAL tie and MIA tie and SD loss | MIA loss and SD loss and PIT loss |
| San Diego Chargers | SD win and MIA loss or tie and BAL loss or tie | SD tie and MIA loss and BAL loss | - | - | - |
| Pittsburgh Steelers | PIT win and MIA loss and BAL loss and SD loss | - | - | - | - |
NFL.com
NFC Playoff Scenarios

| | | | |
| --- | --- | --- | --- |
| Team | Clinch Playoffs If... | Or | Or |
| Philadelphia Eagles | PHI win or tie | - | - |
| Dallas Cowboys | DAL win | - | - |
| Chicago Bears | CHI win or tie | - | - |
| Green Bay Packers | GB win | - | - |
| New Orleans Saints | NO win | NO tie and ARI tie | ARI loss |
| Arizona Cardinals | ARI win and NO loss or tie | ARI tie and NO loss | - |
NFL.com
Teams Already in Playoffs

| | |
| --- | --- |
| Team | Clinched |
| Denver Broncos | AFC West and First Round Bye |
| New England Patriots | AFC East |
| Indianapolis Colts | AFC South |
| Cincinnati Bengals | AFC North |
| Kansas City Chiefs | AFC Wild Card |
| Seattle Seahawks | Playoff Berth |
| San Francisco 49ers | Playoff Berth |
| Carolina Panthers | Playoff Berth |
NFL.com
AFC Wild Card
So the AFC Wild Card is incredibly complicated. No team has earned a "win and in" scenario. Every team is reliant on someone else.
It's going to be tough for San Diego and Pittsburgh to make the playoffs. Pittsburgh needs a win and a lot of help. With so much on the line for Miami and Baltimore, it's hard to imagine both of them losing. The same goes for San Diego. They are both at a significant disadvantage.
Who Will Grab the Final AFC Wild Card Spot?
The team with the easiest path is Miami. Yes, they need Baltimore to lose, but the Ravens are playing the Cincinnati Bengals in Cincinnati. That's never an easy trip, even if the Bengals have already clinched.
Meanwhile, the Dolphins take on the 7-8 New York Jets, who they beat in New Jersey by a score of 23-3. Now at home, and last week's disaster against Buffalo behind them, the Dolphins should have an easy time beating Gang Green.
On paper, it would seem that Miami should beat the mediocre Jets, while the Ravens will fall to the superior Bengals, leaving the Dolphins, after all the drama and intrigue surrounding that locker room all season, in the playoffs. Not many would have predicted that.
NFC North
It's Chicago against Green Bay, a de facto championship game for the NFC North crown.
And, it'll feature a surprise visitor:
BREAKING: Aaron Rodgers will start for the Packers this Sunday against Chicago. Winner will take the NFC North crown. pic.twitter.com/2ZGCmxOslC

— SportsCenter (@SportsCenter) December 26, 2013
Now, Rodgers has not played in eight weeks, and it's doubtful he's 100 percent. But he should be able to provide a huge emotional lift.
Even without Rodgers, the Packers have the advantage. The Bears are simply awful on defense, ranking 29th in yards allowed and 30th in points allowed. Not what you'd usually expect from a Bears defense. But this defense is a sieve, giving up 254 rushing yards to the Eagles last week.
That means that Eddie Lacy is going to have a tremendous game. The rookie has had a fine season, rushing for 1,112 yards and 10 touchdowns. His performance is the best by a Packers rookie in their storied history, according to ESPN Stats & Info:
Eddie Lacy has broken the Packers single-season for rushing yards by a rookie (John Brockington, 1971)

— ESPN Stats & Info (@ESPNStatsInfo) December 22, 2013
Lacy is scheduled to play despite sitting out Thursday's practice with an ankle injury, according to Pro Football Talk:
Mike McCarthy says Eddie Lacy is likely to play Sunday at Chicago http://t.co/MFouDFq14V

— ProFootballTalk (@ProFootballTalk) December 26, 2013
The threat of Rodgers will open up running lanes for Lacy, who should be able to power through the porous Bears defense.
Who Will Win the NFC North?
And while the Packers defense is not anything special—they rank 26th in opposing rushing yards and 21st in opposing pass yards—they should be able to force Jay Cutler into a few interceptions. The decision to switch back to Cutler from Josh McCown may have been misguided—the Bears average nearly a point more per game with McCown under center and has generally looked more electric and dynamic with the 34-year-old taking snaps.
Even if Rodgers is just ordinary, he will provide a needed lift and will force the defense to be honest enough to back off from the line of scrimmage, giving Eddie Lacy all the room he needs to run.
This one could get ugly.
NFC East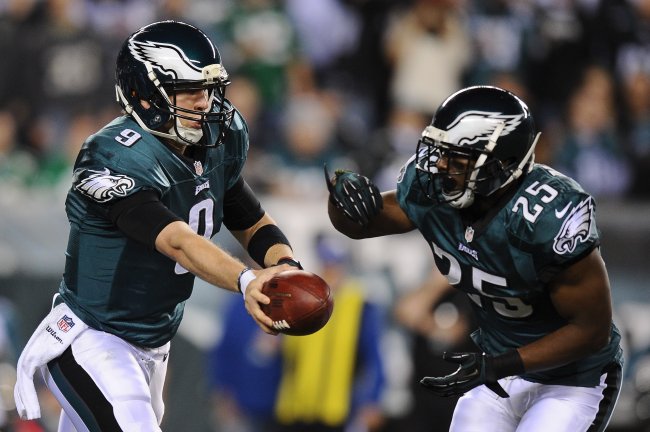 Maddie Meyer/Getty Images
It's another "win-and-in", the Cowboys and Eagles fighting for NFC East supremacy.
The Cowboys will be without Tony Romo, according to Calvin Watkins of ESPNDallas, significantly degrading their ability to win:
Tony Romo underwent back surgery this morning and is officially out for the season.

— Calvin Watkins (@calvinwatkins) December 27, 2013
Kyle Orton has had some success in the league, but the Cowboys are overmatched. The Eagles are a much, much better team than Dallas. They have won six of their last seven and are coming off an absolute drubbing of the Chicago Bears.
Who Will Win the NFC East?
The Eagles have the league's top-ranked rushing attack and the league's ninth-ranked aerial attack. The Cowboys, on the other hand, have a pitiful defense, giving up 127.9 yards per game on the ground and 290.7 yards per game through the air.
The Eagles offense is going to march right through the Dallas defense. Quite frankly, this isn't going to be close.
NFC Wild Card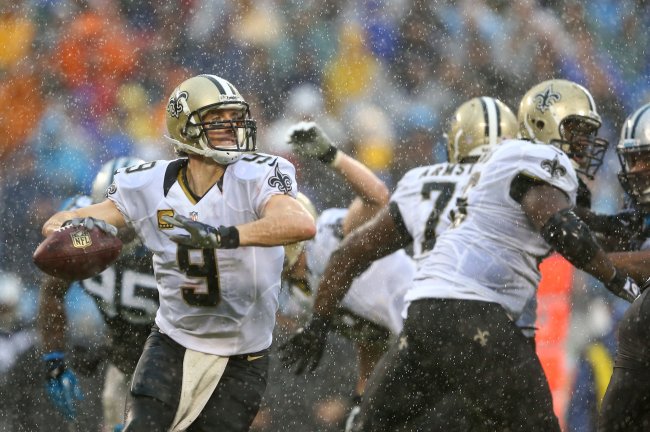 Streeter Lecka/Getty Images
The Saints have the inside track here, needing just a win over the 4-11 Tampa Bay Buccaneers.
The Cardinals, meanwhile, need to beat the San Francisco 49ers and hope for a Saints loss.
That may not happen. The Saints have won all seven games at the Superdome this season and are averaging 32.9 points per game there. The Bucs, on the other hand, have lost three of their last four.
Knowing that they could end up 11-5 and not make the playoffs, coach Bruce Arians is taking a positive approach to the final game, telling Peter King of the MMBQ:
I stopped worrying about that crap about three weeks ago. Once I learned we could get to 11-5 and we might still not make it, I said, 'Screw it. Let's just get to 11-5 and let the chips fall where they may.' Whatever happens, we're letting everyone in our division know we're a team to be reckoned with.
Who Will Grab the Final NFC Wild Card Spot
It may not be fair that a team that could finish 11-5 will miss the playoffs, but the Cardinals dug their own hole by losing to the Saints earlier this year.
It's hard to imagine a scenario where the Saints lose. While the Cards do have a good shot of winning, it won't be enough.
The Saints are going to end up taking the final NFC Wild Card spot.
All stats via NFL.com