Heading into Week 17, the NFL's injured stars are hoping for good news that would allow them to play in the final regular-season game of 2013.
Getting injured at any point in the season is difficult to deal with, but it's even more so at this point, with so much time and energy invested and with the playoffs just weeks away.
Here's the latest news on the injury front, along with what it could mean for the teams involved.
Tony Romo, QB, Dallas Cowboys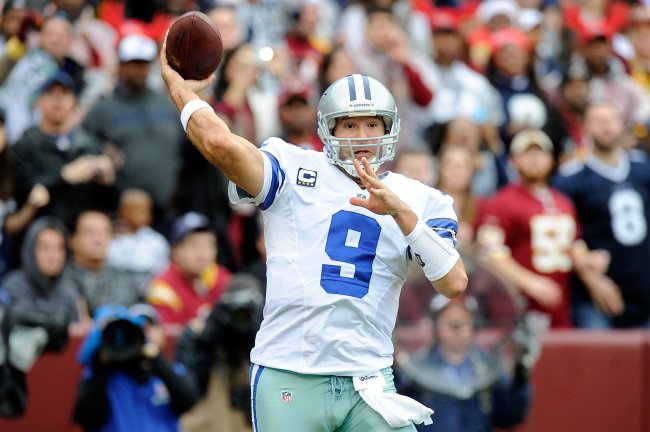 Greg Fiume/Getty Images
The latest news out of Dallas regarding quarterback Tony Romo isn't encouraging.
Ian Rapoport of NFL.com, along with others in the media, reported Romo is dealing with a herniated disk. ESPN's Ed Werder noted he was given an epidural shot, which could help with the pain:
What is #Cowboys QB Tony Romo dealing with? Source says it's a herniated disk. Explains back and hip pain

— Ian Rapoport (@RapSheet) December 23, 2013
Source says Tony Romo got epidural injection for herniated disk. Takes 2-3 days to determine effect of shot. Source very skeptical QB plays

— Ed Werder (@Edwerderespn) December 24, 2013
The Cowboys are holding out hope that Romo will play in Week 17 when the team hosts the Philadelphia Eagles with the NFC East crown on the line. Jerry Jones adamantly insisted on Dec. 23 that his quarterback could be available, as noted by David Moore of The Dallas Morning News:
All I'm saying is he has back spasms, symptoms that we're treating as we go along in the week to see if he will play. There is nothing structurally that will rule him out if he feels good and is cleared to play. Nothing.
Optimism aside, it's telling that the Cowboys reportedly signed veteran Jon Kitna, who retired after the 2011 season, as Clarence Hill of the Fort Worth Star-Telegram tweeted on Dec. 24:
Cowboys decide on... Jon Kitna to backup Kyle Orton http://t.co/z7zmEF8mpN

— Clarence Hill (@clarencehilljr) December 24, 2013
If Romo isn't able to play in the team's do-or-die contest against the Eagles, then veteran Kyle Orton will be called into duty.
Jason Miller/Getty Images
Former Chicago Bears quarterback and current analyst Jim Miller appears to believe Orton can be successful if he's needed, as noted by Jim Corbett of USA Today Sports:
He's one of the league's better backups who will run that offense efficiently.

Yeah, this puts Kyle in a tough spot. But guys love playing with him whether it was in Chicago, Denver or Kansas City. They respect his leadership. He knows he has to score a lot of points with that defense. He'll get you in the right play pre-snap and he's accurate as all can be.
Miller may be right, but then again, it's been almost three years since Orton was replaced by Tim Tebow in Denver. No doubt, the Cowboys will feel a lot more confident heading into the final game of the season with Romo leading the charge.
Aaron Rodgers, QB, Green Bay Packers
Like Dallas, the Green Bay Packers will be attempting to earn a playoff spot in Week 17 when they play the Chicago Bears at Soldier Field. The winner will take the NFC North, while the loser's season will be suddenly finished.
Aaron Rodgers hasn't played since the two teams met the first time back in Week 9. As you likely know, the All-Pro quarterback broke his collarbone in that game, and the Packers have struggled to win games while he's been in recovery.
Rodgers spoke to the media on Dec. 24, saying he'd gotten a recent scan and that he, along with everyone else, would know his status for Week 17 on Dec. 26, as noted by Pete Dougherty of the Green Bay Press-Gazette:
Rodgers: we've done a scan, going through process of evaluation. but i can say it will be determined thursday one way or another.

— Pete Dougherty (@PeteDougherty) December 24, 2013
He also relayed the fact that Rodgers says he's been feeling great in practice:
Rodgers on if he's encouraged by scan: i've been feeling better every week. last week felt great at practice. not thinking about injury.

— Pete Dougherty (@PeteDougherty) December 24, 2013
As inferred by ESPN Stats & Info, Green Bay could desperately use Rodgers in the lineup against Chicago:
Packers QB have thrown 3 INT returned for TD since Aaron Rodgers' injury in Week 9. Rodgers has 1 "Pick Six" in 86 career starts

— ESPN Stats & Info (@ESPNStatsInfo) December 22, 2013
If he can't play, then it'll be the Matt Flynn show once again.
This could be particularly disturbing considering rookie running back Eddie Lacy is coming into the game with a sore ankle that kept him out of much of the second half in Week 16.
Chicago will likely put up plenty of points at home—especially considering Green Bay's No. 24-ranked scoring defense. Without Rodgers, and potentially without a healthy Lacy, the Packers will struggle to keep up.
Percy Harvin, WR, Seattle Seahawks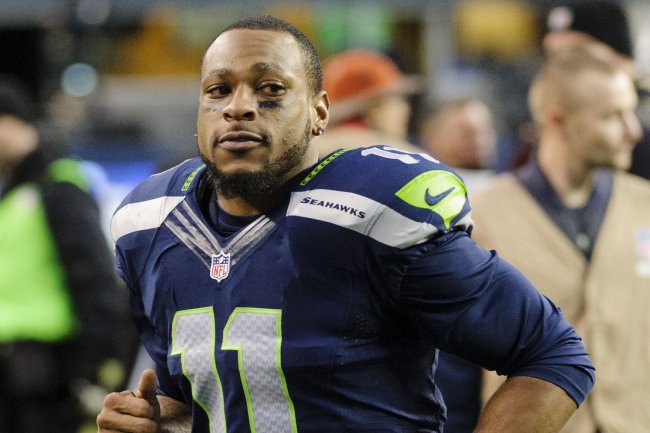 Steven Bisig-USA TODAY Sports
Seattle Seahawks fans who've been waiting for Percy Harvin's eventual and triumphant arrival are surely disappointed with the latest revelations from Pete Carroll.
After the team's brutal 17-10 loss to Arizona in Week 16, the Seahawks revealed that Harvin would not be practicing with the team heading into Week 17:
Percy Harvin is rehabbing here at VMAC but Carroll said he will not practice this week.

— Seattle Seahawks (@Seahawks) December 23, 2013
Then, on Dec. 24, Carroll hinted that the team could make a roster move with Harvin, as noted by Bob Condotta of The Seattle Times:
Biggest news from Pete Carroll presser today is that he said the team may soon have to make a roster move with Percy Harvin.

— Bob Condotta (@bcondotta) December 24, 2013
Making a "roster move" means placing Harvin on season-ending IR.
"They aren't likely to cut the wideout," Josh Alper of ProFootballTalk notes, "which leaves a trip to injured reserve that would end Harvin's season before the postseason gets underway."
How far will Seattle go in the playoffs?
Seattle (12-3) is clearly capable of winning games against tough teams without Harvin, so this isn't a crushing blow to the team's Super Bowl aspirations.
However, it is disappointing news. Harvin was purchased at great cost via trade with the Minnesota Vikings before the season. The Seahawks brought the talented playmaker on board with the intention that he'd become a deadly weapon for quarterback Russell Wilson.
Unfortunately, Harvin made it into just one game, making one catch, before making his way back to the trainer's table. The Seahawks will move on without him and play St. Louis at home in Week 17 with the NFC West title on the line.
Follow me on Twitter @JesseReed78