Several potential playoff teams got the job done in Week 15 and look promising heading toward the postseason. Teams like the Miami Dolphins, Green Bay Packers, Baltimore Ravens and Chicago Bears, once teams that seemed like locks to be sitting at home in January, now control their own destinies.
Many of those teams needed help and got it this past weekend thanks to losses by teams ahead of them. But this late in the season, a hiccup might cause any of those aforementioned clubs to be on the outside looking in once again.
Here is a look at three teams that will get the wins they desperately need to continue a run toward the playoffs.
Complete Week 16 NFL Predictions

| | | |
| --- | --- | --- |
| Away Team | Home Team | Prediction |
| Miami Dolphins | Buffalo Bills | Dolphins |
| New Orleans Saints | Carolina Panthers | Panthers |
| Dallas Cowboys | Washington Redskins | Cowboys |
| Tampa Bay Buccaneers | St. Louis Rams | Rams |
| Chicago Bears | Philadelphia Eagles | Eagles |
| Cleveland Browns | N.Y. Jets | Browns |
| Indianapolis Colts | Kansas City Chiefs | Chiefs |
| Minnesota Vikings | Cincinnati Bengals | Bengals |
| Denver Broncos | Houston Texans | Broncos |
| Tennessee Titans | Jacksonville Jaguars | Jaguars |
| Arizona Cardinals | Seattle Seahawks | Seahawks |
| N.Y. Giants | Detroit Lions | Lions |
| Oakland Raiders | San Diego Chargers | Chargers |
| Pittsburgh Steelers | Green Bay Packers | Packers |
| New England Patriots | Baltimore Ravens | Patriots |
| Atlanta Falcons | San Francisco 49ers | 49ers |
NFL.com
Miami Dolphins (at Buffalo Bills)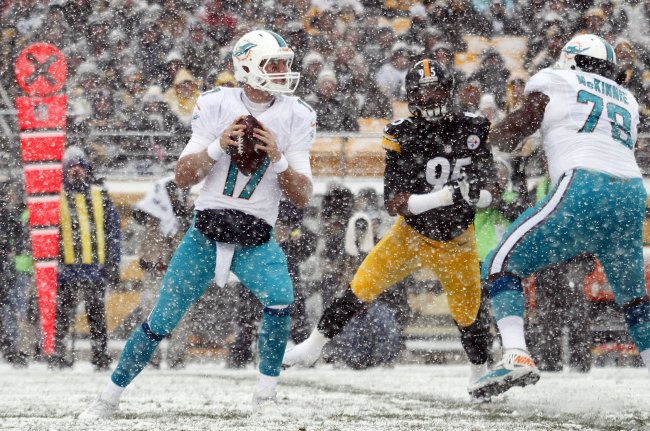 Justin K. Aller/Getty Images
The Miami Dolphins have been one of the surprise teams of the NFL after starting the season 3-0, then losing the next four straight and now pulling out five of their last seven to get to 8-6 and, more importantly, into the playoff picture.
Questions typically tend to arise about Florida teams when it comes to playing in cold weather, but Miami has already debunked those with a win in Week 14 against the Pittsburgh Steelers in Heinz Field. Then the Dolphins knocked off the New England Patriots, a win that now has them firmly entrenched in the playoff picture and gave them control of their own destiny.
Coach Joe Philbin stressed the importance of the win, via the Patriots' official website:
It was very, very important that we make something happen. We called a couple of timeouts, saved some time, and Ryan took the team down. He got good protection and good execution in the pass game. I think it was a fitting way to win this game.
The key to the Dolphins' recent success has been the play of quarterback Ryan Tannehill. The second-year starter has been outstanding over the current three-game winning streak, but Adam Levitan of Rotoworld.com pointed out that his consistency has been stretched out over the last seven games:
No one talking about impressive progress of 25yo Ryan Tannehill. He's 5-2 in last 7 games. Averaging 288 yards with 9 TDs, 3 INTs in last 4.

— Adam Levitan (@adamlevitan) December 16, 2013
Against a Buffalo Bills team that has only won two of its last six games—over the Jaguars and New York Jets—the Dolphins should win their fourth straight game and move closer toward a playoff berth.
Prediction: Dolphins 27, Bills 20
Dallas Cowboys (at Washington Redskins)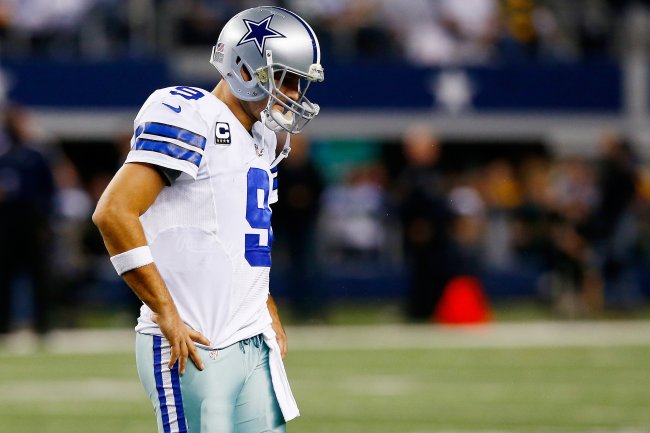 Tom Pennington/Getty Images
Wait, the Dallas Cowboys are projected to actually win a game that they should be able to pull out easily? As crazy as it might sound, Dallas might actually be able to finish a game against the rival Washington Redskins.
Cowboys fans have, at times, defended Tony Romo and his ineptitude at the end of big games, but here is a breakdown by ESPN that shows Romo leads the NFL since 2006 in interceptions thrown in late-game situations:
Tony Romo has the NFL's most interceptions when tied or up 1 possession in 4th QTR/OT in losses since 2006: pic.twitter.com/d5D3rc2aRh

— NFL on ESPN (@ESPNNFL) December 16, 2013
OK, now that talking about Romo is out of the way, let's talk about why the Cowboys will win this game: DeMarco Murray.
Who Would Win NFC East If Cowboys Can Defeat Redskins?
Despite Jason Garrett's best efforts not to allow Murray to carry the team offensively, he has put together four straight weeks with 100 total yards and is going on two straight games with 130 or more yards rushing. Needless to say, he should be carrying the ball in the fourth quarter.
Murray will be going against a rushing defense that ranks 17th in the league in yards per game and has allowed the most rushing touchdowns at 21 for the season. When the Cowboys call his name, Murray will deliver in the red zone.
The Redskins made a change at quarterback, and Kirk Cousins could very well pass his way to being the third straight backup quarterback to beat the Cowboys, but the likelihood of Dallas squandering another lead is very slim. The Cowboys will set up yet another finale for the NFC East crown, but we'll see if they show up against the Philadelphia Eagles.
Prediction: Cowboys 38, Redskins 27
Green Bay Packers (vs. Pittsburgh Steelers)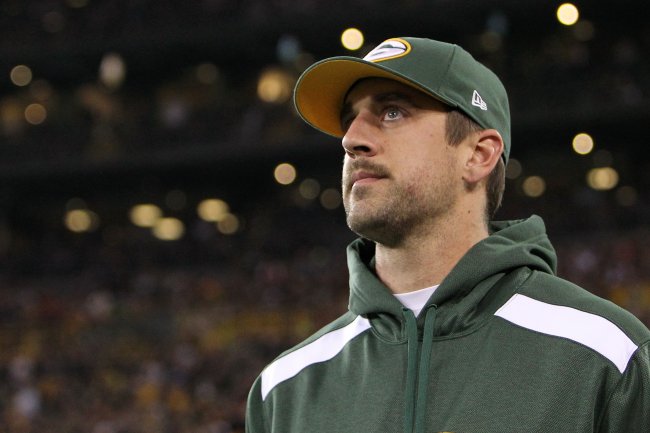 Mike McGinnis/Getty Images
On the other end of that massive breakdown by the Cowboys were the Green Bay Packers, led by Matt Flynn. So why on earth is there a picture of Aaron Rodgers in this article? Because while his injury status hasn't been announced, coach Mike McCarthy is reporting he is looking good in practice, according to NFL: Around the League's Twitter account:
Mike McCarthy: Aaron Rodgers decision coming tomorrow. Said QB looked "very good" in practice.

— NFL: AroundTheLeague (@NFL_ATL) December 19, 2013
The Green Bay quarterback has missed the last six games due to a shoulder injury, but the Packers have still remained in the playoff race. After a loss by the Detroit Lions on Monday Night Football thanks to a 61-yard field goal by Justin Tucker, the Packers now also control their own destiny.
Rodgers personally thanked Tucker for putting them in their current position, according to Kevin Patra of NFL.com:
I'd like to thank Justin Tucker off the top here for his performance last night. Unbelievable. That 61-yarder was amazing. I didn't quite get the three previous plays, but wow.
Will Eddie Lacy Win Offensive Rookie of the Year?
If Rodgers returns, it would obviously be an added advantage for the Packers, but they have proved they can win without him. Some of that success is thanks to good play by Matt Flynn—five touchdowns to two interceptions in the last two games—but a good amount of it has been due to Eddie Lacy.
The rookie running back has been playing so well that he has already been crowned the Packers' MVP and NFL Offensive Rookie of the Year by NFL.com's Adam Schein for his recent play. Over the last two games, Lacy has been the workhorse for Green Bay's offense with a total of 261 yards and two touchdowns.
Whether Rodgers or Flynn is behind center, Lacy will run over the Pittsburgh Steelers defense and keep the Packers' playoff hopes alive with another huge showdown against the Bears for the NFC North crown on the line.
Prediction: Packers 31, Steelers 23