MLB Offseason Recruiting Updates for All 30 Teams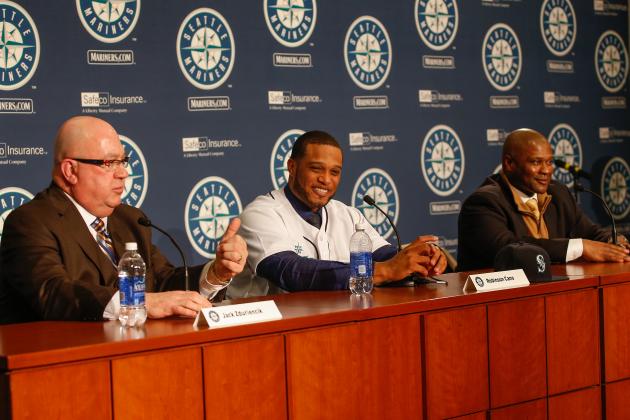 Otto Greule Jr/Getty Images

Let's pretend for a moment that each MLB team's offseason was evaluated in a way similar to that of a college football or basketball program. Free-agent signings and trade additions would be assigned a rating from 1-5 on the "star" scale, and the complete class of new additions would be graded from there.
Rather than assessing how well needs were filled or how much money was spent by each team, the focus would solely be on how much overall talent was added to the roster.
First, we need to decide what constitutes a 5-star player, 4-star player and so on. Here is my take on who belongs in each category.
5-Star (10 points): A superstar-caliber position player, ace-caliber starting pitcher or premier closer.
4-Star (7 points): An above-average everyday position player, middle-of-the-rotation starting pitcher or late-inning reliever.
3-Star (4 points): An average everyday position player or reserve likely to see extended playing time, No. 5 starting pitcher/swingman or above-average middle reliever.
2-Star (1 point): Solid organizational depth likely to be on the big league roster at some point, if not on Opening Day.
1-Star (N/A): Everyone else. Players signed to minor league deals and unlikely to make any sort of impact at the big league level this coming season. Not included here; don't count toward a team's overall offseason rating.
From there, points were awarded to each recruit as listed above, and each team's total recruit point total was determined. Teams were then ordered from worst to first based on the overall level of talent they've added so far this winter.
As with college rosters, returning players are not considered recruits, so anyone re-signing with the team he played for last year was not considered for this.
The end goal here was simply to put a different and fun spin on evaluating what each MLB team has done so far this offseason. So take this for what it is, and enjoy.
Begin Slideshow

»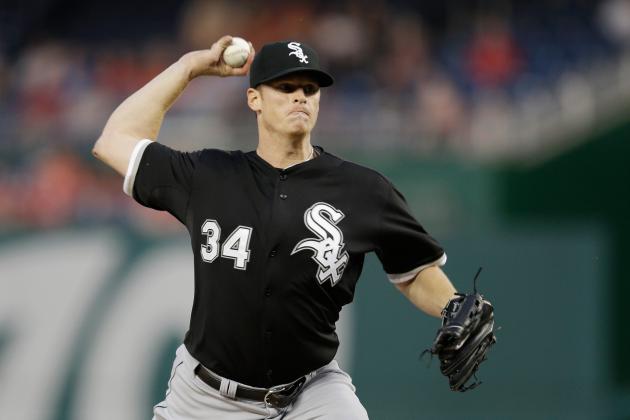 Rob Carr/Getty Images
SP Gavin Floyd
"Recruit" Breakdown
5-Star (0):
4-Star (0):
3-Star (1): SP Gavin Floyd
2-Star (0):

Total: 4 points
Offseason Overview
The Atlanta Braves made their first significant move of the offseason on Monday, signing 30-year-old Gavin Floyd to a one-year, $4 million deal that could be worth another $4.5 million in incentives.
Floyd won 62 games with a 4.12 ERA from 2008 to 2012 while pitching for the Chicago White Sox, but made just five starts last season before landing on the disabled list and eventually undergoing Tommy John surgery. He won't be ready to start the season, but could be ready to throw by May, according to Jerry Crasnick of ESPN.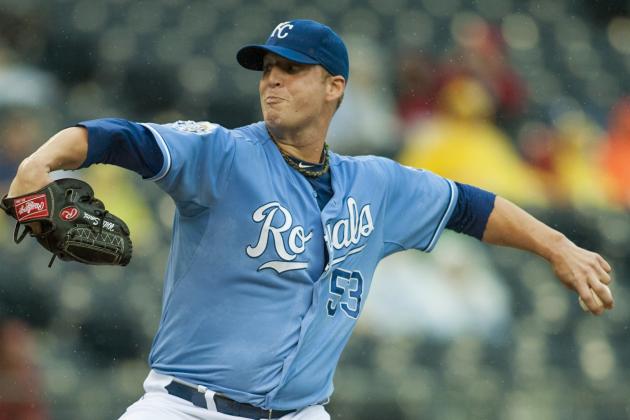 Tim Umphrey/Getty Images
RP Will Smith
"Recruit" Breakdown
5-Star (0):
4-Star (0):
3-Star (1): RP Will Smith
2-Star (1): UT Elian Herrera

Total: 5 points
Offseason Overview
The Milwaukee Brewers were quiet for the most part last offseason until their signing of Kyle Lohse just before the start of the regular season, and it could be more of the same this winter, though they are still very much in the market for a first baseman.
Left-hander Will Smith moved to the bullpen last year after spending his 2012 rookie season in the Kansas City Royals rotation, and the results were significantly better for the 24-year-old. He was acquired in a swap for outfielder Norichika Aoki, a move that opens up an expanded role for Khris Davis, who had 11 home runs in 136 at-bats as a rookie last season.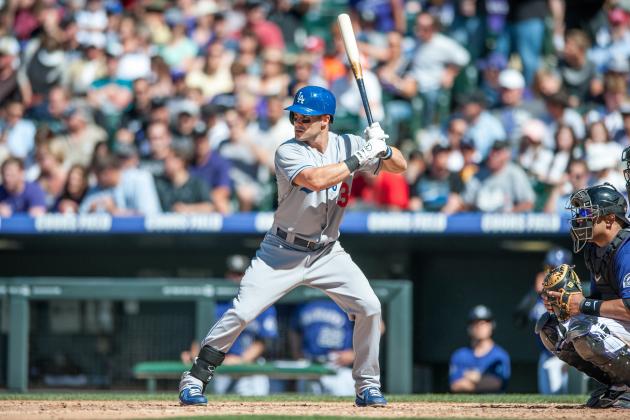 Dustin Bradford/Getty Images
UT Skip Schumaker
"Recruit" Breakdown
5-Star (0):
4-Star (0):
3-Star (1): IF Skip Schumaker
2-Star (2): C Brayan Pena, SP David Holmberg

Total: 6 points
Offseason Overview
Despite the loss of a pair of key veterans in Bronson Arroyo and Shin-Soo Choo, the Cincinnati Reds didn't need much heading into the offseason, as in-house options Tony Cingrani and Billy Hamilton appear poised to take over for Arroyo and Choo, respectively.
The team did add a pair of bench players in Skip Schumaker and Brayan Pena, with the latter allowing the Reds to move catcher Ryan Hanigan to the Tampa Bay Rays in a three-team trade that netted them a solid left-handed pitching prospect in David Holmberg.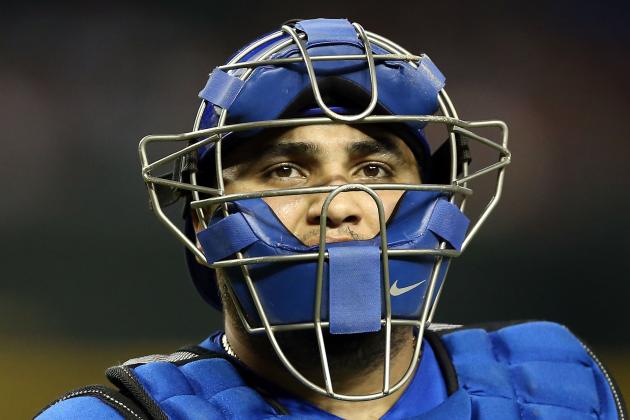 Christian Petersen/Getty Images
C Dioner Navarro
"Recruit" Breakdown
5-Star (0):
4-Star (0):
3-Star (1): C Dioner Navarro
2-Star (2): RP Tomo Ohka, 1B Dan Johnson

Total: 6 points
Offseason Overview
The Toronto Blue Jays could certainly benefit from adding a front-line starting pitcher to join R.A. Dickey and Mark Buehrle atop their rotation for next season, and they very well still could before the start of the season. But for the most part, they'll rely on their incumbent talent turning things around from last year.
They took a chance on 29-year-old Dioner Navarro on a two-year deal to be their starting catcher this coming season. The switch-hitter posted an .856 OPS with 13 home runs in 240 at-bats for the Chicago Cubs last season, but has not served in a starting role since the 2009 season.
Tomo Ohka will be an interesting one to watch this spring, as the 37-year-old has not pitched in the majors since 2009 and is attempting a comeback as a knuckleballer.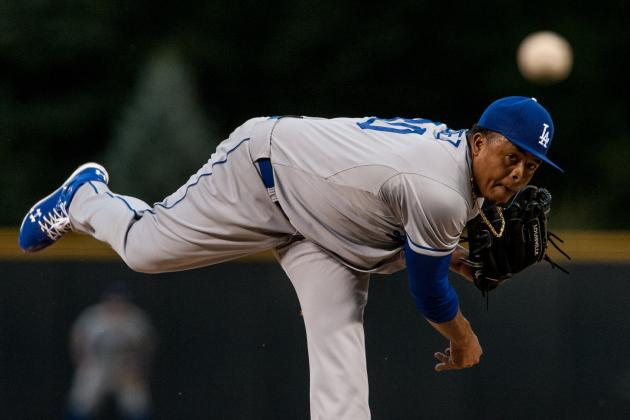 Dustin Bradford/Getty Images
SP Edinson Volquez
"Recruit" Breakdown
5-Star (0):
4-Star (0):
3-Star (1): SP Edinson Volquez
2-Star (3): C Chris Stewart, OF Jaff Decker, RP Duke Welker

Total: 7 points
Offseason Overview
The Pittsburgh Pirates signed right-hander Edinson Volquez as an insurance policy should A.J. Burnett wind up retiring or signing elsewhere before the offseason is over. The 30-year-old earned the Opening Day nod for the San Diego Padres last season and has plus stuff if he can put it all together. He was well worth the one-year, $5 million risk.
The team is still in the market for a starting first baseman, or at least a platoon option to pair with Gaby Sanchez, after missing out on signing its top target in James Loney. Even with no more additions, though, full seasons from Gerrit Cole and Charlie Morton could make the Bucs a better team in 2014.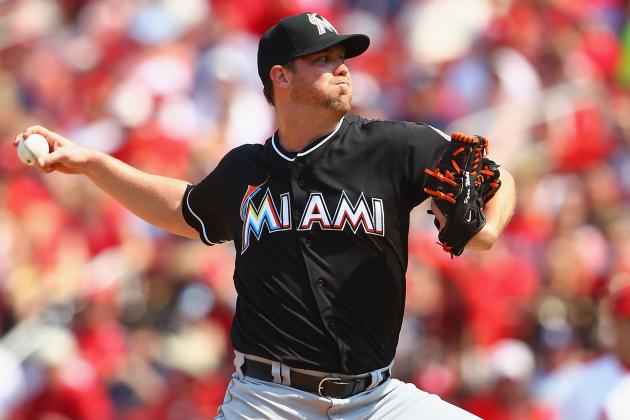 Dilip Vishwanat/Getty Images
RP Ryan Webb
"Recruit" Breakdown
5-Star (0):
4-Star (0):
3-Star (1): RP Ryan Webb
2-Star (4): 2B Jemile Weeks, RP Edgmer Escalona, RP Brad Brach, OF Francisco Peguero

Total: 8 points
Offseason Overview
Despite clear need at second base, left field, the back of the bullpen and perhaps even in the rotation, the Baltimore Orioles have done virtually nothing so far this offseason and appear to be falling behind the rest of the pack in the AL East despite a solid offensive core.
Ryan Webb was a terrific bargain on a two-year, $4.5 million deal, but the team has a ton of work to do between now and the start of spring training if it hopes to be in the running for a playoff spot once again this coming season.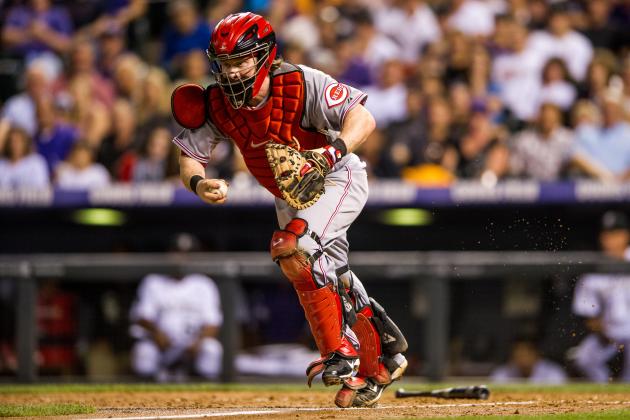 Dustin Bradford/Getty Images
C Ryan Hanigan
"Recruit" Breakdown
5-Star (0):
4-Star (0):
3-Star (2): C Ryan Hanigan, RP Heath Bell
2-Star (1): RP Mark Lowe

Total: 9 points
Offseason Overview
The Rays did a nice job playing the bargain-hunting game once again last offseason, taking a chance on the likes of James Loney, Kelly Johnson and Roberto Hernandez on one-year deals to fill out their roster. This time around, it's been via trade, as Ryan Hanigan and Heath Bell were both acquired in three-team deals.
Hanigan joins re-signed Jose Molina and playoff hero Jose Lobaton in the running for playing time behind the plate, but could certainly emerge as the primary option.
Meanwhile, Bell joins his third team in three years after ranking as one of the best closers in baseball during his time with the Padres. He will have $4 million of his salary paid by the Miami Marlins this coming season and $500,000 paid by the Arizona Diamondbacks, making him a potential bargain at $4.5 million.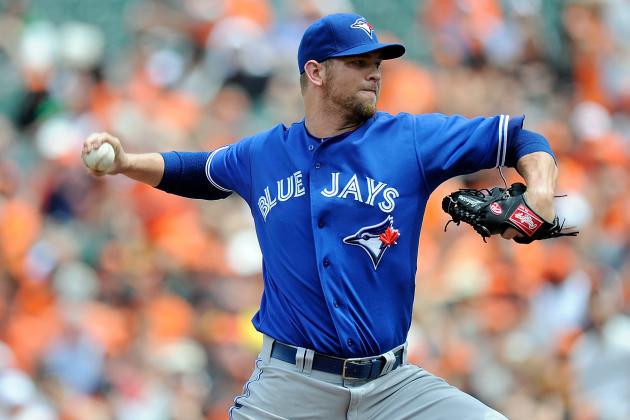 Greg Fiume/Getty Images
SP Josh Johnson
"Recruit" Breakdown
5-Star (0):
4-Star (0):
3-Star (2): SP Josh Johnson, OF Seth Smith
2-Star (1): RP Patrick Schuster

Total: 9 points
Offseason Overview
One of the best buy-low reclamation projects on the market, Josh Johnson joins a steadily improving Padres rotation on a one-year, $8 million deal, and he could thrive in spacious Petco Park. That said, we can't simply forget the fact that he was 2-8 with a 6.20 ERA in 16 starts for the Blue Jays last season.
The team also added a solid left-handed outfield bat in Seth Smith in a trade with the Oakland Athletics for reliever Luke Gregerson and picked up the first pick in the Rule 5 draft in reliever Patrick Schuster through a trade with the Houston Astros. The 23-year-old Schuster had a 1.83 ERA and 9.1 strikeout rate in 55 High-A appearances last season.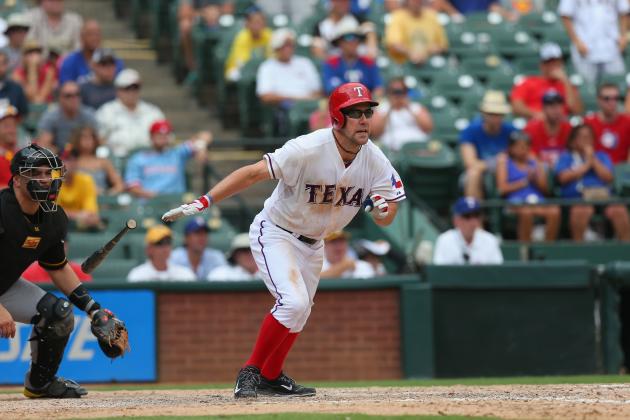 Ronald Martinez/Getty Images
LF David Murphy
"Recruit" Breakdown
5-Star (0):
4-Star (0):
3-Star (2): LF David Murphy, RP John Axford
2-Star (2): 1B David Cooper, SP Shaun Marcum

Total: 10 points
Offseason Overview
The Cleveland Indians have yet to find viable replacements for the departed duo of Ubaldo Jimenez and Scott Kazmir in their rotation, though the addition of Shaun Marcum on a minor league contract could wind up paying dividends if he can prove healthy.
David Murphy was signed to push Drew Stubbs for the starting right field job, and John Axford will get every chance to close in an Indians bullpen that struggled for much of last season and then lost Chris Perez, Joe Smith and Matt Albers this offseason.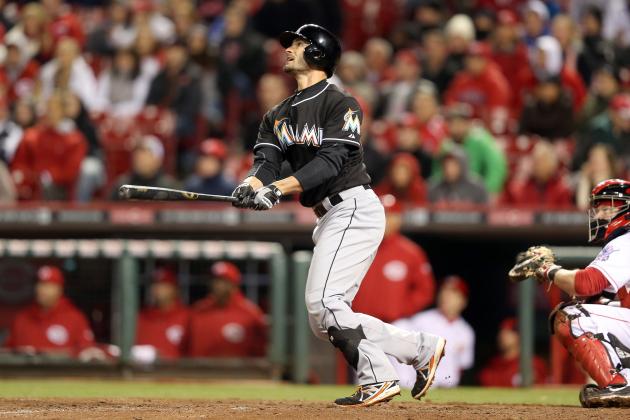 Andy Lyons/Getty Images
CF Justin Ruggiano
"Recruit" Breakdown
5-Star (0):
4-Star (0):
3-Star (2): CF Justin Ruggiano, RP Wesley Wright
2-Star (3): C George Kottaras, RP Liam Hendriks, 2B Ryan Roberts

Total: 11 points
Offseason Overview
The Cubs have yet to make a significant addition this offseason, but have added a handful of complementary pieces as they continue the rebuilding process. Justin Ruggiano was acquired in a trade for Brian Bogusevic and could get a crack at solid playing time between left and center field, while left-hander Wesley Wright was a nice addition to the bullpen.
George Kottaras was acquired from the Royals to replace Dioner Navarro as the backup catcher, while both Liam Hendriks and Ryan Roberts have a chance to earn a roster spot as well. Robert in particular is an interesting pickup, as he can play all over the infield and has plus power for a utility man.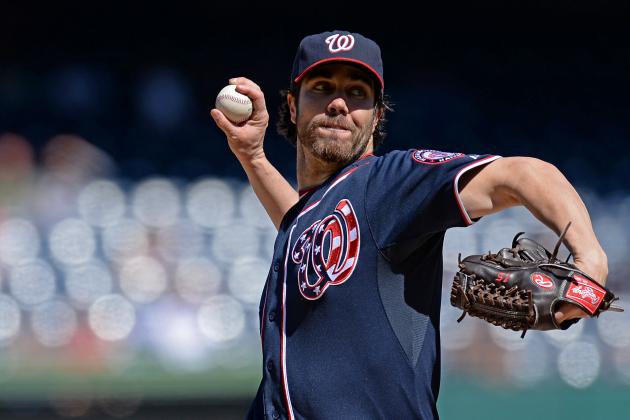 Patrick Smith/Getty Images
SP Dan Haren
"Recruit" Breakdown
5-Star (0):
4-Star (1): SP Dan Haren
3-Star (1): 2B Alex Guerrero
2-Star (0)

Total: 11 points
Offseason Overview
He may not be as flashy as last season's additions of Zack Greinke and Hyun-Jin Ryu, but Dan Haren gives the Los Angeles Dodgers a terrific No. 4 starter option, especially if he pitches like he did in the second half last year when he went 6-4 with a 3.52 ERA in 13 starts.
The team also added Cuban defector Alex Guerrero on a four-year, $28 million deal, and all signs point to him being the team's starting second baseman when the season opens. The 26-year-old hit .290/.402/.576 with 21 home runs in 328 plate appearances in his final season in Cuba, according to Mike Axisa of CBS Sports.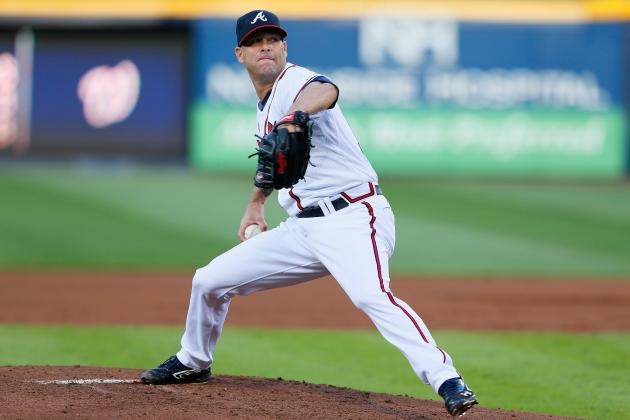 Kevin C. Cox/Getty Images
SP Tim Hudson
"Recruit" Breakdown
5-Star (0):
4-Star (1): SP Tim Hudson
3-Star (1): LF Michael Morse
2-Star (0):

Total: 11 points
Offseason Overview
Much of the San Francisco Giants' focus this offseason has been re-signing their own free agents, but they have made a pair of high-upside additions that could prove to be major difference-makers in 2014 with the signings of Tim Hudson and Michael Morse.
It was business as usual for Hudson last season until a broken ankle suffered covering first base effectively ended his season. Provided he's 100 percent, there's no reason to think he can't be right back where he was.
As for Morse, he hit just .215/.270/.381 in 312 at-bats last season, but he dealt with injuries for much of the year. A .265 BA, 25 HR, 75 RBI season is a very real possibility, and even that would be a solid upgrade in left field.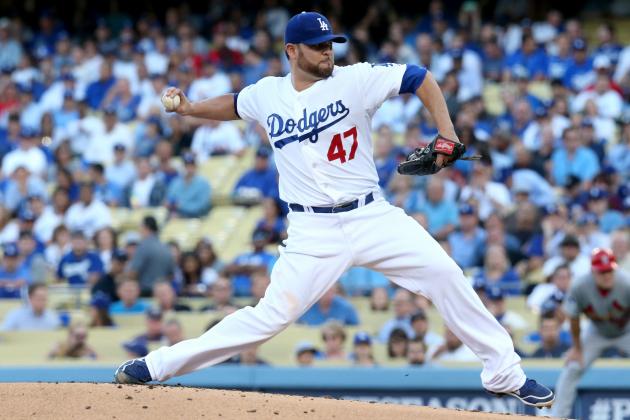 Stephen Dunn/Getty Images
SP Ricky Nolasco
"Recruit" Breakdown
5-Star (0):
4-Star (1): SP Ricky Nolasco
3-Star (1): SP Phil Hughes
2-Star (2): OF Jason Kubel, SP Kris Johnson

Total: 13 points
Offseason Overview
In desperate need of an upgrade in their starting rotation, the Minnesota Twins handed out the two biggest free-agent contracts in their franchise's history to sign Ricky Nolasco (four years, $49 million) and Phil Hughes (three years, $24 million).
Jason Kubel returns to Minnesota, where he spent the first seven seasons of his career, and he could certainly be in line for a bounce-back season. After launching 30 home runs for the Diamondbacks in 2012, he managed just a .216/.293/.317 line and five home runs during an injury-plagued 2013 and wound up settling for a minor league deal from the Twins.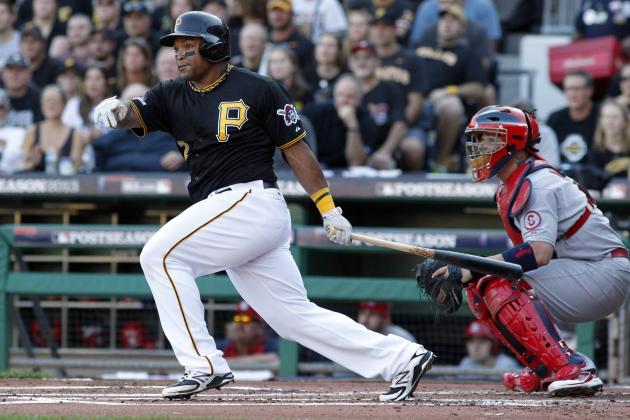 Charles LeClaire-USA TODAY Sports
RF Marlon Byrd
"Recruit" Breakdown
5-Star (0):
4-Star (0):
3-Star (3): RF Marlon Byrd, SP Roberto Hernandez, RP Brad Lincoln
2-Star (3): C Wil Nieves, RP Shawn Camp, SS Reid Brignac

Total: 15 points
Offseason Overview
Deciding whether Marlon Byrd belonged in the 4-star or 3-star category was a tough decision, but given his abnormally high HR/FB rate (16.4%) and BABIP (.353) in 2013, it's fair to assume the 36-year-old will be in for some regression in 2014 if not a substantial amount.
The Philadelphia Phillies also picked up a decent No. 5 starter option in Roberto Hernandez and a late-inning bullpen arm in Brad Lincoln, but it's hard to get too excited about the direction the franchise is heading, as it just seems to be spinning its tires at this point.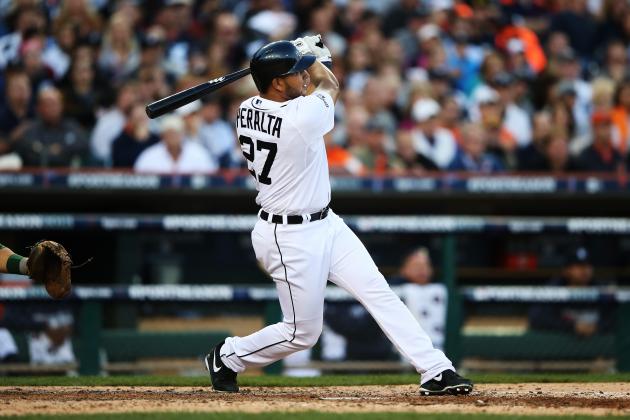 Leon Halip/Getty Images
SS Jhonny Peralta
"Recruit" Breakdown
5-Star (0):
4-Star (1): SS Jhonny Peralta
3-Star (2): OF Peter Bourjos, 2B Mark Ellis
2-Star (0):

Total: 15 points
Offseason Overview
The St. Louis Cardinals didn't need to do much this offseason, and they've already filled their three clear-cut needs with a pair of free-agent signings and a trade with the Los Angeles Angels. The big move was the signing of Jhonny Peralta to a four-year deal, and he represents a huge offensive upgrade over Pete Kozma at shortstop.
They also added Peter Bourjos in a trade with the Angels for third baseman David Freese, and if nothing else, he'll platoon with Jon Jay in center field. The most recent addition was Mark Ellis on a one-year deal, and he'll provide needed insurance at second base with top prospect Kolten Wong expected to get every chance to start but far from a sure thing.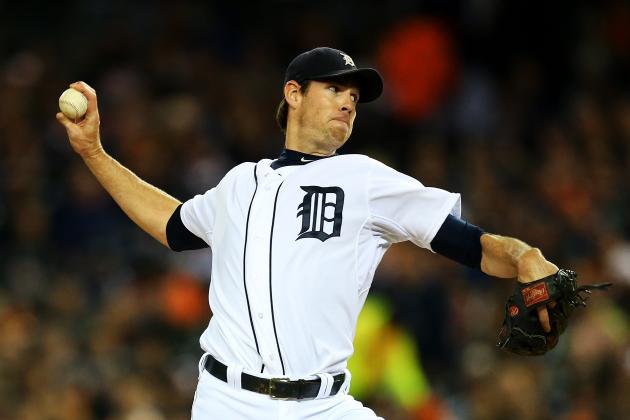 Ronald Martinez/Getty Images
SP Doug Fister
"Recruit" Breakdown
5-Star (0):
4-Star (1): SP Doug Fister
3-Star (2): RP Jerry Blevins, LF Nate McLouth
2-Star (1): SP Chris Young

Total: 16 points
Offseason Overview
The Washington Nationals pulled off the best move of the offseason so far in my opinion when they acquired Doug Fister from the Detroit Tigers for a utility infielder, left-handed middle reliever and mid-level pitching prospect. He joins Stephen Strasburg, Gio Gonzalez and Jordan Zimmermann in a fantastic Nationals rotation and still has two seasons of team control left.
The team also landed a much-needed veteran left-handed reliever in Jerry Blevins and a fourth outfielder capable of stepping into an everyday role should the team be hit with injuries again in Nate McLouth. The Nats were a disappointment last season, but look to be one of the most complete teams in baseball top to bottom once again heading into 2014.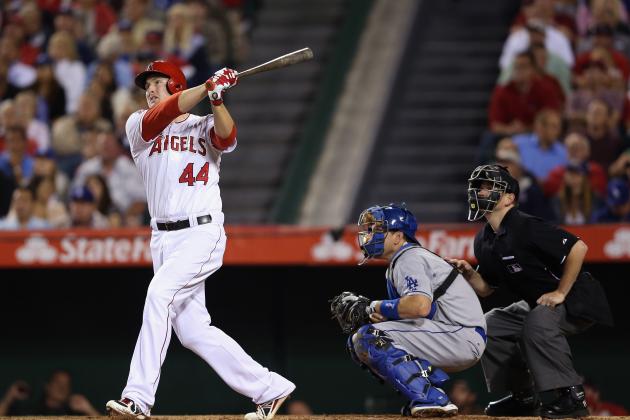 Jeff Gross/Getty Images
LF Mark Trumbo
"Recruit" Breakdown
5-Star (0):
4-Star (2): LF Mark Trumbo, RP Addison Reed
3-Star (0):
2-Star (3): OF Matt Tuiasosopo, RP Marcos Mateo, C Henry Blanco

Total: 17 points
Offseason Overview
The Diamondbacks have gotten creative this offseason to fill their two biggest needs, pulling off a pair of trades to add a power bat to protect Paul Goldschmidt in Mark Trumbo and a legitimate ninth-inning arm in Addison Reed.
Trumbo falls just short of 5-star status due to a subpar .234/.294/.453 line last season, but his 34 home runs and 100 RBI both represented career highs, and he'll be a welcome addition to the middle of the Arizona lineup. Reed cost the Diamondbacks a top prospect in third baseman Matt Davidson, but he had no clear path to the majors, and Reed ranks as one of the best young relief arms in the game.
Elsa/Getty Images
OF Curtis Granderson
"Recruit" Breakdown
5-Star (0):
4-Star (2): OF Curtis Granderson, SP Bartolo Colon
3-Star (1): OF Chris Young
2-Star (0):

Total: 18 points
Offseason Overview
The New York Mets entered the offseason with a good amount of money to spend and plenty of areas of need, with upgrading the outfield ranking as perhaps the most glaring among them. After signing bounce-back candidate Chris Young to a one-year deal, they landed their top target in Curtis Granderson.
Those two will join Juan Lagares in what should be an improved outfield, and Granderson will likely slide into the cleanup spot in the order behind David Wright as he looks to put an injury-plagued 2013 behind him.
The team also signed veteran Bartolo Colon to a two-year deal to replace the injured Matt Harvey in the rotation, and while the second year may wind up being a mistake, it was what it took to make sure a deal got done.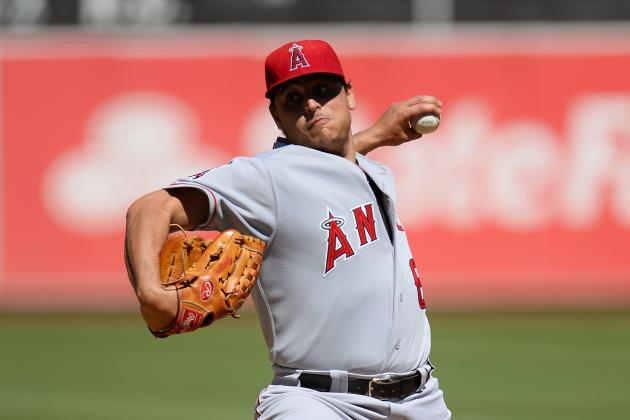 Thearon W. Henderson/Getty Images
SP Jason Vargas
"Recruit" Breakdown
5-Star (0):
4-Star (2): SP Jason Vargas, 2B Omar Infante
3-Star (1): RF Norichika Aoki
2-Star (0):

Total: 18 points
Offseason Overview
The Royals entered the offseason with three clear needs: a replacement for Ervin Santana in the starting rotation and upgrades over their in-house options at second base and in right field. Here in the middle of December, all three of those areas have been addressed.
Jason Vargas may not have the same upside that Ervin Santana does, but he's a durable innings eater who is more than capable of winning double-digit games with an ERA under 4.00. Omar Infante and Norichika Aoki are both significant upgrades at their respective positions and underrated offensive options.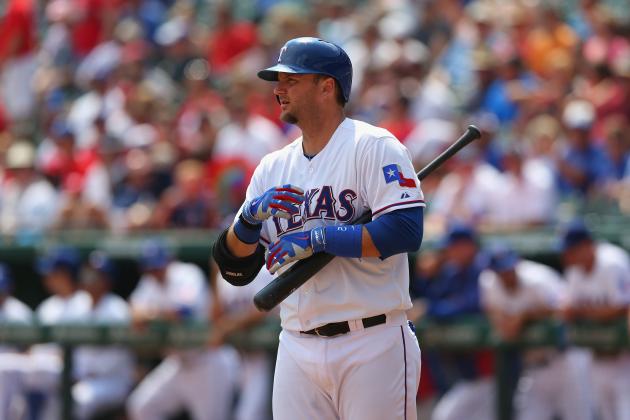 Ronald Martinez/Getty Images
C A.J. Pierzynski
"Recruit" Breakdown
5-Star (0):
4-Star (2): C A.J. Pierzynski, RP Edward Mujica
3-Star (1): RP Burke Badenhop
2-Star (1): RP Tommy Layne

Total: 19 points
Offseason Overview
The Boston Red Sox's big offseason move to this point has been retaining Mike Napoli on a two-year deal, but they have added some newcomers that will certainly play a major role in determining whether or not the team can defend its title.
A.J. Pierzynski was signed to a one-year deal to replace the departed Jarrod Saltalamacchia, and he should fit right into the Red Sox clubhouse. Edward Mujica was a steal on a two-year, $9.5 million deal, and along with Burke Badenhop and perhaps minor league free-agent signing Tommy Layne, the team has plenty of new bullpen options to round things out with.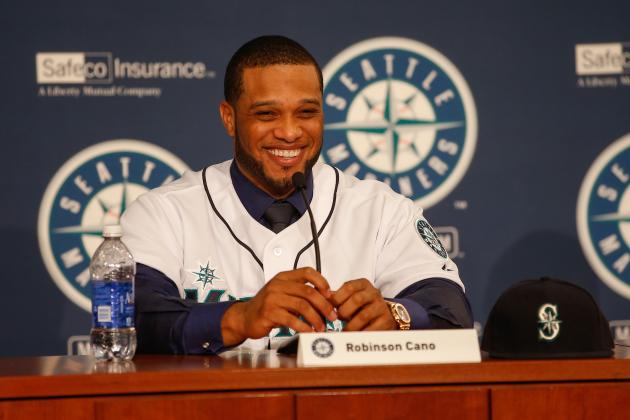 Otto Greule Jr/Getty Images
2B Robinson Cano
"Recruit" Breakdown
5-Star (1): 2B Robinson Cano
4-Star (0):
3-Star (2): 1B/OF Logan Morrison, 1B/OF Corey Hart
2-Star (1): SS Willie Bloomquist

Total: 19 points
Offseason Overview
The Seattle Mariners' signing of Robinson Cano to a massive 10-year, $240 million ranks as the splash of the offseason to this point, but there is still some work to be done in Seattle if they hope to contend in an ultracompetitive AL West division.
Logan Morrison and Corey Hart were both added at the winter meetings, and if Hart is healthy, he should more than make good on the one-year, incentive-laden deal he agreed to. Adding another starting pitcher and shoring up a shaky bullpen remain on the to-do list, but it's certainly been a busy offseason already in Seattle.
Dale Zanine-USA TODAY Sports
CF Dexter Fowler
"Recruit Breakdown
5-Star (0):
4-Star (2): CF Dexter Fowler, SP Scott Feldman
3-Star (1): RP Chad Qualls
2-Star (2): RP Matt Albers, RP Anthony Bass

Total: 20 points

Offseason Overview
A year after the signings of Carlos Pena, Jose Veras and Erik Bedard were essentially all they did in the offseason, the Astros have started to spend on some veteran pieces, though they remain in rebuilding mode and will rely heavily on young, homegrown talent in the years ahead.
Scott Feldman signed a three-year, $30 million deal, and he gives a young rotation a veteran anchor, while Dexter Fowler was acquired from the Colorado Rockies and joins Jose Altuve and Jason Castro as position players to build around. More additions may be on the way, particularly in the bullpen, as the team continues to slowly piece together what it hopes will be the groundwork for sustainable success.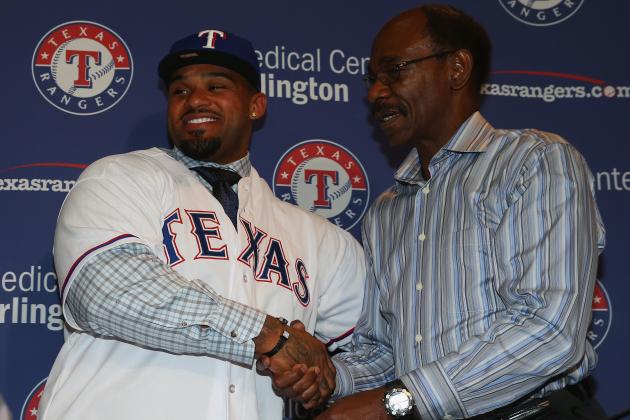 Ronald Martinez/Getty Images
1B Prince Fielder
"Recruit" Breakdown
5-Star (1): 1B Prince Fielder
4-Star (0):
3-Star (2): LF Michael Choice, C J.P. Arencibia
2-Star (2): RP Shawn Tolleson, UT Brent Lillibridge

Total: 20 points
Offseason Overview
A year after losing Josh Hamilton, Mike Napoli and Michael Young, the Texas Rangers offense looks like a force to be reckoned with once again after the team added Alex Rios in August and now Prince Fielder this offseason. Those two, alongside Adrian Beltre, give the team plenty of punch in the middle.
The addition of Michael Choice looks like one of the better under-the-radar moves of the offseason so far, and the former top prospect has the power to hold down the everyday left field job if given the chance. J.P. Arencibia gives them some pop off the bench as the backup catcher to Geovany Soto.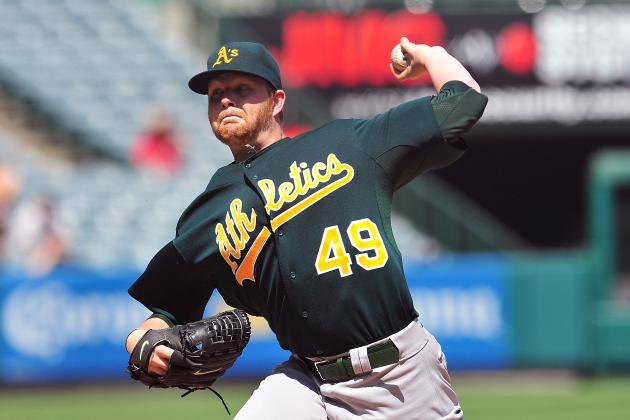 Gary A. Vasquez-USA TODAY Sports
SP Brett Anderson
"Recruit" Breakdown
5-Star (0):
4-Star (1): SP Brett Anderson
3-Star (3): RP Boone Logan, RP LaTroy Hawkins, 1B Justin Morneau
2-Star (2): SP Jordan Lyles, OF Brandon Barnes

Total: 21 points
Offseason Overview
The Rockies have been as busy as anyone so far this offseason, with their biggest move being the addition of talented but injury-prone Brett Anderson in a trade with the A's. The left-hander has front-line stuff when he's healthy, evidenced by his role as Opening Day starter on a good A's team last year, but he has not made more than 19 starts in a season since his rookie year of 2009.
The team also picked up a pair of solid bullpen arms in LaTroy Hawkins and Boone Logan, and a veteran replacement for Todd Helton at first base in Justin Morneau. Granted, Morneau is not the 30-homer, 100-RBI threat he was in his prime, but he is a solid stopgap option if nothing else.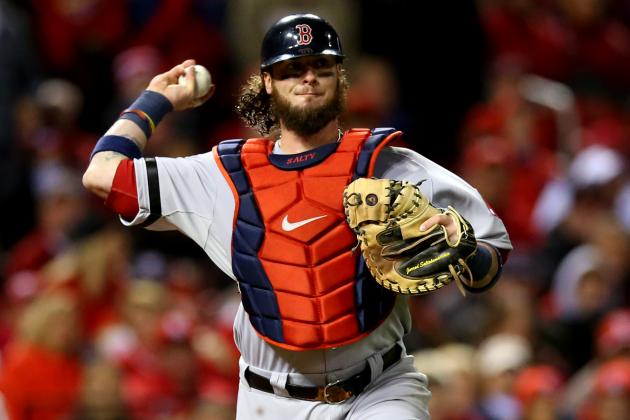 Ronald Martinez/Getty Images
C Jarrod Saltalamacchia
"Recruit" Breakdown
5-Star (0):
4-Star (1): C Jarrod Saltalamacchia
3-Star (3): 2B Rafael Furcal, 1B Garrett Jones, RP Carter Capps
2-Star (2): OF Brian Bogusevic, OF Jimmy Paredes

Total: 21 points
Offseason Overview
The signing of Placido Polanco and Juan Pierre on one-year deals was the extent of the Marlins' free-agent activity last offseason, as they found themselves in fire-sale mode once again following a disastrous 2012 campaign.
That said, they have assembled one of the best young rotations in all of baseball and should benefit from the signings of Jarrod Saltalamacchia, Garrett Jones and Rafael Furcal this offseason. Saltalamacchia agreed to a three-year, $21 million deal after putting up a career-best slash line of .273/.338/.466 for the Red Sox last season, and he'll be counted on to lead the young rotation moving forward.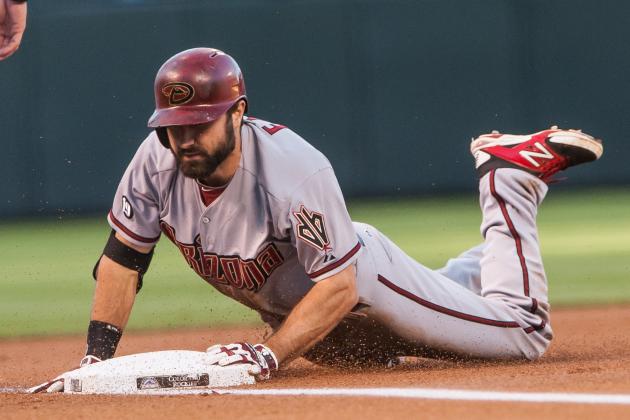 Dustin Bradford/Getty Images
CF Adam Eaton
"Recruit" Breakdown
5-Star (0):
4-Star (1): 1B Jose Abreu
3-Star (4): CF Adam Eaton, 3B Matt Davidson, SP Felipe Paulino, RP Ronald Belisario
2-Star (0):

Total: 23 points
Offseason Overview
The White Sox began the rebuilding process last season with the trades of Jake Peavy and Alex Rios, and they have continued to look for young talent this offseason. Cuban slugger Jose Abreu was signed to a six-year deal to replace Paul Konerko as the starting first baseman, while Adam Eaton and Matt Davidson were acquired in separate deals with the Diamondbacks.
Eaton should step into the starting center field and leadoff role, while Davidson has plenty of power potential and looks like the odds on favorite to win the third base job out of camp. Don't sleep on the Felipe Paulino signing either, as he was 3-1 with a 1.67 ERA in his first seven starts in 2012 before Tommy John surgery, and he could legitimately win a rotation spot.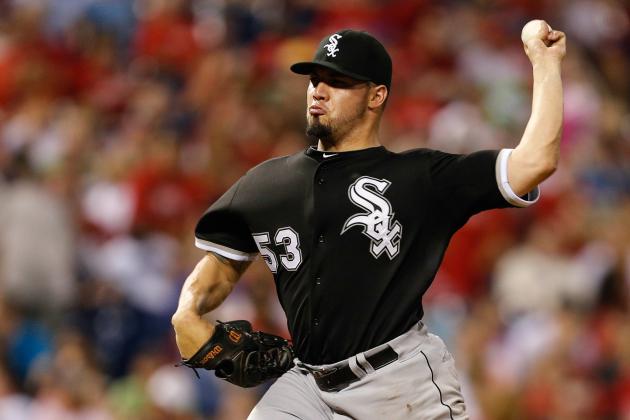 Brian Garfinkel/Getty Images
SP Hector Santiago
"Recruit" Breakdown
5-Star (0):
4-Star (2): SP Hector Santiago, RP Joe Smith
3-Star (2): 3B David Freese, SP Tyler Skaggs
2-Star (2): RP Fernando Salas, RP Brian Moran

Total: 24 points

Offseason Overview
The Angels clearly needed to address their starting rotation this offseason, with two holes to fill behind the incumbent trio of Jered Weaver, C.J. Wilson and Garrett Richards. It cost them slugger Mark Trumbo, but they filled both spots in a blockbuster three-team trade at the winter meetings, acquiring a pair of controllable young left-handers in Hector Santiago and Tyler Skaggs.
They also filled a hole at third base by picking up David Freese in a trade with the Cardinals and signed one of the market's top setup arms in Joe Smith to shore up the bullpen. Whether that is enough to turn things around after what has been back-to-back disappointing seasons remains to be seen, but it certainly looks like a step in the right direction.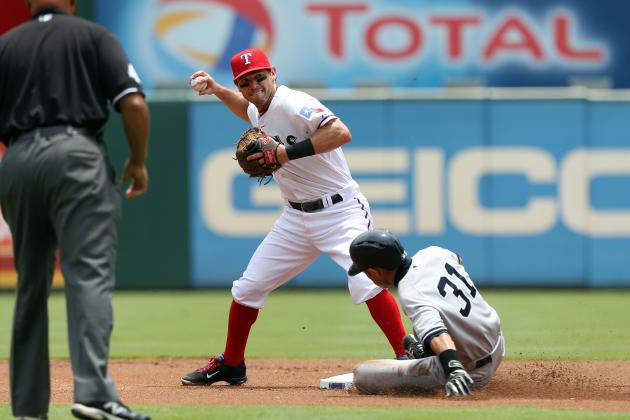 Layne Murdoch/Getty Images
2B Ian Kinsler
"Recruit" Breakdown
5-Star (2): 2B Ian Kinsler, RP Joe Nathan
4-Star (0):
3-Star (1): OF Rajai Davis
2-Star (3): UT Steve Lombardozzi, RP Joba Chamberlain, RP Ian Krol

Total: 27 points
Offseason Overview
The Tigers have given up a good deal of talent this offseason with the trades of Prince Fielder and Doug Fister, but they've added plenty as well and should be in a good position to defend their AL Central title once again in 2014.
Ian Kinsler was acquired in the Fielder deal, and he gives the team a legitimate leadoff hitter and will allow Austin Jackson to slide down in the order. Joe Nathan was the best closer on the market and immediately makes their bullpen a strength, while Rajai Davis brings some of the best wheels in the game to a platoon in left field.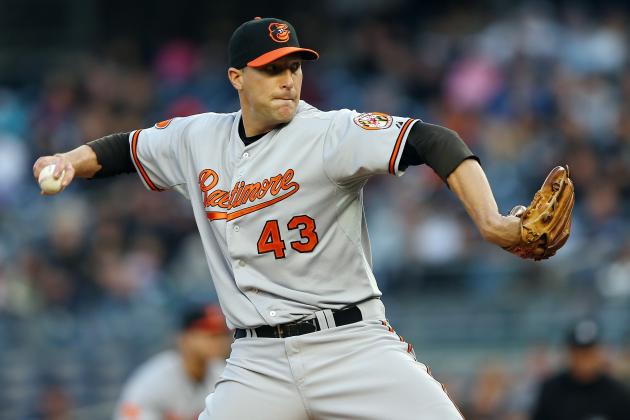 Elsa/Getty Images
RP Jim Johnson
"Recruit" Breakdown
5-Star (0):
4-Star (3): RP Jim Johnson, RP Luke Gregerson, SP Scott Kazmir
3-Star (2): OF Craig Gentry, SP/RP Drew Pomeranz
2-Star (3): SS Nick Punto, RP Fernando Abad, RP Josh Lindblom

Total: 32 points
Offseason Overview
The Oakland A's have not necessarily added any game-changing talent this offseason, but they have brought in eight players who could all legitimately play significant roles this coming year. Manager Bob Melvin is as good as anyone at getting the most out of all 25 guys on the active roster, and he has that many more pieces to work with in 2014.
Jim Johnson gives the team a plus option to replace Grant Balfour, while Luke Gregerson is one of the best setup men in all of baseball and joins Ryan Cook and Sean Doolittle in bridging the gap to Johnson. Scott Kazmir replaces Bartolo Colon as the elder statesmen in a young rotation, while Drew Pomeranz still has plenty of upside and could be used as a starter or reliever.
Maddie Meyer/Getty Images
C Brian McCann
"Recruit" Breakdown
5-Star (3): C Brian McCann, CF Jacoby Ellsbury, RF Carlos Beltran
4-Star (0):
3-Star (1): 2B Kelly Johnson
2-Star (0):

Total: 34 points
Offseason Overview
After missing the playoffs for just the second time since 1994, the New York Yankees set right to work retooling their roster this offseason. Though they lost superstar second baseman Robinson Cano to the Mariners, they have already signed three of the top bats on the market—and likely aren't done.
Adding another starter alongside CC Sabathia, Ivan Nova and re-signed Hiroki Kuroda is a must, and they could still use a late-inning bullpen arm to replace Mariano Rivera and a second baseman to replace Cano. When all is said and done, it's likely the Yankees will remain in the top spot here as they continue to spend in the wake of a trying season.