There's nothing like late-season close games in the NFL. By my estimation, Week 15 in the NFL is about to produce at least three thrilling finishes. With playoff positioning on the line, games will be played with a heightened sense of urgency. Football fans, prepare yourselves for a wild and fun week of action.
Here's a look at the full schedule and predictions for every game. Below the table is a closer look at the games that should produce close and exciting finishes.
| | | | |
| --- | --- | --- | --- |
| Thursday, Dec. 12 | Time | TV | Prediction |
| San Diego at Denver | 8:25 PM | NFL | Denver |
| Sunday, Dec. 15 | TIME (ET) | TV | Prediction |
| Washington at Atlanta | 1 p.m. | Fox | Atlanta |
| Chicago at Cleveland | 1 p.m. | Fox | Chicago |
| Houston at Indianapolis | 1 p.m. | CBS | Indianapolis |
| New England at Miami | 1 p.m. | CBS | New England |
| Philadelphia at Minnesota | 1 p.m. | Fox | Philadelphia |
| Seattle at NY Giants | 1 p.m. | Fox | NY Giants |
| San Francisco at Tampa Bay | 1 p.m. | Fox | San Francisco |
| Buffalo at Jacksonville | 1 p.m. | CBS | Jacksonville |
| Kansas City at Oakland | 4:05 p.m. | CBS | Kansas City |
| NY Jets at Carolina | 4:05 p.m. | CBS | Carolina |
| Green Bay at Dallas | 4:25 p.m. | Fox | Dallas |
| Arizona at Tennessee | 4:25 p.m. | Fox | Arizona |
| New Orleans at St. Louis | 4:25 p.m. | Fox | New Orleans |
| Cincinnati at Pittsburgh | 8:30 p.m. | NBC | Cincinnati |
| Monday, Dec. 16 | TIME (ET) | TV | Prediction |
| Baltimore at Detroit | 8:30 p.m. | ESPN | Baltimore |
Brian Mazique
Chicago Bears at Cleveland Browns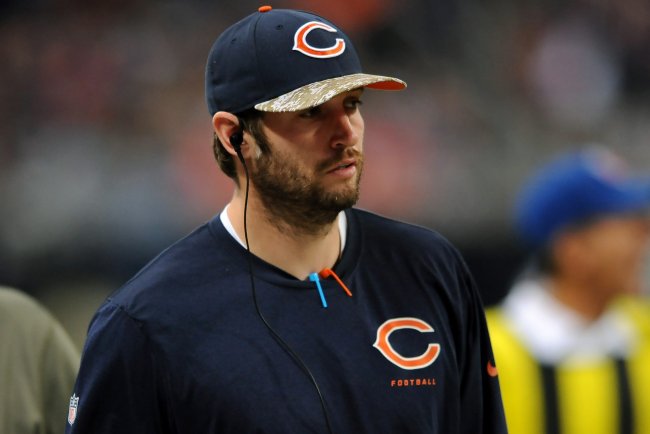 Michael Thomas/Getty Images
Jay Cutler has been named the Bears' starting quarterback, and he'll be going head-to-head with the man who backed him up in Chicago in 2012. Jason Campbell didn't do much for the Bears last season, but he's been solid for the Browns this year. He's coming off a 391-yard, three-touchdown performance against the New England Patriots in Week 14.
His eyes have to be widened at the chance to not only face his former team but to also take advantage of the 26th-ranked defense in the NFL. The Bears have been especially weak against the run, allowing six straight 100-yard rushers.
Luckily for the Bears, the offense has been clicking on all cylinders. However, there is some concern as to whether Chicago will lose some of its offensive momentum with Cutler back under center. Though the Bears are just 3-2 with Josh McCown as the starter, the 34-year-old veteran's numbers were better than Cutler's.
Take a look at the chart below.
| | | | | | |
| --- | --- | --- | --- | --- | --- |
| Player | Games | Completion Pct. | Yards | Touchdowns | Interceptions |
| Jay Cutler | 8 | 63 pct. (167-265) | 1,908 | 13 | 8 |
| Josh McCown | 7 | 66.8 pct. (147-220) | 1,809 | 13 | 1 |
Pro-Football-Reference
That said, the Bears were still a good offense before Cutler got hurt. With the emergence of Alshon Jeffery as a big-time option down the field, the Bears have one of the best offenses in the NFL. Only the Denver Broncos have scored more points this season. Yeah, that's for real.
Against the Browns, Cleveland will be trying to gash the Bears' run defense just as teams have done all season. The Bears are ranked 32nd in the NFL against the run, and it just allowed 198 rushing yards to the Dallas Cowboys on Monday night. That issue probably won't be solved in a week, but on the strength of the team's suddenly dominant offense, the Bears will win a shootout in Cleveland.
When you look at the skills positions, Chicago simply has more weapons than Cleveland. Aside from dynamic, second-year wide receiver Josh Gordon, the Browns don't have dangerous playmakers on offense. With Willis McGahee out for the game, I see the Browns having more success than I originally did.
#Browns rule out LG Greco (knee), RB McGahee (concussion) and TE Andre Smith (calf).

— Nate Ulrich (@NateUlrichABJ) December 13, 2013
Chris Ogbonnaya is younger and better suited to face the Bears, but it still isn't enough firepower. Cleveland will keep it close but still lose 40-34.
Seattle Seahawks at New York Giants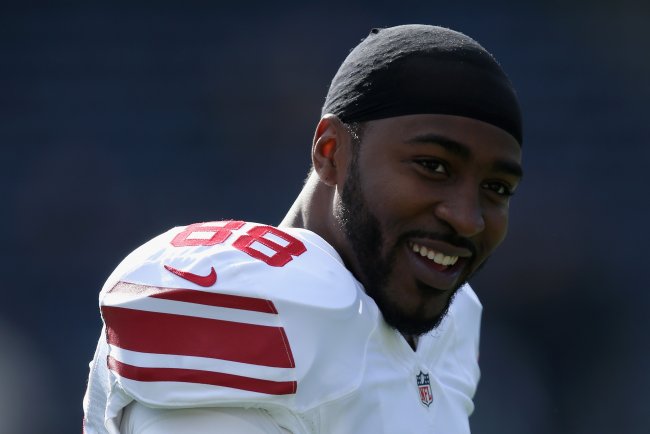 Jeff Gross/Getty Images
The 11-2 Seahawks and their Legion of Boom secondary will be tested this week. It may look like a mismatch on paper, but the 5-8 Giants still have a formidable set of receivers and Eli Manning.
Manning is tied for the league lead in interceptions with New York Jets rookie Geno Smith, but he is still capable of putting together a great performance. This is a veteran team that will be up for a big game against one of the league's elite.
Hakeem Nicks and Victor Cruz are on pace to combine for more than 2,000 yards, and running back Andre Brown has been effective. He had 81 yards against the San Diego Chargers in Week 14.
On the road, the Seahawks are still very good, but they aren't the juggernaut they are at CenturyLink Field. The Giants were already eliminated from playoff contention last week, but the team could be playing to salvage the job of head coach Tom Coughlin.
This will be the second straight season the G-Men have missed the playoffs, so the two-time Super Bowl winning coach may be on the hot seat. A big win over the Seahawks would be the highlight of the year.
Behind a passing game that will remind us how explosive it can be and a defense that is ranked 10th in the NFL in yards allowed, the Giants will pull the upset with a 20-16 win at MetLife Stadium.
Baltimore Ravens at Detroit Lions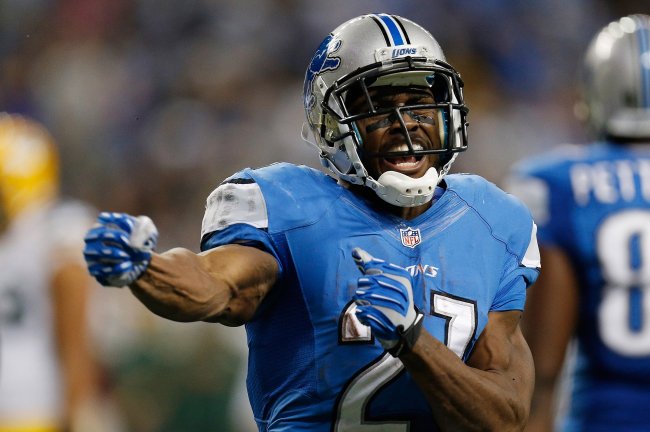 Gregory Shamus/Getty Images
The second half of the season hasn't been kind to the Lions over the last two years. Detroit is just 2-11 after its eighth game of the season since the 2012 season.
The downward trend has continued as the team has lost three of its last four games. Considering the recent struggles, this is no time to run into the defending champions. The Ravens look to be transforming into playoff mode and must win to stay in a favorable spot for the last AFC wild-card slot.
For Detroit, it helps that Reggie Bush seems cleared to play, per Tim Twentyman of DetroitLions.com, but the Lions need something to happen that changes the culture of losing and choking away big games late in the season. It's not about talent. It seems to be more a function of execution.
Baltimore isn't exactly operating like the fine-tuned machine that rallied to win the Super Bowl last season, but it has won three straight games. The key for the Ravens is getting the running game on track.
That aspect of the team's attack has struggled this season, but its rushing totals have improved in each game over the last three weeks. The Ravens stay hot and hand the Lions a crushing loss at home, 30-23.