It is never a sure thing winning on the road in the NFL, but a few teams will have little problem accomplishing this feat in Week 15.
As the league heads into the final weeks of the regular season, almost every game is important. For teams that want to contend in the postseason, there are no excuses for losing a winnable game, even when it is away from home.
The last month of the year requires a great deal of mental toughness in order to come away with key victories when they are needed. These squads will be able to showcase this skill and secure necessary wins on Sunday.
Seattle Seahawks at New York Giants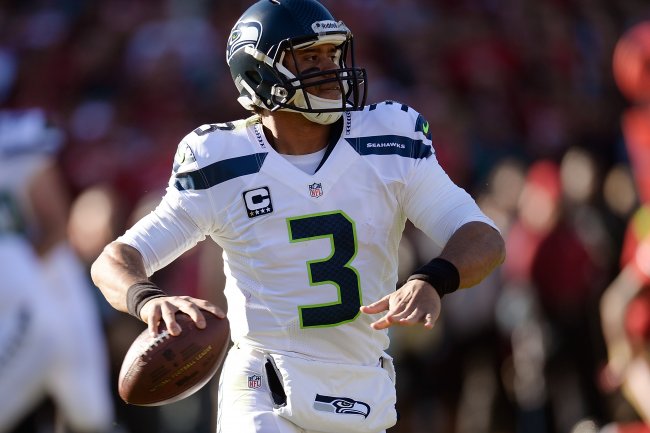 Thearon W. Henderson/Getty Images
The best chance the Giants have of winning this game is if Russell Wilson suddenly decides he wants to play baseball after being drafted by the Texas Rangers.
Since that is unlikely, New York will have to hope for something else to happen to the star quarterback in order to keep points off the board.
Of course, the biggest problem for the Giants has been on offense. As Seahawks cornerback Richard Sherman points out, Eli Manning is capable of great things:
"When he's on, he's on. He's as good as anybody when he's throwing the ball well." - @RSherman_25 on Giants QB Eli Manning.

— Seattle Seahawks (@Seahawks) December 12, 2013
The problem has been that we have not seen this Manning "on" all season. He is tied for the NFL lead with 20 interceptions, with 17 of them coming in the Giants' eight losses.
He will likely continue to struggle against the No. 1 pass defense in the NFL, providing the Seahawks with an easy route to a bounce-back victory.
Philadelphia Eagles at Minnesota Vikings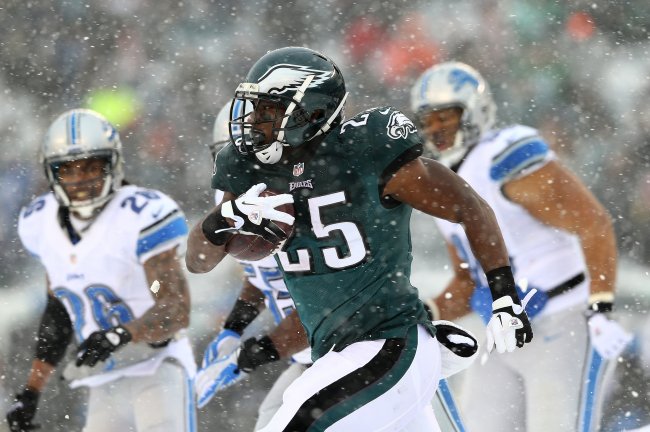 Elsa/Getty Images
This week's Sports Illustrated cover tells you most of what you need to know about the Eagles' season:
This Week's Regional Cover: And Then NICK FOLES Happened. http://t.co/XIrmPumS3w pic.twitter.com/92oZxdPCRo

— Sports Illustrated (@SInow) December 11, 2013
While the team was struggling early, all of it changed once Nick Foles stepped into the starting lineup. People want to point to his glowing 20-1 touchdown-to-interception ratio, but the entire team has played inspired football since Week 5.
LeSean McCoy has become the No. 1 rusher in the NFL, while the defense has not allowed more than 21 points in any of the last nine games. This is almost hard to believe considering the unit gave up an average of 34.5 points per game in the first month of the season.
With a 5-1 record on the road this season, the Eagles should keep up this strong play against a Vikings team likely deflated after a tough loss to the Baltimore Ravens in Week 14. A touchdown with four seconds left dropped Minnesota to 3-9-1 on the year, and the offseason cannot come soon enough.
Kansas City Chiefs at Oakland Raiders
With the Denver Broncos losing to the San Diego Chargers on Thursday night, the Chiefs once again have a chance to win the NFC West. This could be the difference between having a first-round bye and having to travel on the road three times to reach the Super Bowl.
That means the Chiefs are likely to stay intense in the upcoming game against the Raiders. Fortunately, the poor opposing defense should make things easy for Alex Smith and company. ESPN Stats and Info provided a look at how bad Oakland was in Week 14:
Geno Smith's Total QBR in yesterday's win over the Raiders was a 87.3. That's higher than his Total QBR in his previous 7 games COMBINED.

— ESPN Stats & Info (@ESPNStatsInfo) December 9, 2013
According to ESPN's Paul Gutierrez, veteran safety Charles Woodson was not happy about the effort either:
"We allowed (Geno Smith) to be sort of great today...it's really disappointing." - #Raiders FS Charles Woodson

— Paul Gutierrez (@PGutierrezESPN) December 8, 2013
Things are unlikely to change over the course of the week, and the Chiefs should be able to have another offensive explosion.
Meanwhile, Kansas City earned nine sacks the last time it faced the Raiders and will try to top this mark in Week 15. With this dominance on both sides of the ball, the Chiefs will easily be able to move to 11-3 on the year.
NFL Picks Week 15

| | | |
| --- | --- | --- |
| Away | Home | Pick |
| San Francisco 49ers | Tampa Bay Buccaneers | 49ers |
| Washington Redskins | Atlanta Falcons | Falcons |
| Chicago Bears | Cleveland Browns | Bears |
| Houston Texans | Indianapolis Colts | Colts |
| New England Patriots | Miami Dolphins | Dolphins |
| Philadelphia Eagles | Minnesota Vikings | Eagles |
| Seattle Seahawks | New York Giants | Seahawks |
| Buffalo Bills | Jacksonville Jaguars | Jaguars |
| Kansas City Chiefs | Oakland Raiders | Chiefs |
| New York Jets | Carolina Panthers | Panthers |
| Green Bay Packers | Dallas Cowboys | Cowboys |
| Arizona Cardinals | Tennessee Titans | Titans |
| New Orleans Saints | St. Louis Rams | Saints |
| Cincinnati Bengals | Pittsburgh Steelers | Bengals |
| Baltimore Ravens | Detroit Lions | Lions |
Follow Rob Goldberg on Twitter for the latest breaking news and analysis.