UPDATE: Thursday, December 12, 2013 at 1:25 ET
Calvin Johnson has responded to Matt Elam's comments.
Calvin johnson laughed about matt elam's old comment said 'I am getting kind of old I can show him that old-man strength'

— Aaron Wilson (@RavensInsider) December 12, 2013
Calvin johnson didn't seem offended at all by matt elam's comments more amused than anything else

— Aaron Wilson (@RavensInsider) December 12, 2013
Johnson said he wasn't bothered by what Elam said. But he acknowledged that it isn't going to be Elam who has to deal with him.

— Jeff Zrebiec (@jeffzrebiecsun) December 12, 2013
Calvin Johnson on Matt Elam: "He can talk all he wants. He plays back. I don't see him every play unless I run past him."

— Jeff Zrebiec (@jeffzrebiecsun) December 12, 2013
It doesn't sound like Megatron is too concerned with Elam.
---End of Update---
It's time to face facts, everyone: Calvin Johnson is over the hill.
Or so says Ravens safety Matt Elam, who described the Detroit Lions star wideout as "pretty old" during a recent interview.
The Baltimore rookie was fielding questions Wednesday about the Ravens' upcoming game against the Detroit Lions on Monday Night Football when asked about Johnson, who has churned up opposing secondaries for 1,351 yards and 12 touchdowns on the season.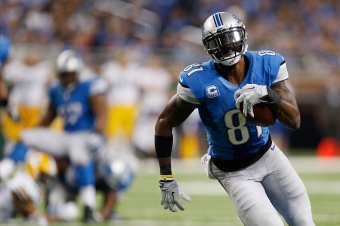 Gregory Shamus/Getty Images
Is Elam worried about playing Megatron? It's hard to say. The 22-year-old rookie kicked things off by describing as Johnson as "unstoppable," according to David Ginsburg of the Associated Press (via the Detroit Free Press).

"Big, fast, athletic, unstoppable, freak," Elam said of Johnson.
It was a respectful gesture from the young defensive back, but the conversation took on a new pallor as Elam hashed out the Ravens' plans for stopping Detroit's biggest offensive weapon.
He's pretty old, so I don't know how physical he'll be. He's a big guy, but he's older. I guess when they get older they're not going to be as physical, you know what I'm saying. We're going to have to be physical, make him uncomfortable.
Being physical is an important, if not standard, part of any defensive game plan. Elam and the Ravens should try to make Johnson as "uncomfortable" as possible. Calling a 28-year-old wide receiver in the prime of his career "old," however, is a stretch.
Granted, Megatron could take Elam's word as a sign of fear. When your opponents are calling you "old" before the age of 30, you're either really slowing down or they're going to great lengths to find any possible weakness in your game.
Given Johnson's track record and current level of play, I'd say it's the latter.
Calvin Johnson: an old man who will burn you deep.