After reportedly using a racial slur towards an NFL official, Washington Redskins left tackle Trent Williams is unlikely to receive any punishment from the league.
Mark Maske of The Washington Post broke the news after speaking with an anonymous source:
The person, who spoke on the condition of anonymity because the NFL's review is ongoing and no decisions have been reached, called disciplinary action against Williams "unlikely." The league is "still going through the process," according to the person. Whether disciplinary action against the official, umpire Roy Ellison, is being considered is unclear.
More from Maske:
NFL statement says officials expected "to avoid personal confrontations with players and be respectful of players and coaches at all times."

— MarkMaske (@MarkMaske) November 22, 2013
NFL won't discipline Trent Williams for the incident with umpire Roy Ellison, according to a source. Decision now final.

— MarkMaske (@MarkMaske) November 22, 2013
NFL Network's Ian Rapoport provides details on how the NFL handled referee Roy Ellison's role in the matter:
Umpire Roy Ellison has been suspended without pay for 1 game for his profane words to #Redskins OT Trent Williams, per source.

— Ian Rapoport (@RapSheet) November 22, 2013
Umpire Roy Ellison won't work a game this week. Can return in Week 13. The NFL expects its officials to avoid personal confrontations

— Ian Rapoport (@RapSheet) November 22, 2013
Mike Jones of The Washington Post noted Williams' reaction to the suspension:
Trent Williams was surprised to hear the league had ruled, suspending Ellison. He declined comment however.

— Mike Jones (@MikeJonesWaPo) November 22, 2013
The incident first came to light after the Redskins' Week 11 game against the Philadelphia Eagles. When umpire Ellison attempted to stop players on each side from using abrasive language toward one another, Williams reportedly directed profanity and a racial slur at the official.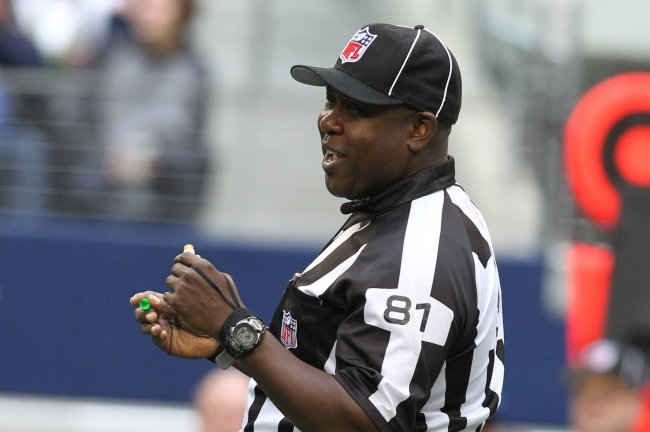 USA TODAY Sports
Not only does the fourth-year player deny the incident, but according to John Keim of ESPN, Williams claimed that Ellison started the confrontation by cursing at him first.
"This is a players' league. I don't think there's no room for that, to take that from the team and the refs. It's very unprofessional. It sucks. I'm at a loss of words. You never expect that as a player to have to beef with the refs also," Williams added.
Interestingly, this is not the first time Ellison has been accused of using offensive language toward a player. Ryan Wilson of CBS Sports reported that he has a history of these types of incidents, although he was never punished due to lack of evidence.
Williams should be at greater ease knowing the league probably won't come down on him in any way. The former No. 4 pick was a Pro Bowler last season, and the last thing he needs is to suffer a suspension or even a fine that would tarnish his reputation as he continues to develop.