As MLB general managers look at their respective to-do lists this offseason, every single one of them will have at least one item in common: Improve the pitching staff.
For some teams, the task simply entails tinkering with the bullpen or plucking a fifth starter off the free-agent market. For less fortunate clubs, however, the required upgrades are far more extensive.
The following list takes a look at the five MLB teams who most desperately need pitching help this offseason. For these teams, the trouble begins with the starters. Many will need to revamp their bullpens as well; however, step one is picking up the pieces and putting their rotations back together.
Here's a look at which pitching staffs need the most help and where those arms can be found.
San Francisco Giants
Which ace is more likely to be traded this offseason?
The San Francisco Giants have a myriad of needs this offseason, and right at the top of the list is the desire to upgrade the starting rotation.
According to Henry Schulman of the San Francisco Chronicle, the Giants will "cast a wide net" as the club looks to acquire a pair of starters through trade and free agency.
General manager Brian Sabean explained to Schulman which type of pitchers he'll consider and which ones he won't: "We're not going to be interested in giving up a first-round pick, so anybody with a qualifying offer with a draft-pick compensation attached to that, we're probably not going to be in on it."
That qualification significantly curtails the list of starters that the Giants will be pursuing. That means Ervin Santana is out, while pitchers like Dan Haren, Tim Hudson and Bronson Arroyo are in.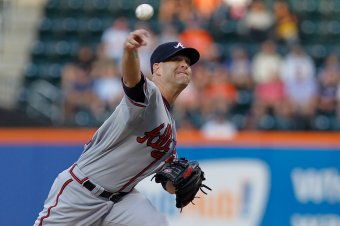 Mike Stobe/Getty Images
Schulman described Hudson as "one of the Giants' chief pitching targets." Hudson has a connection to the Bay Area, as he played for the Oakland A's for six seasons. Schulman also noted that the diminutive starter has expressed a willingness to return to the area.
With limited options on the free-agent market, the Giants could also consider swinging a deal for a starter. AL Cy Young Award winner Max Scherzer is on the trade block, per Jon Heyman of CBS Sports.
While it would take an enormous haul to land the Detroit Tigers ace, this would be exactly the move to catapult the Giants back into contention in 2014.
As for the bullpen, Sergio Romo has the closer's role locked down. However, if lefty Javier Lopez departs, then finding a suitable replacement will be added to Sabean's to-do list.
Los Angeles Angels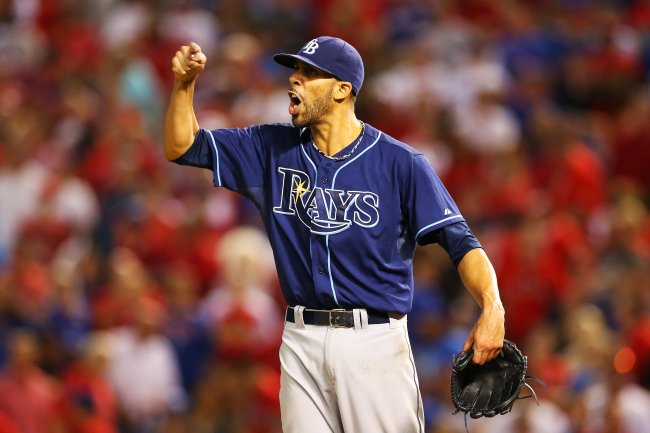 Ronald Martinez/Getty Images
The Los Angeles Angels have the first three spots in their rotation covered with Jered Weaver, C.J. Wilson and Garrett Richards. After that trio, however, the Angels are drawing a blank.
Los Angeles should look to bolster their rotation via the trade market. Heyman described Mark Trumbo as "the big catch" but also pointed out that the Angels are "very reluctant" to move the first baseman.
The team can also deal players like Howie Kendrick, Erick Aybar, Peter Bourjos or Chris Iannetta. As Alden Gonzalez of MLB.com explained, it's that type of offensive talent that would help the Angels land David Price of the Tampa Bay Rays:
The Angels have something the Rays desperately want, and something that can separate them from most other teams interested in acquiring Price's final two years before free agency—offense that can help Tampa Bay in 2014 and beyond.
It makes perfect sense that the Angels would hesitate to part with Trumbo, who has slugged 95 home runs over the past three seasons. But if Price is in the picture, they'll have some tough decisions to make.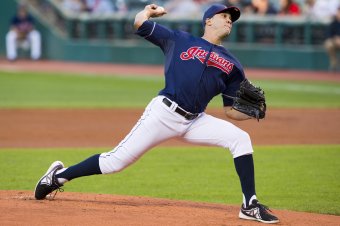 Jason Miller/Getty Images
Even if the Angels grab one starter via a trade, the team will still need to add another through free agency. Angels GM Jerry Dipoto told Paul Hoynes of the Plain Dealer that both Ubaldo Jimenez and former Angel Scott Kazmir had impressed him.
"They are two intriguing guys who are All-Star-quality performers when they're at their best," he said. "They're going to be interesting to somebody."
Dipoto gave no indication that "somebody" would be the Angels, but either of those two pitchers would fit into the Angels' budget better than the likes of Masahiro Tanaka, Garza and Santana.
New York Yankees
The New York Yankees pitching staff needs a lot of help.
As one New York official put it to Ken Rosenthal of Fox Sports: "Plenty of room at the inn."
Yankees GM Brian Cashman told Rosenthal that the plan is to add "400 innings" to the rotation. Tanaka would appear to be an ideal fit in the Bronx. According to one rival GM, that's exactly where he'll end up, per Heyman:
Rival gm on tanaka: "I'd be shocked if it isn't the yankees."

— Jon Heyman (@JonHeymanCBS) November 14, 2013
The Yankees could also go after any number of veterans with reasonable price tags on the market. Some of the most intriguing options are Josh Johnson, Arroyo and Kazmir.
With closer Mariano Rivera officially out of the frame, the team will also need some help at the back end of the bullpen. Andy McCullough of the Star Ledger reported that the Yankees have "had contact" with Grant Balfour and Joe Nathan. However, Bryan Hoch of MLB.com tweeted that the team can cross Brian Wilson off the list of potential closers:
You can rule out Brian Wilson to the Yankees. Agent tells Brian Cashman that Wilson won't shave his beard. Seriously.

— Bryan Hoch (@BryanHoch) November 13, 2013
Nathan would make an ideal addition, but for now the priority is to start finding those 400 innings.
Toronto Blue Jays
While the Toronto Blue Jays bullpen is set, the starting staff was absolutely dismal in 2013. Last season, the team's starters gave up the second-most earned runs in all of baseball.
R.A. Dickey, Mark Buehrle and Brandon Morrow should fill the first three spots in the rotation, but after that the Blue Jays have some holes to fill. Shi Davidi of SportsNet pointed to the trade market as one avenue through which the Blue Jays can improve the rotation.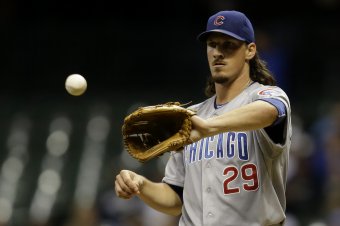 Mike McGinnis/Getty Images
Davidi reported that the Blue Jays "are expected to make a push for Chicago Cubs starter Jeff Samardzija."
Davidi also floated the names of Detroit's Rick Porcello and Scherzer as potential targets. As for free-agent options, Heyman listed Jimenez, Garza and Santana as three pitchers the Blue Jays could consider.
Whomever the Blue Jays settle on, they will need to avoid another expensive bust like Johnson and his 6.20 ERA from last year.
Minnesota Twins
In 2013, opposing batters hit a remarkable .305 against the Minnesota Twins' starting pitchers.
Clearly there is some serious work to be done.
As Minnesota Twins GM Terry Ryan explained to Adam Berry of MLB.com, the team's top goal this offseason is clear: "We need starting pitching. Everybody recognizes that with our starting pitching, we just didn't have enough depth, we didn't have enough innings, we didn't have enough quality starts."
The team is willing to make some major investments to correct those issues, as Darren Wolfson of 1500 ESPN reported:
Hear tonight #MNTwins would go as high as 5-yrs on an arm. Nothing imminent. Def. like Nolasco. Garza too. Comes down to $$. Poker game now.

— Darren Wolfson (@DarrenWolfson) November 16, 2013
A five-year deal is a serious commitment—especially for a pitcher like Garza. There's no denying the talent of the tall right-hander, who has reached double digits in wins in three of the last four seasons. However, as Bleacher Report Lead Writer Zachary D. Rymer details in the video below, there are also some red flags:
Bleacher Report Lead MLB Writer Zachary D. Rymer examines the outlook for Matt Garza on the free-agent market.
As Rymer noted, Garza has made only 42 starts in the last two seasons as he has struggled with elbow and shoulder injuries. Arm injuries are never good news for a pitcher, but the Twins need reinforcements badly. When he's right, Garza is arguably the most effective starter on the market not named Tanaka.
If the Twins decide the price on Garza is too steep, however, there are other options to consider.
According to Mike Berardino of the St. Paul Pioneer Press, the team has also expressed interest in Phil Hughes, Ricky Nolasco, Jason Vargas and Arroyo. Berardino reported that of those options, the Twins were "furthest along" with Arroyo.
For the front office there's plenty of rebuilding to be done, but at least the pitching staff can't be worse than 2013, right?