The Baseball Writers' Association of America voted on the American and National League Cy Young Award winners, and the results were announced Wednesday night on MLB Network.
For the AL, Detroit Tigers ace Max Scherzer took home the prestigious pitching accolade, while powerful Los Angeles Dodgers southpaw Clayton Kershaw did so in the NL.
The win for Scherzer continued a recent reign of supremacy for Detroit. Not only did fellow Tiger Anibal Sanchez receive a first-place vote, but Scherzer joined teammate Justin Verlander as a recipient of the annual award that recognizes the best pitchers in baseball.
THIS JUST IN: Tigers P Max Scherzer wins AL Cy Yound Award. Scherzer (21-3) is 6th since 1900 to win 20 games while losing 3 or fewer.

— SportsCenter (@SportsCenter) November 13, 2013
Scherzer led MLB with 21 wins and was first in the AL with a 0.97 WHIP while registering a 2.90 ERA and striking out 240 batters.
The 2013 @officialBBWAA AL Cy Young Award winner is … @Max_Scherzer. pic.twitter.com/XaARS7dpkw

— MLB (@MLB) November 13, 2013
The nearly unanimous decision saw Scherzer collect 28 of the 30 first-place votes. He was followed by Texas Rangers star Yu Darvish, while Hisashi Iwakuma of the Seattle Mariners finished third.
Darvish was first in the majors in strikeouts, and with his impressive pitching arsenal, he certainly offered formidable competition. The fact that the voting margin was so wide is a testament to how great Scherzer was.
MLive Media Group reporter James Schmehl documented what Scherzer said in response to rumors that the Tigers could trade him, and whether it diminished the moment for him at all. The 29-year-old hurler wasn't fazed:
Max Scherzer on celebrating Cy Young win amid trade rumors: "It doesn't affect this moment at all. For me, I'm just enjoying this moment."

— James Schmehl (@jamesschmehl) November 13, 2013
His reaction on Twitter after being interviewed in the wake of his Cy Young reveal seemed to corroborate that testimony:
Ahhhhh!!! What a feeling!! Can't wait to get my hands on this trophy!!

— Max Scherzer (@Max_Scherzer) November 13, 2013
Gotta say one more time, thanks to all my teammates for their hard work this year, with out them this might not happen. #detroittigers

— Max Scherzer (@Max_Scherzer) November 13, 2013
MLB Network's Chris Rose couldn't help but poke fun at Scherzer in his moment of glory, though:
Hey @KMillar15 did you let @Max_Scherzer use one of your pit-stained shirts? Congrats to the AL Cy Young winner pic.twitter.com/UPA1bw661f

— Chris Rose (@ChrisRose) November 13, 2013
Verlander extended his congratulations to Scherzer on the achievement:
Congrats to @Max_Scherzer for winning the AL cy young!

— Justin Verlander (@JustinVerlander) November 13, 2013
Since the voting was finished before the postseason started, it appeared that Kershaw had a big advantage over the NL. That was even after St. Louis Cardinals ace Adam Wainwright outperformed Kershaw in a head-to-head battle in the NLCS.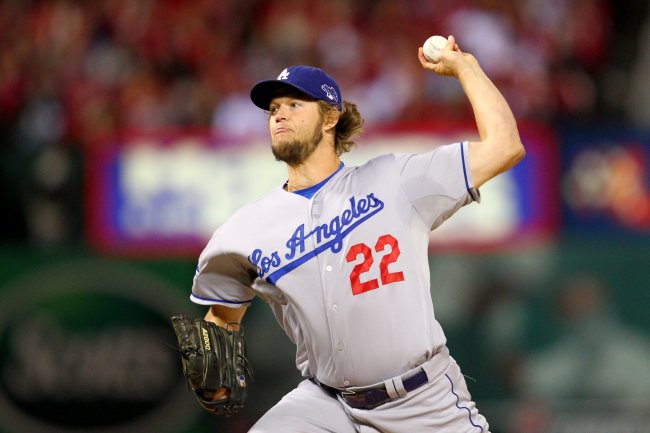 Dilip Vishwanat/Getty Images
However, Kershaw was sensational in leading MLB for the third straight season in ERA with a microscopic 1.83 while posting a 16-9 record for the Dodgers.
Clayton Kershaw bags a 2nd Cy Young Award. 29 of 30 first-place votes. Three top 2 finishes. #ThatsGood

— USATODAYbaseball (@USATODAYmlb) November 13, 2013
Kershaw won by another landslide, as he racked up 29 of the 30 first-place votes, while Wainwright got the only other one.
Kershaw joins some prestigious company in Dodgers franchise history with another lefty, per ESPN Stats & Info:
Clayton Kershaw joins Sandy Koufax as the only Dodgers pitchers to win multiple Cy Young Awards

— ESPN Stats & Info (@ESPNStatsInfo) November 13, 2013
NL Rookie of the Year Jose Fernandez registered a .182 batting average against for the Miami Marlins, which made him a solid contender. Although Fernandez fell short this time around, the 21-year-old prodigy should have plenty of cracks at the Cy Young in the years to come.
Just looking at the regular season alone, though, Kershaw rightly prevailed. His 0.92 WHIP led all of baseball and 232 strikeouts led the NL.
It seemed pretty clear that Scherzer and Kershaw were the front-runners, and the voting results reflected that in crowning two well-deserving Cy Young Award winners.