The division between Miami Dolphins young offensive tackle Jonathan Martin and the rest of the locker room seems to be growing.
In the wake of the latest saga—Martin's absence from the team, the release of fellow offensive lineman Richie Incognito's troubling messages and his subsequent suspension by the team—several Dolphins players are standing up for Incognito.
Quarterback Ryan Tannehill, via the New York Post's Bart Hubbuch and NFL.com's Jeff Darlington, talked about Incognito as well as his relationship with Martin:
Ryan Tannehill: "Richie Incognito was the best possible teammate I could have asked for."

— Bart Hubbuch (@HubbuchNYP) November 6, 2013
Ryan Tannehill: "If you asked Jonathan Martin who his best friend is on this team two weeks ago, he'd say Richie Incognito."

— Jeff Darlington (@JeffDarlington) November 6, 2013
In reference to the prank that occurred before Martin left team, Tannehill says the team played the same prank on Tannehill multiple times.

— Jeff Darlington (@JeffDarlington) November 6, 2013
Meanwhile, wide receiver Brian Hartline seemed enraged with the entire situation:
Hartline is outraged because he says Martin was passing the voicemail around earlier in the year and laughing about it.

— Bart Hubbuch (@HubbuchNYP) November 6, 2013
Hartline insists that Incognito isn't a racist. Labels the question ridiculous and says he doesn't even understand it.

— Bart Hubbuch (@HubbuchNYP) November 6, 2013
Tyson Clabo, who shares the offensive line with Martin and Incognito, noted that the youngster hasn't been singled out, per the Miami Herald's Adam Beasley:
Clabo said Incognito treated Martin no different than any other player on the offensive line.

— Adam Beasley (@AdamHBeasley) November 6, 2013
"What's perceived is Richie is this psychopath, racist, maniac -- right?" Clabo said, per Charlie McCarthy and Fox Sports Florida. "And the reality is that Richie was a pretty good teammate, and that Richie and Jonathan Martin are friends, or appeared to be friends."
Defensive tackle Paul Soliai added: "He was a hard-working guy, come out ready to work. Funny guy. He was always a guy that put a smile on your face every morning. If the day's going slow, you'd know he'd pick everything up. He was a leader."
Finally, defensive tackle Randy Starks, via The Palm Beach Post's Andrew Abramson, gave the main reason for this outpouring of support for the almost universally vilified Incognito:
Randy Starks on why they're speaking up after initially being told not to talk: We want to clear Richie's name

— Andrew Abramson (@AbramsonPBP) November 6, 2013
Randy Starks: Incognito took Martin under his wings, was like a big brother to him.

— Andrew Abramson (@AbramsonPBP) November 6, 2013
Moreover, according to ESPN, center Mike Pouncey and wide receiver Mike Wallace also want Incognito back on the team.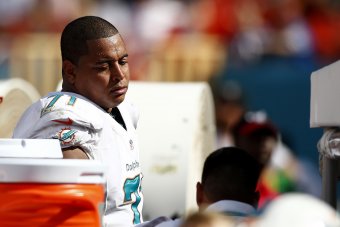 Robert Mayer-USA TODAY Sports
This situation continues to get messier by the day.
For the uninitiated, Martin, a 2012 second-round pick (42nd overall) out of Stanford, left the team early last week following a mental breakdown and later said, via NFL.com's Ian Rapoport, he didn't feel comfortable returning to the locker room.
More light was shed on the bizarre situation on Monday, when transcripts of Incognito's messages to Martin revealed profane, threatening language and racial slurs.
The team suspended the 30-year-old veteran and, according to the Miami Herald's Armando Salguero, his career with the Dolphins was reported to be over.
Perhaps if that was that, everyone could have eventually moved on, but it appears that isn't the case.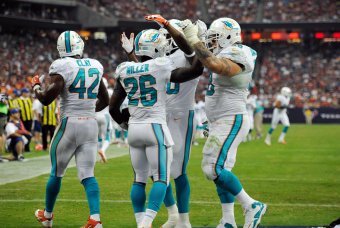 Jerome Miron-USA TODAY Sports
Instead, a large portion of the Dolphins locker room seemingly supports Richie Incognito and believes he was unfairly portrayed and tried in the court of public opinion without knowledge of the facts.
As such, it doesn't seem like there is any clear-cut solution for the franchise. Based off of the Dolphins players' remarks and feelings, it's hard to believe Jonathan Martin will be welcomed back to the team with open arms anytime soon.
However, it doesn't sound as though the front office plans to reinstate Incognito.
This is a story sure to have several more twists and turns in the near future, so we'll simply have to wait and see what happens.