With the way the NFL schedule is set up in Week 10, the NFC has, by far, the most important games on tap this coming Sunday.
The last time we saw Detroit Lions superstar Calvin Johnson, he had capped off an epic performance that saw him amass the second-most receiving yards ever in a single game:
Calvin Johnson: 329 receiving yards, were 2nd-most in single game in NFL history (Flipper Anderson, 336)

— ESPN Stats & Info (@ESPNStatsInfo) October 28, 2013
Johnson and the Lions come off a bye to take on the division rival Chicago Bears in one of the biggest games the week has to offer.
Gregg Rosenthal of NFL.com is even more excited for the Carolina Panthers' road trip to Candlestick Park as they prepare to take on the San Francisco 49ers, who are fresh off an idle week themselves:
Is it ok to be more excited for 49ers-Panthers than any game this season?

— gregg rosenthal (@greggrosenthal) November 6, 2013
Carolina will try to maintain pace with the New Orleans Saints, who lead the NFC South by one game and will play host to the Dallas Cowboys, who are atop the NFC East.
There are playoff ramifications galore in all of these epic contests, so let's take a closer look at them before listing out predictions for every Week 10 game.
Detroit Lions vs. Chicago Bears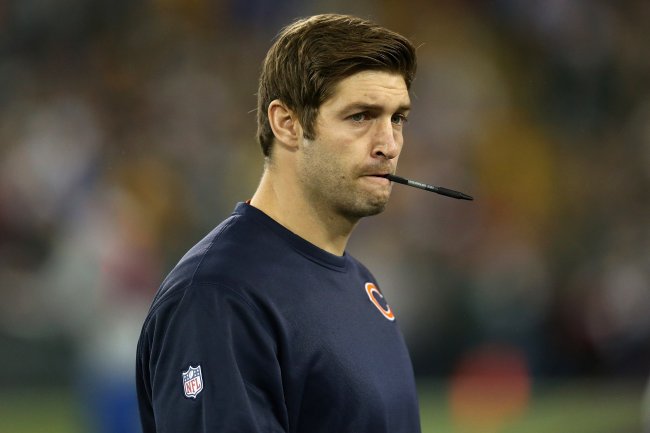 Jonathan Daniel/Getty Images
Now that there is a three-way tie in the NFC North and Bears quarterback Jay Cutler may be returning for Week 10, this becomes arguably the most important game of the regular season to date.
Bears injured QB Jay Cutler plans to return this week and, barring no setback, start vs Lions on Sunday, per team source.

— Chris Mortensen (@mortreport) November 5, 2013
Cutler's backup, Josh McCown, played very well in beating the Green Bay Packers at Lambeau Field on Monday night, which is what caused the 5-3 jumble at the top of the North.
The Bears defense has struggled this season, though, and that was masked by the fact that they faced Packers QB Seneca Wallace for much of Week 9. Chicago's task will be far more difficult against the Lions' Matthew Stafford and Johnson.
Well before this matchup, All-Pro Bears cornerback Charles Tillman outlined his massive respect for Megatron:
"Calvin Johnson is the best receiver in the game right now. No one else can do what he does. He's in a league of his own." - @peanuttillman

— FOX Football Daily (@FFD) October 29, 2013
Although the Lions have a suspect secondary and have to deal with both Brandon Marshall and Alshon Jeffery, this outcome will depend on who can play better in the trenches.
Both offensive lines have been stellar, but the Bears are decimated on the defensive front by injuries.
That should lead to a big game from Detroit running back Reggie Bush, while the formidable defensive tackle tandem of Ndamukong Suh and Nick Fairley will shut down the Bears' ground game.
Along with assistance in the form of a few big plays from Johnson, the Lions will march into Soldier Field and emerge with a huge victory to likely take sole possession of first in the division.
Prediction: Lions 31, Bears 27
Carolina Panthers vs. San Francisco 49ers
This is the first true test the Panthers have encountered in about a month, but give them credit for their four-game winning streak.
Same headline for 4 consecutive weeks: Panthers continue to throttle bad teams.

— Chris Wesseling (@ChrisWesseling) November 3, 2013
Head coach Ron Rivera is finally giving credence to his reputation as a defensive specialist, as his team is playing at an elite level on that side of the ball.
The big question is how the offense will hold up in facing its stiffest challenge in quite some time. As high of a level as QB Cam Newton has played at amid the Panthers' impressive string of wins, this is the most important game of his young career.
#Panthers QB Cam Newton is the only player in #NFL history with 50+ passing touchdowns and 25+ rushing touchdowns in his first 40 games.

— Adam Caplan (@caplannfl) November 4, 2013
How Newton responds to the pressure both in terms of expectations and from the 49ers' pass rush will go a long way in determining the outcome.
Which team is under more pressure to win?
With San Francisco having an extra week to prepare, though, it's hard to imagine the hosts coming out flat.
This should be a physical, low-scoring contest, but Newton's counterpart, Colin Kaepernick, has established himself as a slightly more effective game manager and less likely to make a critical mistake.
Frank Gore will establish the Niners' rushing attack better than DeAngelo Williams will in facing San Francisco's front seven.
The tight contest will come down to the Niners shutting down Newton in the fourth quarter. While it will be a temporary setback for the Panthers, it should help them in the long run as they fight for a postseason berth.
Prediction: 49ers 20, Panthers 13
Dallas Cowboys vs. New Orleans Saints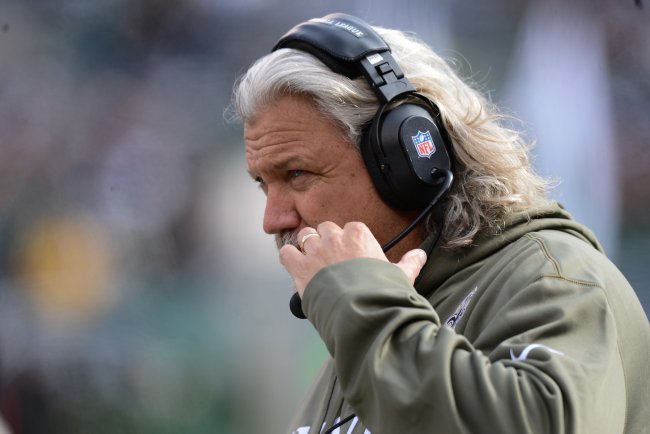 Ron Antonelli/Getty Images
Defensive coordinator Rob Ryan was cast out by the Cowboys after last season, and that side of the ball has been a disaster for America's Team in 2013.
Meanwhile, Ryan has turned around a woeful Saints defense into one of the best in the league with much of the same personnel from the previous year. It is a big reason why New Orleans is sitting in first place in the NFC South.
Samantha Bunten of NFL.com and NBC Sports highlights the key for the Cowboys to go into the Superdome and pull off the upset:
@eternalspiritus I think the Cowboys' chances hinge on how well they run the football. NO defense is great vs pass, but pretty bad vs run.

— Samantha Bunten NFL (@samanthabunten) November 5, 2013
DeMarco Murray got only four carries, and Tony Romo threw 51 passes in Dallas' 27-23 comeback victory over the Minnesota Vikings last week. That is not a balanced-enough attack to hang with the Saints.
New Orleans is top-five against the pass, but yields 121.3 yards per contest on the ground, and let up 198 yards rushing in Week 9's loss to the New York Jets.
With how much Drew Brees is going to carve up the Cowboys' secondary, though, Dallas offensive coordinator Bill Callahan won't be able to stick with the run for very long.
Look for Romo to play well, but the Saints are going to light up the scoreboard too often for the Cowboys to keep up.
Prediction: Saints 45, Cowboys 34
Complete Week 10 Picks

| | | |
| --- | --- | --- |
| Away Team | Home Team | Winner |
| Washington Redskins | Minnesota Vikings | Redskins |
| Oakland Raiders | New York Giants | Giants |
| Seattle Seahawks | Atlanta Falcons | Seahawks |
| Detroit Lions | Chicago Bears | Lions |
| Philadelphia Eagles | Green Bay Packers | Eagles |
| Jacksonville Jaguars | Tennessee Titans | Titans |
| St. Louis Rams | Indianapolis Colts | Colts |
| Buffalo Bills | Pittsburgh Steelers | Steelers |
| Cincinnati Bengals | Baltimore Ravens | Bengals |
| Carolina Panthers | San Francisco 49ers | 49ers |
| Houston Texans | Arizona Cardinals | Texans |
| Denver Broncos | San Diego Chargers | Chargers |
| Dallas Cowboys | New Orleans Saints | Saints |
| Miami Dolphins | Tampa Bay Buccaneers | Dolphins |
Picks are strictly opinion