NFL Reportedly May Consider Calling Back Touchdowns When Taunting Occurs
October 30, 2013

Getty
The NFL is considering taking a more extreme measure to deter taunting. 
According to Michael David Smith of Pro Football Talk, the league might look into taking away points scored on any touchdowns where taunting is involved: 
NFL head of officiating Dean Blandino said on NFL Network that he thinks the Competition Committee will explore changing the NFL's taunting rules to make them more similar to the taunting rules in the NCAA. In college football, if a player commits a taunting penalty on a touchdown, the touchdown is called back and the 15-yard penalty is enforced from the spot where the taunting began.
This rule would have made a huge difference in the most recent Monday Night Football game between the Seattle Seahawks and St. Louis Rams. Seahawks wide receiver Golden Tate caught an 80-yard touchdown pass in the third quarter, and he spent the last 30 yards of his run to the end zone taunting the defense.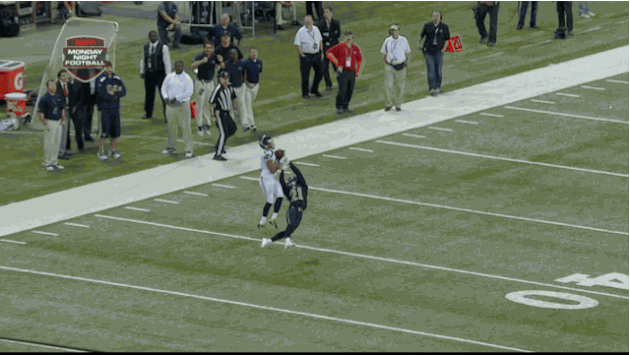 While Tate was given an unsportsmanlike conduct penalty on the play, it was assessed on the kickoff and did not have much effect on the game itself. However, taking away the score might've been just the break the Rams needed, as they went on to lose 14-9.
Obviously, the goal is here is to uphold the game's sportsmanship. There are plenty of players around the league that choose to high-step, flip into the end zone or taunt their opponents in other ways. This rule would effectively prevent the majority of these acts from happening, just as it has in the college ranks. 
With that said, the rule would be perceived as just another example of the NFL taking fun out of the sport after the league spent the summer cracking down on various end-zone celebrations. 
Follow Rob Goldberg on Twitter for the latest breaking news and analysis.