The 2013 NFL trade deadline was rather anticlimactic, with only one, relatively minor transaction to speak of. Sure, there was plenty of juicy speculation and high-profile names swirling in the rumor mill, but nothing ultimately came of it.
Of all the major sports, it seems pro football's last-gasp trade window is consistently the least eventful.
ESPN's Andrew Brandt put it best as to at least part of the reason why a large portion of the deals don't go down:
Default first question from every NFL executive getting a trade call should be: "If he's so good, why don't you want him?"

— Andrew Brandt (@adbrandt) October 29, 2013
With just an hour remaining before the deadline expired, B/R NFL expert Matt Miller noted that fans shouldn't be more excited than they would be on any other typical Tuesday:
One hour until the NFL trade deadline. You should be as excited as you normally are one hour before 4pm ET on Tuesday.

— Matt Miller (@nfldraftscout) October 29, 2013
Fox Sports' Jay Glazer reported the lone big move of the day: The Philadelphia Eagles traded defensive lineman Isaac Sopoaga to the New England Patriots, with draft picks exchanged between each side:
Eagles trade Isaac sopoaga and a 6th to patriots for a fifth rounder

— Jay Glazer (@JayGlazer) October 29, 2013
Sopoaga helps fortify a Patriots defensive front that lost Vince Wilfork for the season to a torn Achilles.
The most widely discussed story of the day—where movement looked to be at least a possibility—came from multiple teams' interest in Minnesota Vikings star defensive end Jared Allen.
ESPN's Adam Schefter reported on the matter, noting the Seattle Seahawks were scrambling to make a move for him. Schefter pointed out how the two teams were trading partners for a deal that landed playmaker Percy Harvin:
Seattle making 11th-hour push to trade for Vikings Pro-Bowl DE Jared Allen, per multiple sources. Vikings also talking to second team.

— Adam Schefter (@AdamSchefter) October 29, 2013
Seahawks and Vikings were trade partners last winter on WR Percy Harvin. Now trying to see if they can work out another trade.

— Adam Schefter (@AdamSchefter) October 29, 2013
However, Glazer refuted Seattle's interest in Allen:
Contrary to what is out there Seattle is NOT one of the teams in it for Jared Allen. Two others but Seattle is not talking to Vikes for him

— Jay Glazer (@JayGlazer) October 29, 2013
Schefter later followed up not long before the deadline to report that the Seahawks' brass would no longer pursue Allen, even with the rather modest compensation for a player of his caliber:
Seahawks not expected to trade for Vikings DE Jared Allen now. One source said the Seahawks have decided to not actively pursue him.

— Adam Schefter (@AdamSchefter) October 29, 2013
Schefter reported, per ESPN's Chris Mortensen, that the Vikings were seeking a second-round pick as compensation but would consider a conditional third-rounder.
Alas, it was to no avail, and NFL Network's Ian Rapoport reported that the Seahawks' interest was being greatly exaggerated in the first place:
On reports of Seahawks pursuing Jared Allen: Anything is possible. But SEA source say interest is vastly overblown (& have just $2M in space

— Ian Rapoport (@RapSheet) October 29, 2013
Gil Brandt then reported that the Denver Broncos also were trying to acquire Allen, who would form quite the pass-rushing tandem along with Von Miller:
Hearing @DenverBroncos attempting to trade for Jared Allen. @Seahawks inquired. Deadline is 4p ET

— Gil Brandt (@Gil_Brandt) October 29, 2013
About 15 minutes before the deadline, Glazer noted that the last unspecified team in discussions with Minnesota had bowed out:
Jared Allen trade talks are now dead. Last of teams they were talking to are out.

— Jay Glazer (@JayGlazer) October 29, 2013
Cleveland Browns wide receiver Josh Gordon made it publicly known that he's "tired of" the persistent trade rumors that have surrounded him this season, but he isn't going anywhere.
ESPNCleveland.com's Tony Grossi cited multiple sources that were correct in saying nothing was imminent with little time on the deadline clock:
W/ 90 mins to #NFL trade deadline, 2 sources tell me nothing imminent re: #Browns. A player soon to be added to roster w/ spots available.

— Tony Grossi (@TonyGrossi) October 29, 2013
With plenty of ammunition in the form of two first-round picks in the upcoming NFL draft, it is unclear what would have been enough for the Browns' new regime to give up such a No. 1-caliber talent in Gordon.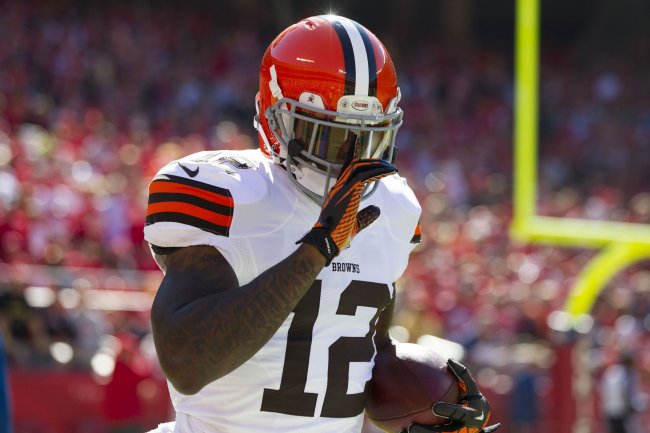 /Getty Images
Whatever was offered was not up to snuff, but the league had to be ready for anything from Cleveland's front office after it traded running back Trent Richardson earlier in the season.
Albert Breer of NFL Network noted that Gordon may present more value in the trade market when the season ends, though:
2) Josh Gordon is available for the right price. But he's under contract, so Browns aren't desperate. Could get more for him in offseason.

— Albert Breer (@AlbertBreer) October 29, 2013
CBSSports.com's Jason La Canfora acknowledged that the interest in Gordon was strong, but no team offered enough for him:
In terms of Josh Gordon, plenty of teams reached out past few weeks, several offers have been on table but no one met asking price today

— Jason La Canfora (@JasonLaCanfora) October 29, 2013
In providing an update as to where Gordon stood even before Grossi's account, Rapoport also noted that the New York Giants were not even listening to offers for wideout Hakeem Nicks any longer:
Browns would need a monster offer to trade WR Josh Gordon. Same with Giants & Hakeem Nicks as they've resisted answering calls at this point

— Ian Rapoport (@RapSheet) October 29, 2013
Mike Florio of ProFootballTalk.com reported recently on two high-profile players who were also being chatted about as possible trade pieces—Allen's teammate, Adrian Peterson and Jacksonville Jaguars receiver Justin Blackmon.
Considering both players were past top-fight draft picks and are the best individuals on their respective teams, though, a deal seemed unlikely in the first place.
In the midst of the much-to-do-about-nothing trade rumors, Sports Illustrated's Chris Burke dreamed up an interesting concept:
I wish the NFL was like a fantasy league or video game and every team had to update its "Trade Block" for all the others to see.

— Chris Burke (@ChrisBurke_SI) October 29, 2013
La Canfora provided an update 40 minutes before the deadline, noting that Washington couldn't find a taker for tight end Fred Davis, and that Kenny Britt was still for sale from Tennessee:
Redskins yet to get any decent action on Fred Davis. Kenny Britt still available from the Titans. deadline in in 40 mins

— Jason La Canfora (@JasonLaCanfora) October 29, 2013
Davis has become expendable with the recent emergence of rookie pass-catching tight end Jordan Reed, who has 17 catches for 224 yards in his past two games.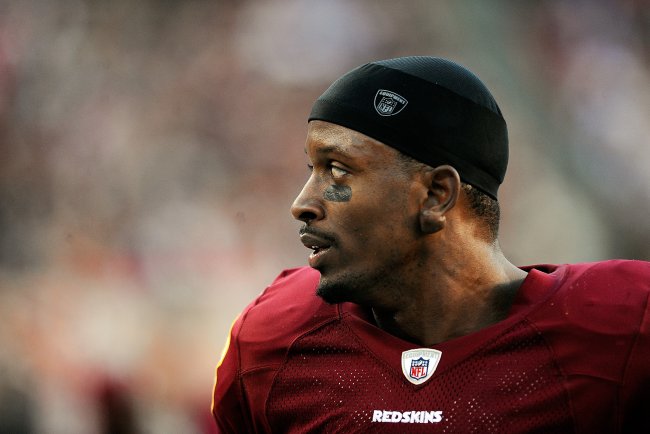 /Getty Images
John Glennon of the Tennessean reported earlier this week that Britt was open to a fresh start, but the talented receiver intimated he would "probably" rather stay with the Titans if it were up to him. Britt will stay in Tennessee after all.
B/R's Mike Freeman spoke to an unnamed team official, and relayed a hilarious assessment of the day's inactivity:
NFL team official on trade deadline: "I'm going for a run. Ain't s--- happening."

— mike freeman (@mikefreemanNFL) October 29, 2013
On ESPN's NFL Insiders, Schefter reported that the Oakland Raiders would not trade running back Darren McFadden, who is going to be an unrestricted free agent at the end of 2013 anyway.
Raiders RB Darren McFadden going nowhere before trade deadline. Oakland not expected to make any trades.

— Adam Schefter (@AdamSchefter) October 29, 2013
It would make little sense for an improving Raiders team to trade one of the most talented players on the roster.
RaidersBeat.com's Twitter summed up Oakland's situation well after Week 8's win over the Pittsburgh Steelers:
Chances of Darren McFadden trade probably evaporated on Sunday. He's healthy, #Raiders in the mix for wild card, favorable schedule ahead.

— Raiders Beat (@RaidersBeat) October 29, 2013
Atlanta Falcons tight end Tony Gonzalez was the subject of trade speculation, and acknowledged in a report by ESPN.com's Vaughn McClure that he understood the basis of the rumors.
However, the Falcons did not move him.
Falcons official confirms no trades were made before deadline. Tony Gonzalez will finish his final season in Atlanta.

— vaughn mcclure (@vxmcclure23) October 29, 2013
One popular destination some lobbied for was the Kansas City Chiefs, Gonzalez's old team, who would give him a great shot at his first Super Bowl ring. Like all the rumors on the day, though, nothing transpired.
Freeman and Brandt reflected the shared sentiments of many fans on Twitter, implying that the deadline is almost nonexistent:
If a trade deadline falls in the woods, and no one hears it, did it really happen?

— mike freeman (@mikefreemanNFL) October 29, 2013
Felt confident in writing columns for @SInow and @theMMQB on why the NFL trading deadline is always a dud. No edits needed.

— Andrew Brandt (@adbrandt) October 29, 2013
Breer doesn't see things getting any more exciting next season at this time, either:
Maybe in 2014, everyone won't think, "But ... but ... This year will be different!!!!" Maybe. But I'm not counting on it.

— Albert Breer (@AlbertBreer) October 29, 2013
On a day that seemed ripe with potential activity, there wasn't much to speak of. No huge tremors were sent to alter the NFL landscape, and the majority of front offices stood pat.