Emotional Kolten Wong Cries and Apologizes for Pickoff Blunder in World Series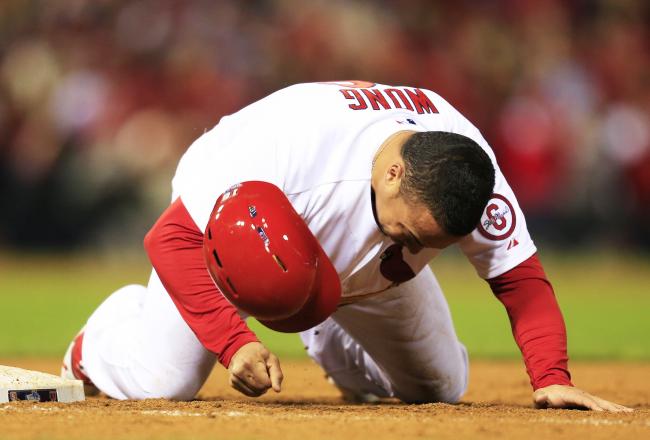 (Photo by Dilip Vishwanat/Getty Images)
The 2013 World Series between the St. Louis Cardinals and Boston Red Sox has featured some wacky endings, and that trend continued in Game 4 as Cards rookie Kolten Wong was picked off to end the contest. It was a colossal mistake on Wong's part, and he fully realized that afterward.
Yahoo! Sports' Jeff Passan wrote that Wong "couldn't help himself from crying" after the outcome.
According to Jerry Crasnick of ESPN.com, Wong was still on the verge of tears with the media following St. Louis' 4-2 loss, but rather than running away from the problem, he attacked it head on by facing the wrath of reporters.
Kolten Wong inconsolable and near tears in #STLCards clubhouse, but stood at his locker and answered every question. #pro

— Jerry Crasnick (@jcrasnick) October 28, 2013
Wong entered the game as a pinch runner after Allen Craig laced a one-out base hit in the bottom of the ninth. That brought the tying run to the plate, but second baseman Matt Carpenter popped out. Outfielder Carlos Beltran represented the Cardinals' last hope, but he didn't get an opportunity to come through in the clutch as Red Sox closer Koji Uehara caught Wong napping.
Wong explained himself after the game, according to Chad Thornburg of MLB.com, by saying that he slipped while trying to get back to first base.
Is Wong to blame for the Cardinals' loss?
"I just got a little off the base," Wong said. "Wanted to go back, and my foot slipped on me. ... I just got too far off and he made a good throw."
While the Cardinals would have needed a postseason miracle in order to come back, Wong's blunder was particularly heartbreaking due to the fact that his run didn't matter. There was no reason for him to be that far off the base because the game wasn't going to be tied unless Beltran hit a home run.
Cardinals manager Mike Matheny echoed that sentiment, according to Thornburg, and said that Wong was well aware of that fact.
Well, he knew, we had meetings early on, we go over all these guys. We talk very clearly about a very good pickoff move. He was reminded once he got on base, and also reminded that run didn't mean much, [to be] be careful, shorten up. And he got a little extra, then he slipped and the slip cost him.
Wong was extremely remorseful as he tweeted an apology to Cardinals fans after the game.
All i want to say is i'm sorry #CardinalNation I go out everyday playing this game as hard as I can and leaving everything on the field.

— Kolten Wong (@KoltenWong) October 28, 2013
Whether it's fair or not, Wong will probably be viewed as the goat of the series if the Cardinals are unable to ultimately win. Jonny Gomes' three-run home run off Cardinals reliever Seth Maness in the sixth inning was actually the decisive play of the game, but it feels like most have already forgotten about it.
Wong has been Matheny's primary option as a pinch runner throughout the playoffs, so it will be interesting to see if he goes back to him in a similar situation. All Wong can do is wait for his next opportunity and take advantage of it if it presents itself.

Follow @MikeChiari on Twitter
This article is
What is the duplicate article?
Why is this article offensive?
Where is this article plagiarized from?
Why is this article poorly edited?