The Houston Texans made a shocking roster move on Monday by waiving rookies Cierre Wood, Sam Montgomery and Willie Jefferson.
UPDATE: Tuesday, Oct. 22, at 11:33 p.m. ET
ESPN.com's Tania Ganguli has the latest:
The agent for former Houston Texans defensive end Sam Montgomery on Tuesday denied an ESPN.com report that his client was released by the team after using marijuana.

"It is our position that the story written about Sam Montgomery by ESPN, which sets forth that he was dismissed from the Houston Texans for using marijuana, is completely inaccurate," Jeff Guerriero said in a statement sent by text message to ESPN.com. "Mr. Montgomery was dismissed from the team for allegedly violating a team rule. This can be confirmed by the Houston Texan personnel."
---End of update---
Original Text
John McClain of the Houston Chronicle reports that the players were waived due to a team-rules violation:
Texans waived RB Cierre Wood, DE Sam Montgomery, OLB Willie Jefferson. Sources say they violated team rules at KC hotel. Got sent home.

— John McClain (@McClain_on_NFL) October 21, 2013
James Palmer of CSN Houston talked to Montgomery, who provided background on the incident that led to their release:
Sam Montgomery says he walked into a hotel room where Jefferson & Wood were smoking a cigar. Went to team meetings and was called by Kubiak

— James Palmer (@JPalmerCSN) October 21, 2013
Sam Montgomery - "I made a childish mistake." Added no illegal substances were involved in him breaking #Texans team rules.

— James Palmer (@JPalmerCSN) October 21, 2013
Will Grubb of Sports Radio 610 had more information about the incident:
Source says Jefferson was smoking a cigar in his hotel room. They were called downstairs and accused of using a substance.

— Will Grubb (@WillGrubbRadio) October 21, 2013
According to source, the room was never searched and no substance was ever found. #Texans

— Will Grubb (@WillGrubbRadio) October 21, 2013
Source say Jefferson met with team officials who told him 'they knew what he had been doing' #Texans

— Will Grubb (@WillGrubbRadio) October 21, 2013
As McClain pointed out on his blog, all three rookies were inactive for Houston's 17-16 Week 7 loss to the Kansas City Chiefs. Jefferson was also kicked off the team at Baylor for failing drug tests.
According to Tania Ganguli of ESPN, there was an illegal substance involved:
Three sources who wished to remain anonymous told ESPN.com that the violation occurred due to marijuana use.

Jefferson's agent, Chad Cannon, told ESPN.com that the players were smoking a cigar in the team hotel and that illegal drugs were not involved.
A third-round pick in the 2013 NFL draft, Montgomery is probably the most surprising name on this list. The former LSU star was known for his pass-rushing ability, but he could not make the active roster at either outside linebacker or defensive end.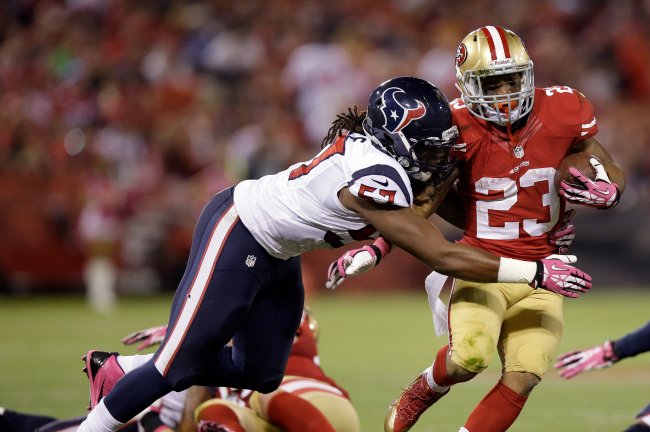 Ezra Shaw/Getty Images
Wood was an undrafted running back out of Notre Dame, although he at least saw the field a few times this season. He came in at the end of blowouts in Weeks 3 and 5 and totaled three rushes for nine yards as a third-string back.
How surprised are you by these moves?
His release is noteworthy in light of injuries to both starter Arian Foster and No. 2 back Ben Tate.
Jefferson also did not accomplish much when he was active, totaling only one tackle and one assist as an outside linebacker.
This is just the latest issue to come out of Houston after the team suffered its fifth straight loss to fall to 2-5 heading into the bye week.
To make matters worse, linebacker Brian Cushing is likely out for the season after breaking his fibula and tearing his LCL, according to Gregg Rosenthal of NFL.com.
With quarterback Matt Schaub's status uncertain as well, it is hard to imagine things getting too much better for the Texans in the near future.